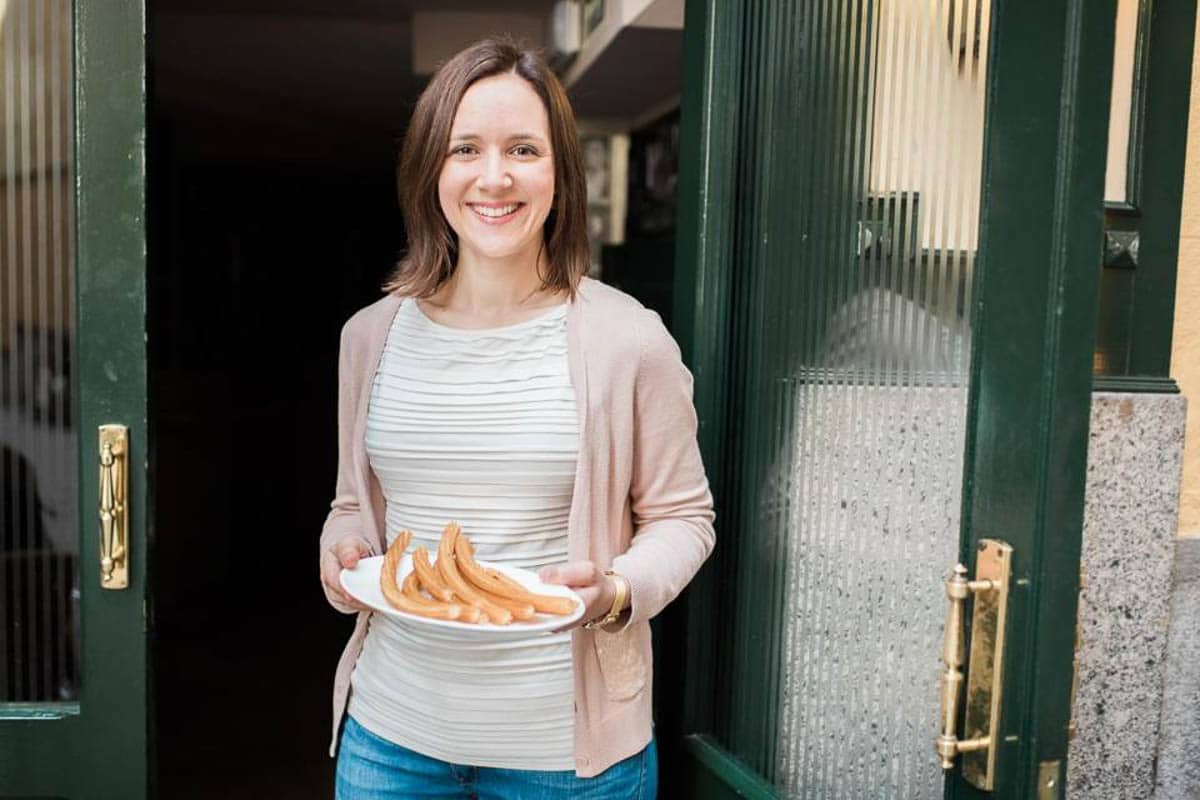 It's no secret that our love of travel took a firm hold during our nearly two years living in Spain in the late 1970s. Our love of food still stems from this era of eating and cooking Spanish cuisine, and enjoying all sorts of Spanish wines, sherries, and brandies.
To this day, we fall back on some of our favorite Spanish dishes regularly. We make a Spanish omelet (tortilla española) for comfort food, and gazpacho with smoked paprika for summery refreshment. Ensaladilla Rusa is a great potato salad to share with a crowd. (A plate of ensaladilla or omelet with a small glass of beer was my go-to meal in the early low-budget days.) I cook a leg of lamb and flan dessert for special occasions. And Tom, having learned alongside some Spanish friends and referencing an old cookbook we hauled back from Spain, is the resident expert in seafood paella, served with a simple Spanish-style mixed salad.
We've visited Spain countless times over the years, and continue to learn more about restaurants, food producers, markets, and cooking via friends there. Through travel blogging networks, we met Lauren Aloise just when she was launching her new food tour company. Even though we can't travel to Spain right now, we are relieved to stay in touch with Lauren and Spanish cuisine and culture through her emails and websites.
Some posts on Travel Past 50 may contain affiliate links. If you buy something through one of those links, we may earn a small commission. As an Amazon associate, we earn from qualifying purchases.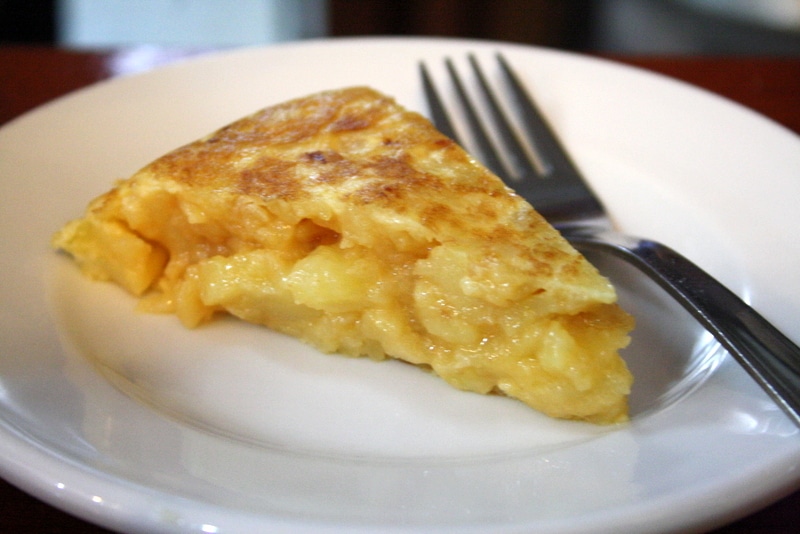 Lauren Aloise of Devour Tours shares her recipe for the Best Spanish Omelet Ever. Here's the recipe, but follow the link for more background and recommendations.

Best Spanish Omelet Recipe Ever

The best Spanish omelet recipe will have you creating creamy and delicious tortilla española in no time!
Author: Lauren Aloise
Serves: 4

Ingredients
1 kilogram (about 2 pounds) of potatoes
Salt and pepper to taste
8 large eggs (free range if possible)
1 onion
Extra Virgin Olive Oil

Instructions
Peel the potatoes and rinse them under cold water.
Slice the potatoes into thin slices, I prefer about ½ centimeter (some prefer thicker)
Pat the potato slices dry and put them into a large bowl, sprinkle with salt, and mix well.
Heat a ½ inch of high quality extra virgin olive oil in a large frying pan at medium low heat.
When the oil is hot, add the potatoes and add more oil if necessary until all are covered.
Cook the potatoes for 20 minutes at a low heat (they may break apart, that is okay).
While the potatoes are cooking, beat the eggs in a large bowl and season with some salt and pepper.
Slice the onion as thin as possible (julienne style) and fry over a low heat in a separate heavy pan (I like stainless steel) for about 10-20 minutes until they begin to caramelize (stir often).
When the onions are caramelized, drain off any excess oil and add to the egg mixture.
When the potatoes have been frying 20 minutes, remove them with a slotted spoon into a strainer and allow to cool off while any excess oil drips away.
After a few minutes, add the potatoes to the egg mixture and stir well.
Let the egg mixture sit for about 20 minutes.
In the same pan where you fried the potatoes, remove all the oil (you can reuse it!) and over a medium low heat add the egg mixture.
Over a low heat, cook the eggs for about 6-8 minutes per side.
When you are sure that the bottom is cooked and you want to flip the tortilla, take a large plate and put it over the pan and flip quickly! Some egg will likely slip out– it'll be messy– but that's okay!
Finally, slide out of the pan onto a serving plate and let cool a little before diving in.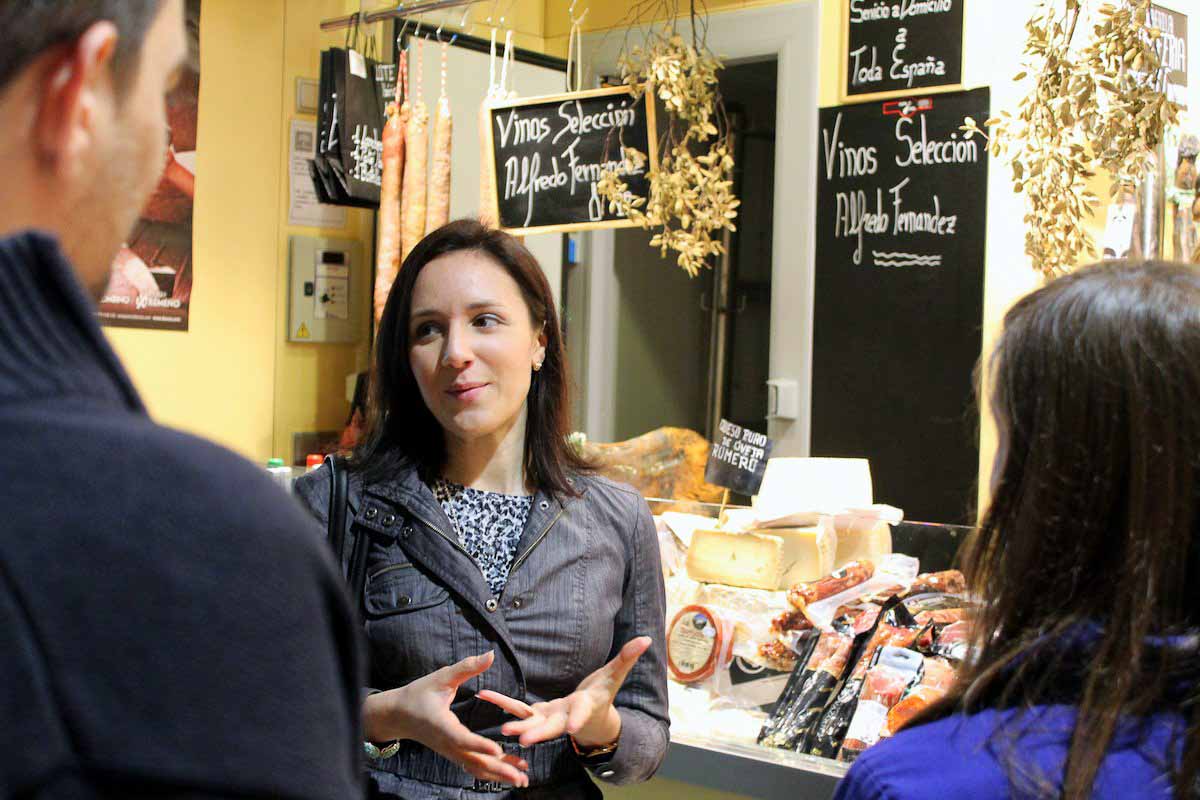 Lauren, founder of Devour Tours, based in Madrid, set out for Spain in 2009 thinking she'd use a position teaching English to learn about Spanish food and culture…and then return to the United States.
Instead, Lauren met a guy, now her husband, and also fell in love with his family's cooking and the whole of Spanish cuisine, history, and culture. She first started a food blog, Spanish Sabores, but eventually formed a food tour company, now operating in eight European cities.
During the pandemic, though, the food blog has jumped in popularity. It turns out people in quarantine want to cook food, learn about food and find joy in sharing food stories. So Spanish Sabores–the website and the email newsletter–offers recipes from all parts of Spain, along with the background stories and destination information that make the cuisine sing.
As part of her regular contributions to Travel Writers Radio, Kris chatted with Lauren in late July 2020 about the essence of the Devour Food Tours and the popularity of her recipe emails. Listen in and you'll begin to salivate.
Learn more at Devourtours.com and Spanishsabores.com.
To hear other interviews by Kris for Travel Writers Radio, visit this page of audio posts or see her Profile Page on Soundcloud. You can browse all Travel Writers Radio content here.
Travel Planning Resources
Looking to book your next trip? Use these resources that are tried and tested by us. Flights: Start finding the very best flight deals by subscribing to
Thrifty Traveler
. Book your Hotel: Find the best prices on hotels with
Booking.com
. Find Apartment Rentals: Find the cheapest prices on apartment rentals with
VRBO
. Travel Insurance: Don't leave home without it. We recommend
Allianz Travel Insurance
. Need more help planning your trip? Make sure to check out our
Resources Page
where we highlight all the great travel companies and products that we trust. See all of the gear and books we like in one place on our
Amazon shop
.