I grew up in Council Bluffs, Iowa. According to my grandfather, Council Bluffs was, "the only town that ever hurt Chicago." I've given his pronouncement a lot of thought over the years and I've still never quite figured out what it meant.
Maybe it was because Council Bluffs made fun of Chicago on the playground when they were kids. Or maybe it was because someone from CB wrote a letter once to someone in Chicago saying that having broad shoulders and being hog butcher to the world wasn't really that great. Especially when Carl Sandburg  went on to mention that it was also the city of skanky whores and slimy gangsters.
But, I think he was talking about the railroads. Because there was a time there when Council Bluffs actually had bigger rail yards than Chicago. Or at least that's what everyone in Council Bluffs thinks. And, since my grandfather was a yardmaster for the Milwaukee Road, he was sensitive to railroad size issues.
When I visit my mother's home, I can still hear the train horns during the summer nights when the windows are open. I've been hearing that sound since I was born and, although the low bellows from the big engines sometime wake me up, I don't mind them. They always remind me of my grandfather and staying in this same house with him every Friday night when I was nine.
So, Council Bluffs is a train town. It has been since it was decided that it would be the eastern terminus of the Union Pacific railroad. Abraham Lincoln visited Council Bluffs twice–in 1859 when he was in Congress and again in 1864 when he was President and was wondering how he'd reunite the country after the Civil War. Part of his answer was the transcontinental railroad, and he decided it would start here.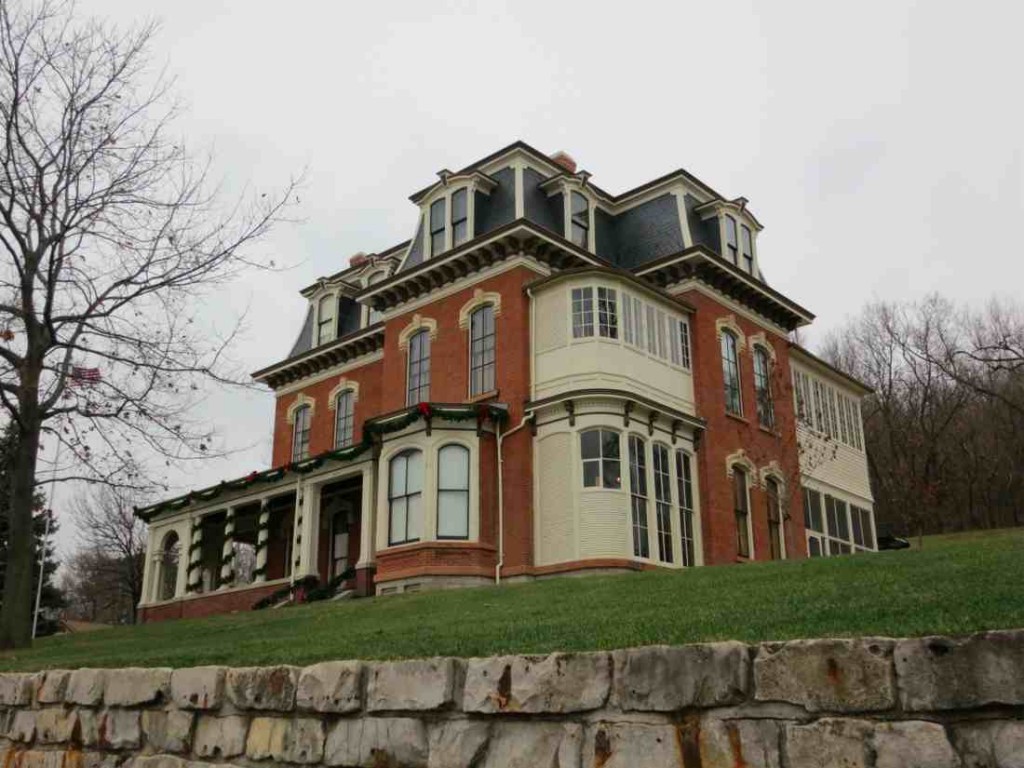 The man chosen to be head engineer of the Union Pacific was an army Major General by the name of Grenville M. Dodge. He got the job done, and although he could have chosen to live anywhere along his magnificent accomplishment, he chose to live in Council Bluffs and so, in 1869, spent the exorbitant sum of $35,000 to build the most elegant home in town on top of a hill looking down on the present day rail yards.
The home is still there. It's now on the National Register of Historic Places. It has high ceilings, fantastic carved wood everywhere, huge crystal chandeliers throughout, and has been refurnished in the style of the day. Most of the original furniture had been moved off over the years by his family, but the ladies guild that takes care of the place has done a remarkable job of fund raising and purchasing period-appropriate replacements.
When I visit Council Bluffs, my mother usually jokes, "Do you want to go visit the Dodge House?" Always, Kris and I say, "no thanks." This time, though, we took her up on the offer. It's a nice home, and if you're interested in the history of one of the most important engineers of the history of the United States, you should have a look. While you're at it, they've also turned the old Carnegie Library, only four blocks away from the Dodge House, into a Union Pacific museum, and that's well worth an hour of your time, too.
There isn't much else to do in Council Bluffs except go to the casinos or the dog track.
They're the legacy of another famous former Council Bluffs resident, Meyer Lansky. In case you don't know who he was, the short answer is that he was the "bookkeeper" of the mobs of the early to mid 20th Century. That sells him a bit short. He was the model for the character of Hyman Roth in The Godfather II. if you want a less fictionalized account, read Big Little Man, or any article about Bugsy Siegel, his partner in founding Las Vegas.
At any rate, Lansky and partners owned the dog track in Council Bluffs and my dad actually once worked for him. You might ask how you can run a dog track right in the middle of a city when gambling was illegal. The answer is that, in the Council Bluffs of that day, the "fix was in." Some say it still is, but I don't have any evidence of that.
There is a restaurant in town named Lansky's that has pretty good deli food, but hardly anyone in town knows why it's named that. That's the only monument I know of that bears his name, and the city fathers are probably happy about that.
The ladies guild didn't preserve Lansky's house, so you'll have to use your imagination.