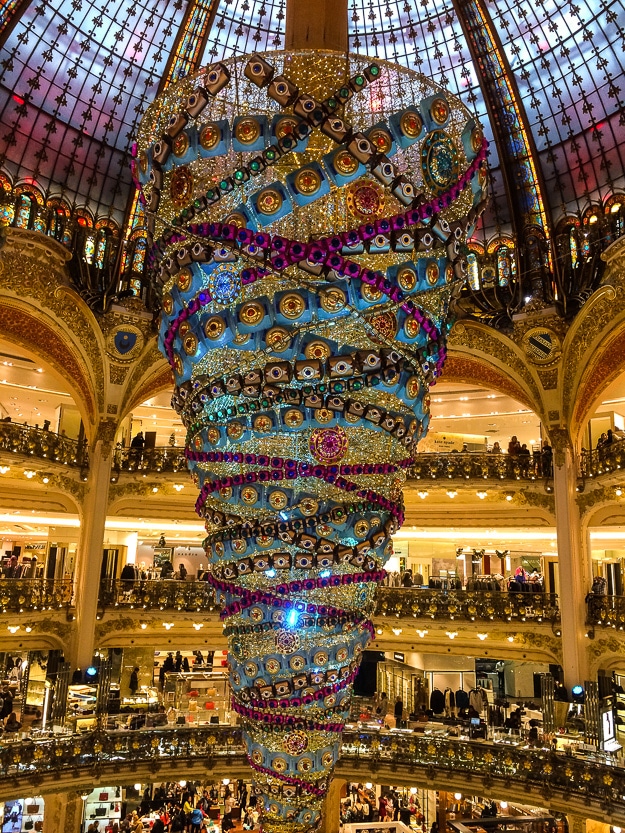 You could make a list of top lists of best places to shop in Paris. There are hundreds of boutiques and neighborhoods that might merit 'Best Of' lists. And there are hundreds of thousands of opinions on where to shop in Paris. But If you want all the shopping experience you can handle in one fell swoop, try shopping at the Boulevard Haussmann location of Galeries Lafayette. It's the original location of this traditional department store, now expanded to three separate buildings on the Boulevard Haussmann corner, in Paris' 10th district.
Started in the late 1800s to bring high fashion and design to the masses, Galeries Lafayette first looked to the opera for inspiration. The nearby opera house influenced the famous glass dome at the center of the Haussmann street store. Six levels of scalloped balconies, edged with ornate wrought-iron railings, wrap around the atrium like tiers of a cake. From every floor of the store, the balconies offer distinct views of the store and its seasonal decorations. In November, we admired a massive, upside-down Christmas tree, overturned by mischievous and fuzzy monsters that are this year's holiday theme. It's a Monster Christmas set, and no amount of lighting or decor can overpower for this space.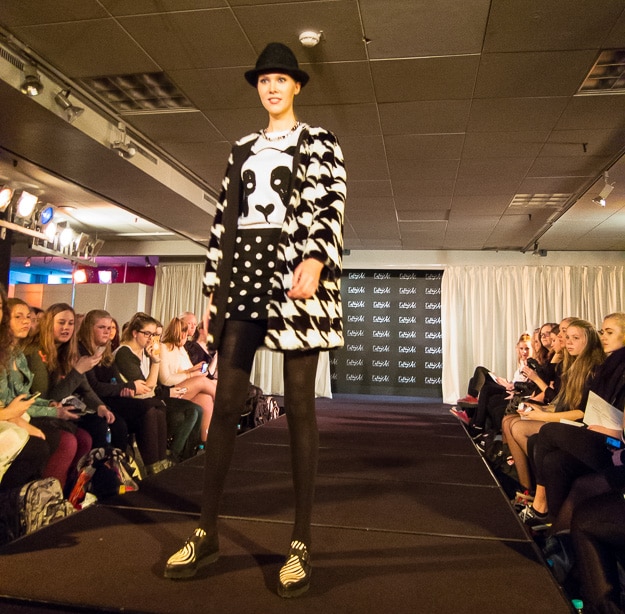 In its original attempts to make fashion affordable and accessible to everyone, the founders also looked to fashions being worn by opera-goers, and copied them for the masses. In the true sense of the department store, Galeries Lafayette is a gathering of boutiques. The designer names are all here, but so are up-and-coming designers from around the world. Success in one boutique might mean a permanent place in the Lafayette store for a heretofore unknown designer.
Some posts on Travel Past 50 may contain affiliate links. If you buy something through one of those links, we may earn a small commission. As an Amazon associate, we earn from qualifying purchases.
If you care to see what's hot before you trot, a short, live style show is offered free (with reservation) on Mondays and Fridays. And just steps from the stage is an exit to the rooftop terrace, offering a great 180 view of Paris, from the Arc de Triomphe and Eiffel Tower in the distance, to the Opera House just below.
The store has expanded and adapted to change over the years. The grand central staircase has been removed – either because the real estate it occupied was too valuable or because it was an unwelcome gathering place for protesters in the last millennium. Not surprising, cosmetic counters crowd the main floor space today.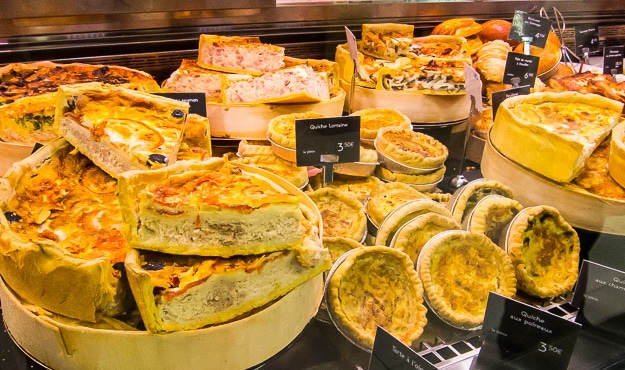 The latest updates to the store include an entirely new gourmet section, now housed in the same building as the home departments, across from the flagship store. Linens and decor take the upper floors; wine and spirits along with cooking utensils are on the first floor. The ground floor features packaged foods–specialty foods from France and around the world–like chocolate! The lower level includes multiple delicatessens plus market shopping. As a modern take on great old world markets, separate areas feature meats, fish, herbs, fresh produce, sweets, dairy products, breads and pastries, and loads of specialty items. If your timing is good, you can pull up a chair at any of the food points and enjoy top quality bites for lunch or snack. A burger and fries with truffle oil satisfied us.
This is one place in Paris you'll find Parisians, international residents, and visitors all elbow to elbow, enjoy the art of tasting.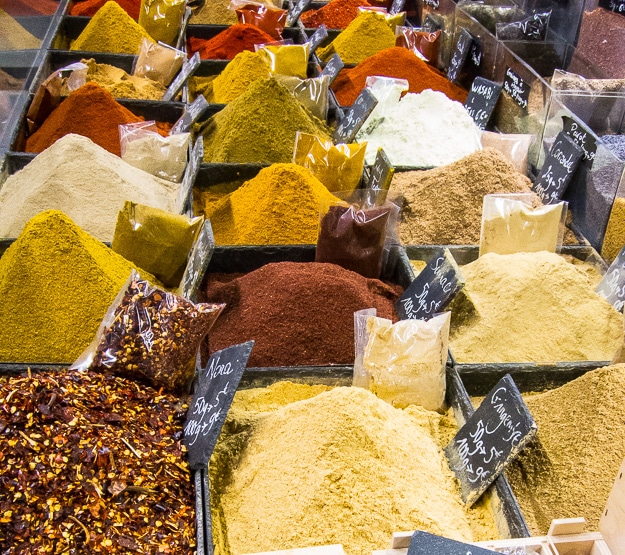 International visitors are invited to take 10% off purchases when showing their passport, and of course the 12% tax can be rebated when purchases totaling €175 or more are submitted to the tax desk the same day. In typical fashion, we forgot to take the discount at the socks department, and didn't approach the minimum purchase for refund. But I have bragging rights to a pair of black tights from Galerie Lafayette.
Travel Planning Resources
Looking to book your next trip? Use these resources that are tried and tested by us. Flights: Start finding the very best flight deals by subscribing to
Thrifty Traveler
. Book your Hotel: Find the best prices on hotels with
Booking.com
. Find Apartment Rentals: Find the cheapest prices on apartment rentals with
VRBO
. Travel Insurance: Don't leave home without it. We recommend
Allianz Travel Insurance
. Need more help planning your trip? Make sure to check out our
Resources Page
where we highlight all the great travel companies and products that we trust. See all of the gear and books we like in one place on our
Amazon shop
.