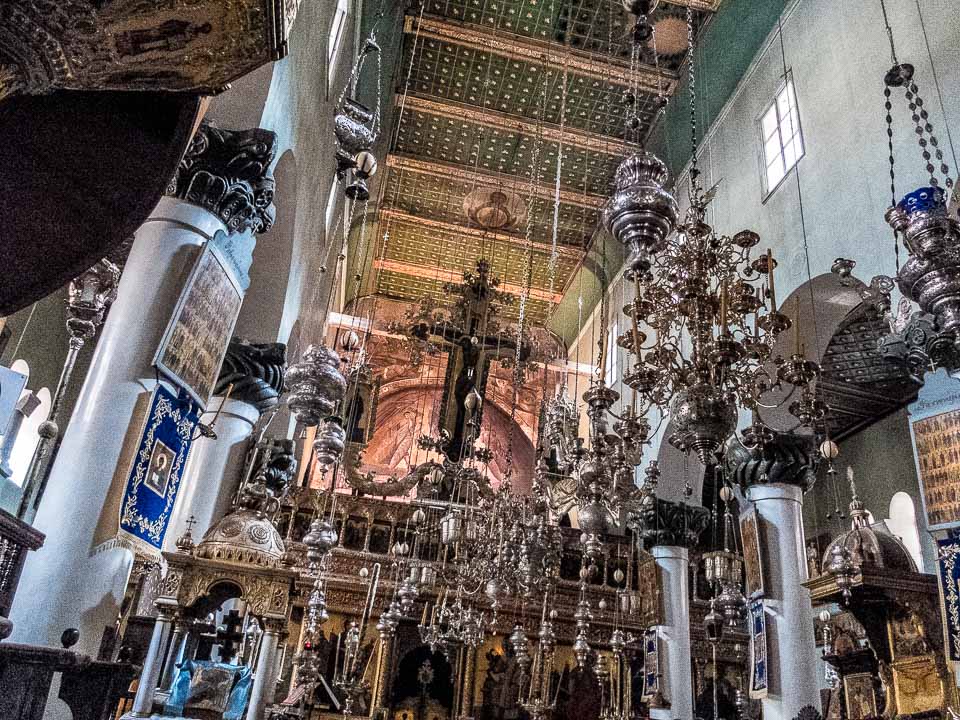 Saint Catherine's Monastery is located in the middle of the Sinai Desert in Egypt–not exactly where you'd expect to find a Greek Orthodox church.
But Saint Catherine's has been there a long time, since the 6th Century in fact, which, according to the World Heritage site bio we read, makes it the oldest continually operating monastery in the world.
And, what's even cooler, the monastery is located at the base of Mount Horeb, where, so the story goes, Moses spoke to the burning bush, and ended up with the Ten Commandments.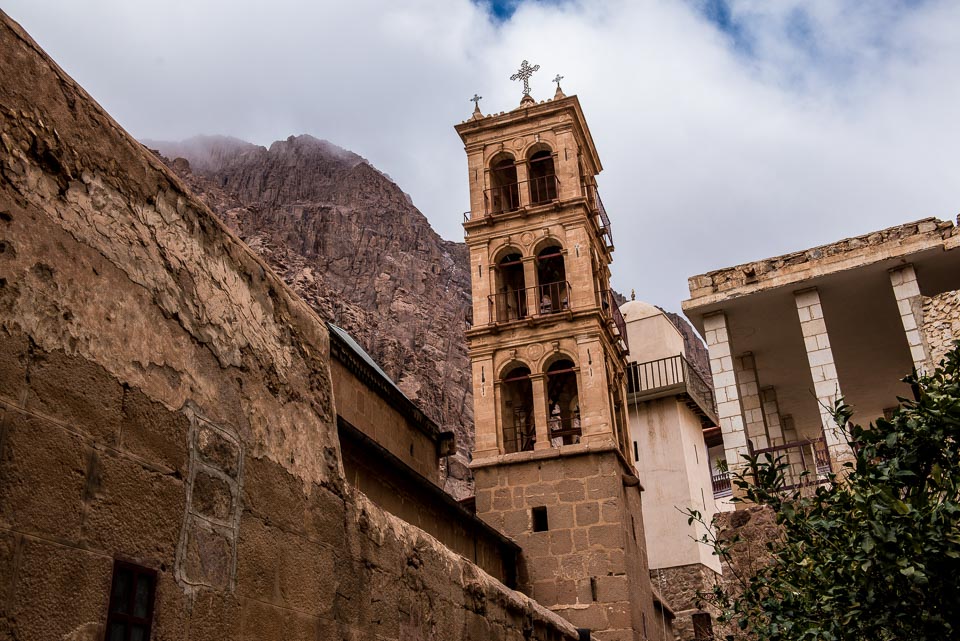 Unfortunately, like in so many Greek Orthodox churches, photography is not allowed inside the sanctuary. In Saint Catherine's they went a step further and only allowed you to step only a few feet into the nave at all. Consequently, all the icons that covered the walls and the front of the altar were barely visible. The photo I did get inside, I got only because I pressed the shutter of the little camera around my neck surreptitiously. (One of the very nice things about the mirrorless Fujifilm X30 is that it is completely silent.)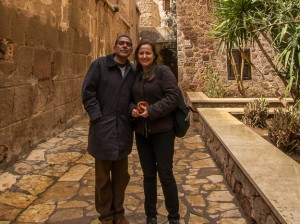 However, the guard who is there mostly to stop people taking photos noticed me touching the camera, and from then on kept a close eye on me. But, like I said, you couldn't get anywhere near the glorious paintings anyway, so there was no point even thinking about photographing them.
I really don't understand this attitude. Maybe the no photo rule is ok. But not even letting you walk down the nave to look at the paintings is just downright cruel after you've driven three hours through wilderness to get there. They are more than willing to sell you cheap reproductions in the gift shop, however. Screw that. I'm hardly going to buy a photo when you wouldn't even let me get a look at the original.
The trip from Sharm el Sheikh, Egypt is about three hours by car, and is made measurably longer by the multiple Egyptian Army check points along the way. Be sure to bring your passports, because they'll be checked at least a few times. It also helps to have an experienced Egyptian guide like our new friends Ismael and his wife Nada who can explain at the checkpoints what Americans are doing in the middle of the Sinai desert.
The last bit is not really a joke, as the Egyptians are very concerned about security, especially for tourists, and more especially for American tourists. As Ismail said, "The last thing we need is for some Americans to get hurt here. The publicity we get that affects our tourism is bad enough already." The other thing he said, which makes a lot of sense to me too, is "A tour bus is a target; a 10-year-old car with standard Egyptian license plates is 'Who cares?'" Even at that, you could sense the nervousness of the Egyptian check point sentries, who were reluctant to let us go through without an armed escort–which they weren't currently equipped to provide.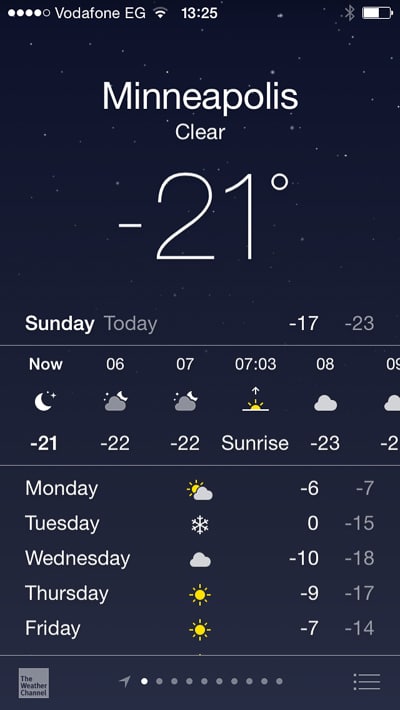 And, to make it even more of a challenge for our guardians, it was actually snowing at the altitude of the monastery (1625 meters, 5300 feet) and most Egyptians have never seen snow, not even the tiny bit that was falling ahead of us. It was if the Apocalypse had struck coincident with our proposed visit.
This, of course, was absolutely hilarious to two Minnesotans. As we recounted the Egyptian guards' trepidation to one of our hotel managers after we got back, he was also concerned for our safety in the snow "storm." So we dragged out our phones and quickly showed him the temperature in Minneapolis from the weather app, and a couple of pictures of what snow looks like to us, and he shook his head and asked if we were crazy to live in a place like that.
That's one of the reasons we don't really live there any more, we told him.
A visa is necessary for Americans to travel to Egypt. We use iVisa whenever we need a visa for any country. Great service, and a small price to pay for them to navigate the visa process for you.

You can click the link above, or use this widget below to start the process of getting a visa for any country.
When you're thinking of traveling, your first stop should be our Travel Resources page, where we list all the essentials you need to make your travels easier, cheaper, safer, and more fun.
You can also help yourself get ready for your travels by reading our Get Started Planning Your Trip Now page.
We love traveling–with the right gear. We've gathered a lot of the stuff we use to make travel more pleasant and efficient all on one page. Shop our Travel Past 50 Amazon page to find our favorite gear. If you purchase something from the store, Travel Past 50, as an Amazon affiliate, may receive a small commission at no extra charge to you. Thanks.
We never leave home without our travel insurance. Nor should you. Search for the travel insurance from Allianz that best meets your needs, whether it be an annual plan or a single trip.
You can see (and buy prints) of most of our travel photos in one place on this page.
Note: This post and other posts on TravelPast50.com may contain paid or affiliate advertising links. As an Amazon Associate we earn from qualifying purchases.