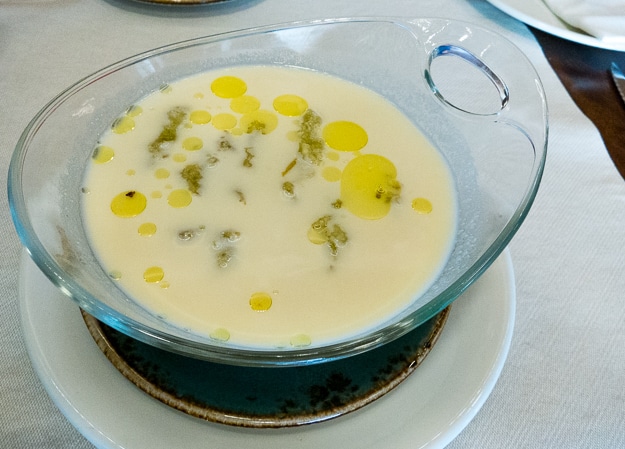 It's billed as Gazpacho Extremeño. Extremeño means 'of Extremadura,' the western region of Spain bordering Portugal. But it's OK with me if you read it as EXTREME, because we've just made an extreme change of location and diet. We traveled here from Tarragona in the east after two full weeks in Catalunya (including Barcelona, Costa Brava, the Priorat region, Lleida up into the Pyrenees, and the Costa Daurada area around Tarragona)–two weeks immersed in all things Catalan.
When we sat down in the Plaza Mayor of Cárceres, the capital of Extremadura and a UNESCO World Heritage Site, we felt as far from Catalunya, culturally, as we could get, and still be in Spain. Around 10 p.m., we walked into the center of the medieval town, and found inviting outdoor seating at the restaurant Jardín de Ulloa in front of the towering San Francisco Xavier Church. We ordered typical dishes: a plate of Iberian Jamon Bellota to share, plus gazpacho and a small orange salad tossed with cod shavings and black olives.
The gazpacho was an eye opener: a fresh faint green color, garlic aroma, and completely distinct from the tomato based version from Andalucia to the south. The menu describes the gazpacho as "Extremadura style with garlic, egg, and tempura style asparagus." The restaurant's chef kindly shared the recipe. Your guess on quantities is as good as mine. Let us know how it works in your kitchen!
Gazpacho Extremeño
Ingredients
Olive Oil
2 eggs
5 cloves of garlic
1 liter water
Vinegar
Salt
Wild Asparagus (fresh green asparagus)
Bread (2 slices)
Method
1. Fry the cloves of garlic in the oil and then remove and save the garlic
2. With the same oil, fry the eggs, reserving the oil
3. Blend together the fried garlic, fried eggs, water, reserved oil, vinegar, salt and bread
4. Meanwhile prepare the fresh asparagus pieces: lightly breaded and fried tempura style. Add to gazpacho.
Chill and serve! Delicious.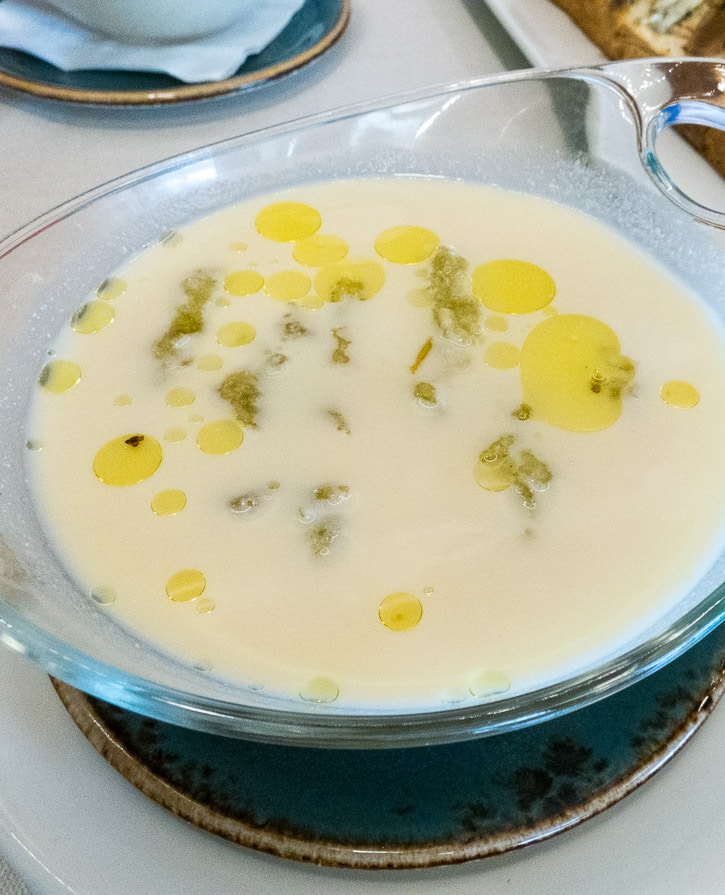 NOTE: We've spent more time in Spain than any other country in the world (except the U.S.) and happily return as often as possible to see and eat more! Read our take on The Seven Wonders of Spain or check out our list of all the UNESCO World Heritage Sites in Spain, with links to those we've covered.
You can help yourself get ready for your own travels by reading our Get Started Planning Your Trip Now page.
We love traveling–with the right gear. We've gathered a lot of the stuff we use to make travel more pleasant and efficient all on one page. Shop our Travel Past 50 Amazon page to find our favorite gear. If you purchase something from the store, Travel Past 50, as an Amazon affiliate, may receive a small commission at no extra charge to you. Thanks.
We never leave home without our travel insurance. Nor should you. Search for the travel insurance from Allianz that best meets your needs, whether it be an annual plan or a single trip.
Note: This post and other posts on TravelPast50.com may contain paid or affiliate advertising links.
Get all our travel tips delivered to your inbox
Subscribe to our email newsletter