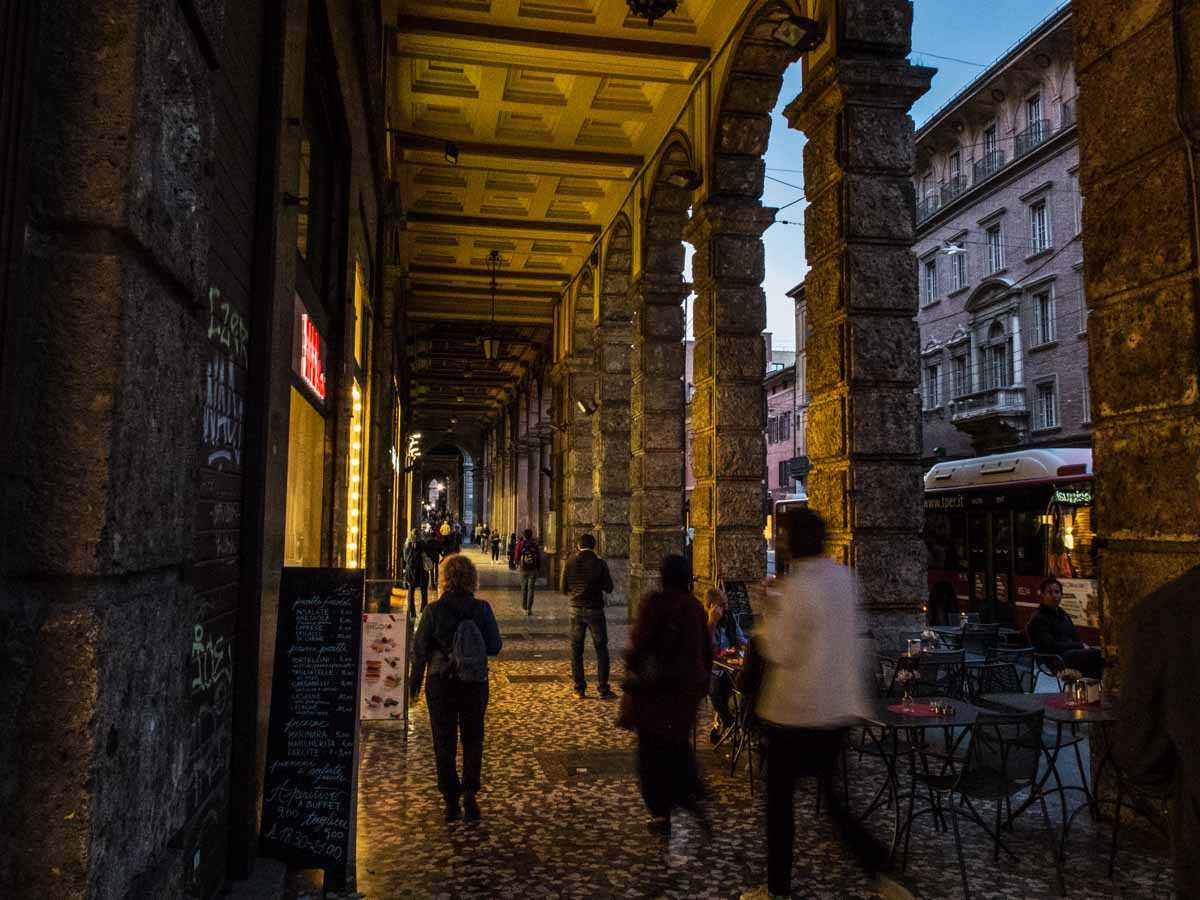 The historic center of Bologna, the area contained within the 13th Century city walls, contains more than 38 kilometers, or 24 miles, of covered walkways.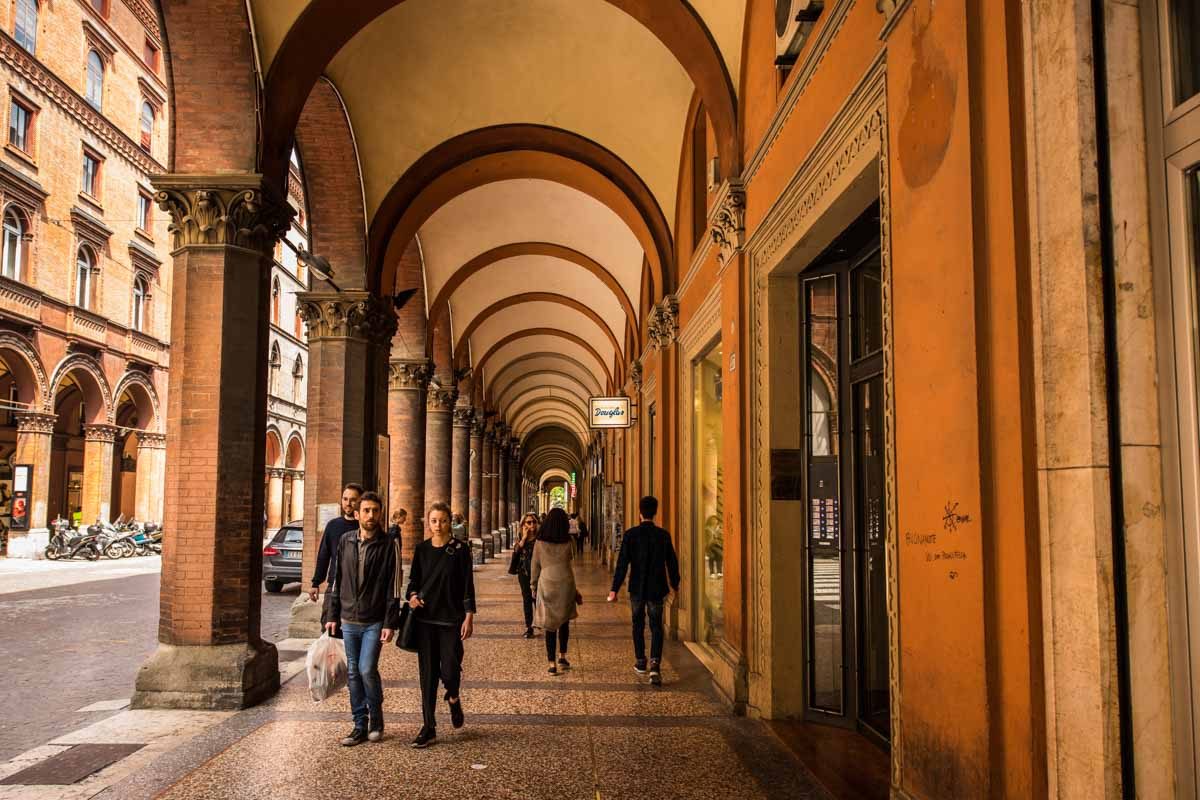 These porticoes, portici in Italian, were built over almost 1000 years, from the 11th to the 20th Centuries and were an innovative solution to the problem of moving people around the city that was growing rapidly, and where private builders were encroaching on public space, i.e. roads.
In the 13th Century, Bologna decreed that porticoes would be compulsory for all streets that carried any amount of traffic. Private builders were compelled to build the porticoes on their own land, which provided transportation for all at minimal public expense. While not used for anything but public walkways today (other than the encroachment of outdoor restaurant tables) the porticoes originally served for both people and cart traffic–back when carts were pulled by donkeys.
Some posts on Travel Past 50 may contain affiliate links. If you buy something through one of those links, we may earn a small commission. As an Amazon associate, we earn from qualifying purchases.
The development of the porticoes system is also owed to the dramatic growth of Bologna as a university city. The University of Bologna, founded in 1088, is the oldest university in Europe, and is still one of the largest, with 82,000 students. The vast influx of students to the new university from all over Europe created not only a traffic but a housing problem, which was resolved in the crowded city by the construction of student rooms on the floors above the porticoes, with shops on the ground floors–a solution that still serves for today.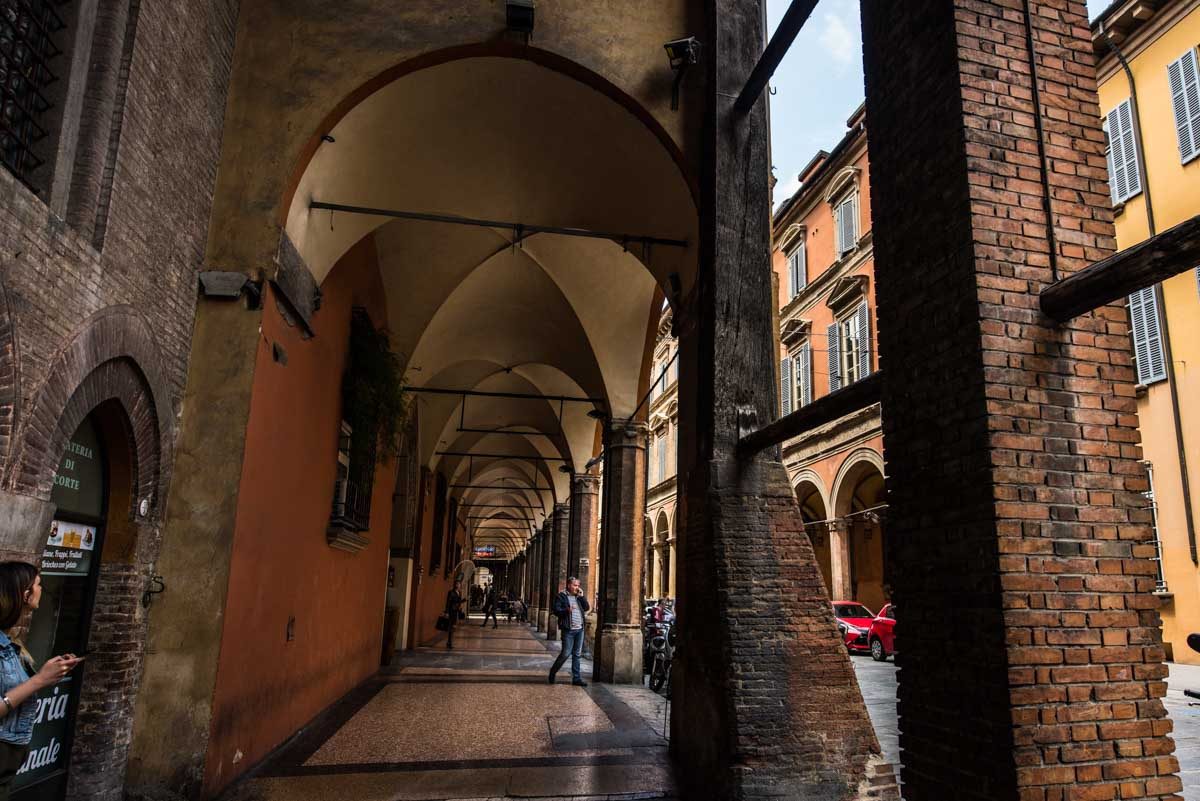 Because of the construction over the course of so many years, the styles of the porticoes vary considerably. Some of the earliest were built with wooden columns, and despite legislation in the 16th Century that all wooden columns should be replaced by brick or stone, some wood columns remain, although they're often reinforced by steel braces.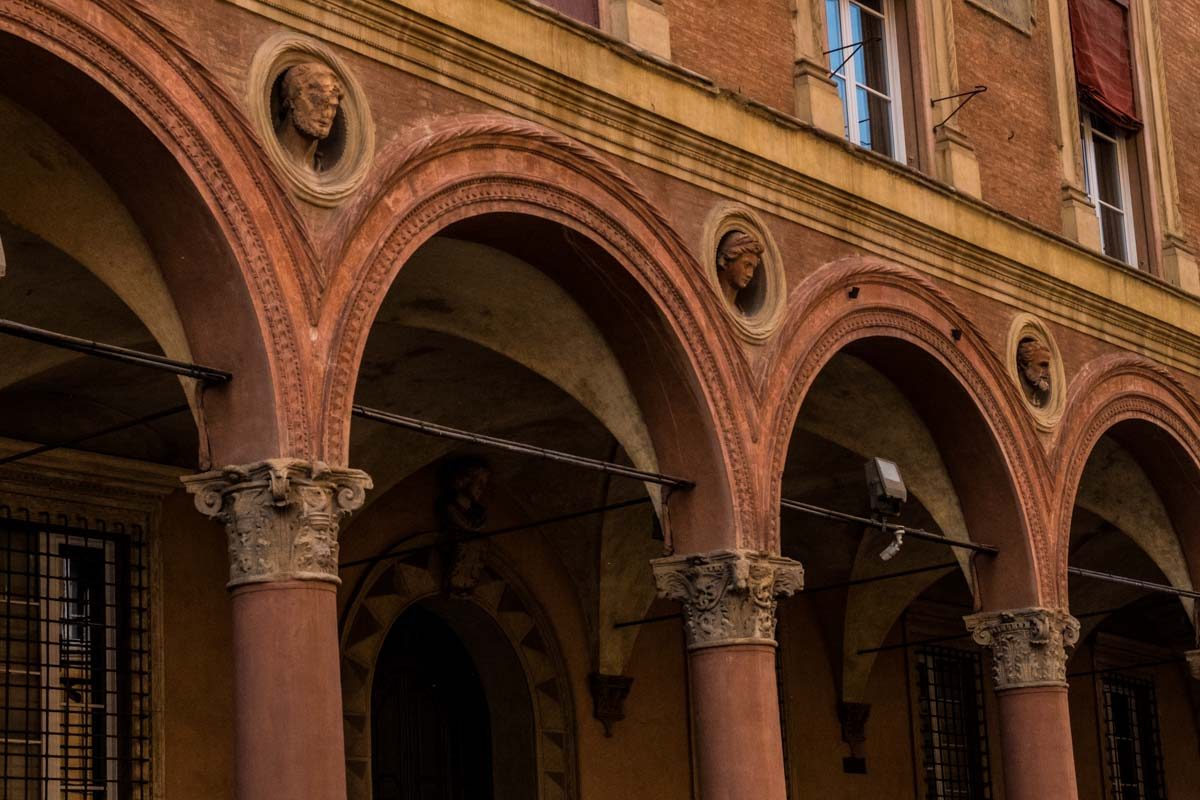 In other spots, you'll see rough brick, and in some elegant stone topped by Corinthian capitals. In the city's main shopping areas, there is modern elegance, while one block away there can be pitted limestone covered with graffiti. Renaissance facades with bas relief portraits and intricate grotesques decorate some arches, while others are utterly plain.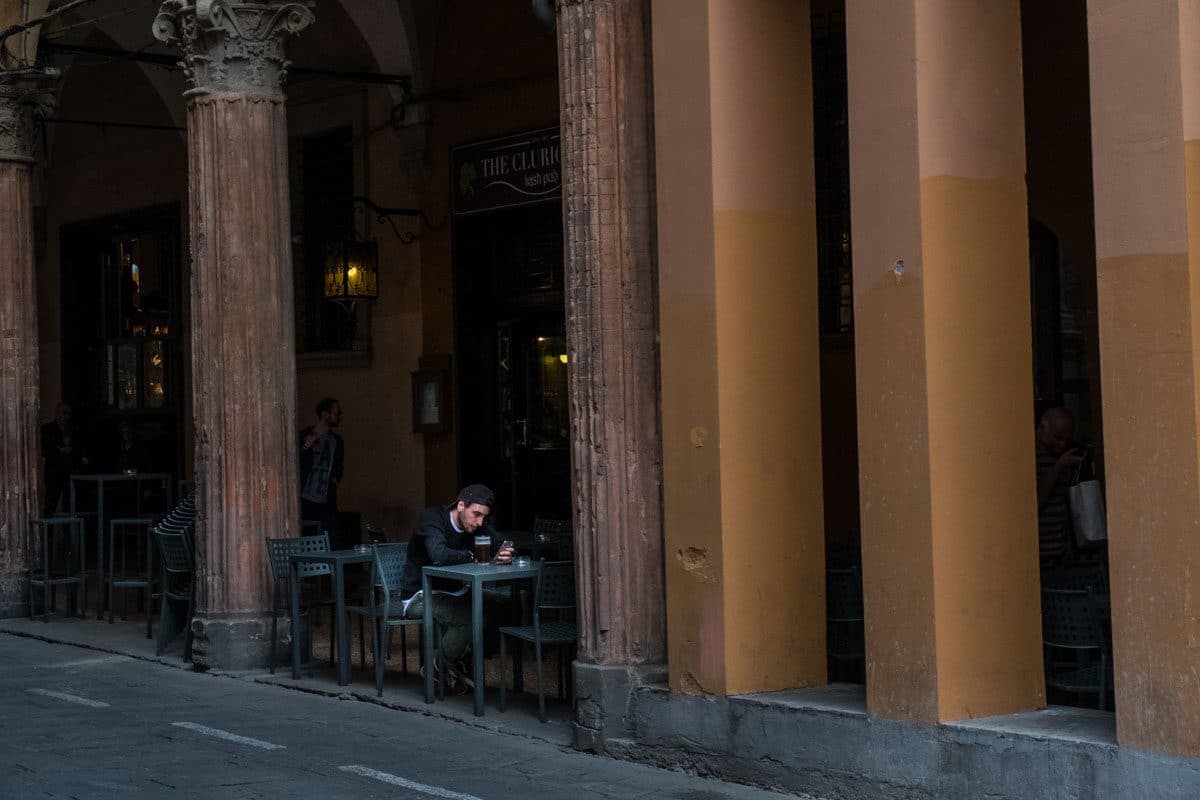 So, take a little care to look up and about as you walk around Bologna and admire its other architectural wonders such as the University, the Basilica, the Cathedral, the conjoined Seven Churches, and Bologna's two medieval brick towers, one of which is leaning far more precariously than its more famous cousin in Pisa.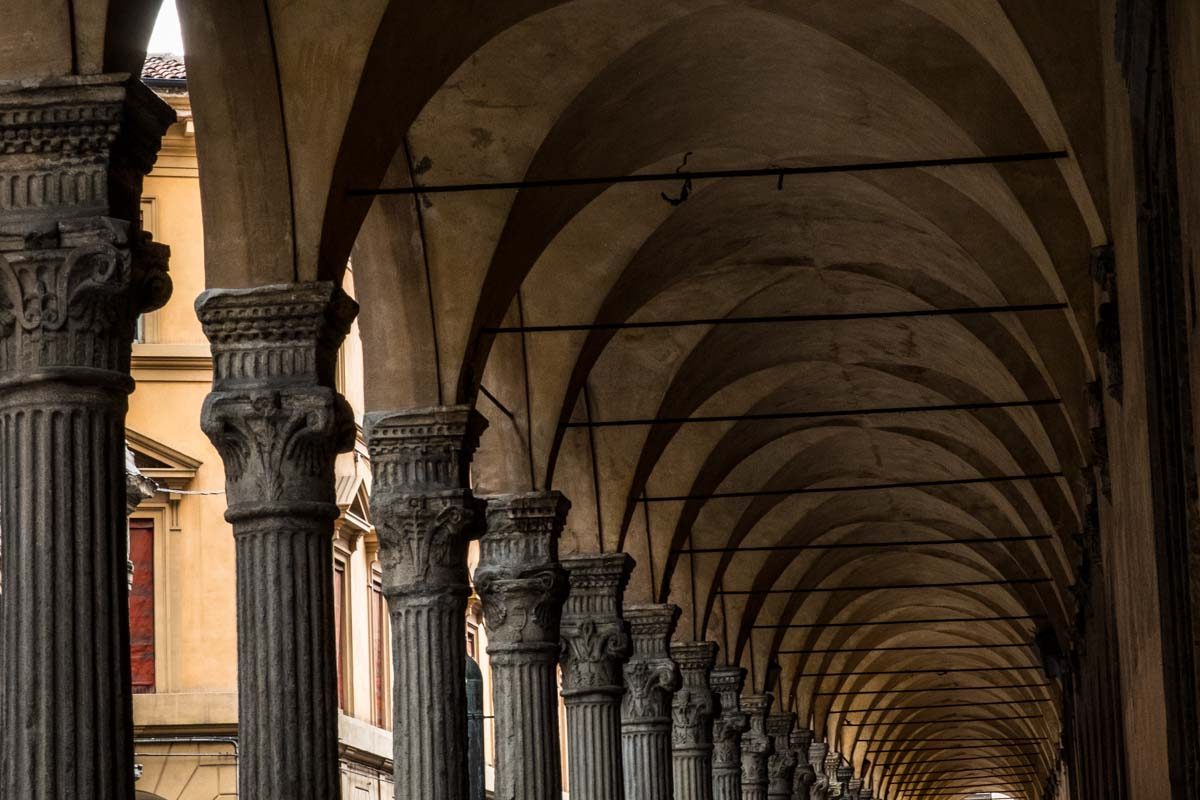 And also give thanks, if you're in Bologna when it is raining, as we were, that you really can move almost anywhere in the old city without using your umbrella.
The Porticoes of Bologna are on the tentative list to be named a Unesco World Heritage site. You can click this link to see our list of all the Unesco World Heritage sites in Italy, with links to posts about the ones we've visited.
Travel Planning Resources
Looking to book your next trip? Use these resources that are tried and tested by us. Flights: Start finding the very best flight deals by subscribing to
Thrifty Traveler
. Book your Hotel: Find the best prices on hotels with
Booking.com
. Find Apartment Rentals: Find the cheapest prices on apartment rentals with
VRBO
. Travel Insurance: Don't leave home without it. We recommend
Allianz Travel Insurance
. Need more help planning your trip? Make sure to check out our
Resources Page
where we highlight all the great travel companies and products that we trust. See all of the gear and books we like in one place on our
Amazon shop
.