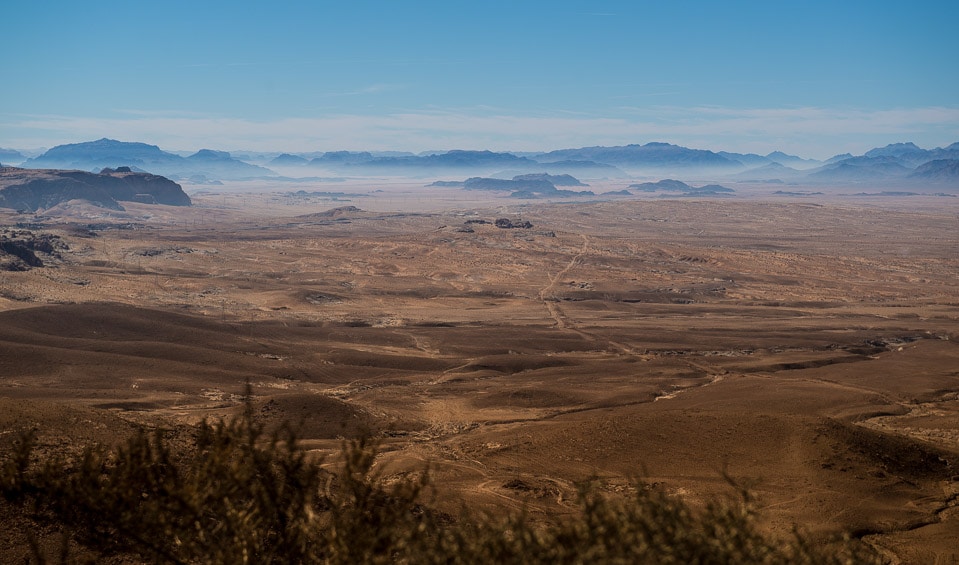 We were driving early morning from Petra to Wadi Rum on Jordan's main north south highway. I noticed the mist on the mountains in the distance and asked our driver what we were looking at. "That's where we're going," she said. "That's Wadi Rum."
Wadi Rum means Valley of the Moon in Arabic, and this indeed could be a moonscape, although probably not our moon. Maybe some mythical moon, or one of the gaseous moons of Jupiter. Because, after all, this is the Arabian desert, and that doesn't usually bring the words mist or humidity to mind.
But it was January, and it was pretty early in the morning still, so there was a little moisture in the air. It even snowed in the high parts of the Jordanian mountains two weeks ago. So, I guess anything is possible.
We were anxious to start our Wadi Rum tour.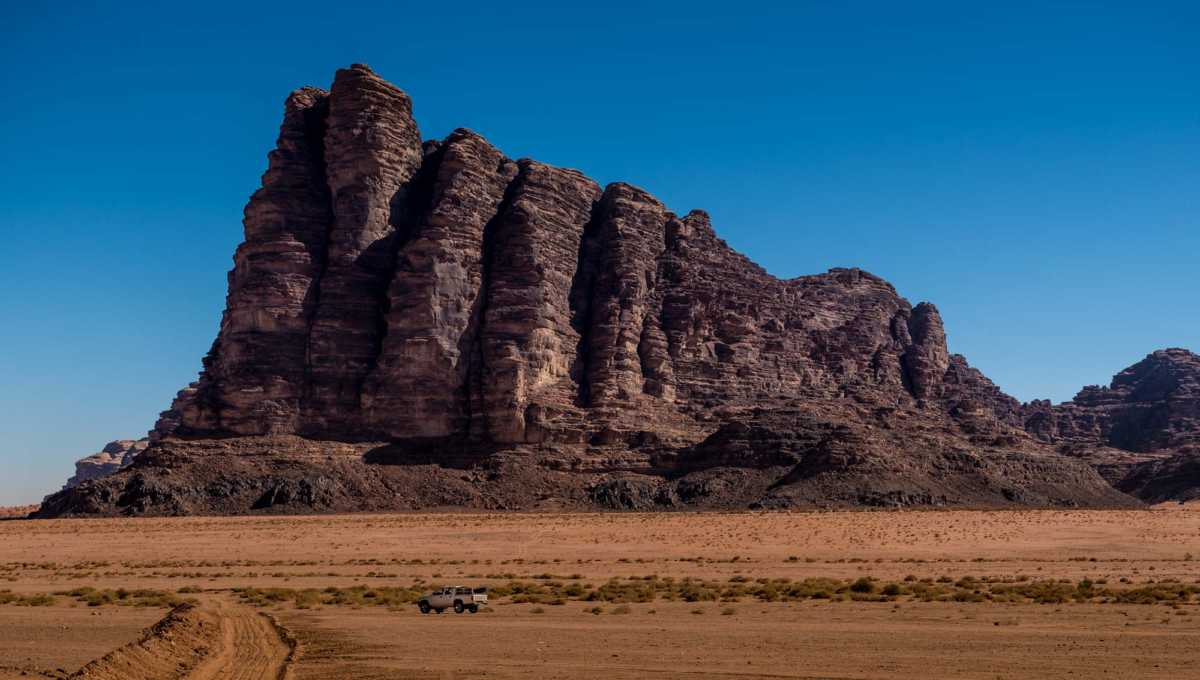 T.E. Lawrence, the famous Lawrence of Arabia wrote a book about his experience in his World War I campaign with the Arabs called Seven Pillars of Wisdom.
This rock formation took its name from that book. It's in Wadi Rum, where Lawrence passed and camped many times during the campaign. Wadi Rum is also where much of the film, Lawrence of Arabia, was filmed. Wadi Rum also recently served as the stand-in for Mars in the film The Martian.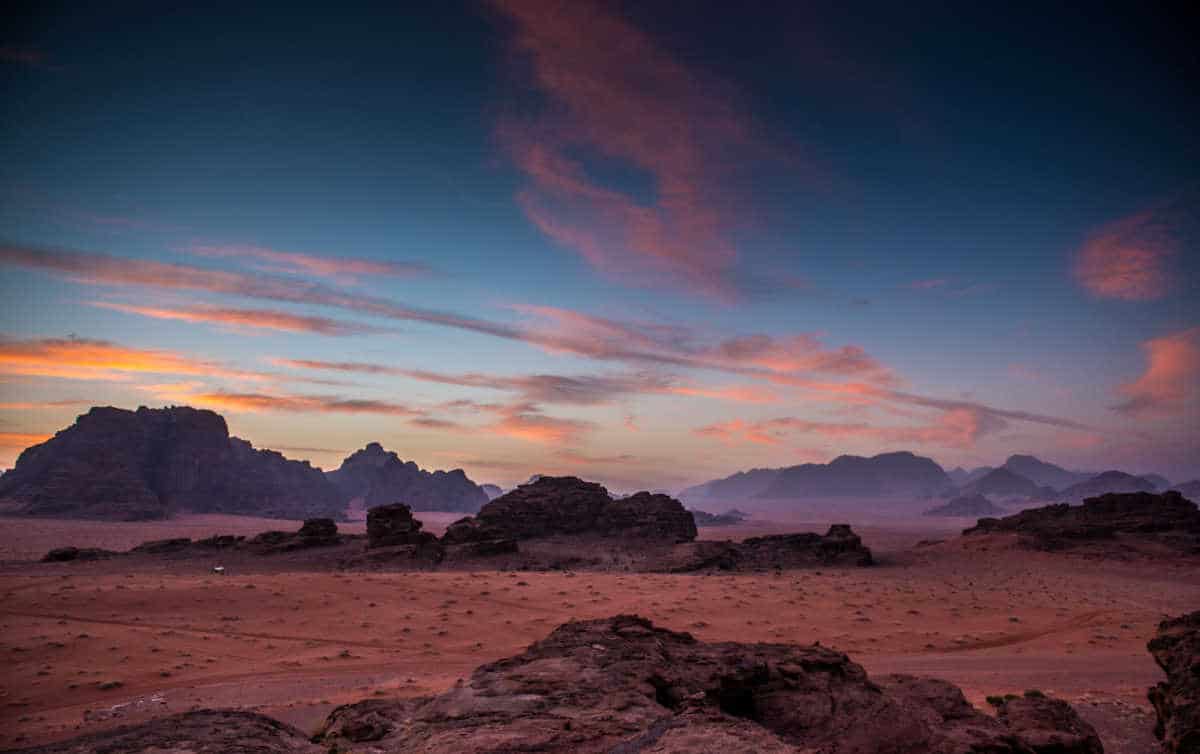 When it comes to color and natural beauty it's hard to beat mountains and desert. When you have both, such as in Wadi Rum, Jordan–and when I get up before dawn to shoot them–you have a combo that's hard to beat. Wadi Rum is spectacular for many reasons. It's so beautiful, and stark at the same time. One of the most impressive features is the predominance of iron oxide, rust, in the mountains, which turns a lot of the landscape red. There are parts of the desert which do not have this rust, and in certain spots you can see the ground change from red to white along a clearly delineated line.
This and the shot below were the direct results of staying overnight at a Bedouin camp in Wadi Rum. The Bedouins have exclusive rights to accommodation in Wadi Rum, so you can only do it with their permission. Various families have Wadi Rum camps where you can stay, and those families also have the four wheel vehicles that will ferry you around the desert.
The Bedouin camp hospitality is legendary, of course, and our stay at the camp, despite the total language barrier, was a delight. A desert cooked dinner, sweet tea and honeyed pastries for desert, and early to bed to await the dawn.
It was a particularly soft dawn over the red sands of Wadi Rum. Often you'll get the long shadows of low light at dawn. But the early sun was still behind the mountains, and so just infused the scene with a delicate glow without pouring down so hard as to cause harsh shadows.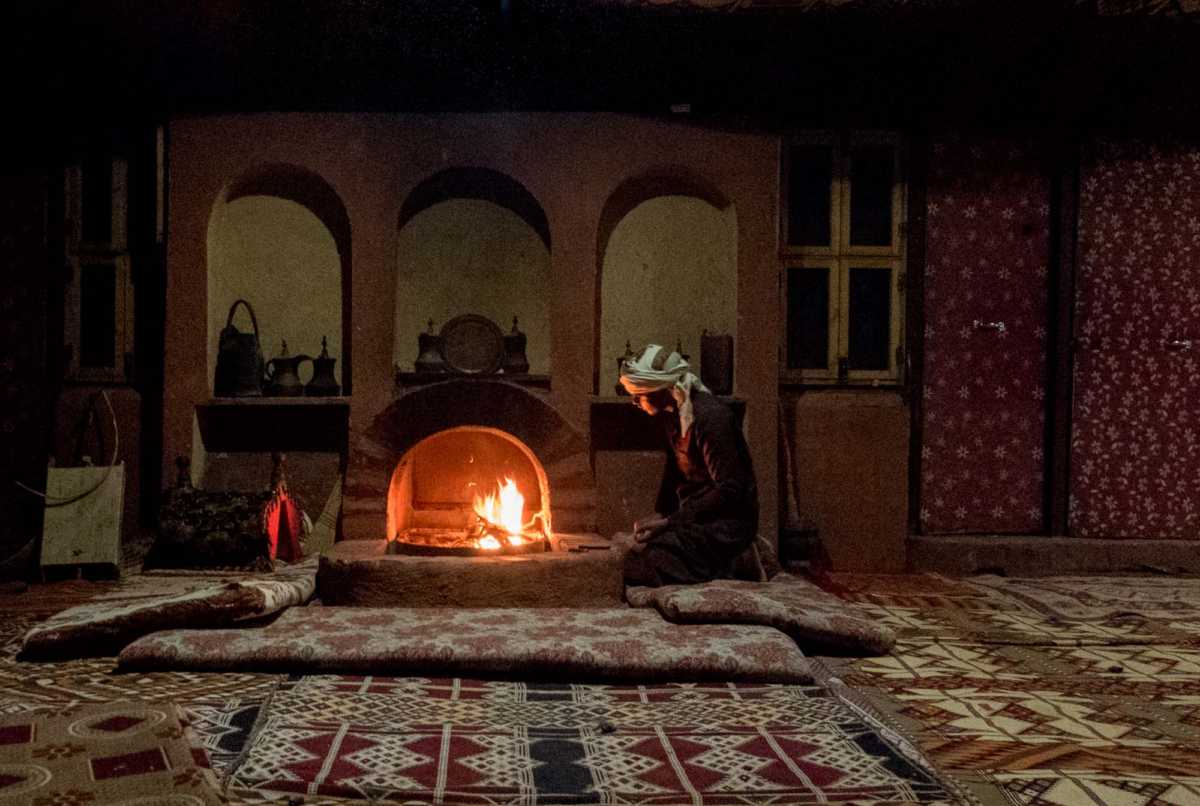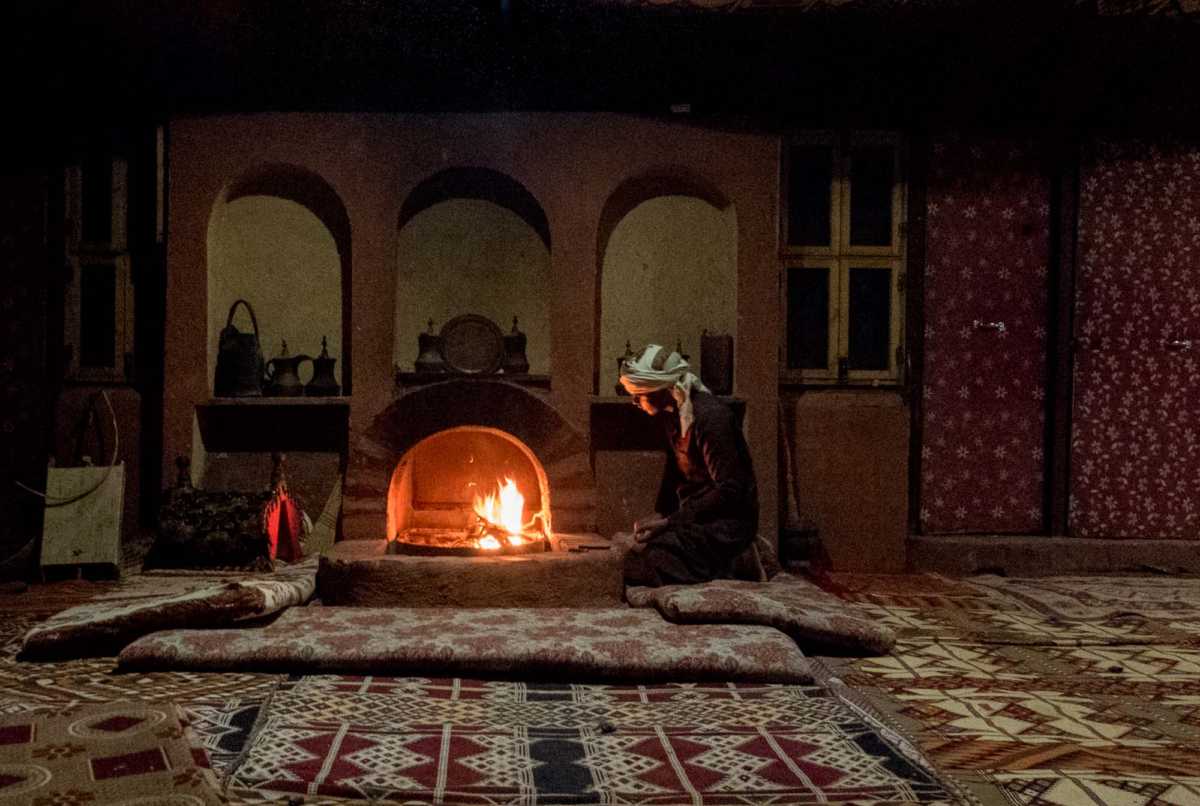 The Bedouin encampment in Wadi Rum was a tent setup that was more permanent than a usual Bedouin outpost, there were metal frames to the tents, and the "dinner" tent had a stone fireplace to warm the large space. Of course, in the desert, there's not much wood, and this man made this fire out of one small branch from a dry tree.
But the tent walls are made of goat hair carpets, as is the ceiling. And that is some fantastic insulation. The chill of the desert night, which was near freezing, was subdued even by this small fire.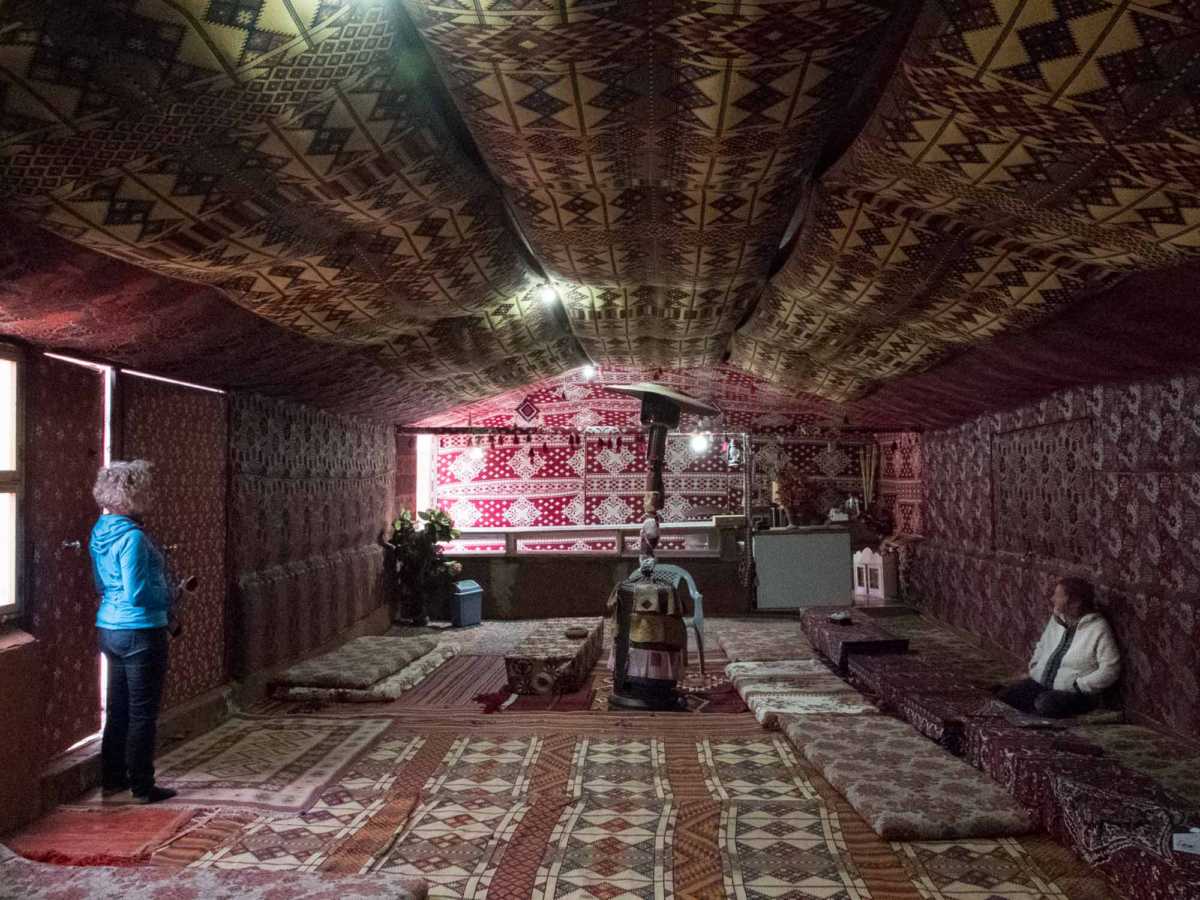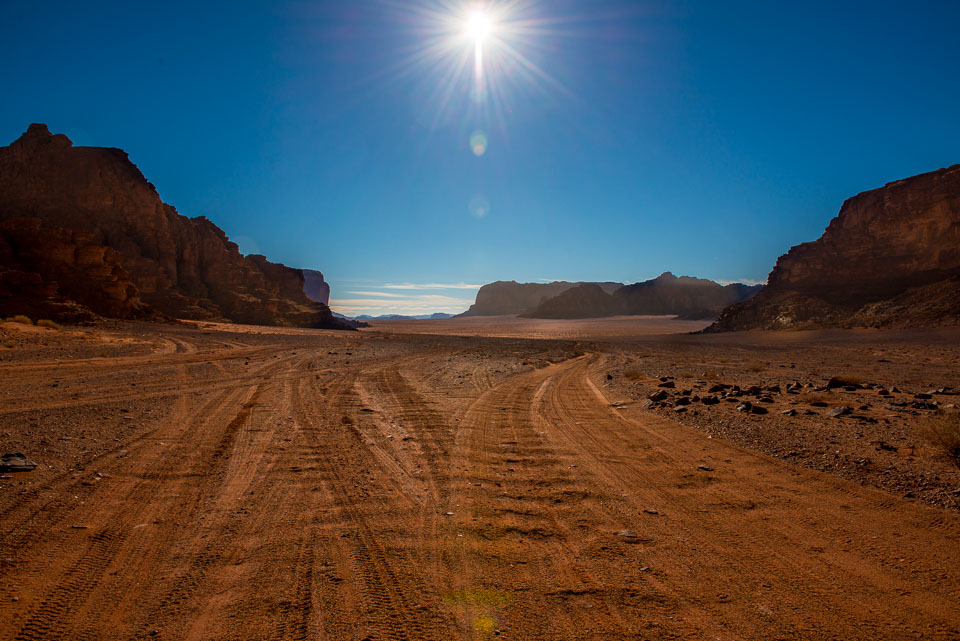 As part of our Wadi Rum visit, we took a three hour guided jeep tour through the Wadi Rum desert. We stopped at many interesting archeological sites in the Unesco World Heritage area. Now I like petroglyphs as much as the next guy, but I'm really a sucker for military history. Especially when that military history involves one of my favorite military (and cinematic) characters of all time: Lawrence of Arabia.
At this spot in Wadi Rum, there was a ruined stone house built against a hill. It's doubtful T. E. Lawrence himself stayed in the building, because he usually slept Bedouin-style in a tent. But the spot of land is well documented as a site of prolonged encampment for Lawrence and his men. The site, in addition to having a natural bulwark of surrounding rock outcroppings, was on a bit of a rise in the otherwise very flat valley. The rise provided him with an extended view to the south west, where his enemies were likely to advance. At any rate, this was Lawrence's vista down the valley over the red sand of Wadi Rum.
I won't go into a history lesson here, but I will encourage you to rent, steal, download or whatever David Lean's spectacular epic film. I don't think it would be saying too much that it is among the 10 best regarded films in movie history. I certainly have it in my top five.
If you are interested in Lawrence, you might also do well to read his own words on his campaigns in Arabia, Seven Pillars of Wisdom.
If you need convincing about reading Lawrence's book, here's the first paragraph. This guy could write.
Some of the evil of my tale may have been inherent in our circumstances. For years we lived anyhow with one another in the naked desert, under the indifferent heaven. By day the hot sun fermented us; and we were dizzied by the beating wind. At night we were stained by dew, and shamed into pettiness by the innumerable silences of stars. We were a self-centered army without parade or gesture, devoted to freedom, the second of man's creeds, a purpose so ravenous that it devoured all our strength, a hope so transcendent that our earlier ambitions faded in its glare.
You can help yourself get ready for your own travels by reading our
Get Started Planning Your Trip Now
page.
We love traveling–with the right gear. We've gathered a lot of the stuff we use to make travel more pleasant and efficient all on one page. Shop our Travel Past 50 Amazon page to find our favorite gear. If you purchase something from the store, Travel Past 50, as an Amazon affiliate, may receive a small commission at no extra charge to you. Thanks.
We never leave home without our travel insurance. Nor should you. Search for the travel insurance from Allianz that best meets your needs, whether it be an annual plan or a single trip.
You can see (and buy prints) of most of our travel photos in one place on this page.
Note: This post and other posts on TravelPast50.com may contain paid or affiliate advertising links.