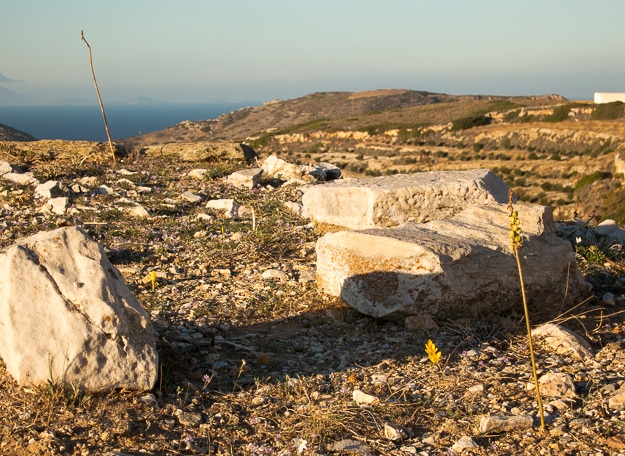 What we have here in Paros are a lot of rocks. Imagination may be required. Paros, one of Greece's Cyclades Islands, is also one of the closest to Athens, about four hours with Blue Star Ferry (€35). Ferry service is twice daily, even in shoulder season, and continues to Naxos, Ios, and Santorini. That suited our timetable, and we selected Paros without much thought of its rocks and archeology.
Paros is a good choice for many other reasons. It has beaches. It is big enough to have a handful of good-sized towns. It's home to the famous white Paros marble, used over thousands of years to commemorate Greek gods and goddesses like Apollo, Artemis, and Athena, and later for Napoleon's tomb in Paris. Seafood is a dietary staple, along with the ubiquitous Greek Salad (what could possibly go wrong?), and the cultural fluctuations resulting from former Turkish and Italian influence can be tasted up and down restaurant rows.
Most of our three days were spent in Parikia, the port and principal town of Paros. It's a cheery town spread along the harbor, surrounded by more white homes scattered up the hills and around the bay. Before knowing the town's attractions or even which way was up, a stroll took us to the oldest section. The narrow streets make it nearly impossible to view the layers upon layers of historic buildings, but offered good protection from the wind.
Some posts on Travel Past 50 may contain affiliate links. If you buy something through one of those links, we may earn a small commission. As an Amazon associate, we earn from qualifying purchases.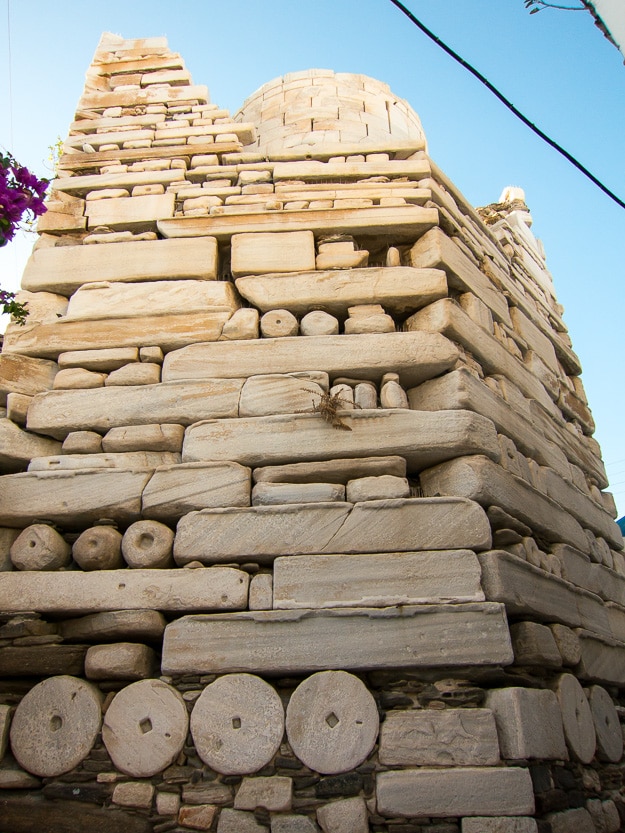 First we stumbled on the Castro Franco castle that was built from stray stones from a former temple. Later we picked out more temple-cum-castle stones tucked in the foundations and gardens of modern homes on the hill. Behind the castle remains, right up on the cliffs over the sea, was the chapel of St. Constantine, which, upon closer look, was built on the temple site, using pieces of the temple. Further digging (well, just reading signs) indicated a prehistoric village was discovered in this same area.
As we found our way home, we discovered Our Lady of the Hundred Doors, a church and convent just off the central square which opens to the port and ferry docks. The layers here start with the 4th Century baptistry, and rise through the Orthodox Church and the museum of Byzantine relics. It was a discreet visit; a service was in progress, but we could take in the chanting, incense, views, and kissing of relics from the women's section up in the balcony.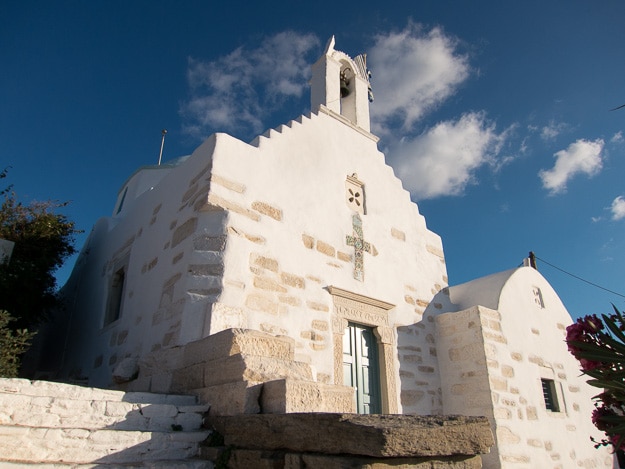 Below contemporary ground level, and further east along the waterfront, an ancient cemetery holds remains of some 140 soldiers who died, it appears, as far back as the 7th Century B.C. The plot was used through the 3rd Century A.D., utilizing amphorae and sarcophagi for family or mass graves.
To see more of the island (an oval shape about 15 by 20 kilometers) we rented a car and drove to Lefkes for a lovely view of a terraced valley falling to the eastern shore. To the north we skirted Naoussa, home to the Moraitico Winery and a well-protected beach and resort area.
With time running short before dark, I was talked down from scampering up the rocks of the Mycenean Akropolis. All I know is that settlements of 13th and 10th Centuries B.C. were arranged up there. Maybe one can distinguish the former organized rock formations from the gorgeous natural formations, not too difficult to climb.
Last stop was the Sanctuary of Apollo and Artemis, high up on a rocky hill (aren't they all?) on the northwest side of the island. The ruins, mostly rubble with a hint of foundations, face Delos, the island where Apollo was born. Without the view, the rocks aren't much to look at. But when you stand on the hill among the temple stones, it's easy to imagine the imposing structure and the impression it must have had on approaching seamen, not to mention on the Gods themselves, who surely must have been pleased.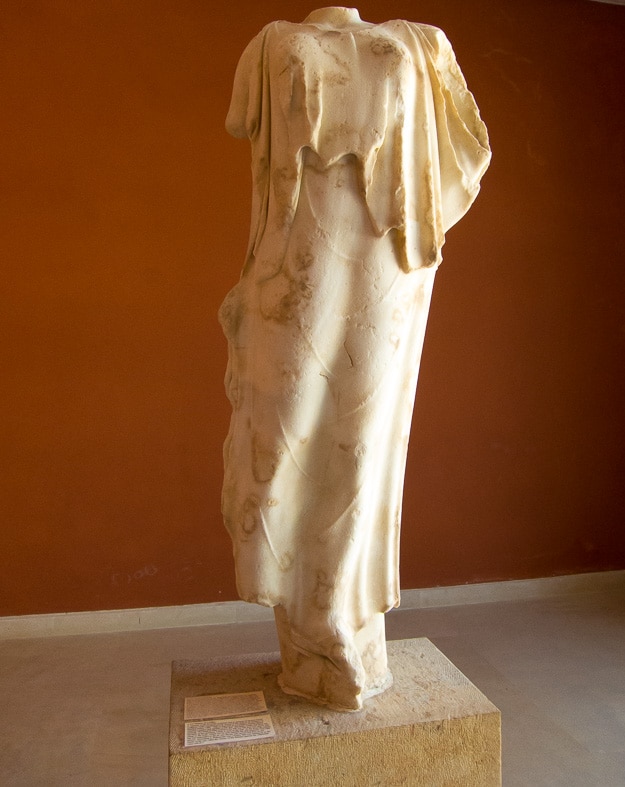 For those needing more substantive prompts, visit the Archeology Museum in Parikia. It's almost entirely devoted to artifacts from the Sanctuary of Apollo, from the buildings and graves originally under the Church of 100 Doors, and from digs elsewhere on the island. Besides stone and bronze, there are artifacts of gold, glass, pottery, obsidian, and shells. Small items gathered in trade with Egypt are on display, as are a few remarkable sculptures.
For our stay on Paros, we booked into Pension Sofia with only a day's notice. Such a last minute booking would probably be impossible in high season, but this October weekend we were lucky. Though our room was small and the mattresses hard, we enjoyed a balcony, clear air, a gorgeous garden that smelled of basil and flowers, al fresco breakfasts, and inviting garden corners that allowed us to linger around as much as we wanted. Hosts Sofia and Manuel do it right.
Every meal was fine and friendly. Fresh Greek salads, vegetarian moussaka, lamb, and calamari were our go-to meals.
Bon Appetit – a casual and inexpensive traditional Greek grill. We appreciated that they let us in late our first evening.
Elaea – also near the port, with nice wine selection
Ephesus – with middle Eastern influence, and pizza
Flora Tavern – fresh food and good view, overlooking Lefkes
Travel Planning Resources
Looking to book your next trip? Use these resources that are tried and tested by us. Flights: Start finding the very best flight deals by subscribing to
Thrifty Traveler
. Book your Hotel: Find the best prices on hotels with
Booking.com
. Find Apartment Rentals: Find the cheapest prices on apartment rentals with
VRBO
. Travel Insurance: Don't leave home without it. We recommend
Allianz Travel Insurance
. Need more help planning your trip? Make sure to check out our
Resources Page
where we highlight all the great travel companies and products that we trust. See all of the gear and books we like in one place on our
Amazon shop
.