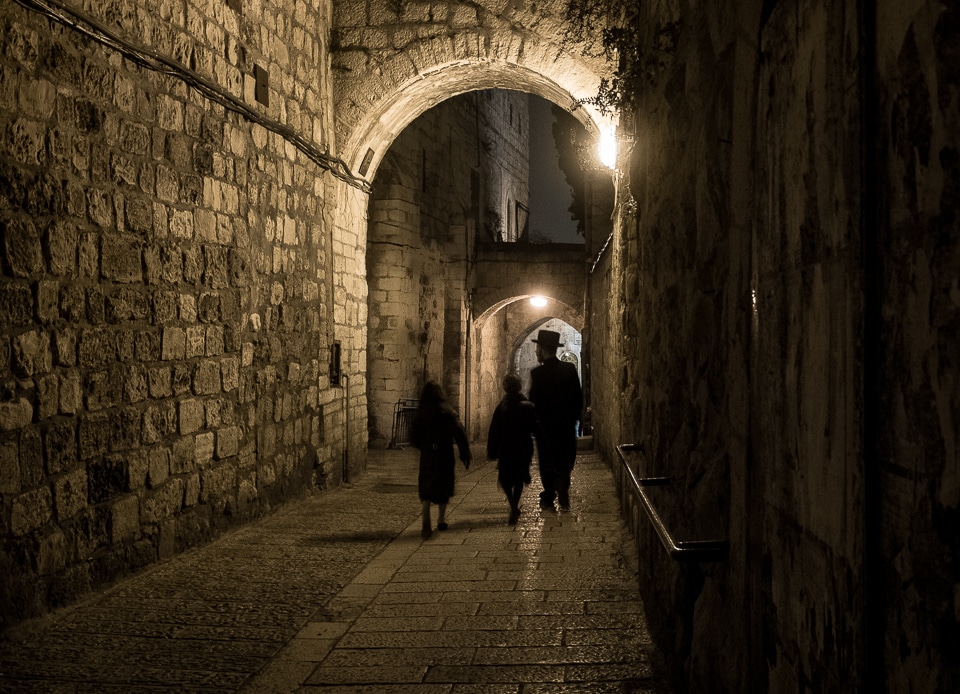 We got to Jerusalem in the middle of the afternoon, and we were both sort of exhausted–Kris because she's got pneumonia, and me because I was feeling the effects of breathing in a sandstorm we're having here in Israel.
But after a brief rest, I got up and walked the 20 minutes down the street into the Old City of Jerusalem. I had no idea what to expect, and after wandering there for a couple of hours, I'm still not sure. But what I can say is pretty much just a catalog of things I saw: souvenir shops, and shops with actual arts and crafts I would buy if I had a house; very religiously observant people, and secular people; natives and tourists; a very obvious security presence, including frequent pairs of Israeli soldiers slinging automatic rifles, and loud kids on skateboards. I only stopped at one "historical" site: the Western Wall, where I snapped some pictures.
But mostly I just wandered the warrens of the narrow streets of the Old City of Jerusalem and looked at a city unlike any I've ever seen before.
As I was walking the Old City, I saw plenty of men dressed in the black coats and hats of Orthodoxy. I saw this man and his children just as they stepped into the frame of the arch. So I raised the camera and shot. This was the fortunate result of being sort of prepared for street photography, by having the camera set to aperture priority instead of the usual complete manual mode. If you do that, you can worry about what you see, and not about how the camera will have to be adjusted to capture it. ISO 200, which was probably a little low, f/2.2, 1/6 of a second shutter speed. I actually like the slight blur of the figures the slow shutter speed gives.
I've recently updated my photo equipment page to account for a lot of recent purchases to enhance my kit, So please click here for more information.
You can buy prints of my photos–or just look at past photos–on my Travel Photos page.