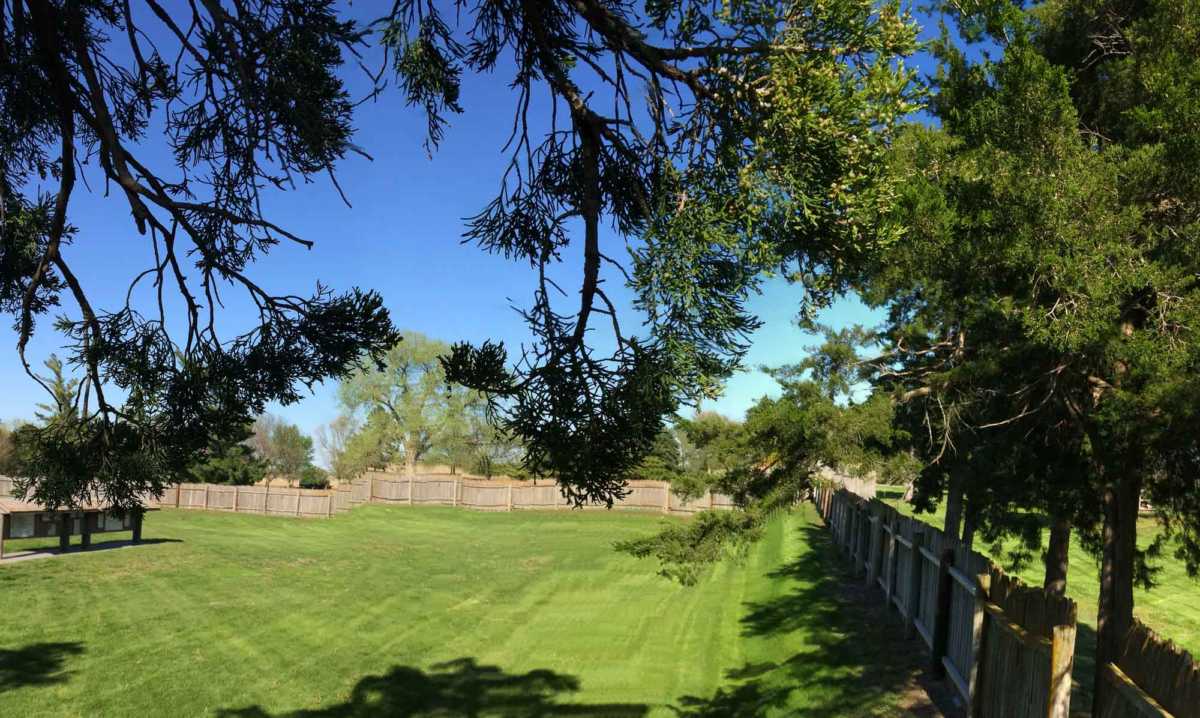 No matter how worldly and well-traveled you are, there's something about the good old American road trip that causes a thrill. We load up with music, hiking sticks, and a cooler, and hit the road, planning to stop wherever we want. But who hasn't thought of exiting the freeway at some quirky monument, only to cruise on, full of inertia and promises to visit "next time." You may think of Nebraska as fly-over land, or a vast 'speed-past' zone. But not so. Schedule an overnight rest and see what you are missing in the Midwest.
AmericInn Hotels sponsored our visit to Nebraska in May, so we took the opportunity to do what every cross-country tripper wants: stay a couple nights here and there–Kearney, Lincoln and Omaha, to be precise–and get to know the local attractions.
Most anyone who has driven Interstate 80 knows, for example, of The Archway Monument bridging over the freeway in Kearney, Nebraska. You might stop there for the gift shop and restrooms, and a "howdy" from the guide dressed in 19th Century pioneer garb. (The non-profit museum costs $12 for adults/$11 seniors; we skipped it.) You might be tempted, too, to stop at the unwieldy Pioneer Village in nearby Minden. We did that a couple of years ago. It's interesting, though in bad need of updating.
But Kearney has plenty of other authentic historic sites and interesting attractions. The most popular is, in season, the tremendous migration of sandhill cranes, definitely worth a stop. The cranes had already passed through this spring, so topping our list was a visit to Fort Kearny. The fort, the first U.S Army outpost on the Oregon Trail, was developed specifically to protect pioneers traveling west. Here's where two branches of the trail merged to follow the Platte River west to Laramie, Wyoming. The Pony Express stopped here, and later the railroad cut through, too. Fort Kearny is a State Historical Park and linked to the National Parks' Oregon Trail sites.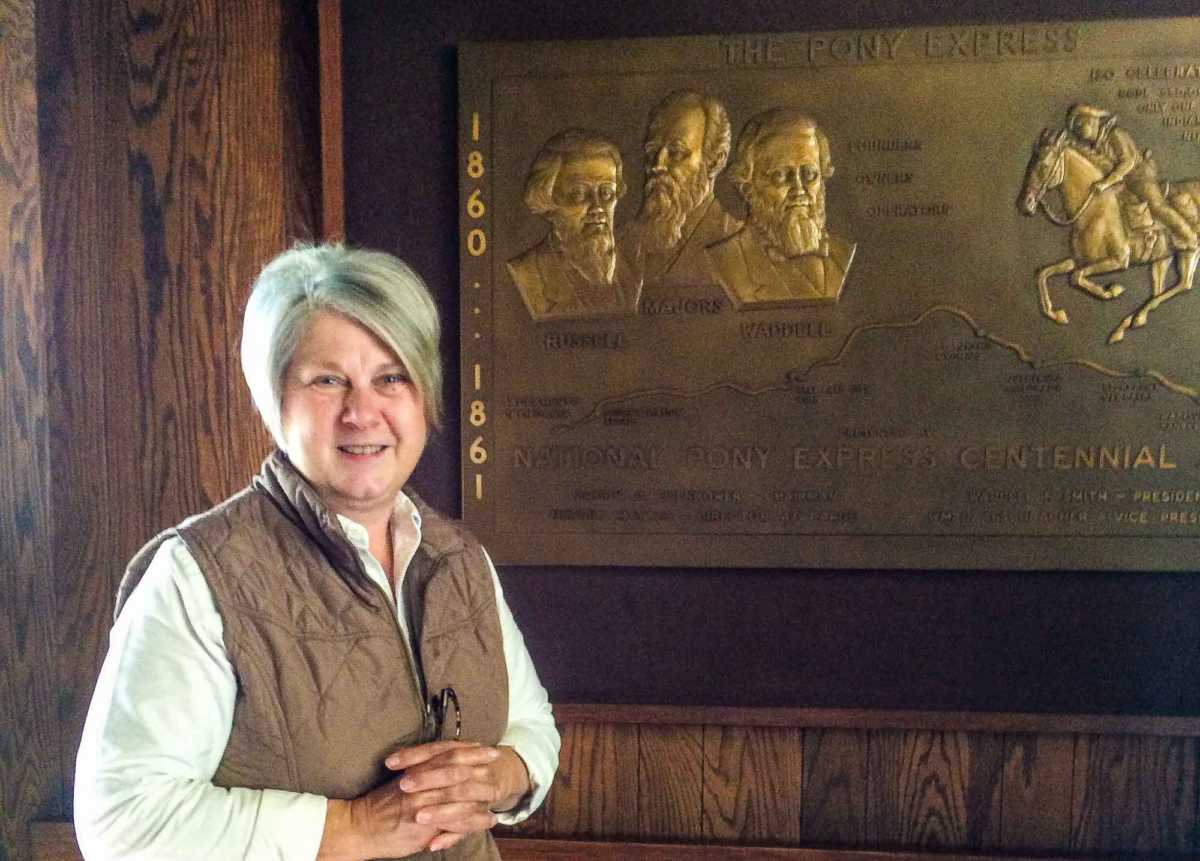 We received a warm, small town welcome by park employee Carolyn Bennett, who despite our late arrival pointed out the highlights (including a couple reconstructed buildings) and let us wander around at our leisure. Carolyn worked at the park when she was young and returned after moving back to the area much later. She's an enthusiastic booster of the park and the region.
In town (with its misspelled Kearney name retained), we found plenty of places to eat, and at each place a friendly conversation. At Thunderhead Brewing Company we lucked into televised soccer, good beers, and a tasty pizza, plus our server Alex wrote "Visca Barça! (long live Barcelona Football Club!) on our tab. At the Alley Rose, a classic supper club style restaurant, we met Carly who wrote on our check, "Cheers! It's truly been my pleasure visiting with you two." Personal service is the way of the land around here.
Kearney's main street, referred to as 'The Bricks," is a popular spot for all ages, including students from University of Nebraska Kearney. We're reminded this isn't such a small town. It has its big box stores on the fringes, but we enjoyed some serious antique window shopping along the main drag. Further out, car nuts will like the classic car collection next to Kearney's Cabela's store. (Cabela's was founded further west in Sidney, Nebraska, in 1961.)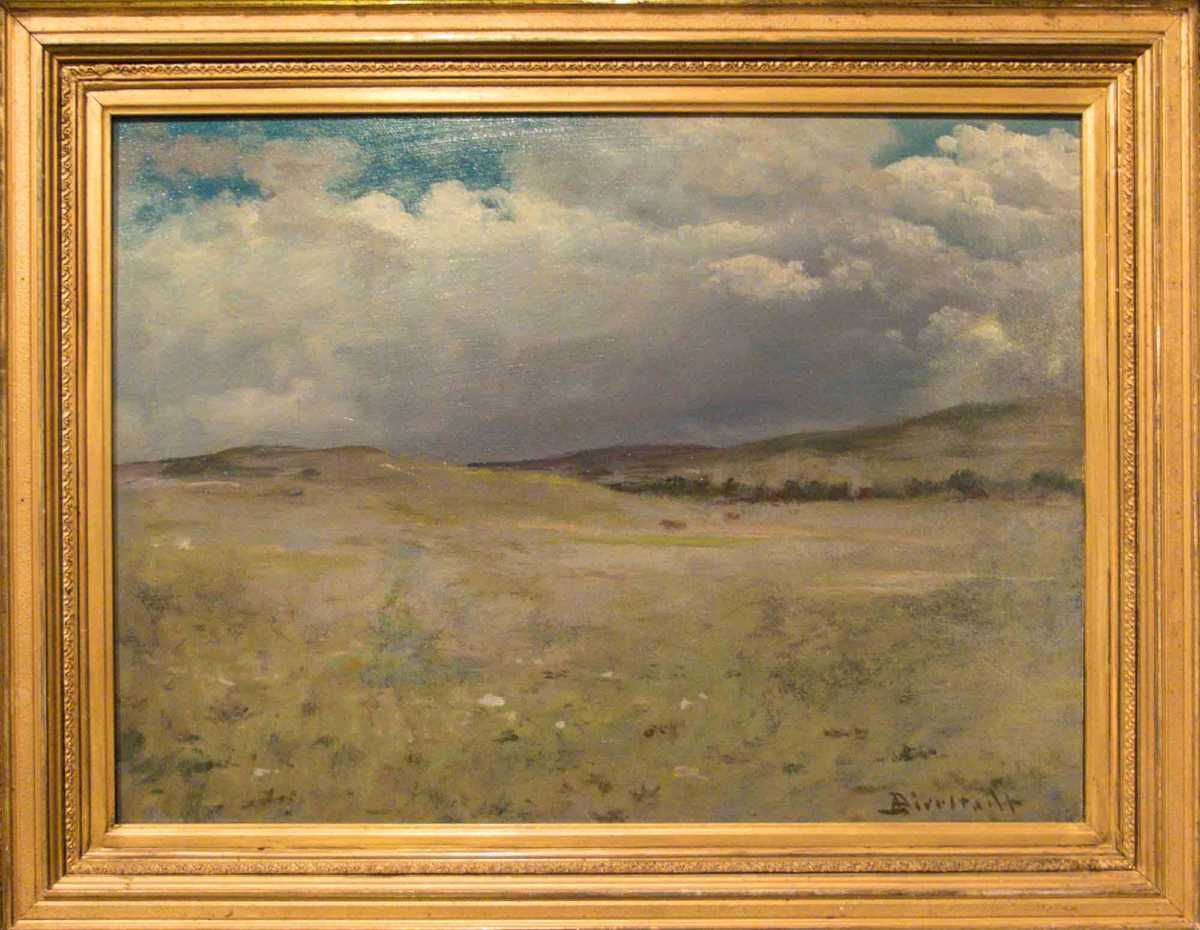 One more Kearney surprise was MONA–The Museum of Nebraska Art. This fine little museum stays vibrant with changing exhibits and a collection of historic and contemporary Nebraska paintings, sculptures, and mixed media work.  It's easy to digest and begs return visits with its rotating artist spotlights and special shows.
Just a couple hours east of Kearney is Lincoln, home to the main University of Nebraska campus and Huskers football empire. It's a warm and historic town whose appeal extends way beyond college sports.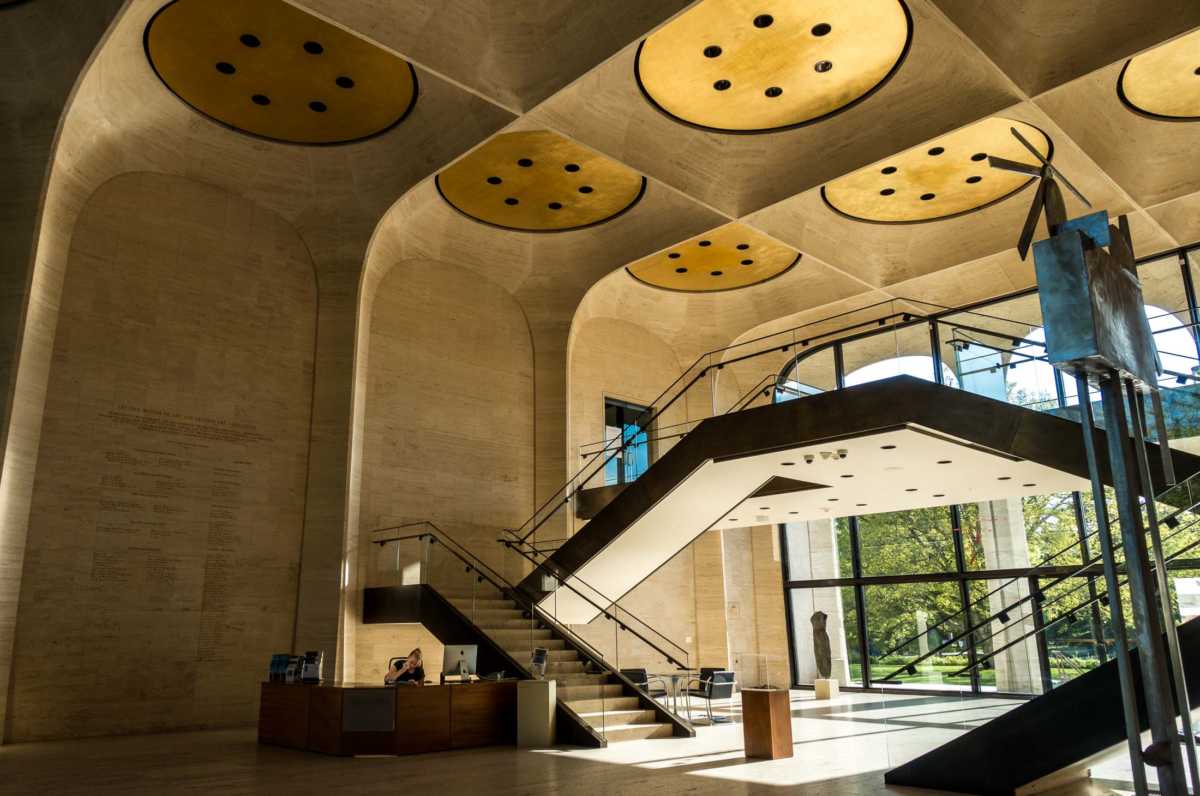 From the comfort of two different locations of AmericInn (one north, one south), we had a good chance to check out Lincoln's Haymarket neighborhood, visit the campus' Sheldon Museum of Art, and enjoy the Nebraska History Museum in downtown Lincoln. (Despite our efforts to rid of many boxes of books at home, we couldn't resist buying a couple volumes by Mari Sandoz at the excellent little bookshop in the History Museum. Get your Willa Cather here, too.) Of course we did pay homage to Big Red by circling Memorial Stadium.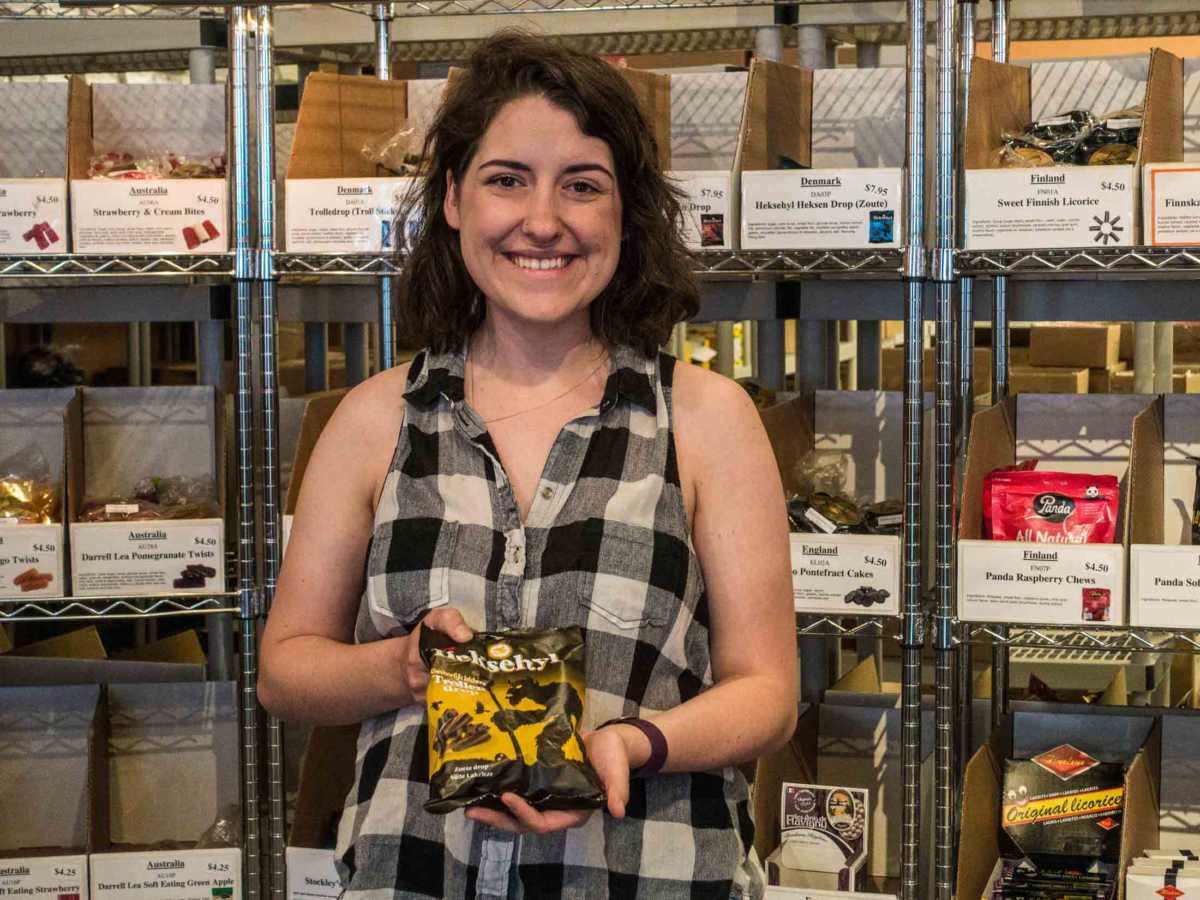 Best finds, with a little help from our friends, included Licorice International in Haymarket. (Great concept and free samples of licorice imported from all over the world!) Here again we were unexpectedly engaged in a long conversation with the clerk, sharing travel stories. Across the street is Buzzard Billy's, which was so comfortable and tasty we ate there twice. We didn't miss out on the delicious ice cream at Ivanna Cone, and lingered at Indigo Bridge Bookstore in the historic Creamery Building.
As luck would have it, the Lincoln Air Show with the Navy Blue Angels was in town. The show was a treat–something I'd always wanted to see–but it also gave us a chance to relax at another AmericInn in the southeast corner of Lincoln. While this suburban area lacks the personality of Haymarket, again we benefited from outright friendliness. After overhearing a restaurant recommendation at the reception area of the hotel, we enjoyed a fine dinner at Fireworks (owned by the same folks who run Lazlo in Haymarket). And, yes, we ran into the guy from the hotel who was meeting his family for dinner. We thanked him for the recommendation. The restaurant manager picked up on our conversation, and pretty soon we were all treated to dessert. That's how it works around the Midwest.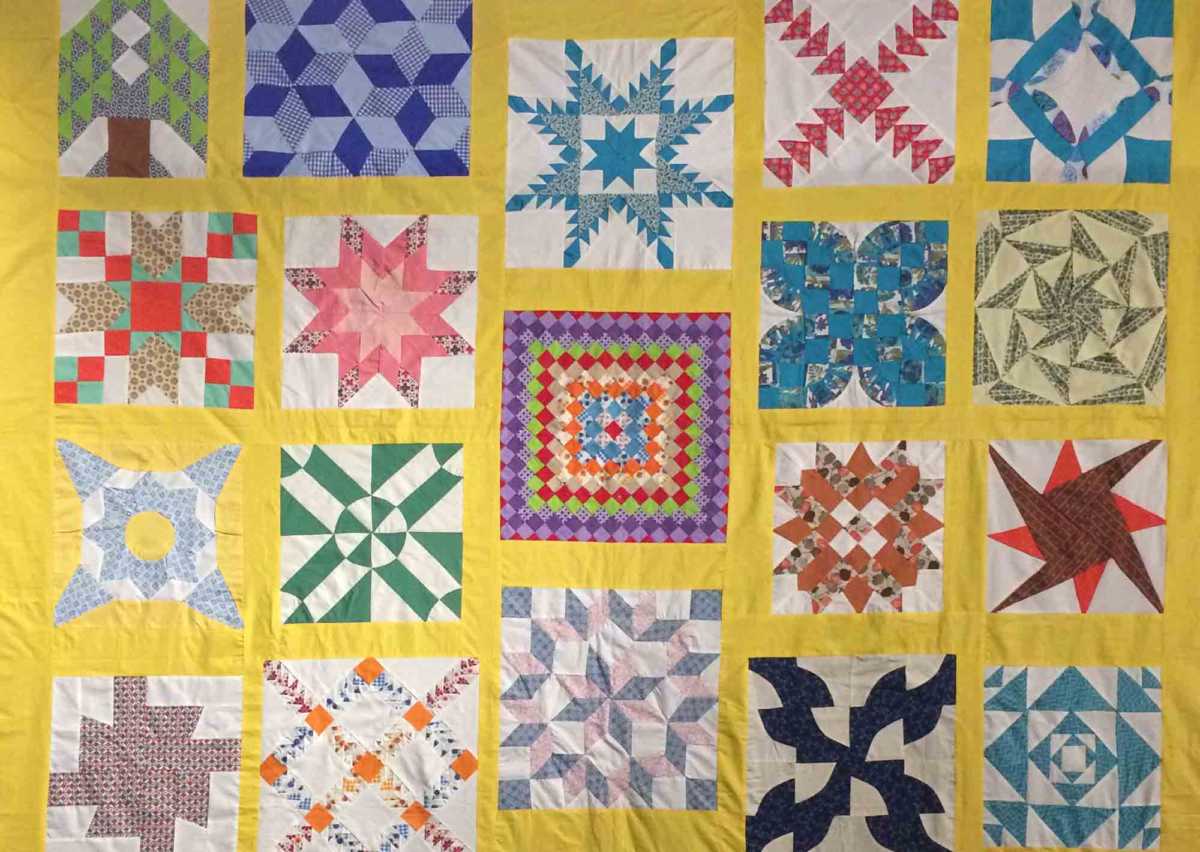 Don't dismiss Midwesterners as provincial. They are well traveled, as we learned everywhere we went, and they are steeped in the history of the Overland Trail, even as it leads these days out into the world and back again.
Note: For tips on health safety precautions for post-pandemic road trips, read our post, Planning Your Safe Road Trip 2020.
We visited Lincoln, Omaha, and Kearney, Nebraska courtesy of the AmericInn Hotels. See our our 30 Hours in Omaha guide here.

You can help yourself get ready for your own travels by reading our Get Started Planning Your Trip Now page.
We love traveling–with the right gear. We've gathered a lot of the stuff we use to make travel more pleasant and efficient all on one page. Shop our Travel Past 50 Amazon page to find our favorite gear. If you purchase something from the store, Travel Past 50, as an Amazon affiliate, may receive a small commission at no extra charge to you. Thanks.
We never leave home without our travel insurance. Nor should you. Search for the travel insurance from Allianz that best meets your needs, whether it be an annual plan or a single trip.
Note: This post and other posts on TravelPast50.com may contain paid or affiliate advertising links.