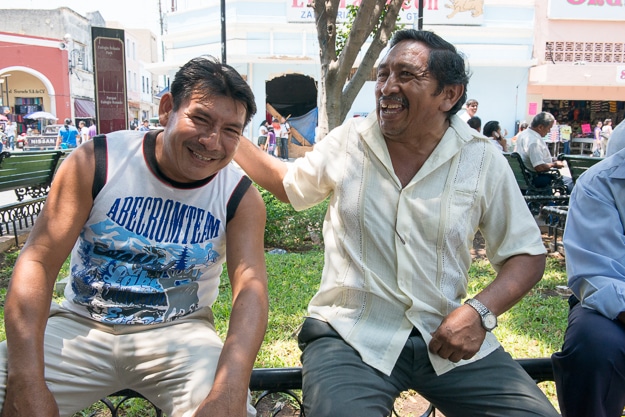 Traveling, especially how we do it, can be a bit of a drudge sometimes. When we're actually moving, which is to say when we're not housesitting or renting an apartment for months at a time, we usually spend, at most, four days in a place. Often, we tend to slip into a predictable pattern. We see what the guidebooks recommend–the museums, the archeological wonders, the pretty mountains, and move on. Other than some waiters or guides, we don't stop often enough to talk to people when we're in this mode.
And, that's the mode we've fallen into in our current dash from Mezzo-American site to site. Mexico City, Atotonilco, Uxmal, Kabah, Chichén Itzá have been checked off the list in the past two weeks.
So, as we were heading off to the Olimpo Modern Art Museum in Mérida the other day, I just said to hell with it and let myself be waylaid. It happened, probably, because for five minutes I was without Kris. She'd walked off with the key to the house we were staying in in San Miguel de Allende and was at the post office mailing it back to the owner. While she was doing that, I walked over to the small plaza across the street, maybe to take some pictures, but mostly to get out of the heat of the tiny post office lobby.
Some posts on Travel Past 50 may contain affiliate links. If you buy something through one of those links, we may earn a small commission. As an Amazon associate, we earn from qualifying purchases.
I walked past two guys sitting on the rail of a metal fence surrounding part of the plaza garden. I got the inevitable bad English question, "Where are you from?"
It always takes them aback a bit when you can answer in Spanish, so I usually don't start with that. I work into it only after I've said, "The United States, Minnesota, in the north." Then, when they've exhausted their English, I ask in Spanish, "Are you from Mérida?" and "My name is Tom, what's yours?" and "Can I take your picture?"
The frequent answer to, "Can I take your picture?" is usually something along the lines of, "Can I have a dollar?" but, in this case, Miguel said, "Will you give me enough to buy a drink?"
Since it was almost 11 a.m. and it was already about 38 (100 F) degrees, I was sort of in the mood for a cold one myself, so I agreed, but only if we went together to a cantina with shade and cold beer.
Which we did. Well, Miguel and I did. His friend, Alberto, averred, at least for a while.
So, we went to the cantina in the corner of the plaza, which was already crowded with Mexicans who also thought it would be a good time to have a cold beer. Miguel ordered a set up for a "Cuba Libre"–rum, Coca Cola, and lemon–at 40 pesos, twice as much as a beer. Not a bad deal really, because the rum came in an 8 ounce Coke bottle, same as the soft drinks. So, in other words, about 5 shots of rum for $3.50 USD. That seemed a little much for me, however, so I stuck to a cold Sol.
As I started on the beer, I remembered that Kris would be looking for me in the plaza, so I texted her that I was in the cantina. But before I even pushed send, Kris and Alberto walked in the door of the cantina and came up to the bar where we were sitting.
Kris describes it like this. "I was walking through the plaza when I heard someone ask me, 'Are you looking for someone?' I answered yes, and this guy says, 'Is his name Tomás and is he from Minnesota?' That freaked me out a little bit."
So, Kris, Miguel, Alberto and I ended up in the corner cantina. For about three hours. Miguel had a few more Cuba Libres, and Kris, Alberto and I stuck with ice cold Sols, which were mostly necessary to put out the fire of the constant array of Habanero soaked pickled beets which kept showing up on the bar.
It was much more fun that yet another cathedral, and, as a bonus, I learned how to say, "My wife is very beautiful," in the Mayan language. In case you ever need it, it's,"In uatané tah ki'itchkelem."
I learned a few other Mayan phrases, too, but they're sort of lost in the fog of Sol and beets.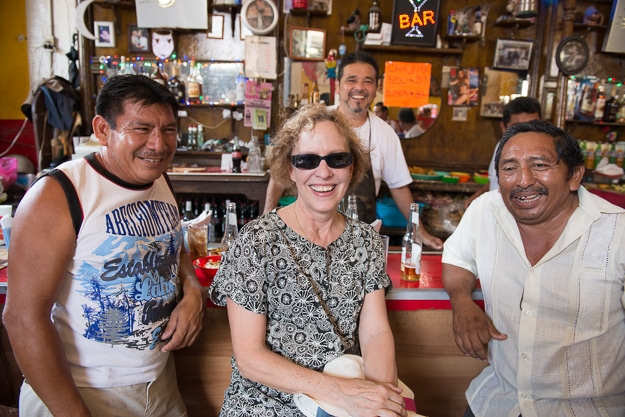 Travel Planning Resources
Looking to book your next trip? Use these resources that are tried and tested by us. Flights: Start finding the very best flight deals by subscribing to
Thrifty Traveler
. Book your Hotel: Find the best prices on hotels with
Booking.com
. Find Apartment Rentals: Find the cheapest prices on apartment rentals with
VRBO
. Travel Insurance: Don't leave home without it. We recommend
Allianz Travel Insurance
. Need more help planning your trip? Make sure to check out our
Resources Page
where we highlight all the great travel companies and products that we trust. See all of the gear and books we like in one place on our
Amazon shop
.