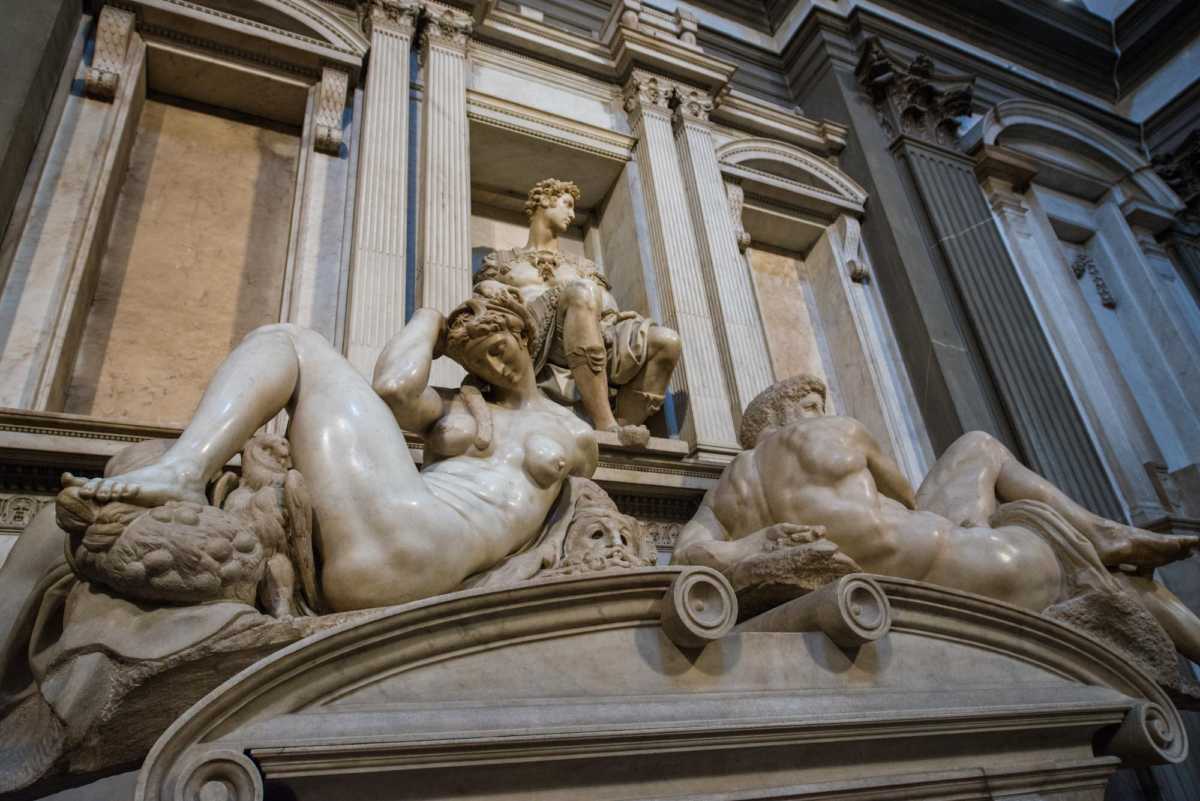 Maybe it was just the day–Christmas Eve–but, aside from us, there was almost nobody in the Medici Chapels. That's lucky if you're trying to make photos, but disturbing when you know that Florence, no matter what the day, is full of tourists. And that none of them were seeing one of the most beautiful buildings in the city. Oh well, let's let the Medici Chapels be our little secret, then.
There are really two Medici Chapels, which are part of the Church of San Lorenzo. San Lorenzo, designed by Brunelleschi, was the Medicis' home parish in Florence, and so two chapels were appended to the church to serve as the burial spots for the Medici princes.
The first chapel, called the New Sacristy, was designed by Michelangelo. It was intended to be the burial place of Lorenzo the Magnificent, and three of his relatives. Michelangelo never completed the Chapel, although his sculptures of two of the cousins and the four metaphorical times of the day were done, but not installed.
After Michelangelo was called away to Rome to such things as paint the Sistine Chapel, the New Sacristy was brought into it's current state by Vasari and others.
It's interesting to look at the two Michelangelo tombs of this chapel that were completed, and contrast them with the tomb of Michelangelo himself at Santa Croce done by Vasari. Note especially the emotion and the potential movement of the Day, Night, Dawn, and Dusk figures of Michelangelo and compare them to the mundane static figures by Vasari on Michelangelo's tomb.
Michelangelo deserved better.
The second chapel, the Chapel of the Princes, is a lot more to take in than the simply classic New Sacristy. That chapel is a riot of multicolored marble that is best viewed as an entire work of art. Instead of concentrating on any aspect, just stand in the center and slowly turn your gaze around and around and up to the ceiling. It's a lovely bit of architectural decoration. Some don't like it, but I do. Very much.