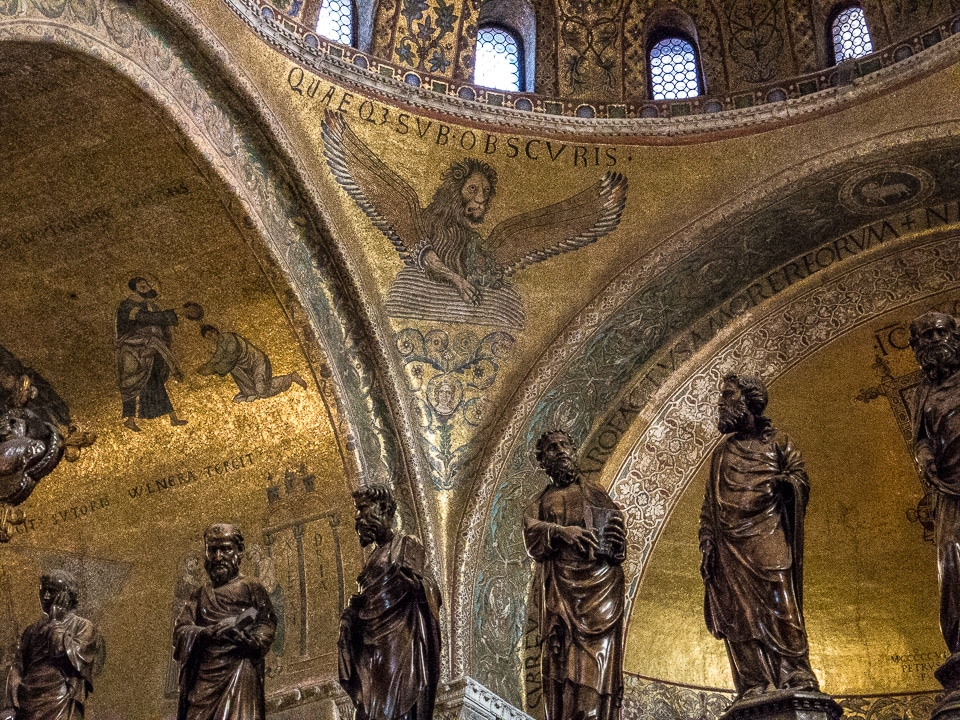 The winged lion is the symbol of both Saint Mark the Evangelist and the city of Venice. You see it pretty much everywhere. There is some dispute of the origin of the iconography, but some say the lion comes from the Book of Revelation where four animals surround the throne of God. The four were later conflated with the four evangelists, Matthew, Luke, John, and here, Mark. Again, according to legend, the evangelist Mark visited Venice and it was revealed to him that he'd be buried there.
In this case, the Lion seems to be rising out of the waves, which also symbolizes Venice's domination of the sea.
And that's the story of how we came to have San Marco Basilica in Venice.
Some posts on Travel Past 50 may contain affiliate links. If you buy something through one of those links, we may earn a small commission. As an Amazon associate, we earn from qualifying purchases.
As they say, you can look it up.
This is only a small fraction of the two acres of golden mosaics in the San Marco Basilica of Venice. It's a marvel of the Byzantine art, and a testament not only to the skill of the artists but also to the wealth of Venice. That's real gold up there in all those tiny blocks of glass.
And, because one of our readers asked about the quote above the lion: It's part of a much longer quote. (And I had to look it up on a site which has all the quotes that run all over San Marco.) In its entirety: quaeq(ue) sub obscuris de cristo dicta figuris his aperire datur et in his deus ipse notatur. "That which was said about Christ in an obscure way will be revealed in these figures and God himself will be apparent." That's my translation and perhaps is not the most literal, but pretty sure that's what it means. A little further research and this seems to be a reference to the book of Ezekiel, where he talks about four winged animals appearing, (one is a lion) and it's inferred he's talking about the four evangelists of the New Testament. The lion is the symbol of St. Mark, and this is his basilica, and allegedly he's buried under the altar. The other three figures, representing John, Luke, and Matthew flank this one.
Travel Planning Resources
Looking to book your next trip? Use these resources that are tried and tested by us. Flights: Start finding the very best flight deals by subscribing to
Thrifty Traveler
. Book your Hotel: Find the best prices on hotels with
Booking.com
. Find Apartment Rentals: Find the cheapest prices on apartment rentals with
VRBO
. Travel Insurance: Don't leave home without it. We recommend
Allianz Travel Insurance
. Need more help planning your trip? Make sure to check out our
Resources Page
where we highlight all the great travel companies and products that we trust. See all of the gear and books we like in one place on our
Amazon shop
.