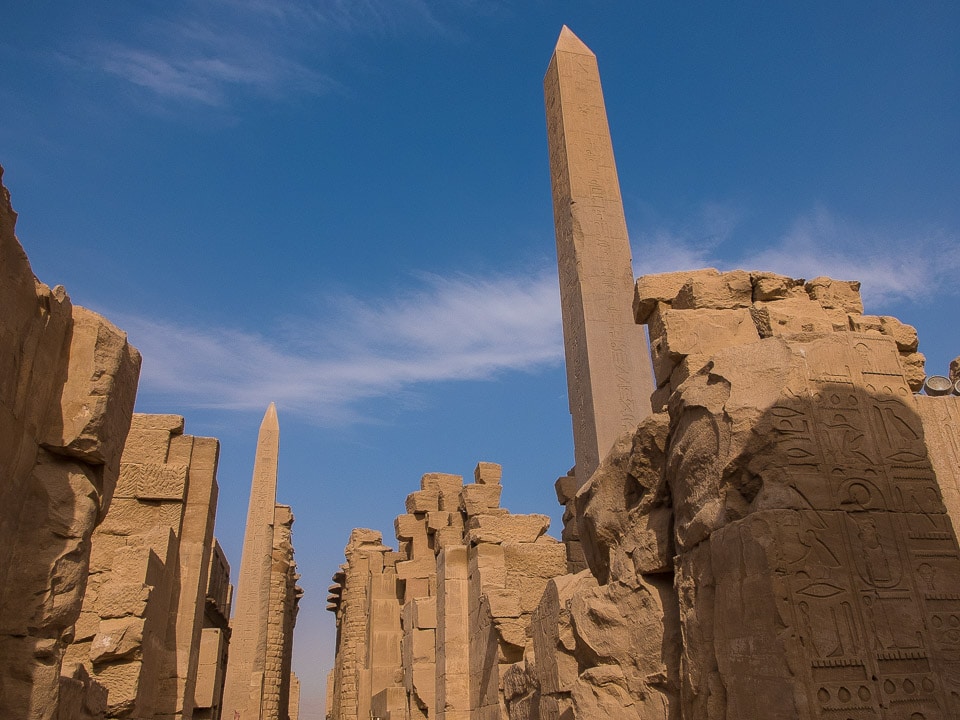 One of the best things about the Egyptian ruins that line the Nile is that most of them were only recently excavated. The famous Nile floods had buried them in mud, and the famous Sahara winds had cooperated to bury them in sand. Consequently, the lower parts that were covered were very well preserved–except for the coloring of the carvings, which was pretty much washed away in most places.
The Temple of Karnak, near Luxor, is the second largest religious complex in the world, after Angkor Wat in Cambodia. It was built over a period of approxiately 1300 years, and so shows a huge diversity of statues, columns and carvings. Most of the great Egyptian pharoahs, including Ramses II and Hathepsut had a hand in the building of Karnak.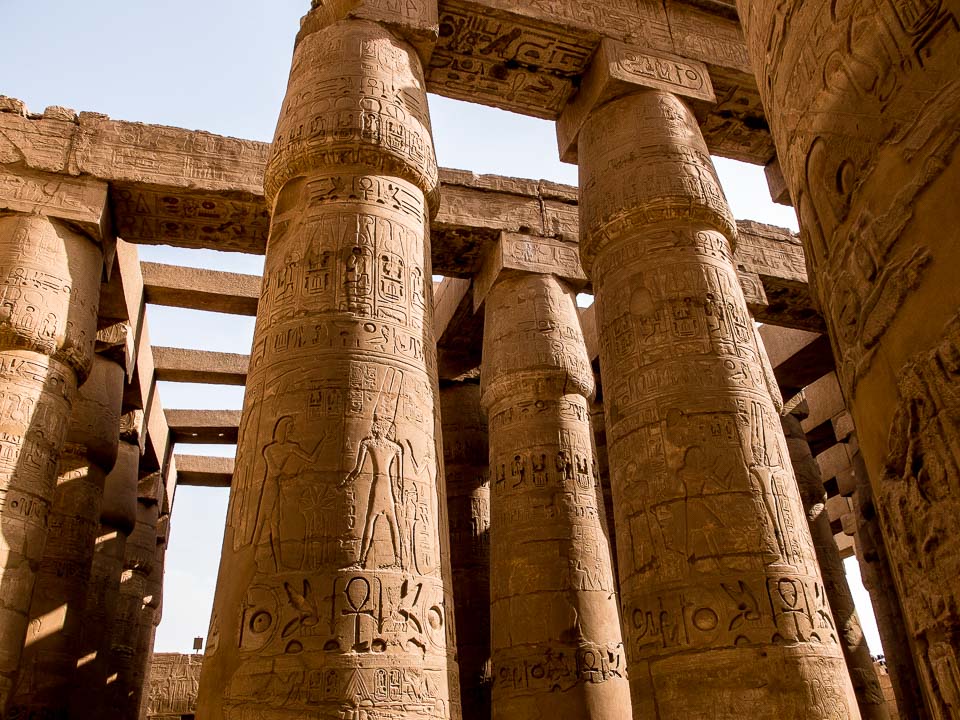 The other thing that impresses about Karnak is its vertical size. The columns which make up the main temple are 23 meters (75 feet) tall, beating any other columns we've seen by at least six meters.
Also, unlike some other temples, Karnak's main hall was roofed. Unfortunately, the earthquakes of the last three and a half millenia have brought down the roof. But, as you can see, the trusses and small bits of ceiling that remain show off some of the colorful painting that once covered all the columns and walls.
A visa is necessary for Americans to travel to Egypt. We use iVisa whenever we need a visa for any country. Great service, and a small price to pay for them to navigate the visa process for you.

You can click the link above, or use this widget below to start the process of getting a visa for any country.
When you're thinking of traveling, your first stop should be our Travel Resources page, where we list all the essentials you need to make your travels easier, cheaper, safer, and more fun.
You can also help yourself get ready for your travels by reading our Get Started Planning Your Trip Now page.
We love traveling–with the right gear. We've gathered a lot of the stuff we use to make travel more pleasant and efficient all on one page. Shop our Travel Past 50 Amazon page to find our favorite gear. If you purchase something from the store, Travel Past 50, as an Amazon affiliate, may receive a small commission at no extra charge to you. Thanks.
We never leave home without our travel insurance. Nor should you. Search for the travel insurance from Allianz that best meets your needs, whether it be an annual plan or a single trip.
You can see (and buy prints) of most of our travel photos in one place on this page.
Note: This post and other posts on TravelPast50.com may contain paid or affiliate advertising links. As an Amazon Associate we earn from qualifying purchases.