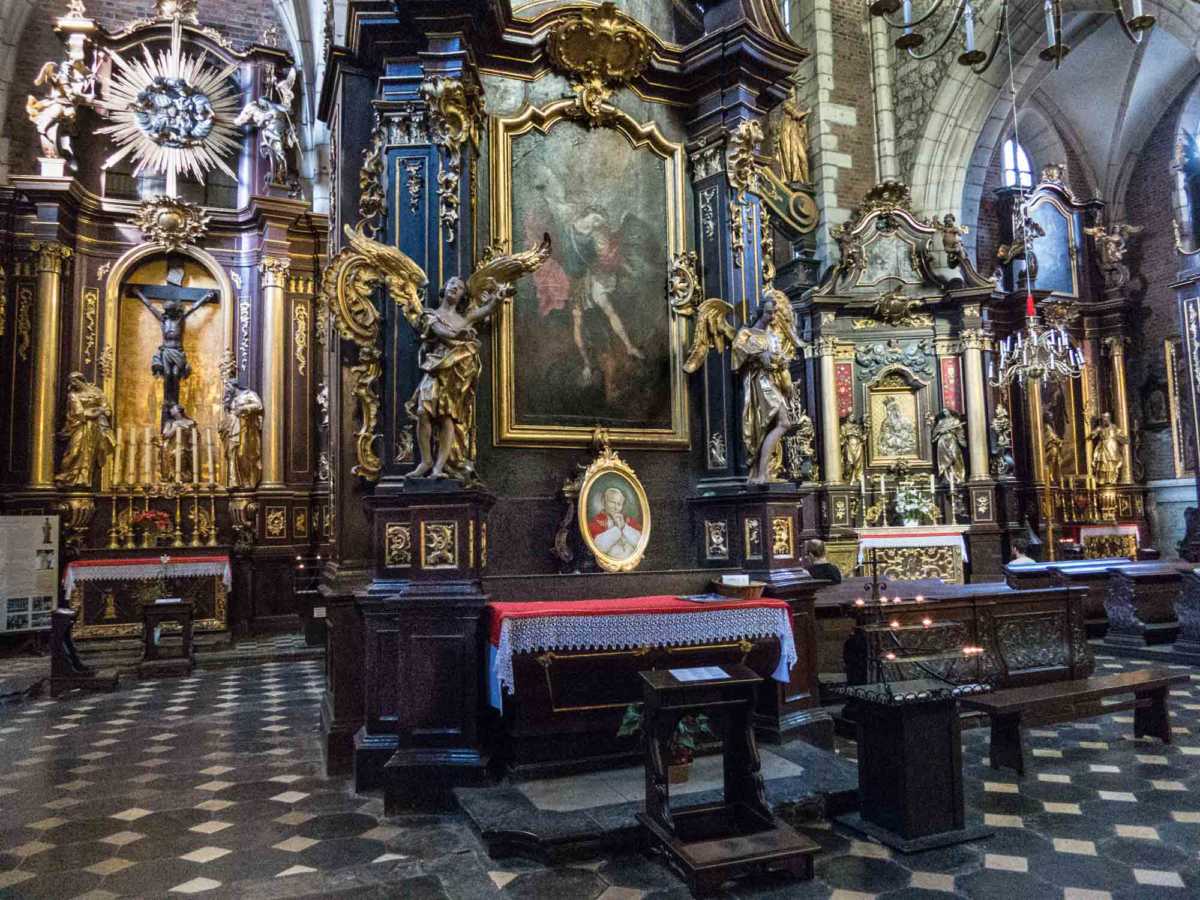 In Krakow, there is no more popular figure than Pope John Paul II. He, along with Lech Walesa, deservedly get a lot of the credit for Poland's independence from Moscow. Of course, John Paul II was also recently made a saint by the current Pope Francis. So, he even gets extra veneration. Every church we've seen so far in Krakow (and most of the Krakow souvenir stands as well) feature portraits of Pope John Paul II.
But here, in the basilica which was his "home" parish when he was Cardinal of Krakow, he gets something special. His portrait is set on an altar, and there's a prayer card with a suggested supplication on the kneeler in front of it. Because John Paul II is now a saint, good Catholics can now pray directly to him for intercession with God.
I was intrigued by the portrait of John Paul II on the altar, but was photographically more interested in the riot of baroque figures and color that surround him in the Basilica of Krakow. It sort of jumps out at you, at the same time making a very interesting frame for the sainted pope's picture. I shot this with the Canon S110, set on average white balance. Trying to guess what white balance setting to use in a multi source situation like this is fruitless. Sure, there are methods using a gray card and a light meter, but I just let the camera do the guessing for me in these situations. When you shoot in raw format, you can always change them later. As far as processing, I had to do a lot of dodging and burning of the areas along the sides that were closer to windows, and hence quite a bit brighter. Other than that, I just moved the shadow slider up, and also the vibrance, although just a little, because, let's be serious, this place is pretty vibrant as it is. Exposure was ISO 1600, f/2.5 at 1/60 sec.
For more info about the equipment and software I use, see this page.
You can buy prints of my photos on my Smugmug page.