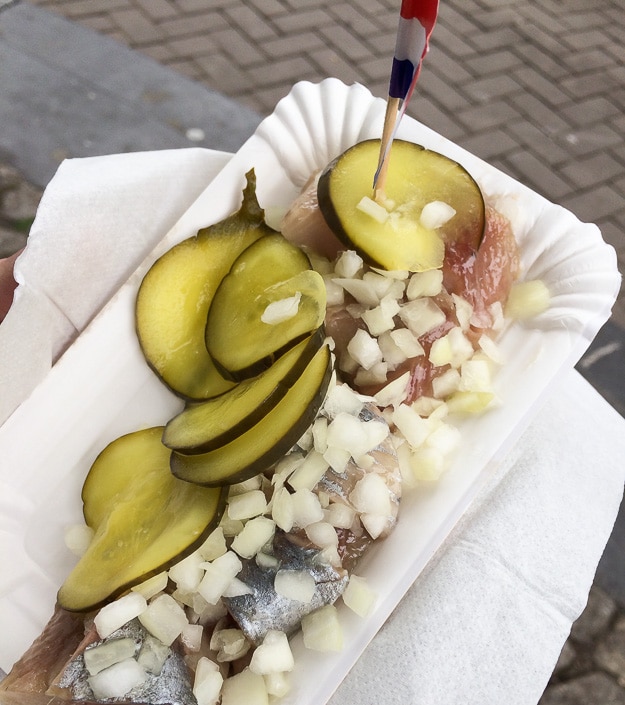 The culinary shift from Belgium to The Netherlands isn't blatant. More like the transition from the English Channel to the North Sea, you're not quite sure where it is, but you'll know when you get there.
Belgian waffles have morphed into pannekoeken.  The hearty Belgian beers are diluted into more run-of-the-mill "international" flavors. Mussels and frites are replaced by… herring!
Since hearing about the local herring from friends, it took us less than 24 hours to come across a busy food stand in central Amsterdam. It was identified solely by the "FREN HARINGHANDEL" sign (fresh herring) and two Dutch flags, which must mean it's fresh and authentic! Good news. You can taste the freshness. The herring are so slightly pickled, they might be classified as sushi.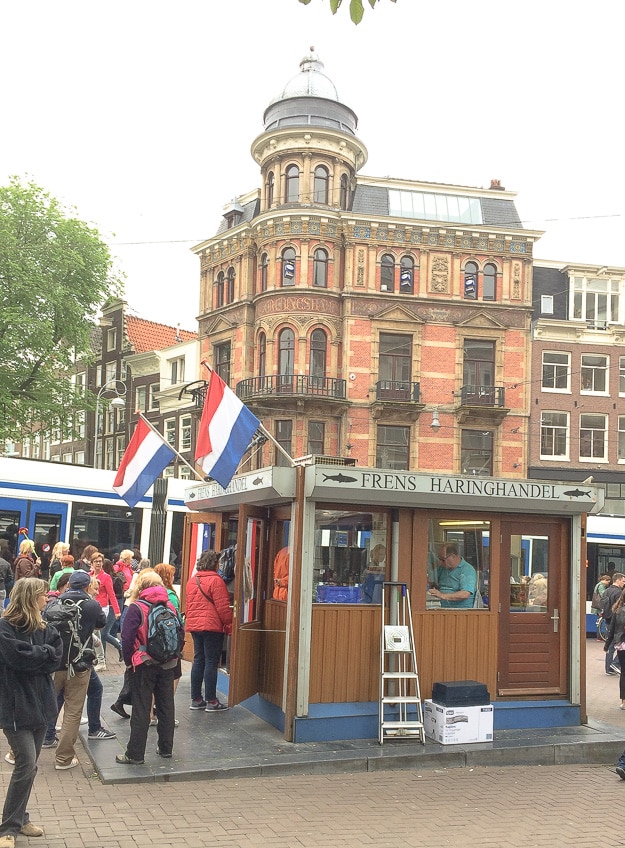 My order, for three euro (four bucks), was about a dozen bites of herring, served with a spoonful of chopped onions, a good amount of sliced pickles, and a flag-bearing toothpick, all festively arranged on a paper tray. So tasty! Tom ordered the same, but in a bun. (Ix-nay on the un-bay.) The three workers inside the food truck were taking and delivering orders as fast as they could. Besides herring, the business sells mackerel, eel (some fried) and cans of soda.
As I took a photo, I asked how many kilos of fish they sell a day. "No idea." "Just on some typical day? How many orders? An estimate…?" I asked. "This isn't a typical day."
No it was the start of May holidays, and the line was getting longer. This was a place to eat, not talk.