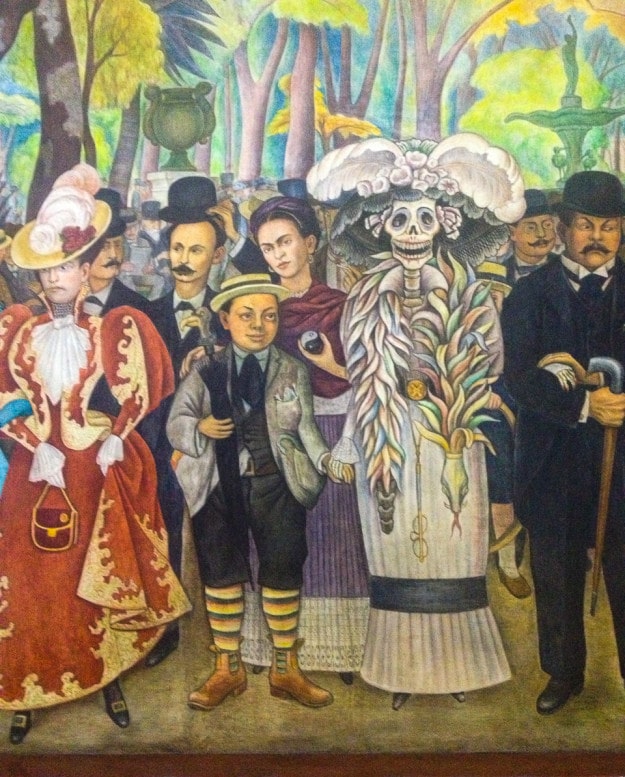 Most everyone knows that Cinco de Mayo, May 5, is not Mexico's Independence Day (which falls on September 16). Cinco de Mayo memorializes a famous 1862 battle in the colonial village of Puebla, Mexico, in which the Mexicans defeated a much larger French force. The battle was said to solidify Mexican resistance, and was later a rallying point for Mexicans who'd relocated to the United States. No matter how the celebration gained traction, we appreciate that it focuses attention on the interior of Mexico.
For the occasion of Cinco de Mayo and this spring season, Expedia asked Travel Past 50 to contribute to its collection of posts about Mexico. That got us to reminiscing about our travels around Mexico City and Guanajuato a couple years ago. Read on, and check out this image gallery from Expedia for more views of Mexico City.
In the center of Mexico City, adjacent to Alameda Park, is the Mural Museum of Diego Rivera. Let this be a starting point for a slice of 20th century history and 20th century art, as Rivera characteristically intertwined the two. His iconic mural, "Dreams of a Sunday Afternoon in the Alameda Park," hangs here, and that is plenty. It depicts the history of Mexico from the Spanish conquest to the 20th Century, with the cast of characters mingling together in a lush park setting (Today, the park is pleasant, but not so serene.) Allow time to take in the giant painting, and grasp the cast of characters–including Rivera's wife Frida Kahlo. The museum also features changing exhibits and worthwhile background information.
Some posts on Travel Past 50 may contain affiliate links. If you buy something through one of those links, we may earn a small commission. As an Amazon associate, we earn from qualifying purchases.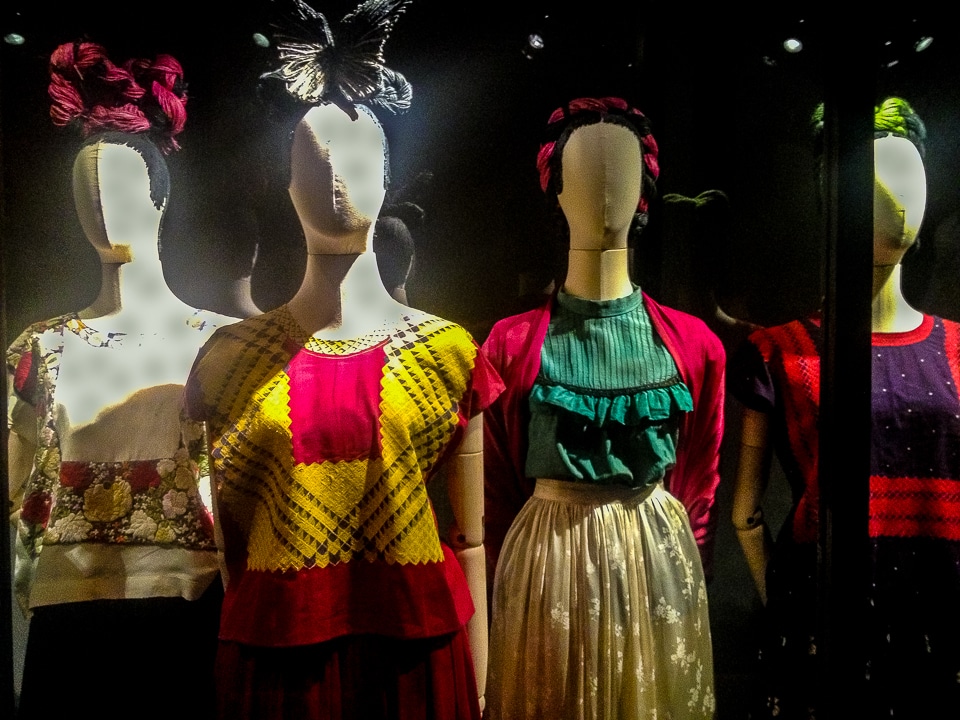 Across town is the "Casa Azul," the Blue House that was once Kahlo and Rivera's home. It's now the Frida Kahlo Museum, and provides a fascinating look into the environs and inspiration behind Frida Kahlo's paintings. The Casa Azul is much more than a collection of galleries. A tour of the home includes a rather grim look at her studio/bedroom, displaying the plaster corset she wore to support her broken back, her wheelchair, and an urn with her ashes. Mirrors hanging above her bed were used for some of her self-portraits. Other living areas are full of color and busy with artifacts Kahlo collected. A temporary exhibit displayed the folk-influenced clothes she wore. Visitors are welcome to wander outside to the courtyard, too, and see gardens sprinkled with art objects, reflections of Kahlo's whimsical nature.
Our layover in Mexico City was just three or four days, not long enough. We carved out another day on our return trip through town. We were thrilled to be able to take in the Ballet Folklórico at the fabulous Palacio de Bellas Artes. (The Palace of Fine Arts theater curtain is Tiffany glass!) And we spent hours in the excellent National Museum of Anthropology.
But our visits to the museums featuring Frida Kahlo and Diego Rivera were direct and lovely connections with core elements of Mexican culture: color, contrasts, folklore and death, ancient artifacts, natural materials, politics and playfulness.
Lesson learned: On your way to the popular towns of San Miguel de Allende (northwest of Mexico City) or to Puebla (southeast), or to the beach for that matter, don't skirt Ciudad de Mexico itself. Dive in and experience the art and culture of Mexico's interior.
If you're visiting, look at this for suggestions of where to stay in Mexico City.
Travel Planning Resources
Looking to book your next trip? Use these resources that are tried and tested by us. Flights: Start finding the very best flight deals by subscribing to
Thrifty Traveler
. Book your Hotel: Find the best prices on hotels with
Booking.com
. Find Apartment Rentals: Find the cheapest prices on apartment rentals with
VRBO
. Travel Insurance: Don't leave home without it. We recommend
Allianz Travel Insurance
. Need more help planning your trip? Make sure to check out our
Resources Page
where we highlight all the great travel companies and products that we trust. See all of the gear and books we like in one place on our
Amazon shop
.