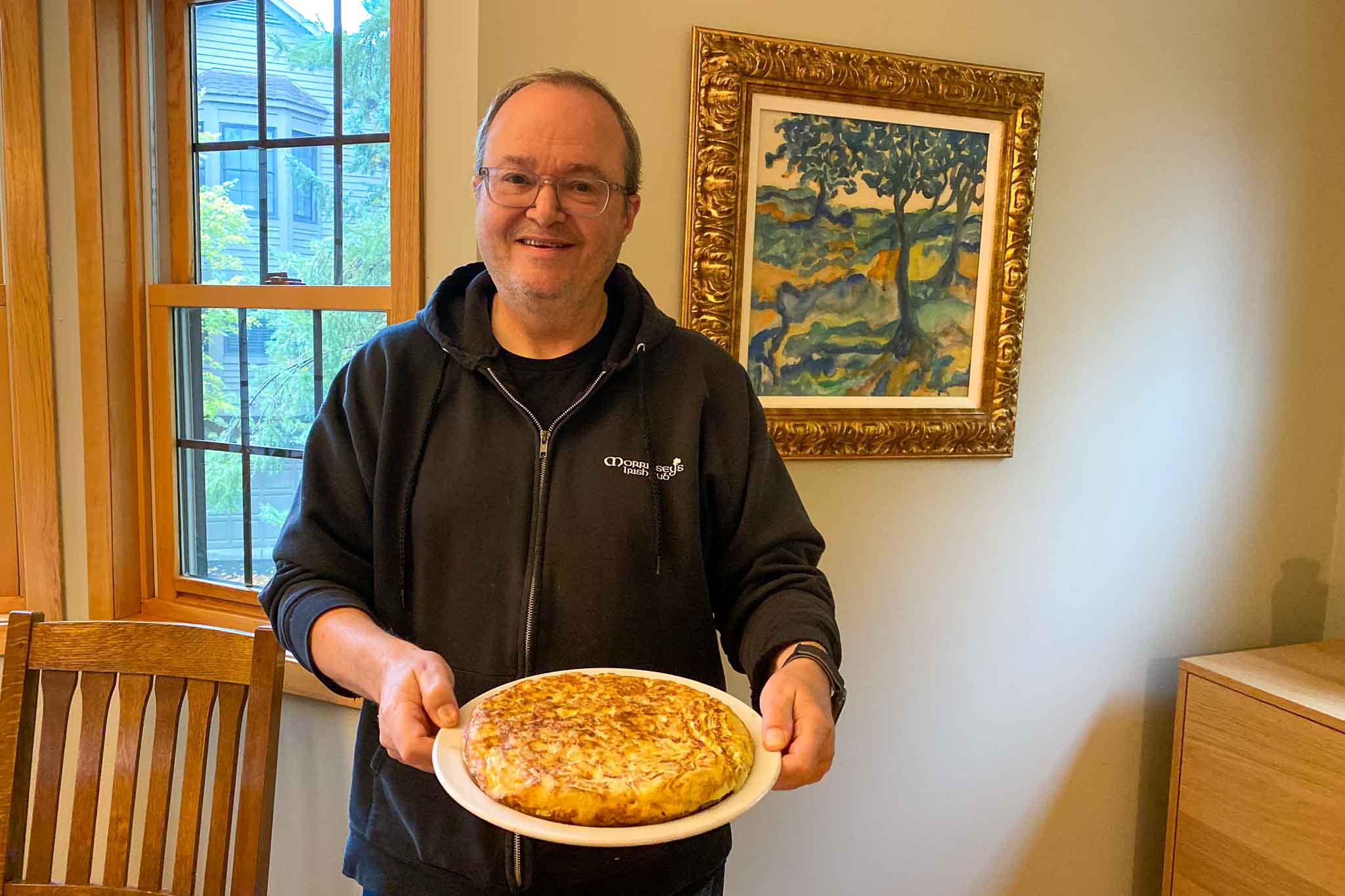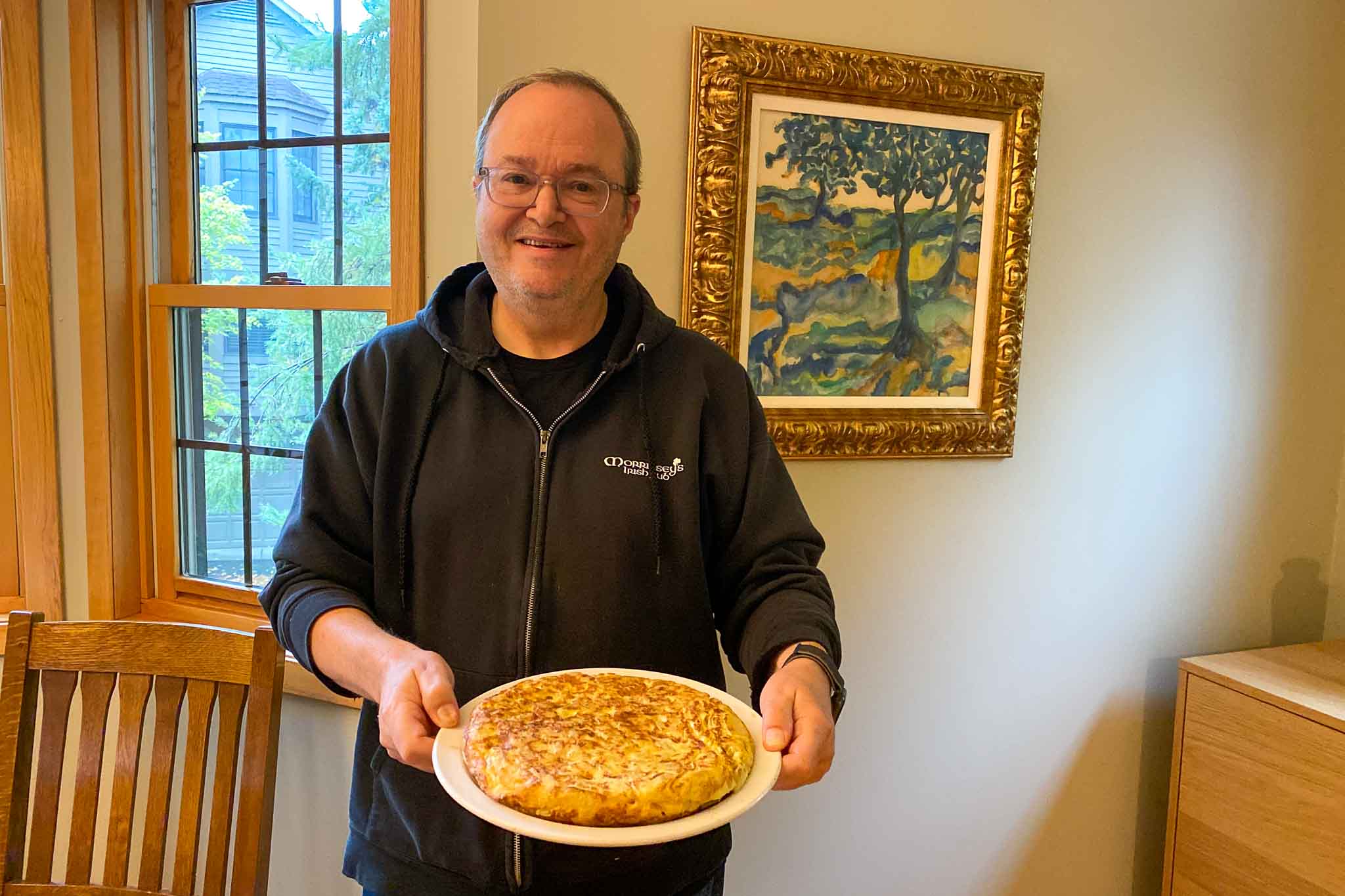 Like most people, pretty much all we knew about Zaragoza, Spain was that it was home to a big train station, the primary stop on the fast AVE train between Madrid and Barcelona.
In fact, Zaragoza is the fifth largest city in Spain and capital city of the Aragon autonomous region (which includes the provinces of Zaragoza, Huesca and Teruel).
So, after all these years passing through, we finally got off the train and spent a few days in Zaragoza. What we discovered, apart from the wonderful cathedrals and museums and historic sites, is that Zaragoza is an unsung culinary center.
To learn more, we signed up for a cooking class with Jorge Acero Nuñez of Rutica 41, a young entrepreneur providing gastronomy tours and cooking events in the area. We met up and toured the central Zaragoza market first, and then walked to his event center in the San Miguel neighborhood.
Through the afternoon, we chatted with Jorge about the best of Aragon foods and wines. We also learned how to make the classic Spanish potato omelet, or tortilla española. We'll share that with you at the end of this interview.
Interview with Jorge Acero of Rutica 41
Note: These interview notes paraphrase our conversation. To listen to the full interview, check out the SoundCloud channel for Travel Writers Radio.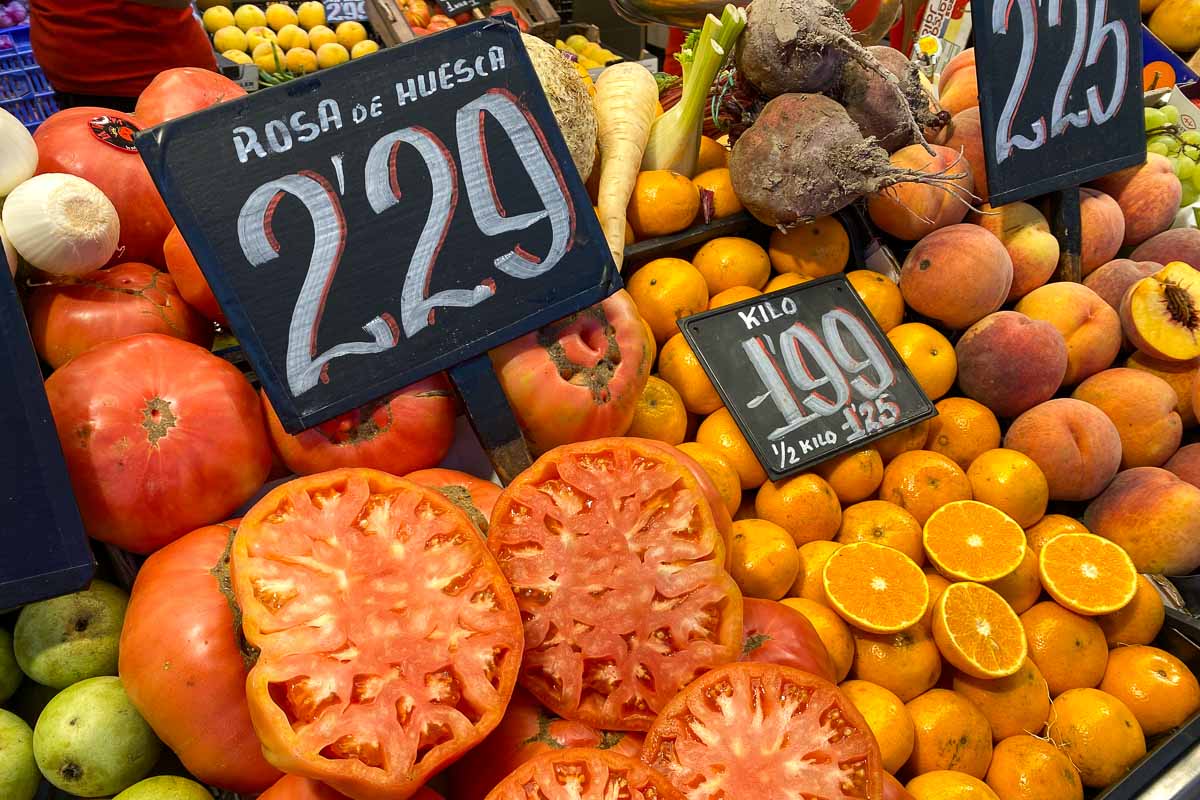 TP50: Jorge, thank you again for teaching us how to make the authentic and very tasty tortilla. Tom has made it twice since we've returned home, and I'm the lucky taste tester.
JORGE: I am happy to visit with you again. It was fantastic to teach you how to cook a Spanish tortilla. It was fun for me to see that our time together resulted in Tom's cooking success.
TP50: We'd love to hear more about the cuisine of Aragón. It was quite a surprise to us to learn about the various D.O.s (the protected denominations of origin), not just in wine but in meats, fruits, rice and vegetables.
JORGE: We have a fantastic gastronomy. I try to teach and show what is unique about this region. For example, we have a special vegetable that grows by the Ebro River, borraja.
TP50: We weren't familiar with borage, as it's translated, but it's a leafy green vegetable, perhaps similar to chard, with a prickly stem. We learned to prepare it as part of a tapa, cooked and layered on a slice of potato and topped with a bit of grilled jamón (Spanish ham).
At any rate, just to offer a little background, the Aragón region stretches from the Pyrenees down along the Ebro River almost to Valencia, curving along the west border of Catalunya. So, this river valley and the rich agriculture around it apparently define your local cuisine.
JORGE: Yes we are lucky we have the river, and the Pyrenees that gives us the agriculture. So here we grow peaches, apples; we have rice, we have amazing onion, and of course a lot of vegetables. This is what gives us a healthy and fantastic gastronomy.
TP50: It's fascinating to learn of the D.O.s for fruits and vegetables: the peach as you mentioned, a particular sweet onion…and that impressive, huge 800 gram rosa tomato of Huesca we bought at the market!
JORGE: Yes, yes you were lucky to be here in the season for tomatoes. We like to enjoy these tomatoes with some olive oil from our region, a little salt, and you have, in my opinion, the perfect salad.
Visitors are surprised that we have a lot of vineyards here. Five D.O.s, including Calatayud, Campo De Borja, Cariñena, as well as Somontano in the north.
TP50: Yes, the Somontano grape dates back to Roman times. There's so much tradition in the wine growing here and these domains are, I think, under recognized.
Getting back to the food, we can see that the cuisine is definitely produce based, as in home grown. The local ingredients stand out and define the fare. But what dishes would you say are typical of the region?
JORGE: Hombre! Here we have something very special and very typical: lamb. We call the local lamb Ternasco of Aragón. It can be prepared in various ways, but usually roasted in the oven. We regularly eat lamb for family occasions. It's popular to bar-b-que lamb ribs, too.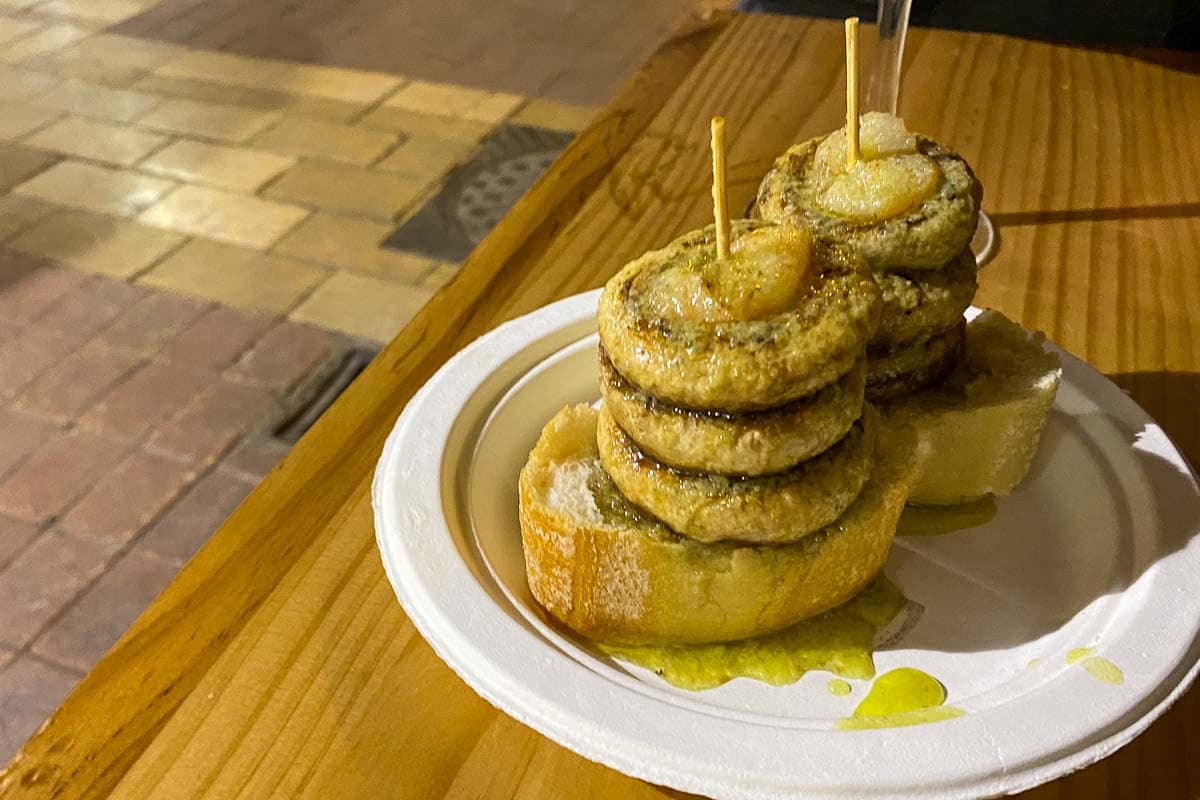 TP50: Maybe that's why the Aragón cuisine has been overlooked internationally. It's prepared simply, enjoyed at the family table with little fanfare, and is based just on incredible, fresh, high-quality ingredients. People here are not pretentious about their food.
JORGE: Yes, it is all about the product, and it is truly artisanal. Typically, we don't even use a lot of spices. Now we are getting more creative, innovative, like lamb sushi for example, mixing international styles and cultures. But typically we try to cook with items from the region.
TP50: Speaking of innovation, Zaragoza was the site of the country's first tapas competition, back in 1994, and is now known as the "City of Tapas." It's a great city to 'tapear'. So now we see both innovation and simple, product-forward offerings, like the place in the old Tubo district that serves nothing but mushroom tapas. Gorgeous champiñones, I might add.
Tell us how the annual tapas competition works.
JORGE: People visit the bars and it's a popular vote. Both people from Zaragoza and visitors come to enjoy and vote.
TP50: Another great culinary experience in Zaragoza is the chocolate tour. Visitors can get a "Choco Pass" from the tourist office and sample some of the Frutas de Aragón, chocolate-covered fruit.
JORGE: We're talking about the first chocolates, made at a monastery near here, the first chocolates from the Americas. Some of the first chocolates in Europe were served here, bitter chocolates mixed with milk. The Frutas de Aragón, chocolate-covered fruits, were invented because we produce a lot of fruit and growers needed a way to conserve what they could not immediately sell. So that's how the idea of chocolate-covered fruit started.
TP50: We're speaking with Jorge Acero of Rutica 41 in Zaragoza. His business specializes in providing tapas tours and other food tours, and hosting cooking and food events in his shop in Zaragoza. Tell us more about Rutica 41.
JORGE: With my sister I started tapas tours in the city. Then cooking classes. In the future I'd like to do tours to wineries and also to show people the production process of olive oil and do olive oil tastings here in the area.
TP50: Yes the olive oil tours are a great idea. I don't know if we mentioned this region produces two high-quality D.O. olive oils.
And now you also have the event center, where Tom and I sat in with you and did our best to slice julienne pieces of onion and learn how to make a tortilla. Check out the recipe below.
We also have great memories of the excellent lamb and sausage rice dish you prepared while we took notes and sampled wine. I guess it's not technically a paella, but that's what we'll call it. I'm not sure I could reproduce that dish since my notes got a bit sloppy, but the flavor was so rich and tasty!
Why is your business called Rutica 41?
JORGE: "ica" is a common ending here, to mean 'little' or 'endearing'. So Rutica is the little route, and 41 because we are on the 41st parallel.
TP50: Cool. Is there anything else, besides the gastronomy, that what we should know about the region?
JORGE: Zaragoza has a lot of history and is a place of many contrasts, from the mountains in the north to the river valley in the middle and in the south, Teruel, a beautiful Mudejar city. And I didn't mention other delicacies we have here: saffron, black truffle, jamón. There are many many reasons to visit Zaragoza and Aragon.
TP50: Thanks Jorge. Yes, so much to see, so much to eat.
We'll be writing more about the landmarks and attractions in Zaragoza. But right now, let's share your recipe and preparation method for Spain's famous tortilla española, the delicious potato omelet popular throughout Spain. And as Jorge points out, it is an inexpensive dish, relying simply on eggs, potatoes and onions.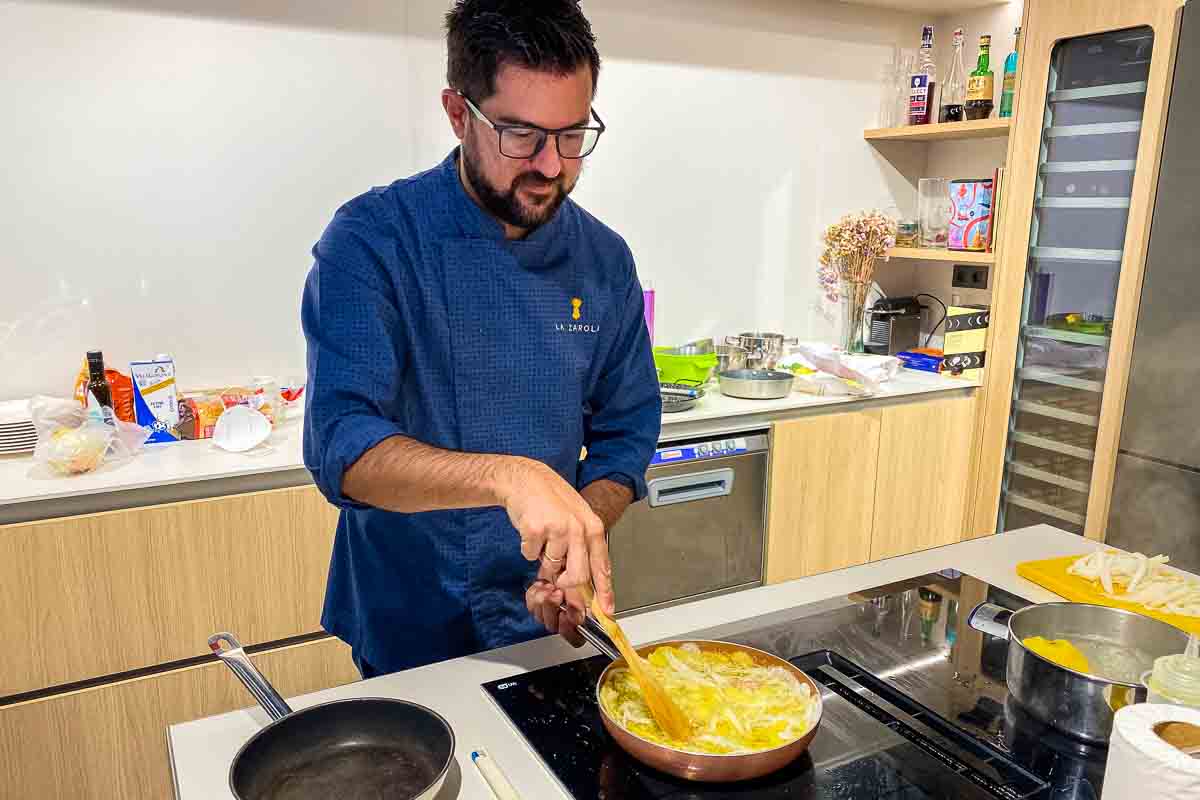 Tortilla Española Recipe
As demonstrated by Jorge Acero of Rutica41.com
Ingredients
White potatoes, 2-3 large
Sweet onion, julienne slices
Garlic, 3-5 cloves in skin
Eggs, 4-5 organic eggs
Sunflower oil (or light oil such as Canola)
Olive oil
Preparation
Peel, quarter, and slice potatoes.
Pat potato slices dry with paper towel.
Heat to sizzling: plenty (1/2 inch?) of sunflower oil in pan, with 3-4 garlic cloves in skin tossed in.
When garlic begins to bubble, add potatoes and onion.
Cook at slow boil until vegetables are soft, mashing potatoes a bit with a wooden spoon as they soften.
Toss out the garlic cloves; drain off (and reserve for re-use if desired) the sunflower oil.
Drain potatoes and onions well.
Beat well 5 eggs. Add potatoes and onions to eggs and let rest for about 5 minutes.
Salt and pepper to taste.
Heat about 1-2 Tbsp olive oil in pan and add egg/potato mixture.
Stir edges, slide pan, to prevent sticking.
Cook until the top of tortilla starts to bubble up.
Flip for a minute or two, to taste.
Flip back for more color if needed.
Enjoy. For more information about food tours in Zaragoza, visit Rutica41.com. Visitors to Zaragoza will also want to visit the city's tourism website for current events and information, as well as the ever-helpful Spain Tourism website, excellent for planning your travels throughout Spain.
Note: We traveled around Spain using Eurail's Global Pass, now easier to use than ever with its mobile planning and ticketing in one app. (We still reserved our seats at a train station, but had our routes and times all mapped out before we got to the window. Easy.)
When you're thinking of traveling, your first stop should be our Travel Resources page, where we list all the essentials you need to make your travels easier, cheaper, safer, and more fun.
You can also help yourself get ready for your travels by reading our Get Started Planning Your Trip Now page.
We love traveling–with the right gear. We've gathered a lot of the stuff we use to make travel more pleasant and efficient all on one page. Shop our Travel Past 50 Amazon page to find our favorite gear. If you purchase something from the store, Travel Past 50, as an Amazon affiliate, may receive a small commission at no extra charge to you. Thanks.
We never leave home without our travel insurance. Nor should you. Search for the travel insurance from Allianz that best meets your needs, whether it be an annual plan or a single trip.
You can see (and buy prints) of most of our travel photos in one place on this page.
Note: This post and other posts on TravelPast50.com may contain paid or affiliate advertising links. As an Amazon Associate we earn from qualifying purchases.