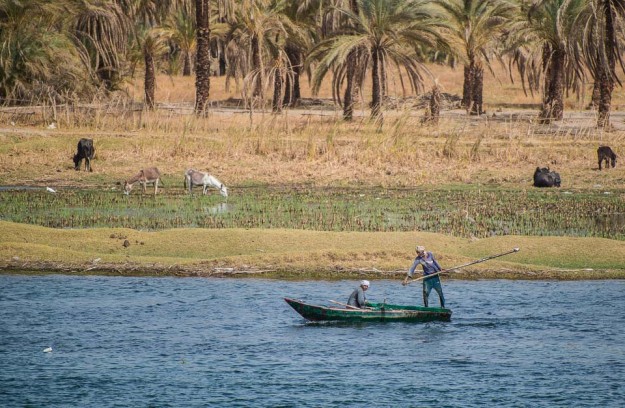 If you know anything about us, you might say Sonesta Nile Cruises was taking a risk inviting us to enjoy a 4-day 3-night river cruise from Aswan to Luxor, Egypt. Tom has a reputation for abandoning ship before the vessel pulls away from the dock. We're both virgins when it comes to river cruising, and barely baptized in the ways of luxury travel. So, of course, we're a perfect match for a luxury Nile River cruise line.
To steal from "Casablanca" and another corner of Africa, I think this is the beginning of a beautiful friendship. Our cabin in Sonesta's Star Goddess ship was a two-room suite with a balcony. We could sit outside, relax on a comfortable small sofa, work at a desk, or nap in the comfy twin beds. Or, to be encouraged, just stare out the window. The TV swiveled between the living area and bedroom. The bathroom was not too tiny, and fully equipped with shower and tub. I compared our luxury Sonesta river boat with every other I saw along the way, and saw no others with the sweet, exterior, open-air balconies from each cabin.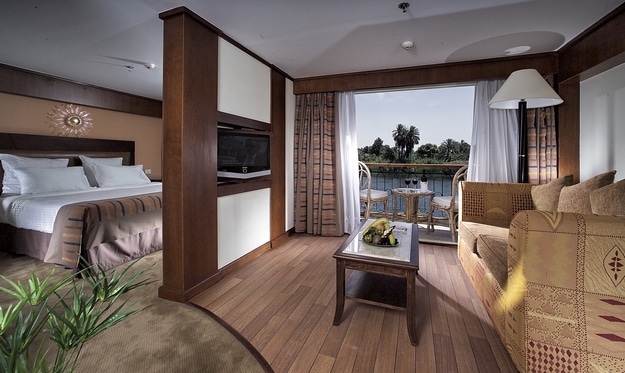 Though we could have happily lounged in our own space, the boat has plenty of other spots to relax and enjoy the scenery.  The sundeck on top (5th tier) is arranged forward around a pool, and aft with seating in front of a service area used for daily tea time or happy hour. On the fourth level is a jewelry shop and a spa with treadmill, rowing machine, hot tub and sauna. The third level includes a small library space and quiet seating by the picture windows. The lobby is in the center of the second level, and in front of that is the lounge. The dining room is on the lower level. Our table next to the window allowed us to look out at the water surface at eye level.
Some posts on Travel Past 50 may contain affiliate links. If you buy something through one of those links, we may earn a small commission. As an Amazon associate, we earn from qualifying purchases.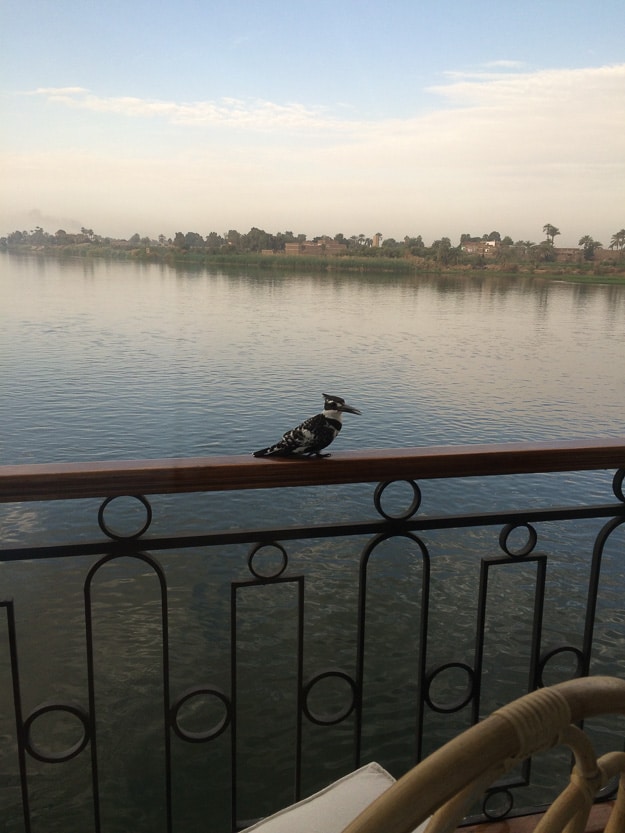 But that's all interior. What is cool about the Nile Cruise is, of course, the amazing Nile River. How amazing to see the river: deep, full and strong. (Aswan, where we started, is 180 kilometers from Luxor.) The river banks of grass and palms quickly change to the crops beyond: sugar cane, alfalfa, garlic, onions, cabbage. The muddy islands with granite outcroppings are bird sanctuaries. And then, abruptly, the bare desert extends from the green, climbs up limestone mountains, and carries on as far as you can see. It's stark and lush all at once, the bare desert a backdrop to birds dancing in the green and donkeys lapping at the water. In my mind, it's a luxury just to lay eyes on this strange scenery.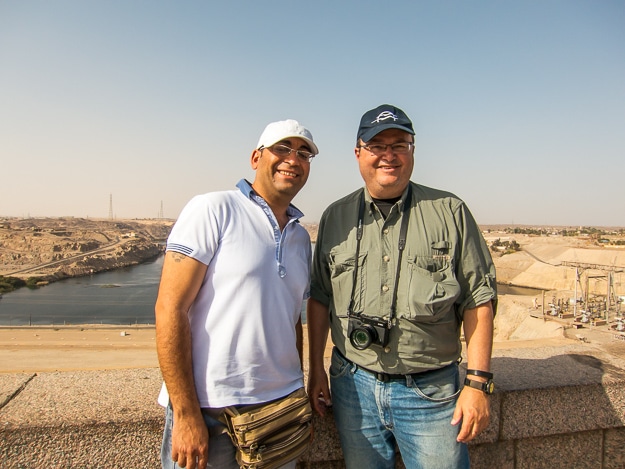 It's inevitable the views will make you wonder what it looked like all those millennia ago, or consider how the river flowed even a hundred fifty years ago, before the dams. Our first excursion, in Aswan, included a drive across the Old Dam and a visit to the High Dam. The first was built in 1902 by the British. The High Dam was completed in 1970, financed by the Russians, and built big. It created the enormous Lake Nasser and caused the famous Abu Simbel temple, not to mention many communities, to be relocated. Of course the High Dam provides power and prevents the unpredictable cycle of floods. Without the silt left by flood waters, though, agriculture has taken to chemicals to maximize production.
We were treated to four excursions from our floating home base. These, too, were top notch. We were fortunate to be in the company of a small but attentive group of fellow travelers and an expert guide, Hany Shfik (Hanooguide@yahoo.com). His services were arranged by Sonesta, who also provide tours in Spanish, or in other languages upon request. Our group of ten included a mother and daughter from Pakistan, and a family group of six from Hong Kong/Taipei/Burma.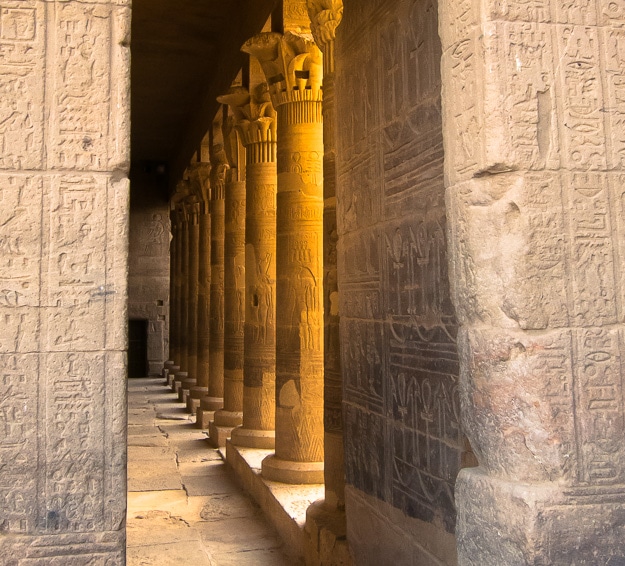 The stars of the Nile River cruise are the temples, and other posts will feature specific sites we saw during the Sonesta Nile Cruise. The river's presence is felt during each tour. The temples have been excavated from mud, silt, and sand, the constant effects of wind and water.
The itinerary in brief
Day 1 Temple of Philae. Located between the two dams, this complex was moved and rebuilt block by block to recover it from the Nile–after it had already been submerged for decades.
Day 2 Kom Ombo Temple, Edfu Temple
Day 3 Luxor West Bank, including Valley (tombs) of Kings & Queens and Hatshepsut Temple
Day 4 Luxor East Bank, including Karnak and Luxor Temples.
Meals and entertainment were also included in the river cruise. We bowed out of the entertainment options, preferring to take in the river. Meals are all buffet style. Salad selections were good, meat and fish were generally overcooked for our taste, but the service was fine and friendly.
Hany, our guide throughout and educated as an Egyptologist, provided continuity and context. It was fun learning the essential Egyptian gods and kings and bits of hieroglyphics that helped us understand the sites' significance. The temples are huge, and only in person can you comprehend the scale, the symmetry, the progression from outer to inner sanctuaries, the precise construction, and precision carving. In some cases, even original colors remain, giving a hint of the original beauty of these monuments.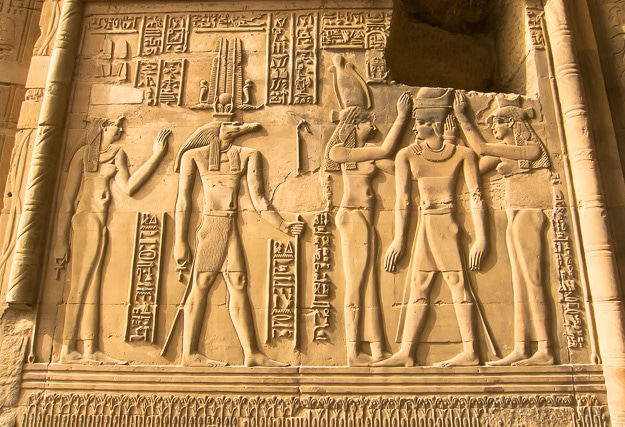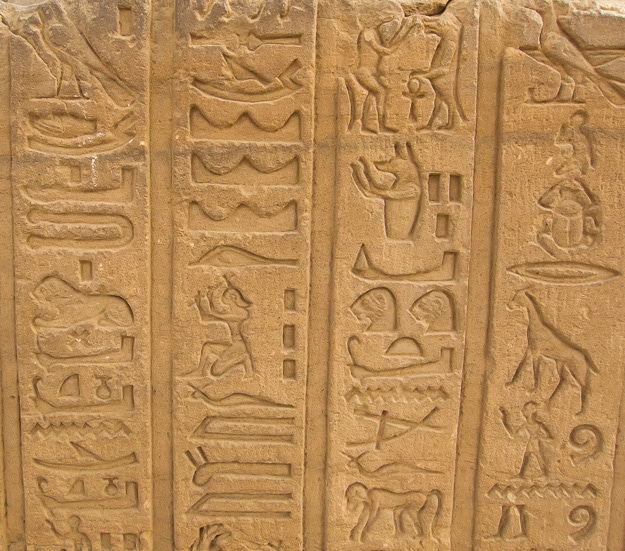 Working in consort with Sonesta, guide Hany also helped us navigate our way through the four days. He was clear, personable, and helpful with individual plans. In the Egyptian environment of constant haggling, Hany prepared us for vendors, advised us as to tipping, and generally protected us along the way. He was happy to adapt the tour to our small group's wishes.
For anyone wondering what you get for your money, we can tell you this Nile River cruise allowed us to see and enjoy places we might otherwise not have visited on our own. This sort of tour is highly recommended for those wanting reliable and thorough information in the ease of a luxury river trip. Check out the cruise in action on Sonesta's Facebook page.  You might want to make reservations now. As of this writing, Sonesta is offering 50 percent discounts through the spring, as Egypt is just beginning to emerge from its tourism dive of the past four years. Good timing for us!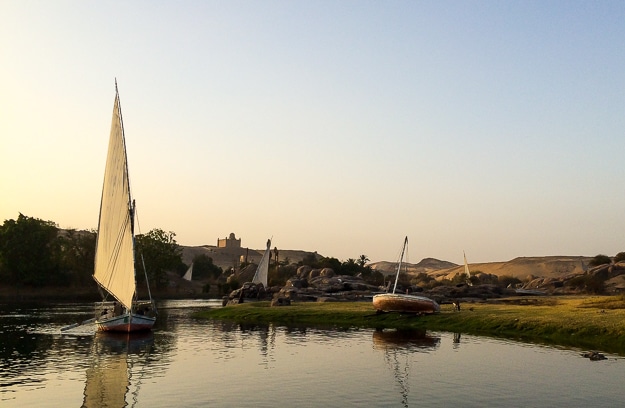 A visa is necessary for Americans to travel to Egypt. We use iVisa whenever we need a visa for any country. Great service, and a small price to pay for them to navigate the visa process for you.

You can click the link above, or use this widget below to start the process of getting a visa for any country.
Travel Planning Resources
Looking to book your next trip? Use these resources that are tried and tested by us. Flights: Start finding the very best flight deals by subscribing to
Thrifty Traveler
. Book your Hotel: Find the best prices on hotels with
Booking.com
. Find Apartment Rentals: Find the cheapest prices on apartment rentals with
VRBO
. Travel Insurance: Don't leave home without it. We recommend
Allianz Travel Insurance
. Need more help planning your trip? Make sure to check out our
Resources Page
where we highlight all the great travel companies and products that we trust. See all of the gear and books we like in one place on our
Amazon shop
.