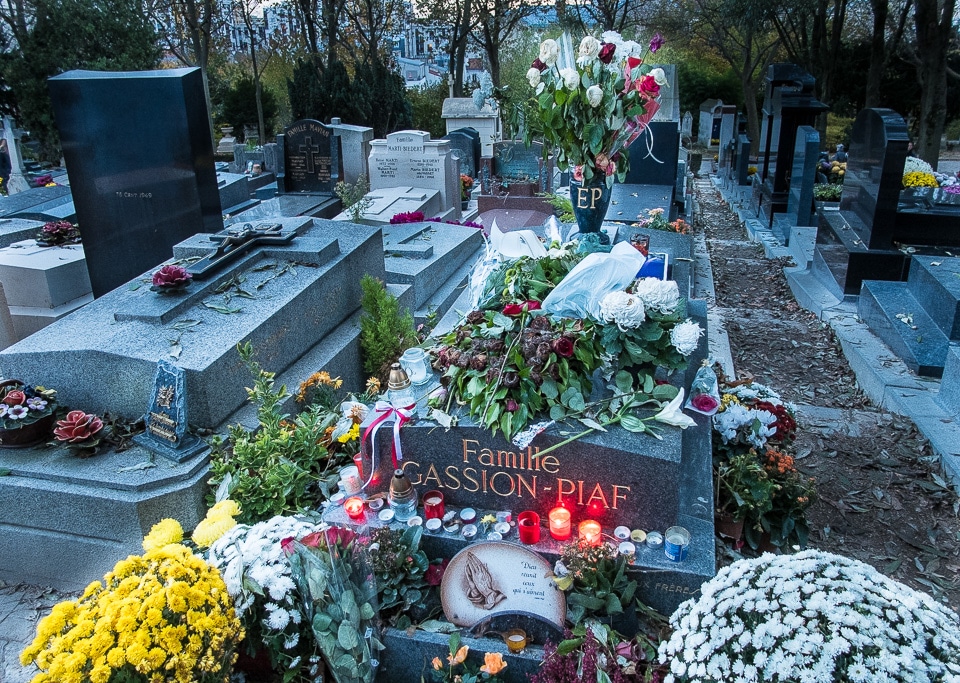 We visited the Pere Lachaise Cemetery in Paris on November 11, which is still known as Armistice Day or Remembrance Day in Europe. It's a day in which not only the war dead, but all who have passed are remembered. Of all graves of the famous buried there, including Oscar Wilde, Jim Morrison, Moliere, Chopin, and Sarah Bernhardt, none seemed to be as genuinely missed or as flower bedecked as Edith Piaf's. Piaf was the great French cabaret singer, who led a very hard and controversial life. She was active in Paris during the German occupation, singing in cabarets and brothels which were reserved only for German officers and collaborating French. After the war, she was reviled by many, but her reputation was revived when it turned out she was surreptitiously working to provide false ID photos which allowed many French prisoners to escape German captivity.
One of her songs was featured in the film Saving Private Ryan, which, I'm sure, is the first most Americans of our generation had heard of her. I don't remember when I first heard her, but I think it was in college. Her voice is unforgettable. Not only for me, but it seems for the French who crowd around and decorate her grave.
You can help yourself get ready for your own travels by reading our Get Started Planning Your Trip Now page.
We love traveling–with the right gear. You can check out a lot of the stuff we use to make all our travel much more pleasant and efficient all on one page. Click here to see it. If you purchase something from this page, Travel Past 50 will receive a small commission at no extra charge to you. Thanks.