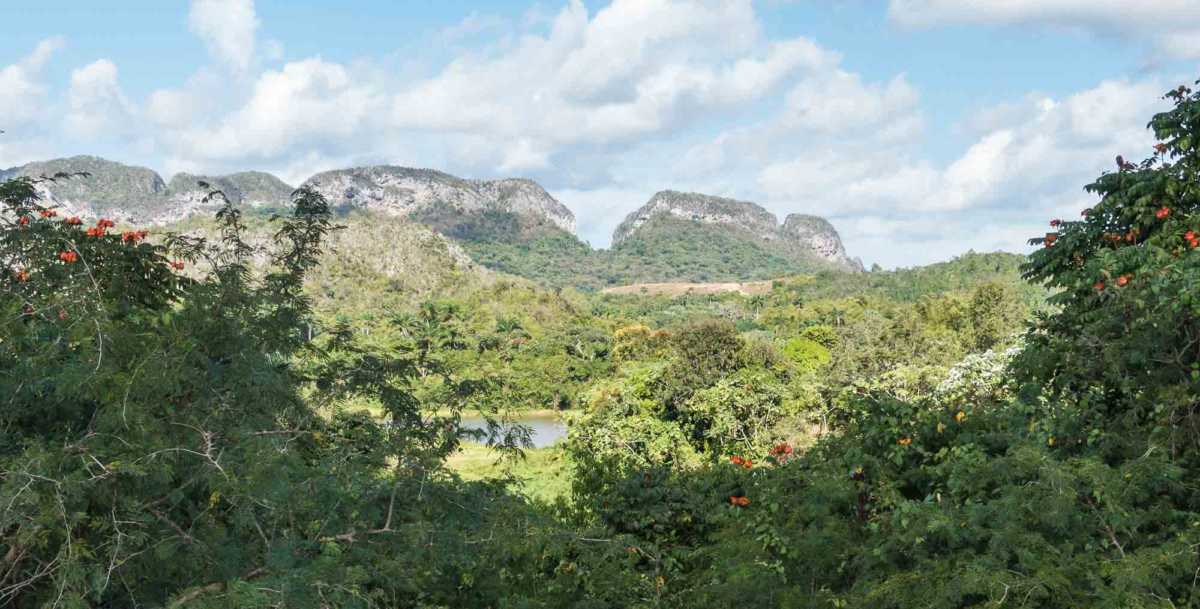 As excited as we were for our first Cuba vacation, we were even more psyched for plans to hike its National Parks and see a variety of places across the western half of the island. Like a lot of people, our concept of Cuba's topography was sketchy. Mountains? UNESCO Biospheres? Protected species?
Yes, there's more to your Cuba vacation than classic cars and cigars. The countryside is a major draw and a great place to learn more about the island country. Agriculture, geological formations, reforesting, and botanical gardens devoted to research and protection of tropical plants and birds: all this trumps the two-dimensional images of some colorful colonial buildings.
We spent time on our own in Havana (read about some general impressions here), but our real learning experience was with Cuba Unbound and their National Parks of Cuba tour. Thanks to their hosting us (and despite my limping along on two bum knees), we managed to veer off the beaten path, remain active, and meet some knowledgeable folks who spoke without reservations.
Here are the key natural sites we visited and can recommend to you.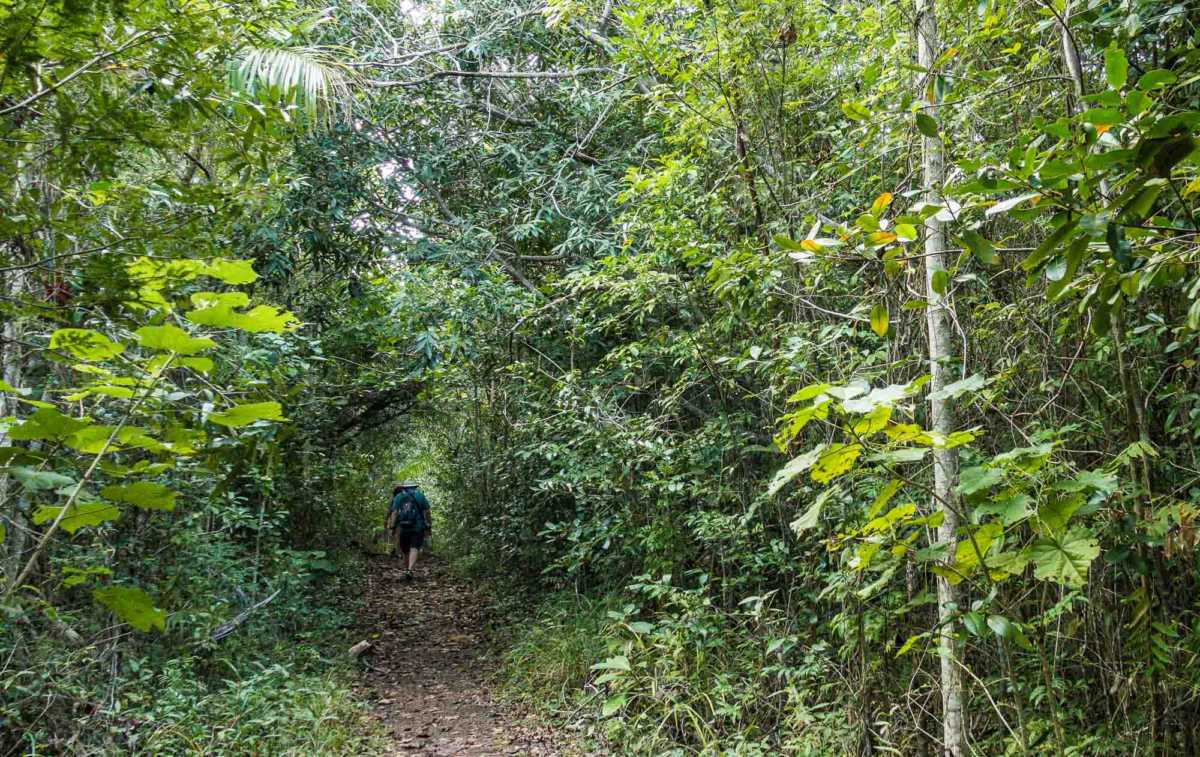 Las Terrazas
A great place to start, just an hour and a half west of Havana, was Las Terrazas in the Sierra del Rosario mountains. This was designated a UNESCO biosphere in 1984, but was originally created as part of Fidel Castro's 1968 initiative to reforest. This lush area was deforested many times over, first by the Spanish (they loved to build ships) and later as a result of sugar cane mono-crops and coffee plantations. Hurricanes have taken their toll, too. Downed trees were collected to sell as charcoal. Before the terraces and reforestation, erosion wiped out the area's productivity.
Today, walking Las Terrazas introduces the visitor to some of Cuba's endemic bird species and thousands of wooded acres. We spotted the national bird, the Trogan, or Tocororo, fairly quickly, but nabbing a photo was more difficult. As we walked we rubbed the leaves of lemons, limes, anise, cilantro, hibiscus, bitter orange, and a host of other productive trees.
Eventually we made our way to Hotel Moka, the first eco-hotel in Cuba, and an oasis which can be heartily recommended. La Mocha sits in the village of Las Terrazas, created for local workers. Visitors can enjoy a spirited coffee and a pleasant view at Café de María, browse the artisan shops, or see bodies dangling from ziplines crossing the valley.
Read our post about Why You Should Visit Cuba now.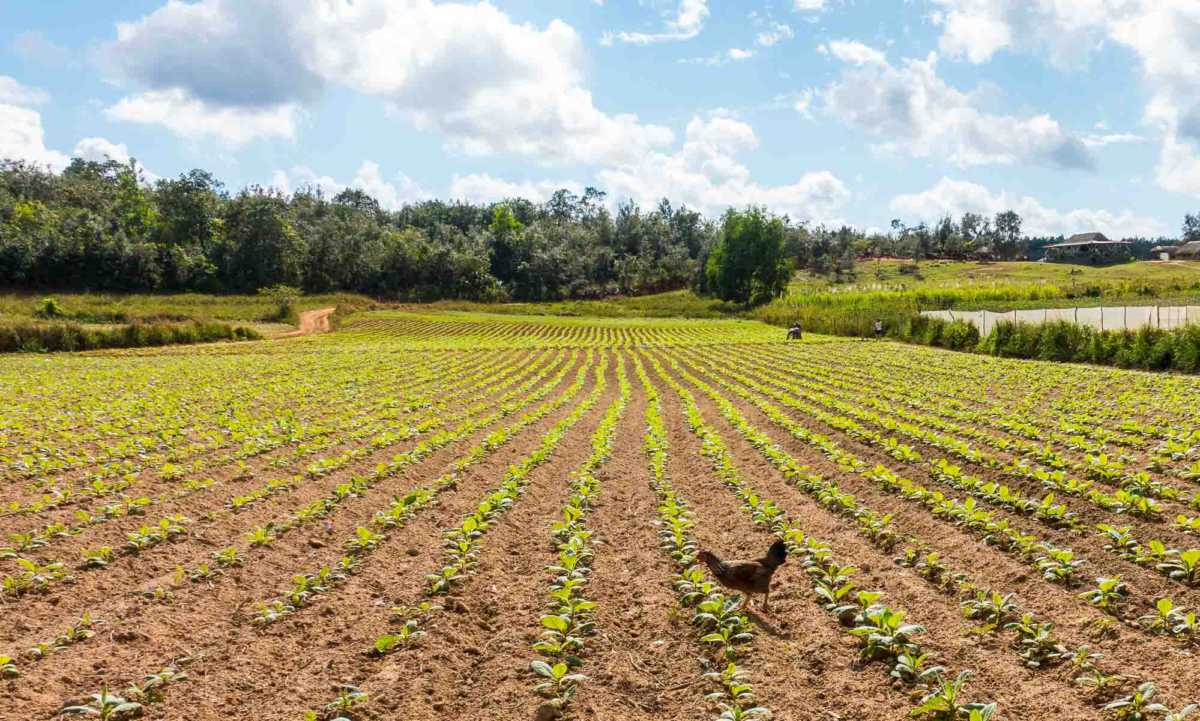 Viñales
The view over the Valle de Viñales in Sierra de los Órganos is a bit otherworldly, a combination of agricultural area and woods dotted with karsts, huge towers of forested limestone jutting up from the valley floor. The valley, near Pinar el Rio in western Cuba, has been protected since the 1970s and a UNESCO World Heritage Site since 1999, recognized for its combination of topography, agriculture, and local culture.
As we entered the valley we met a local guide who, along with the smart eco-students in our group, helped us identify all sorts of plants and trees: cinnamon, cacao, coffee, mandarin orange, mango, the 'tourist tree,' the 'autograph' tree, star fruit and more.
Visitors here will want to wiggle through the caves under one of the karstic formations, or take a horseback tour of the valley.
After our cave encounter, we walked through the woods for an hour or so to emerge at restaurant El Paraiso, an eco-agro property. While we waited for a table, we inspected the organic gardens surrounding the restaurant and family home, and watched a rain storm approach. Once we were seated, the winds and rain began, making our great meal all the more cozy and enjoyable. El Paraiso serves a fixed family style meal that keeps on a'comin'. We counted fifteen dishes delivered to our table–including tuna, chicken, pork, beef, with cabbage, yucca, squash, sweet potato, carrots, greens, pickles, rice and beans, and flan–all priced at just 10 CUC per person (about $10), including a piña colada and water. Exclamation mark.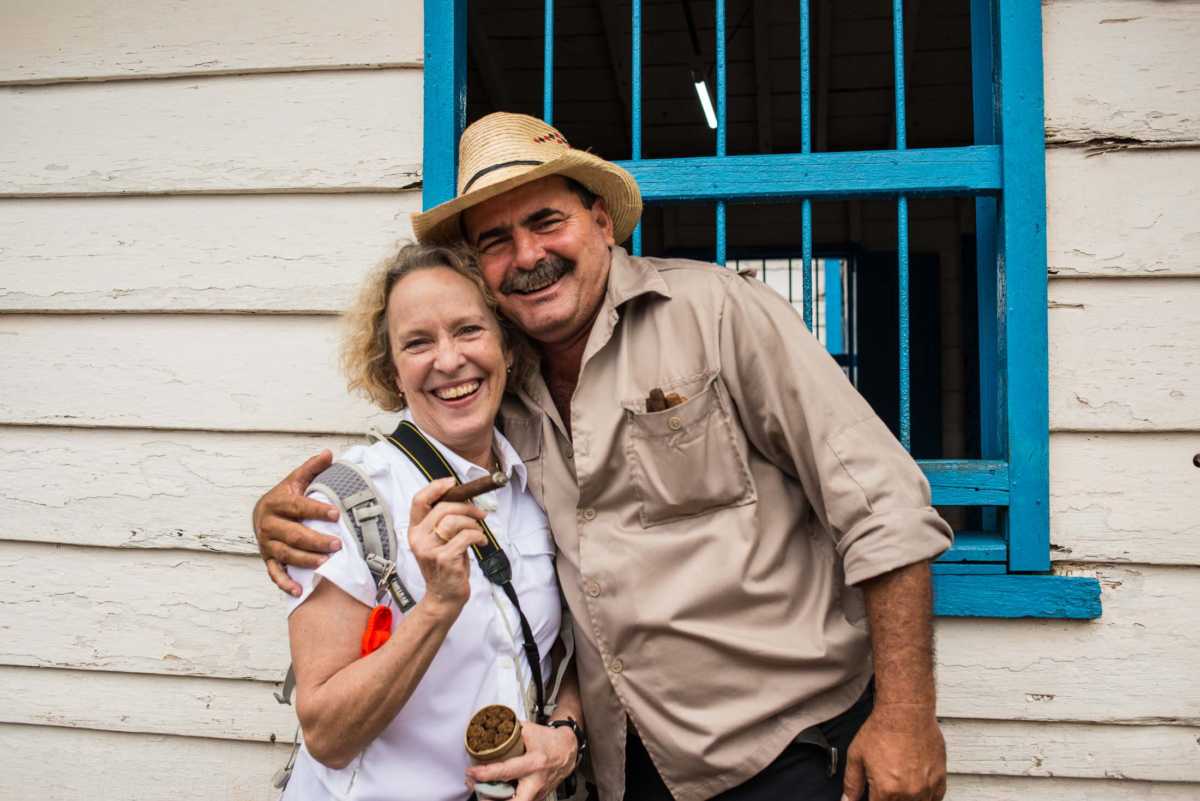 Tobacco Plantation
The Viñales area is the center of tobacco production in Cuba, and is known for its tobacco route and tobacco farm tours. There are plenty of farms to choose from. We visited Benito's, a typical venture offering a peek inside a typical drying house made from the Royal Palm tree, demonstrations of cigar rolling, and sales of cigars made on the premises. The scenery is yet another example of Cuba's lush, saturated colors: verdant greens against the red clay soil.
Botanical Garden of Cienfuegos
Just outside the sweet town of Cienfuegos is this historic garden started in the early 1900s when a couple Harvard professors joined up with a Cuban research institute. Beginning with research on sugar cane production, the Botanical Garden Cienfuegos became, over time, a center for tropical plant research and an arboretum featuring trees from around the world. We enjoyed our knowledgeable guide who lead us through varieties of bamboo, banyon and fica, palms (192 varieties!), ebony, Brazil nuts, bougainvillea, with a few termite nests and bird sightings thrown in.
Harvard's participation petered out in the early 1960s as the U.S. embargo fell into place. The site is well maintained and visitor-friendly, but a whiff of nostalgia for international cooperation hangs in the air.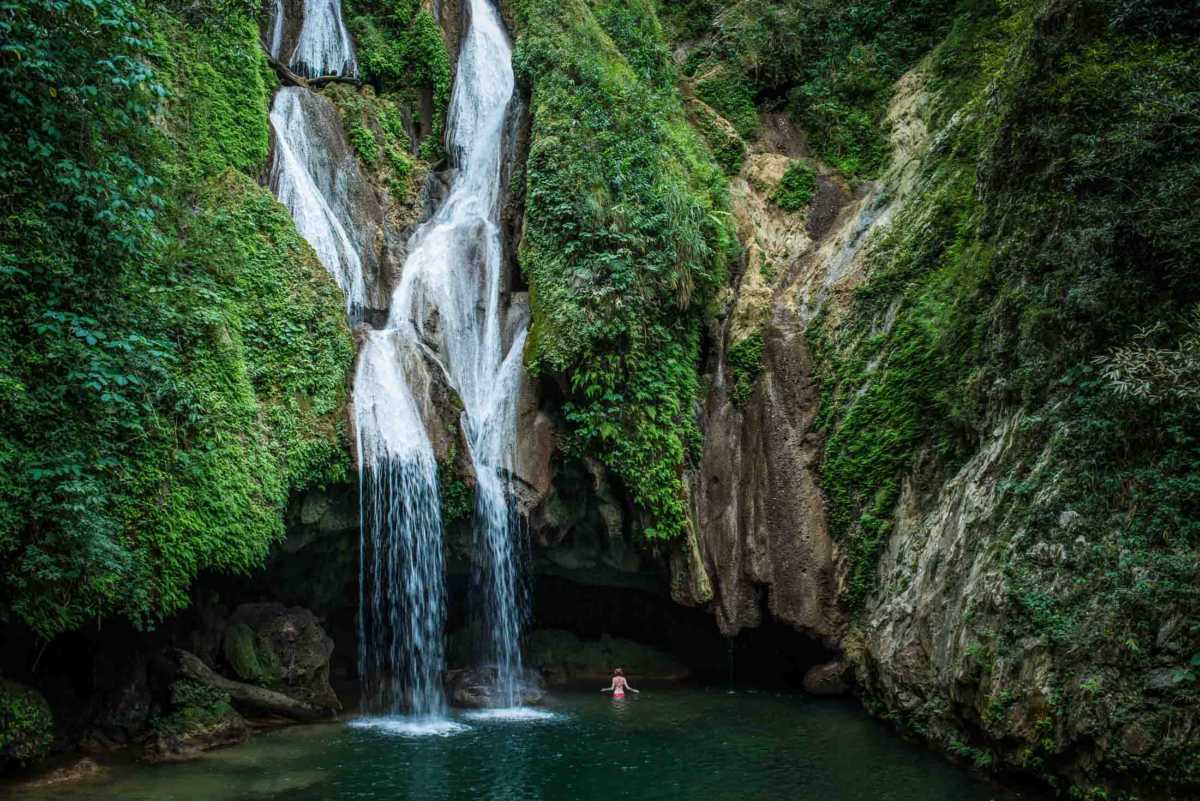 Topes de Collantes Natural Park
One of several hikes in this beautiful mountainous park outside Trinidad is the Vegas Grande hike. It leads through fern and pine forests on an easy level terrain, then drops steeply at the end to a spectacular waterfall dropping into a pool of cold water surrounded by limestone rocks and caves. Again, the topography and botanical life of the island impresses with showy eucalyptus, magnolias, ginger, jasmine, begonias, and banana trees, linked together by birds and butterflies. Here a picture tells the story. We hope to return to try the other trails.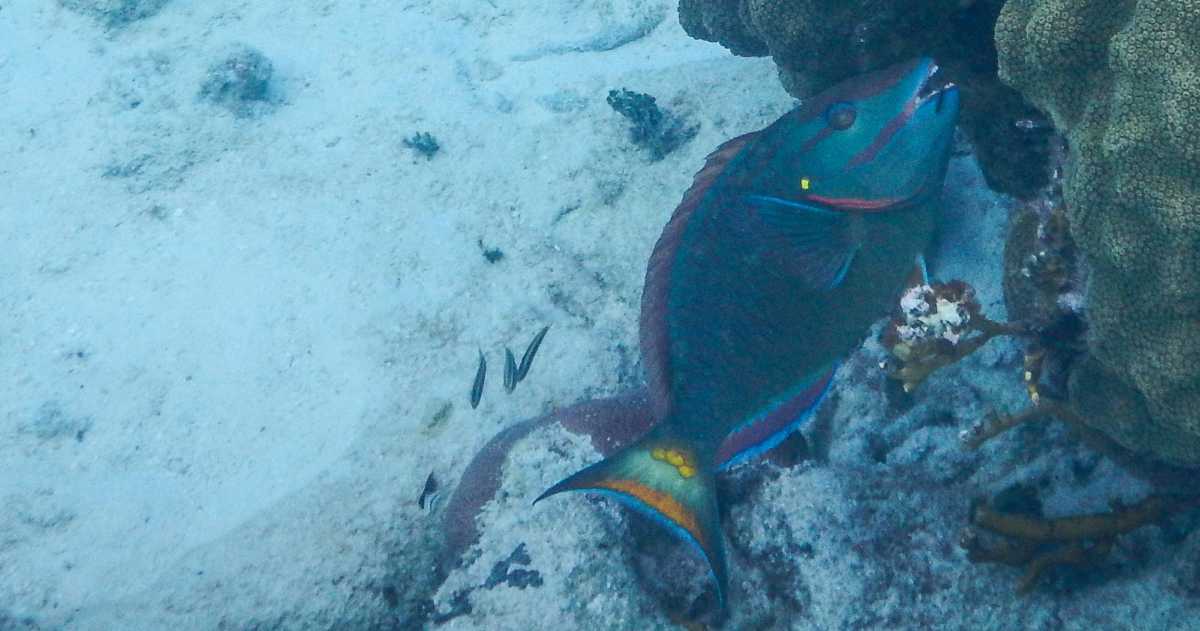 Playa Larga, Bay of Pigs
The town of Playa Larga at the top of the Bahia de Cochinos, or Bay of Pigs, is a nice jumping off point for snorkeling. The Bay of Pigs, of course, is famous for the 1960s CIA-sponsored invasion during the Cuban (well, Soviet) Missile Crisis. It was invaded lots earlier, too, by the French Pirate Gilbert Girón. In fact, this has always been prime territory for pirates, offering a protected bay on the southern coast of Cuba, just over 100 miles from Havana.
We snorkeled off shore, just wading in at a convenient spot. The overcast day downplayed the underwater colors, and next time I'll take my own mask and snorkel. (I always say that, until it's time to pack.) But a good array of coral and a smattering of fish made this fun afternoon.
Fun factoid: The derivation of the word 'buccaneer,' generally referring to pirates, is linked to the wild pigs introduced to this bay area by Spanish. In the 17th Century, when the French also populated the region, they made a lot of bacon by smoking the pork, a process known in French as 'boucane.' The world became synonymous with the woodsmen who produced the bacon, and with their pirate ancestors. Buccaneer is a popular local Cuban beer, too–with a picture of a pirate on the label, not a pig.
We stayed in the warm and friendly Hostal Enrique, a small Casa Particular (more like boutique hotel) with a well-equipped rooftop bar for sunset viewing and late night stargazing. May we recommend viewing with a cigar and daiquiri in hand?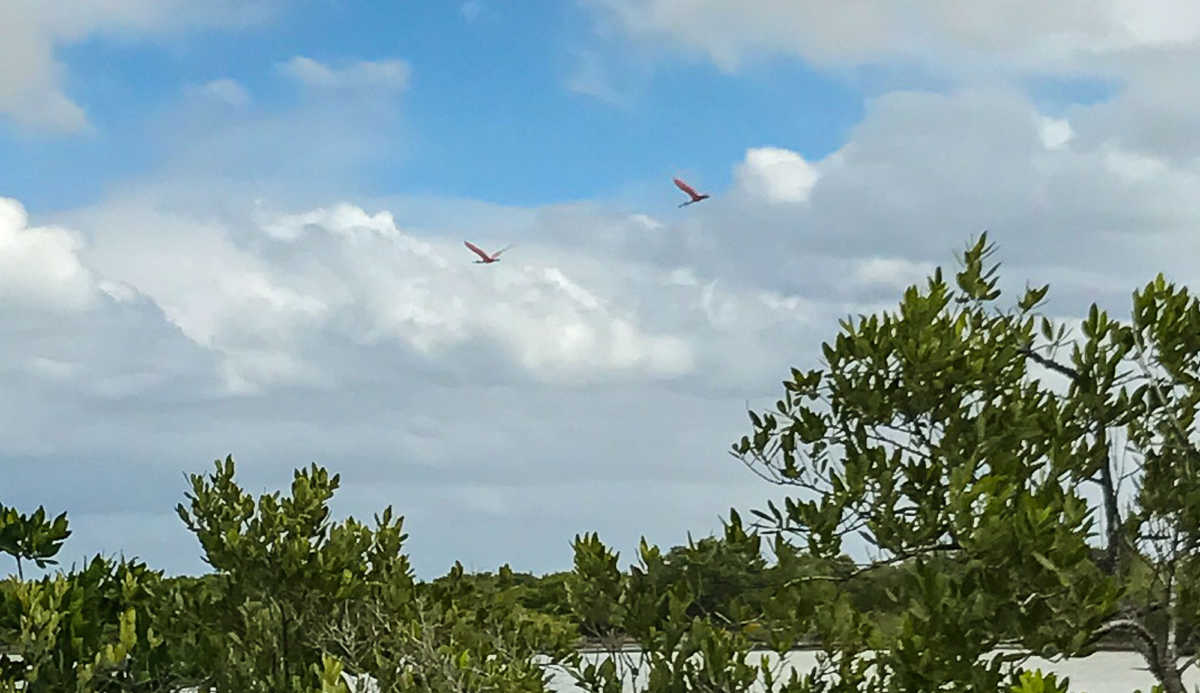 Zapata National Park
On the western side of the Bay of Pigs is the huge Zapata National Park with its Ciénaga (swamp) of Zapata. Our day hike here was remarkable, a chance to see hundreds of flamingos–though none very close–acres of mangroves, dozens of varieties of water fowl, and the vast expanses of brackish water playing host to endemic and migrating birds.
It's a UNESCO Biosphere Reserve (since 2001), and we were fortunate to meet the park's director, Frank Medina, to hear more about the international efforts to protect this area. There are 166 bird species in the park (some 300 in Cuba), and we spotted heron, reddish egret, ibis, cormorant, flamingos, roseate spoonbills, cardinals, trogon, white and brown pelicans, and more.
Crocodiles are at the top of the Zapata food chain. Four thousand are raised and protected here. They are one of 41 types of reptiles found in Cuba. Fifteen of Cuba's 45 mammals can be found in Zapata, including dolphins and manatee.
Recreation flourishes around here, by birders, hikers, fishermen, scuba divers, and visiting volunteers from Canada, the U.S. Germany, and Australia. The threats to the ecosystem are also robust: tropical storms, alien invasive species (like the lion fish), and climate change. High tide is 2 inches higher than is was two years ago.
Across Cuba, in Zapata and the other national parks we investigated, the natural world is carrying on as ever, balanced between fragile ecosystems, invasive species, and emboldened people. It was gratifying to see how respectfully Cuba's parks are being managed, and how much wilderness–maritime and otherwise–remains untouched.
For more Cuba vacation ideas beyond Havana, read about other Cuban cities we visited right here.
And, for why you should travel to Cuba at all, try this: Why You Should Travel to Cuba.
Here are some more tips for hiking locations, routes, preparation and equipment, all in one spot.
You can help yourself get ready for your own travels by reading our Get Started Planning Your Trip Now page.
You can see (and buy prints) of most of our travel photos in one place on this page.
We love traveling–with the right gear. We've gathered a lot of the stuff we use to make travel more pleasant and efficient all on one page. Shop our Travel Past 50 Amazon page to find our favorite gear. If you purchase something from the store, Travel Past 50, as an Amazon affiliate, may receive a small commission at no extra charge to you. Thanks.
We never leave home without our travel insurance. Nor should you. Search for the travel insurance from Allianz that best meets your needs, whether it be an annual plan or a single trip.
Note: This post and other posts on TravelPast50.com may contain paid or affiliate advertising links.