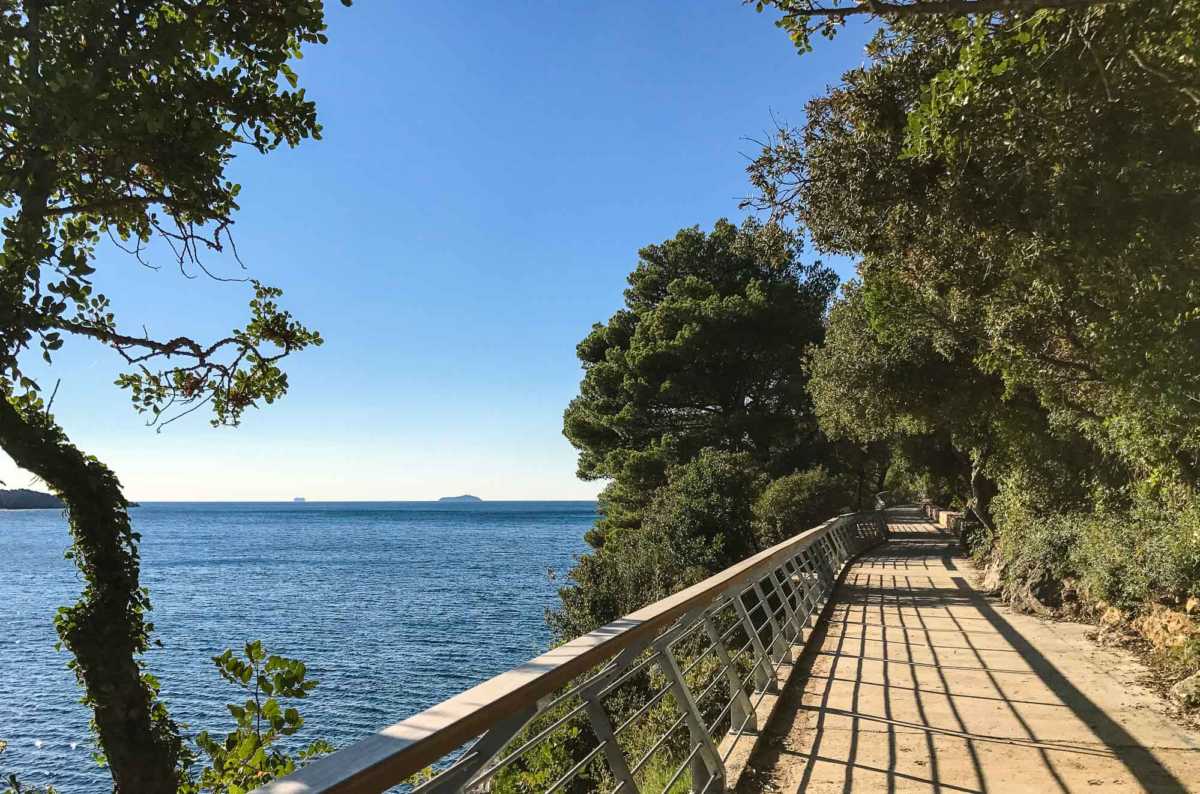 A week in Croatia does not make me an expert in anything. But I ate every day, so that counts for something!
We were alternately impressed and underwhelmed by the food in Croatia. Many restaurants were closing for the season–we were there in late October–so a faltering selection may have colored our culinary experience. But because we were traveling with our son and daughter, both great chefs and aficionados of world cuisine (and our infant grandson) we were able to sample lots of dishes. We divided our time between Split and Dubrovnik.
The best of Croatian cuisine is its seafood. The first night in Split we were introduced to Konoba Majan, a popular place just a block off the waterfront. A konoba is a traditional tavern serving regional cuisine, and you can find these all up and down the Dalmatian Coast. They are generally small, family-run, and recommended for local products and home-style cooking. Restaurants specializing in fresh fish, like Konoba Marjan, will bring a tray of the day's catch to the table so you can have a close look. Fish are priced as first and second tiers. The more delicate or seasonal fishes are priced higher than the run of the mill cod, for example.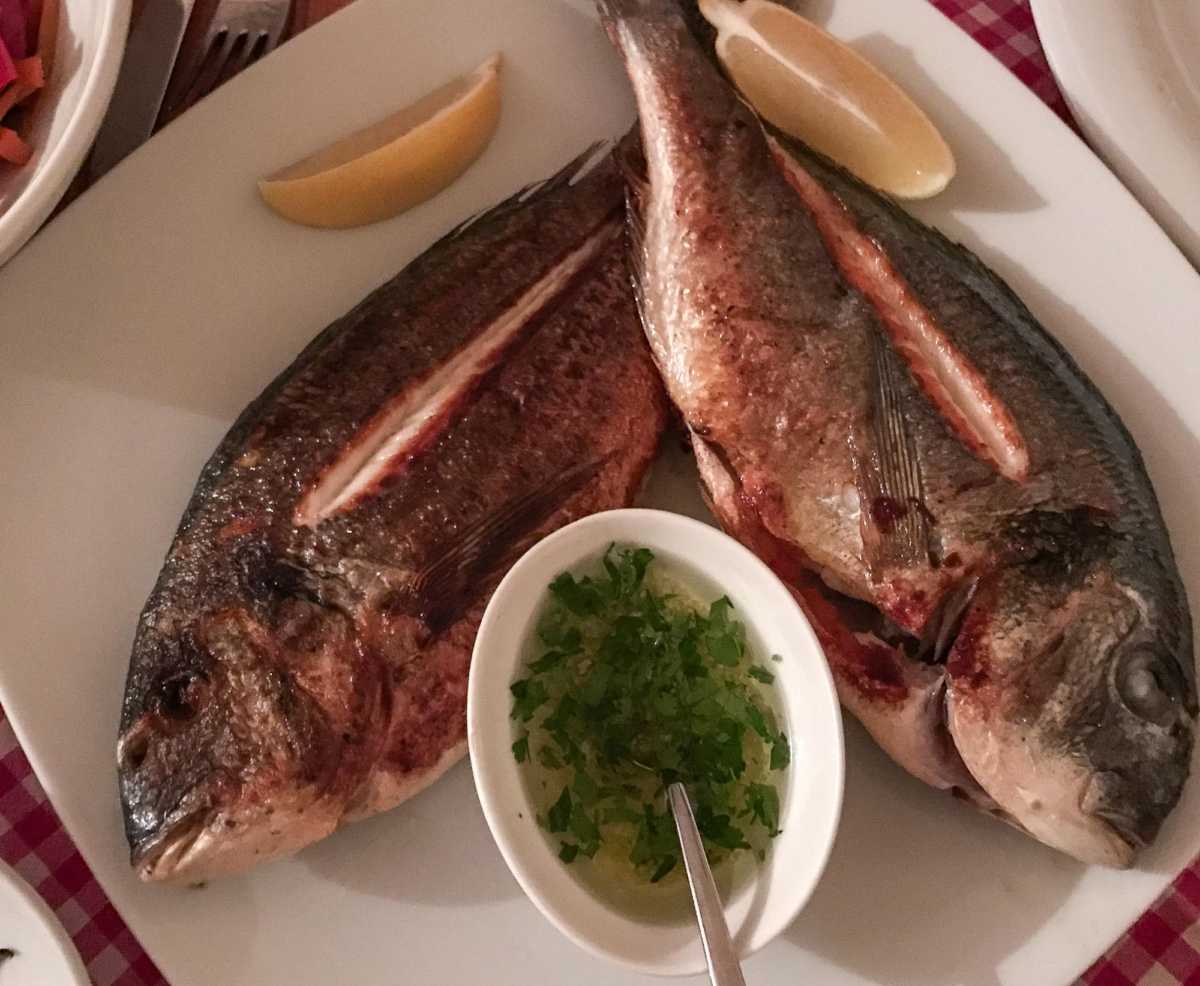 Most will offer a sampler platter, best shared, and sometimes you can choose the style of preparation. The guys shared a platter of grilled sea bass, shrimp, tuna, and halibut. I went for the sea bream, which was really outstanding, served simply with herbed drawn butter and lemon.
Croatia, just across the Adriatic from Italy, certainly shares culinary traditions with the Italians. The rocky, mountainous coastal area, in fact, partakes in the broader Mediterranean ambience and agriculture. Pasta dishes are popular in general; seafood stew and bean soups are hearty and aromatic. But Black Risotto made with cuttlefish might be Croatia's signature dish. It was a highlight for me.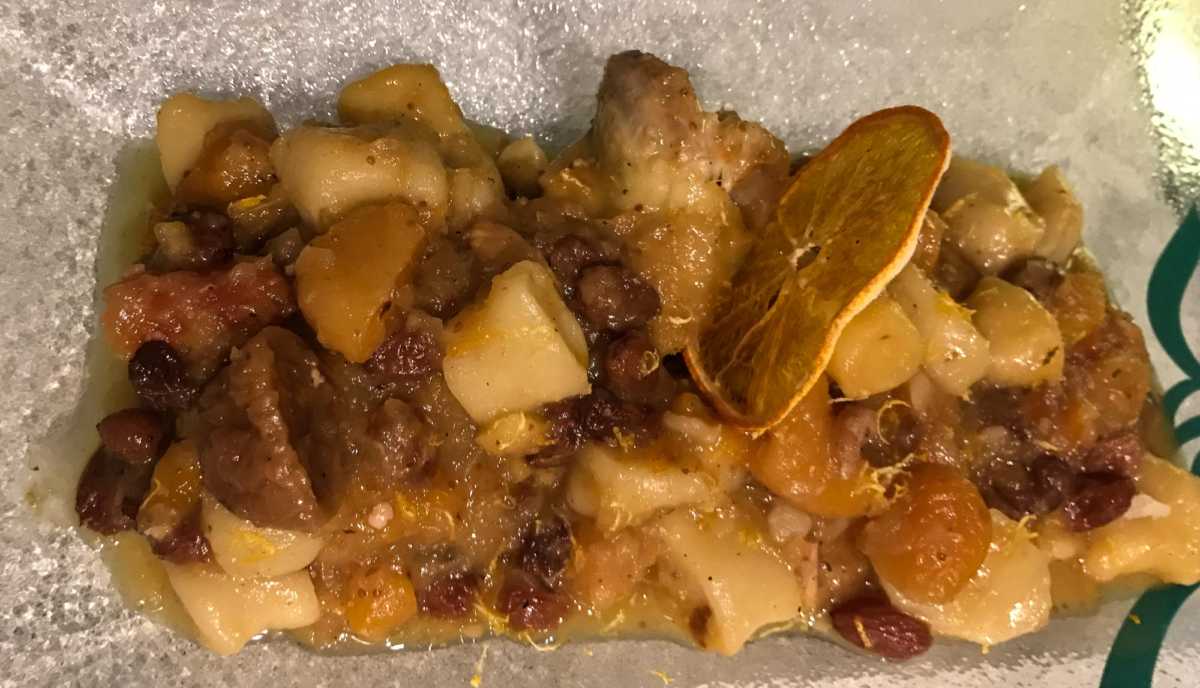 Less successful were some of the meat dishes we ordered. Some of these items appeared on the menu with prideful descriptions: comfort food, recalling Croatian heritage, combining new and old flavors. But without artful use of restraint, the dishes were too sweet, or too gooey, or too unexciting to cover up a mediocre and overcooked piece of meat. We were excited about tasting the namesake capon dish served at Kopun, in Dubrovnik, but both the mushroom and the fig preparations drowned out the rooster.
Notable exceptions were the lamb shank we found in Dubrovnik, a pork loin Tom enjoyed in the lovely little town of Trogir, and a ribeye steak in Split. Given more time, we'd surely have found lots more inventive kitchens working with local producers.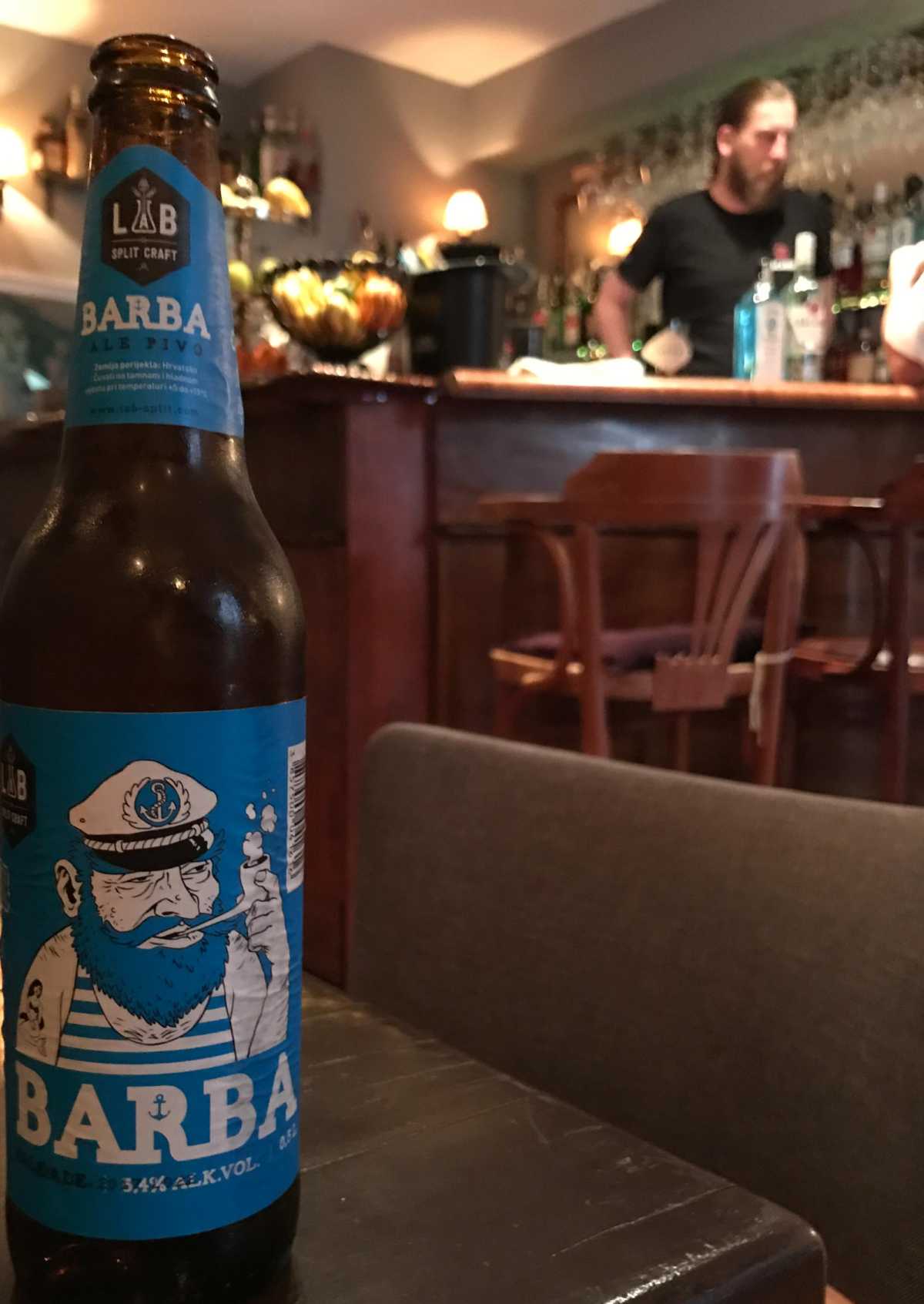 And a couple beverage notes:
The first local craft beer of Split was delivered to me as I sat and worked in the Galerija, a pub and coffee shop with adjacent cafe. Barba Beer is a pale ale that's not too hoppy. A nice bright brew for an afternoon's work, enhanced by a good soundtrack.
We enjoyed our random selection of Croatian wine, based usually on our waiter's recommendation. Plavac Mali is the most common indigenous grape along the Dalmatian Coast, and produces a good red wine, dry, similar to Italian reds. The Bavic grape, too, is native to Croatia, tending more toward Zinfandel depth. Among the whites we liked: Chardonnay DeGrassi, one of the many white wines from Istria, the peninsula up in northwestern Croatia, very close to Trieste,Italy. Malvasia is another classic grape from this area, producing nice table wines from dry to semi sweet.
We didn't have nearly enough time to sample desserts and cheeses from the region, and so many other wines and restaurants are waiting. Oops, I guess we'll have to return. We do know that Croatia's cuisine is supported by a lively cafe culture; eating inside or out, the Dalmatian coast is an inviting place to stay and eat.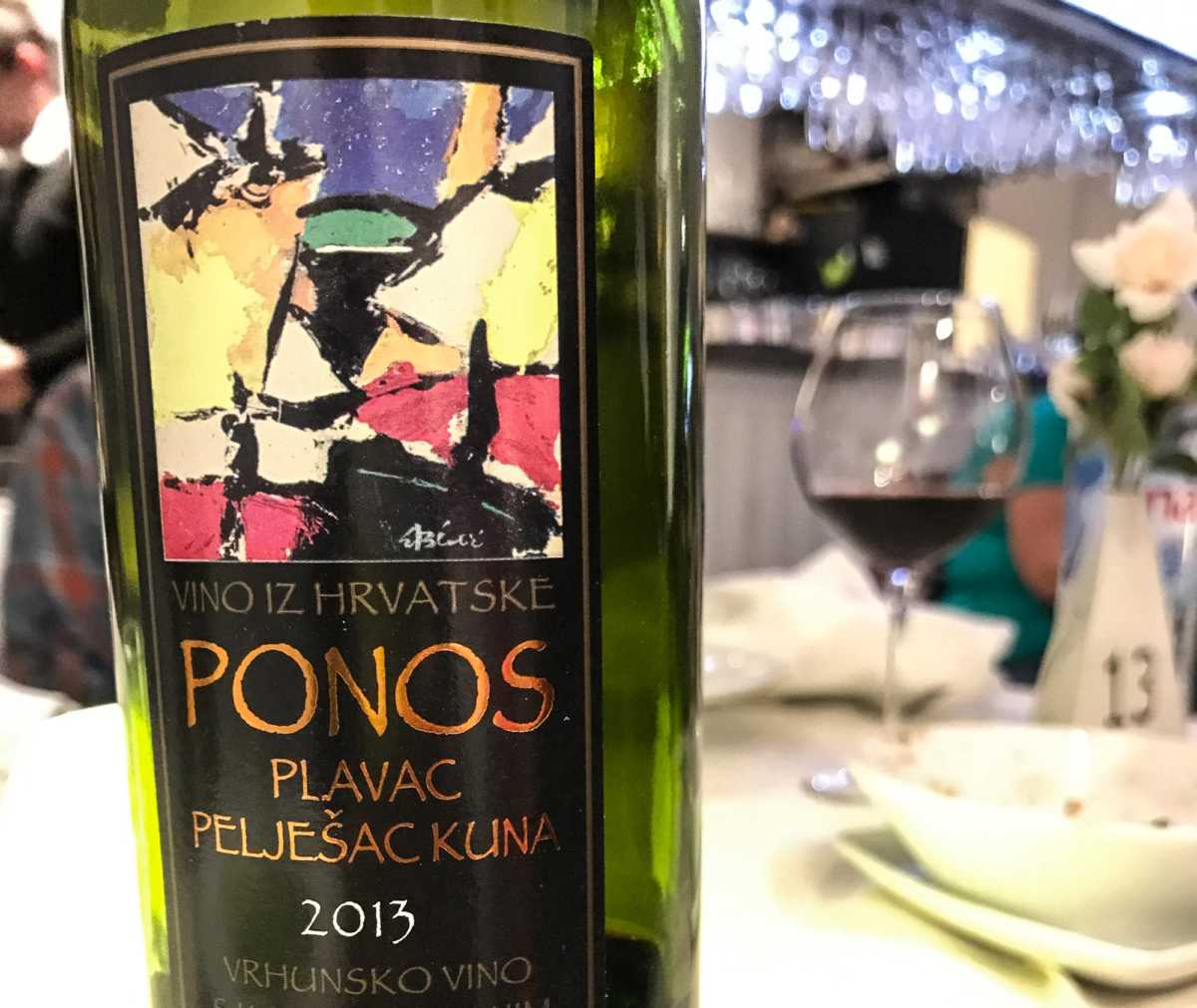 Listen to our conversation about Croatia cuisine in this interview with Travel Writers Radio, a weekly travel broadcast from Melbourne, Australia, or accessible via Soundcloud. Hit play, and happy travels.
Practical Tips
Getting from Split to Dubrovnik: Since the ferry service between the two cities was limited to weekends this time of year, and we didn't feel like spending 5 hours on a bus with a baby, we rented a car. The 3-hour drive was a gorgeous combination of rocky mountain terrain and coastal highway. One-way rental was easy. We used the car the first day to visit Trogir and the Roman ruins of Salona outside Split. The access through Bosnia, by the way, was not a problem. Just have your passports handy.
Alternately, you can turn your planning over to the pros. UK-based LoveHolidays specializes in city breaks and last minute deals, so you can easily get away to Croatia from just about anywhere.
Where We Stayed
Piazza Heritage Hotel A top notch little hotel right around the corner from Split's old town square. No view, but quiet, and with the added advantage of the fine restaurant, Kitchen 5, downstairs.
Hotel Lapad Dubrovnik Despite being taken aback at the distance this is from the center, and the sheer size of the property, we found we could easily walk to the Zvonimira restaurant district and coastal walk, and walk or bus to the old town center.
Restaurants
Konoba Marjan, Split. For a classic preparation of fresh fish.
Caffe Galerija, Split. When you can't decide if you want coffee, beer, or food.
Restaurant Dionis In the historic town of Trogir, not far from Split's airport.
Kitchen 5 Split. Best tastes of the trip were here. Fine ingredients stood out. Smoked duck salad, cauliflower coconut soup. seafood risotto, mushroom gnocchi, ribeye steak, grilled vegetables.
Orka Restaurant Dubrovnik. Very good food and service (lamb shank, black risotto) overlooking the port. Say bye-bye to the cruise ship.
Restaurant Kopun At the top of the great staircase you might recognize from Game of Thrones. Good soup starters, but our main course was disappointing.
Advertiser Disclaimer and Editorial Note: Some links on this page may have been placed by companies from which TravelPast50.com receives compensation. This compensation may impact how and where products are mentioned within a post.