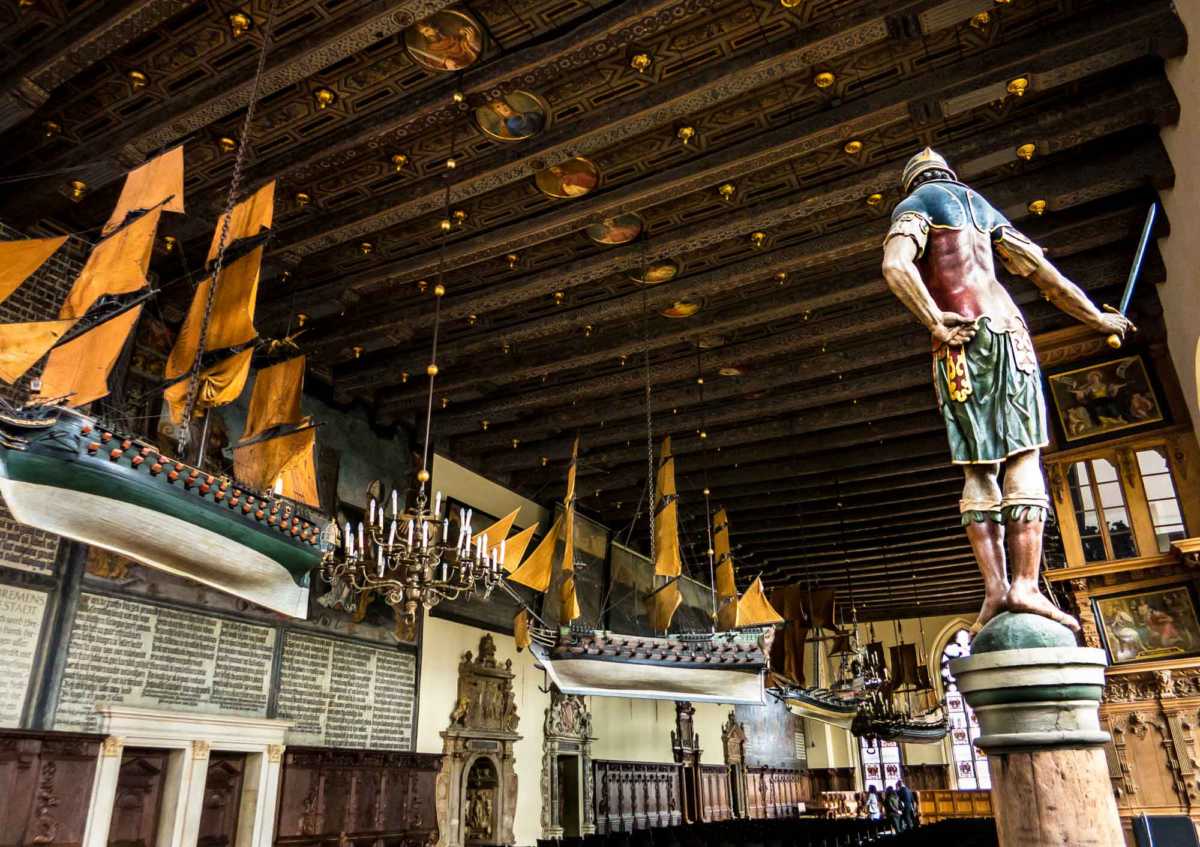 I've always got a kick out of the German word Rathaus, which means City Hall. Rat House, a good place for most city government. Ok, enough sophomoric humor. The Rathaus of Bremen is about 600 years old, which is saying something indeed, because a lot of German landmarks didn't make it through World War II. This one did, because it was right next to the Bremen Cathedral, and, for the most part, Allied bombers tried to miss obvious cultural landmarks when they were pulverizing German cities. And, since Bremen manufactured airplanes and submarines during the war, they came in for a lot of pulverization.
But the Germans managed to save the Rathaus by stationing soldiers there during bombing raids whose sole job was to put out fires that threatened the mostly wooden building. So, the building survived.
It was named a Unesco World Heritage site in 2004. It's a historical site, certainly, and the wood carving that lines the walls is spectacular. But what intrigued me were the ship models that hang from the ornately carved and painted ceiling. These were models of ships that were to be built for the merchant fleet of 16th Century Bremen, and ended up somehow hanging in the main hall of the building.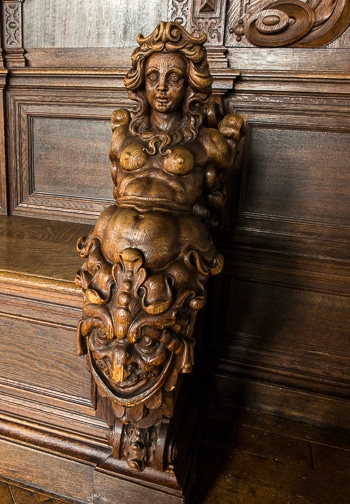 The Bremen Town Hall is a UNESCO World Heritage site. To see a list of the UNESCO World Heritage sites in Germany, click the link.
Where to stay in Bremen
When we're looking for a place to stay in Bremen, or anyplace, for that matter, we always check Booking.com. Click this link for a list of recommended Bremen hotels. If you book a hotel in Bremen using this link, Travel Past 50 will receive a small commission.
Tours of Bremen
If you book any tours of Bremen using the links below, Travel Past 50 will receive a small commission.
When you're thinking of traveling, your first stop should be our Travel Resources page, where we list all the essentials you need to make your travels easier, cheaper, safer, and more fun.
You can also help yourself get ready for your travels by reading our Get Started Planning Your Trip Now page.
We love traveling–with the right gear. We've gathered a lot of the stuff we use to make travel more pleasant and efficient all on one page. Shop our Travel Past 50 Amazon page to find our favorite gear. If you purchase something from the store, Travel Past 50, as an Amazon affiliate, may receive a small commission at no extra charge to you. Thanks.
We never leave home without our travel insurance. Nor should you. Search for the travel insurance from Allianz that best meets your needs, whether it be an annual plan or a single trip.
You can see (and buy prints) of most of our travel photos in one place on this page.
Note: This post and other posts on TravelPast50.com may contain paid or affiliate advertising links. As an Amazon Associate we earn from qualifying purchases.