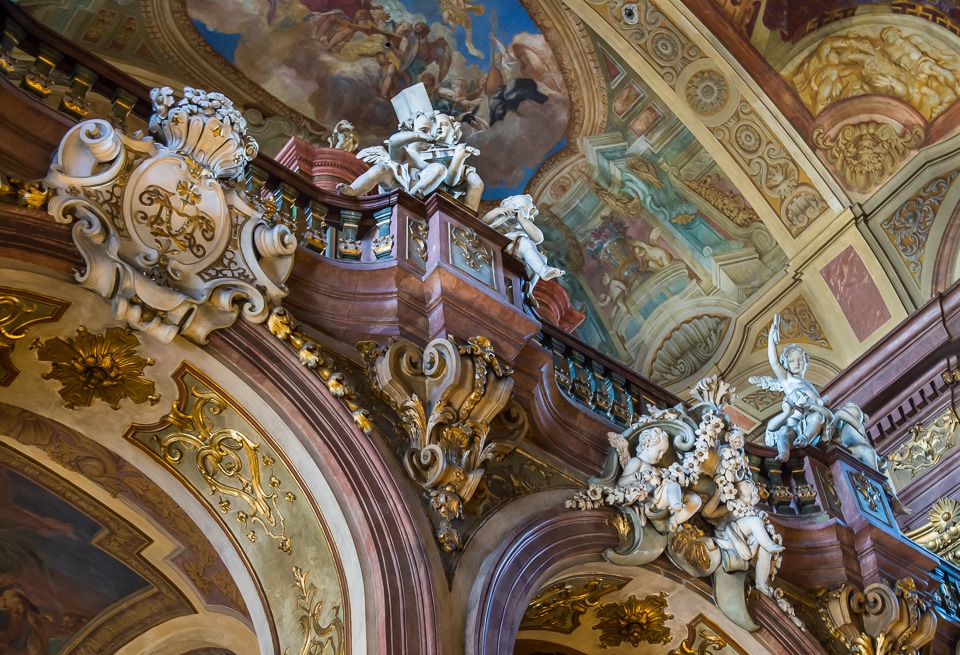 In Wroclaw, there's an island of churches which has, among others, the Cathedral of St. John the Baptist, and the Church of Sts. Peter and Paul. But just a short walk off the island is the Jesuit church of the Holy Name of Jesus. (It's also known as the Blessed Name of Jesus to some tourist books. Your choice, really. Sanctus in Latin can be translated either way. Or Saint. Sort of depends on the context.) It was built by the Jesuits starting in 1690 in the University area on the site of an old castle. As all you art history folks know, that era was when the Baroque, which was already pretty Baroque, was starting to go right over the top into the Rococo style. The Versailles Palace outside Paris is perhaps the most famous example of the gross excess of Rococo, but we'll leave politics out of this, because you know what happened to the last residents of that place.
This little detail is the front of the balcony.
Anyway, you might not agree with the Rococo taste, and if you're Protestant, you probably don't. But, to my mind, when it comes to church decoration, nothing succeeds like excess. And the Jesuits always excelled at excess.
Mass was just starting as we entered the church, so I wasn't able to walk around and shoot as much as I liked. The good thing about the mass was the lights of the church were turned on, so that helped a lot. So much wonderful illustrative art should never be shrouded in darkness. Shot at ISO 2500, 1/20 sec at f/4.0. I'm sort of amazed at how sharp this is, especially since the image is cropped about 40 percent. Nikon D800E is quite a machine. In Lightroom I just increased the clarity and vibrance and did a lot of dodging and burning to even out the exposure. The light was coming mostly from a window on the right of the image.
For more info about the equipment and software I use, see this page.
You can buy prints of my photos on my Smugmug page.
Get all our travel tips delivered to your inbox
Subscribe to our email newsletter