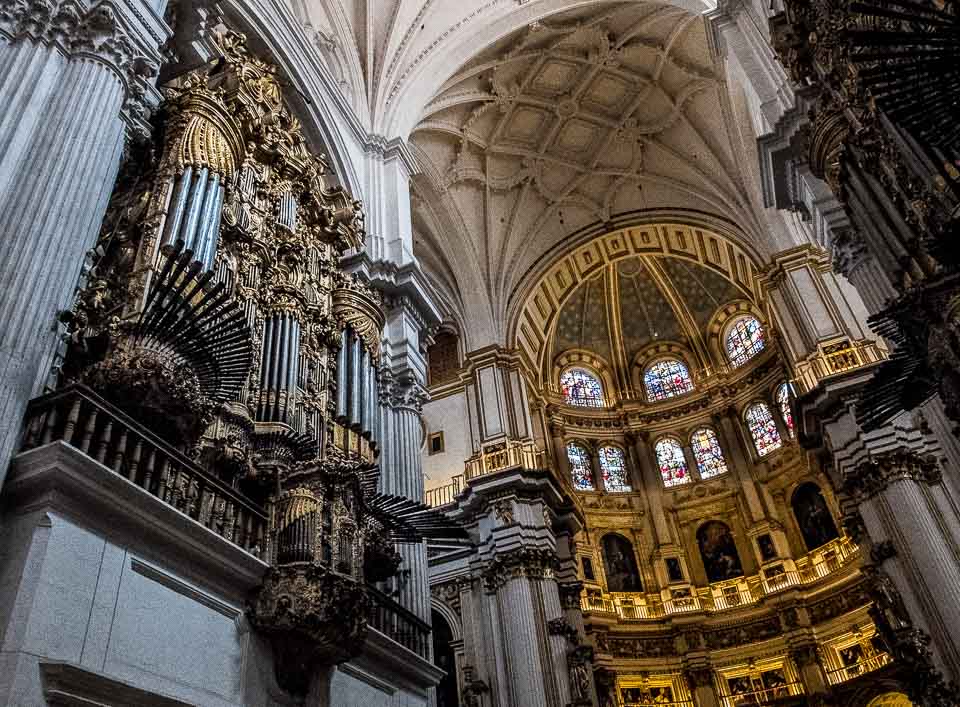 As you look at all the cathedrals in Spain, and compare it to this one, the Cathedral of Granada certainly sticks out.
It's not Gothic or Romanesque like all the others, you see. And that's because it was built so much later.
Because Granada was the last city to be captured from the Moors, and so the last city to get a cathedral. And, because it was now almost the 16th Century when Christianity was reestablished here, styles had changed. No more Gothic, you see. There was now a Renaissance going on, and architects such as Michelangelo had changed things with such churches as St. Peter's in Rome.
And so, you have what is basically a Renaissance style, which borrowed a lot from classical, and not much from Gothic. And get what is a classically simple architecture, which was later tarted up with a lot of baroque decoration. You just can't trust church architects not to go too far. I mean look at St. Peters.
And look at this organ. There are two of them, by the way, on both sides of the nave. I'd love to hear them will all the stops out. Playing something baroque, like Bach. Loud.
You can help yourself get ready for your own travels by reading our
Get Started Planning Your Trip Now
page.We love traveling–with the right gear. We've gathered a lot of the stuff we use to make travel more pleasant and efficient all on one page. Shop our
Travel Past 50 Amazon page
to find our favorite gear. If you purchase something from the store, Travel Past 50, as an Amazon affiliate, may receive a small commission at no extra charge to you. Thanks.
We never leave home without our travel insurance. Nor should you. Search for the travel insurance from Allianz that best meets your needs, whether it be an annual plan or a single trip.
You can see (and buy prints) of most of our travel photos in one place on this page.
Note: This post and other posts on TravelPast50.com may contain paid or affiliate advertising links.