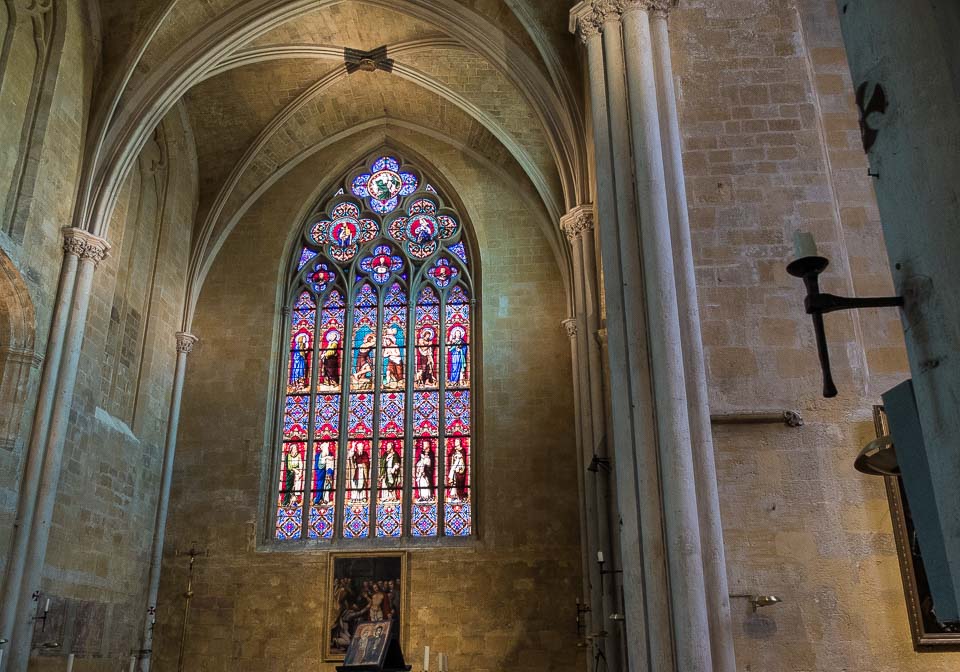 The Cathedral of Saint-Sauveur (the Holy Savior) in Aix is interesting because of all the styles that went into it over the centuries. Originally built in the 5th Century on the site of the Roman city forum, it was rebuilt, added on to, and redecorated extensively in the 12th, 14th, 16th and 19th Centuries, resulting in an eclectic mix that includes elements of the Romanesque, Gothic, and Renaissance styles.
You have to do some close looking, but there are some very nice paintings here, in particular. The artists are no one you've heard of, but the Burning Bush triptych by Nicolas Froment, an Avignon painter, is a masterpiece of the 15th century and reminds me of the Rogier van der Weyden paintings we just saw in Madrid and Beaune, France.
Some posts on Travel Past 50 may contain affiliate links. If you buy something through one of those links, we may earn a small commission. As an Amazon associate, we earn from qualifying purchases.
One particularly nice "Doubting Thomas" by the Flemish painter Louis Finson is reminiscent of Caravaggio.
Sorry, it was too dark to photograph the paintings. You'll have to come visit on your own. It's worth it.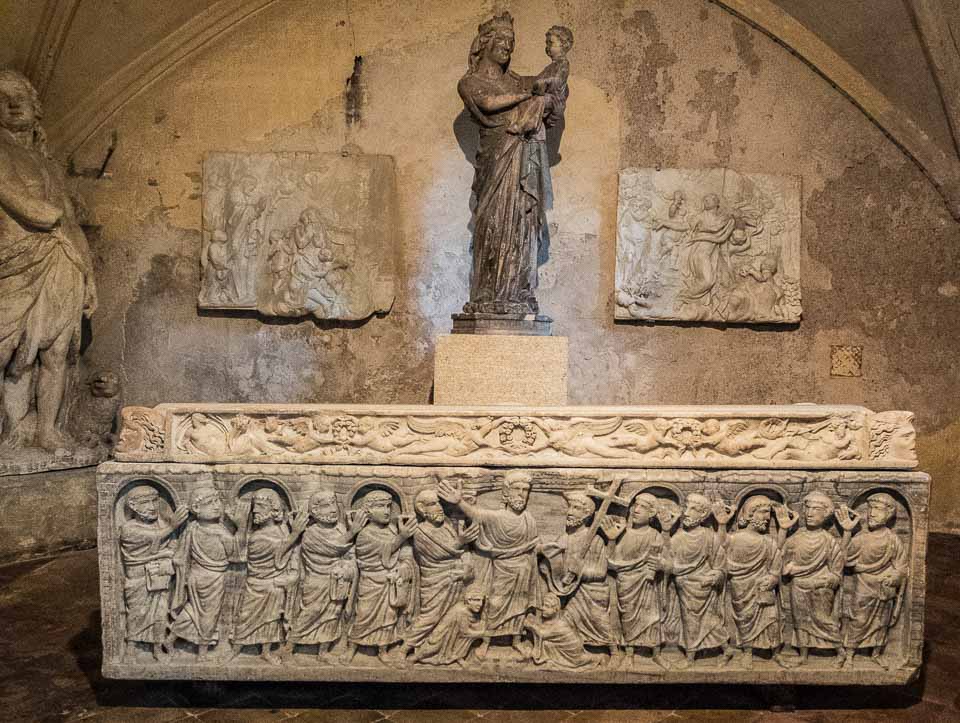 This is the legendary sarcophagus of the martyr Saint Mitre. According to the story, he was a field worker who lived near Aix and was thought to be a witch because he'd performed miracles. He was beheaded, after which he reached down, picked up his head and carried it to an another Aix church. His remains were moved to the cathedral later.
Travel Planning Resources
Looking to book your next trip? Use these resources that are tried and tested by us. Flights: Start finding the very best flight deals by subscribing to
Thrifty Traveler
. Book your Hotel: Find the best prices on hotels with
Booking.com
. Find Apartment Rentals: Find the cheapest prices on apartment rentals with
VRBO
. Travel Insurance: Don't leave home without it. We recommend
Allianz Travel Insurance
. Need more help planning your trip? Make sure to check out our
Resources Page
where we highlight all the great travel companies and products that we trust. See all of the gear and books we like in one place on our
Amazon shop
.