Often when your life is pretty easy, like ours is now, it's too easy to get lazy. And, as I look back on this blog and realize that I've been lazy enough to only write one thing in the last two months, I guess I'm the South American poster child for sloth.
For sometimes, it's too easy to just sit here in the apartment and look out over the city from the seventeenth floor, and just turn another page on my Kindle or load up another video on the computer instead of making the most of Santiago. (Of course, Santiago conspires to keep me in with its prodigious air pollution, which both aggravates my heretofore slight asthma and my heretofore young eyes.) Only a month to go here before a brief sojourn back to the US. Then we're moving somewhere else in Chile, like Viña del Mar, where there's enough of a city to be interesting, and enough of an ocean outside the front door for Kris to keep up her surfing.
In the meantime, a little taste (more to come, I swear) of what we have done here in Santiago other than look out the window at the mountain-hiding smog.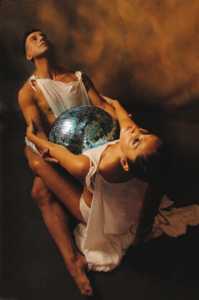 Last night we went to Teatro Mori (one of about a dozen small theaters in the neighborhood)  to see a modern dance/flamenco-influenced interpretation of Pablo Neruda's Twenty Love Poems and a Song of Despair
called Los Amantes (The Lovers) by a company called Luna Calé. If you've never seen Flamenco–even though this was not the pure Flamenco of Andalucía–you should make an effort to find it wherever you are. As a friend of mine once said, "It's like sex, except better." At any rate, this was an hour of quite good dance and remarkable music and poetry. Neruda, according to another Spanish friend, makes her quiver. So, get some. Neruda's so good he survives translation, so you can make American women quiver, too, if you're willing to memorize one or two.
If you need convincing, here's an excerpt from one of the poems they used last night. Neruda published this book when he was 19, which should give you an idea of how passionate these poems are, as well as make you think about what you were doing when you were 19 and what a waste of time it was.
Oddly, the recorded music they used had English lyrics. Probably because the music itself was so powerful and that was the version it came in. The dancers sometimes chanted in Spanish, though, for the rest of the audience. I'm going to find out what the music was, and let you know in case you want to buy yourself a copy and imagine what twelve beautiful people dancing to it would look like. In the meantime, above is a still I found on the web. Now, imagine undulation.
Get all our travel tips delivered to your inbox
Subscribe to our email newsletter