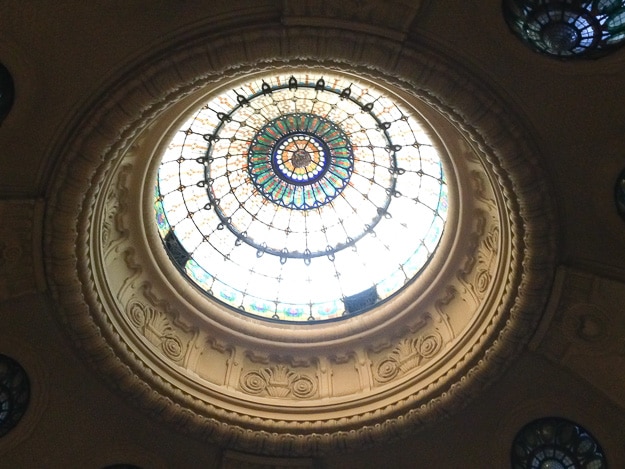 Visiting the baths in Budapest is one of those essential activities on most tourists' lists, because the baths represent history and culture, recreation and relaxation. The traditional baths and the thermal springs that feed them have been used for hundreds of years, by the Turks and the Romans before them when they occupied this part of Hungary. Budapest, the "City of Baths," draws visitors from around the world (not to mention its residents) to its healing spas.
I visited Gellért Baths in the impressive Art Nouveau building which today houses a hotel with event center, restaurants, and new outdoor pools and baths (open in summer), as well as the indoor facilities. There are a half dozen other historic and elegant baths to choose from and you can check them all out on one handy site, SpasBudapest. If you prefer your spa day closer to your lodgings, many hotels in Budapest offer exceptionally well outfitted spas and thermal baths. I toured the gorgeous Kempinski Hotel Corvinus and felt like ditching my kind guide for a robe!
A spa experience might be a little intimidating for the uninitiated, but it's worth overcoming any trepidation. First I scheduled a massage by email. Our hotel, the Bohem Art Hotel, would certainly have helped, but I was still exploring the options. Besides, making a massage appointment would also commit me to the thermal baths, I figured. Once I had the appointment, I was still a bit unsure of what was included. My questions regarding any combination rates for massage plus baths went unanswered. (Answer: no special rates for combined services.)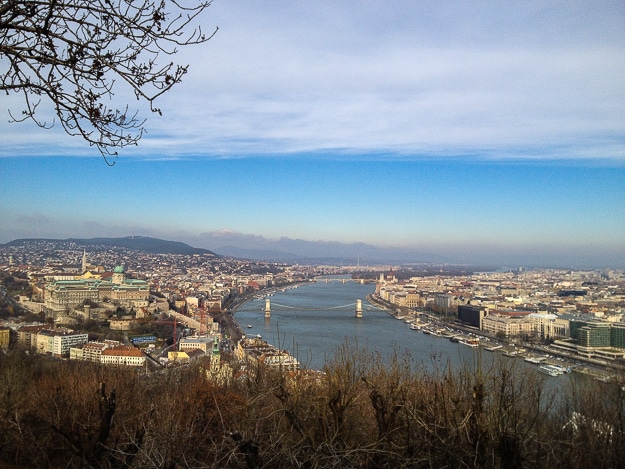 To prepare for the relaxing baths, I thought it a good idea to do my penance and get some real exercise. I took a tram to the west side of the Elisabeth Bridge, and hiked up the Gellért Hill (from whence the hot springs cometh) and down again, a walk I highly recommend. It was a good workout and scenic view of the eight bridges over the Danube River. After a brisk climb and snapping pictures, I arrived at the Gellért Baths about an hour later.
Entering the central atrium of the baths, I found a ticket booth on the left and an information desk on the right. In the general confusion, some people lined up at the ticket booth, others at the info desk or wandering in between. The information desk confirmed my massage appointment and handed me a receipt to pay at the ticket booth. After comparing notes with others and watching the cashier, I realized my receipt was probably just for the massage, not the baths. I stepped back to information, the two attendants shouted back and forth, and I eventually was ticketed for the baths, a locker, and the massage. A wrist band provides entry.
But the confusion continued. Where's the massage? Do I have a pass to the general locker room or the more private cabins? Where do I go first? I had arrived 45 minutes early and needed most of that time to figure out what was up. In the locker area, I was told to wait for my masseuse. Another attendant instructed me to find my locker and meet her back at the entry to the atrium.
The baths are huge–there are 13 separate pools in all–and the cabin-style lockers are underground on the far side of the pools. I found myself wandering around, slightly put off by the poor directions, three flights of stairs, and the long, concrete corridor veering off through the bowels of the baths. No towels were available from the solo attendant in the locker and shower rooms  (I'd missed piece of information), but I found my designated changing cabin and donned my swimsuit.
By this point, it was nearly time for the massage, but the attendants seemed uncertain what to do with me. The massage area was across the large and very public atrium, where street clothing is the norm, so I was given a sheet to cover myself to get from here to there. Stupid girl, no towel.
The massage was good, although in hindsight I'd skip the massage in favor of more time in the baths.  I realized my cash was in my locker, so I headed to the baths planning to return to leave a tip. (Returning later with a tip just seemed to complicate matters; I'm still not sure she received the money.)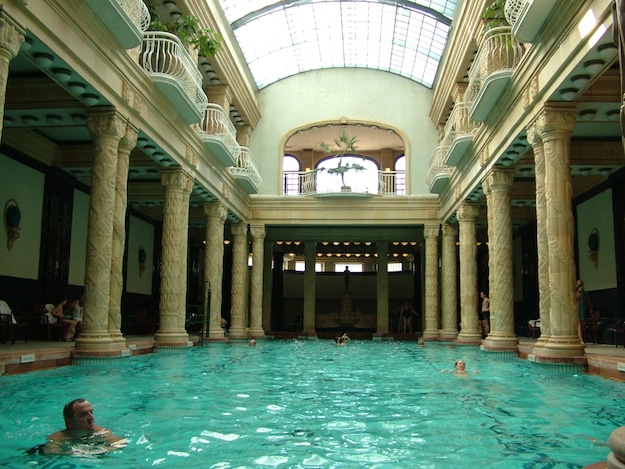 There are seven giant, coed thermal baths to choose from in the main area surrounding the roman style central pool. Smaller men and women-only baths are available, as are saunas and steam rooms which I stumbled upon later. Sandals and towels (and cabin keys) are ditched in various corners, and a few coat racks are draped with robes and towels for those better prepared than I.
The warm mineral baths are lovely and relaxing. It's easy to find a corner of a pool to call your own. I took my time, tried a few different spots, found some hot spots, and adhered to the 'no swimming' rule by chugging around like a crab. (Do you know how hard it is for a swimmer not to swim in an expanse of water?) Of course it was a scene: all body types and all manner of coverage. Many in the bathers were middle age and older, alone; and some were in small groups enjoying a chat. No one appeared rushed or self-conscious. A few teens and young adults dropped in and out more quickly. The scene in the summer with sun and outdoor pools is undoubtedly more lively.
Of course, being half Swedish (a.k.a. a masochist), I finished by dipping myself into the cold plunge pool. It felt clean and wonderful. I walked around the maze of hallways to find all the pools and facilities, including a traction pool that had three contraptions for what looked like a wonderful suspended spinal extension session. I wanted to join in, but the two people hanging there, following me with their eyeballs only as I crossed the deck, weren't very inviting.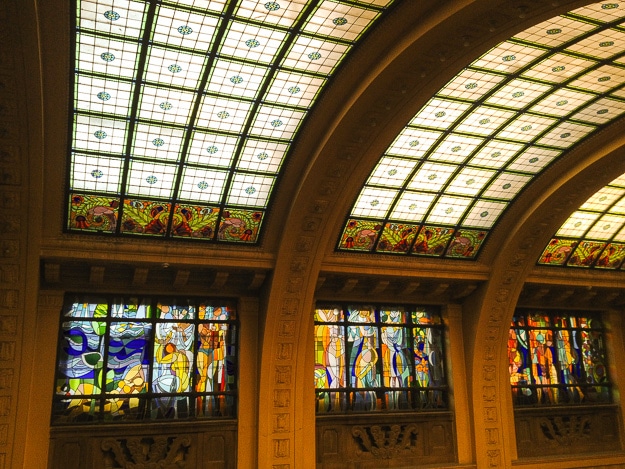 Using my sheet and a shake, I dried off after a shower and found my way back through the hallways to the exit. A couple of people and another guy were standing at the exit gate as well, trying to figure out how to exit without hopping the turnstile. It turns out the token we were given earlier is deposited and kept. Maybe there was a sign giving instructions, but if there was, it wasn't in English. We helped each other escape.
I relaxed with a cup of tea and a self-guided tour of the building's stained glass dome and Art Nouveau details. A group of local school children was getting a tour, too, and I had to admit the building itself was at least as satisfying as the bathing experience. Do visit, whether you plan to bathe or not. Just take your own towels.