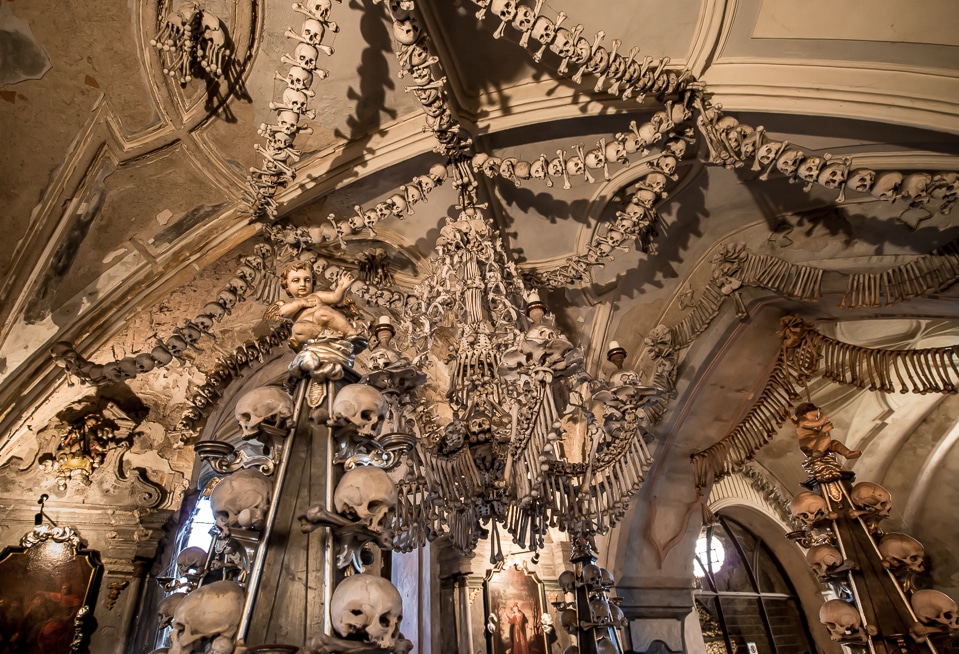 Don't think the Kutna Hora Bone Church is unique.
For some reason there are several chapels like this in the world of the Catholic Church. (We visited one in Rome in 2000, which strangely was across the street from the Hard Rock Cafe there.) This one is smaller, but you can't beat it for a sense of humor. There's a chandelier made of one of every bone from the human body, set off by garlands of skulls. Memento Mori, indeed.
No special processing here, other than to make a mask of the area on the right, which was lit by daylight through a window, and to change it's color balance to match the rest of the scene, which was lit by incandescent light. I used the Nikon D800E, with ISO 2000, f/2.8 at 1/25 second exposure. I was using the 14-24 f/2.8 lens set at 20 mm, and the short focal length allows the slow shutter speed.
Some posts on Travel Past 50 may contain affiliate links. If you buy something through one of those links, we may earn a small commission. As an Amazon associate, we earn from qualifying purchases.
For more info about the equipment and software I use, see this page.
You can buy prints of my photos on my Smugmug page.
Travel Planning Resources
Looking to book your next trip? Use these resources that are tried and tested by us. Flights: Start finding the very best flight deals by subscribing to
Thrifty Traveler
. Book your Hotel: Find the best prices on hotels with
Booking.com
. Find Apartment Rentals: Find the cheapest prices on apartment rentals with
VRBO
. Travel Insurance: Don't leave home without it. We recommend
Allianz Travel Insurance
. Need more help planning your trip? Make sure to check out our
Resources Page
where we highlight all the great travel companies and products that we trust. See all of the gear and books we like in one place on our
Amazon shop
.