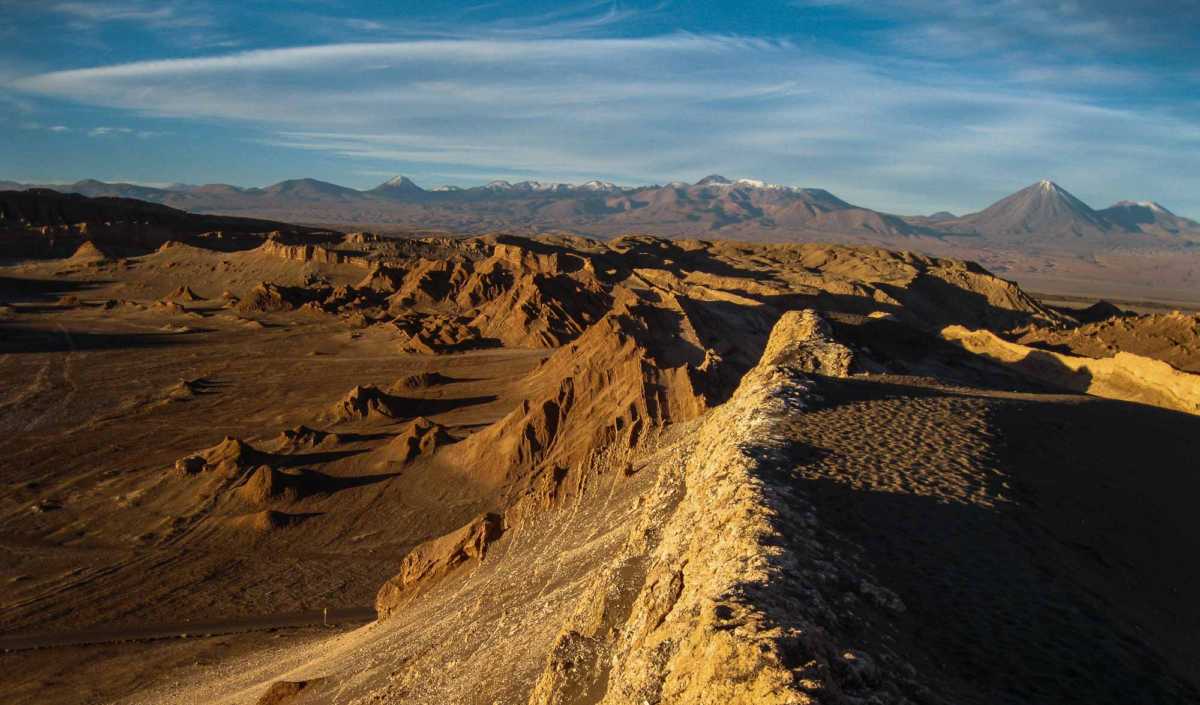 While Torres del Paine and Patagonia at Chile's southern tip get heaps of inspiring coverage (including by us, here), the stark Atacama desert at the northern end of the elongated country is no less impressive. It's been a while since we ventured up to the Atacama for a long weekend when we lived in Santiago, but the impact of the scenery stays with us. It's the first place we thought of when World Expeditions asked us to contribute to their "WE Venture Out" series.
In fact, nearly the same number of people visit the Atacama as Torres del Paine National Park per year, around 250,000. But the barren Atacama, the driest place on earth, seems to swallow up visitors. With the exception of the busy town of San Pedro de Atacama, the jumping off point for various tours in the area, the expanses of sky and sand overwhelm the mere humans dotting the landscape.
The vast Atacama lies between the Pacific Ocean and the Andes and encompasses salt flats, rocky canyons and valleys, geysers, dried up riverbeds, and long-buried villages. Its industry and population focus on mining thick veins of copper, gold, silver and iron, or on astronomic observations from the ALMA observatory. The thin dry air and sparse landscapes attract filmmakers wanting to depict the surface of Mars. More than any place we've visited, the Atacama is otherworldly, in part because of this immediate connection between earth and sky.
Some posts on Travel Past 50 may contain affiliate links. If you buy something through one of those links, we may earn a small commission. As an Amazon associate, we earn from qualifying purchases.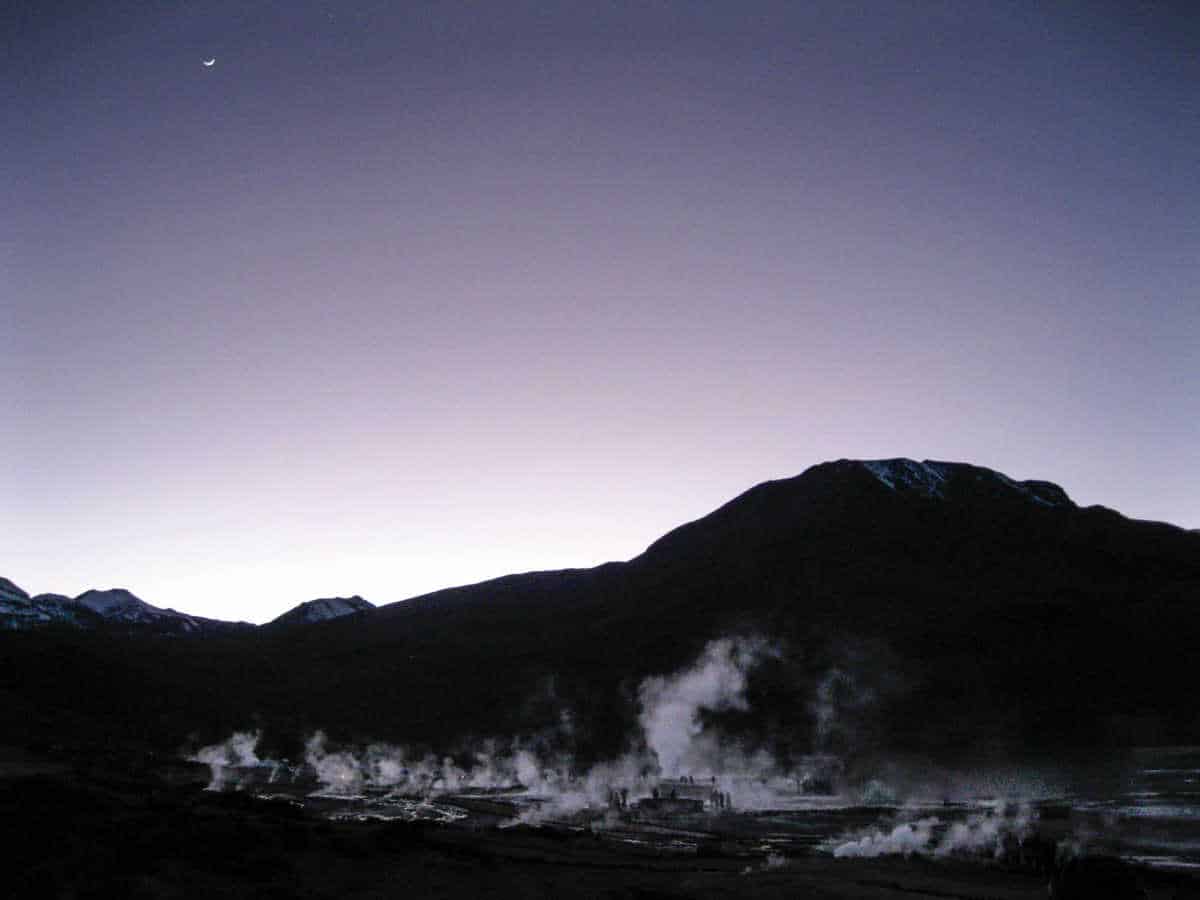 The Geysers del Tatio are some sixty miles from San Pedro, and up over 14,000 feet. Bus tours tend to depart San Pedro (at about 8,000 feet) way before daylight, so the altitude change can combine with lack of sleep to produce a nauseating effect. At the geyser field, surrounded by even higher mountains, predawn is much like walking through a black-and-white noir film. The villain lies just a foot off the walkway, where a misstep can indeed mean a plunge into scalding water.
In freezing cold temperatures (easily 60 degrees colder than daytime San Pedro) early arrivers will see stars they've never imagined before, and encounter the odd chill of the morning combined with the boiling ground below. Steam shrouds those who choose to take a dip in a primordial, warm pond.
The Atacama is all about extremes and contrasts, so from this dark field of geysers, we returned to the hot brown sands to walk through an archeological field. Here, from about 2,900 to 2,500 years ago, a village sat along a river. A nearby oasis and stand of trees is the only indication that there was ever anything other than dry sand here. As we walk along the Tulor site, we can make out the layout of the houses, and imagine the community of homes, the garden plots beside the shelters, the connecting sheds, and a circle of neighbors. A couple of the houses are excavated; the rest were either never excavated or are reburied to protect them from the harsh elements and erosion. It's a lost civilization, and archeologists know enough to know they can't unearth this place and protect it. They're waiting for more advanced technology.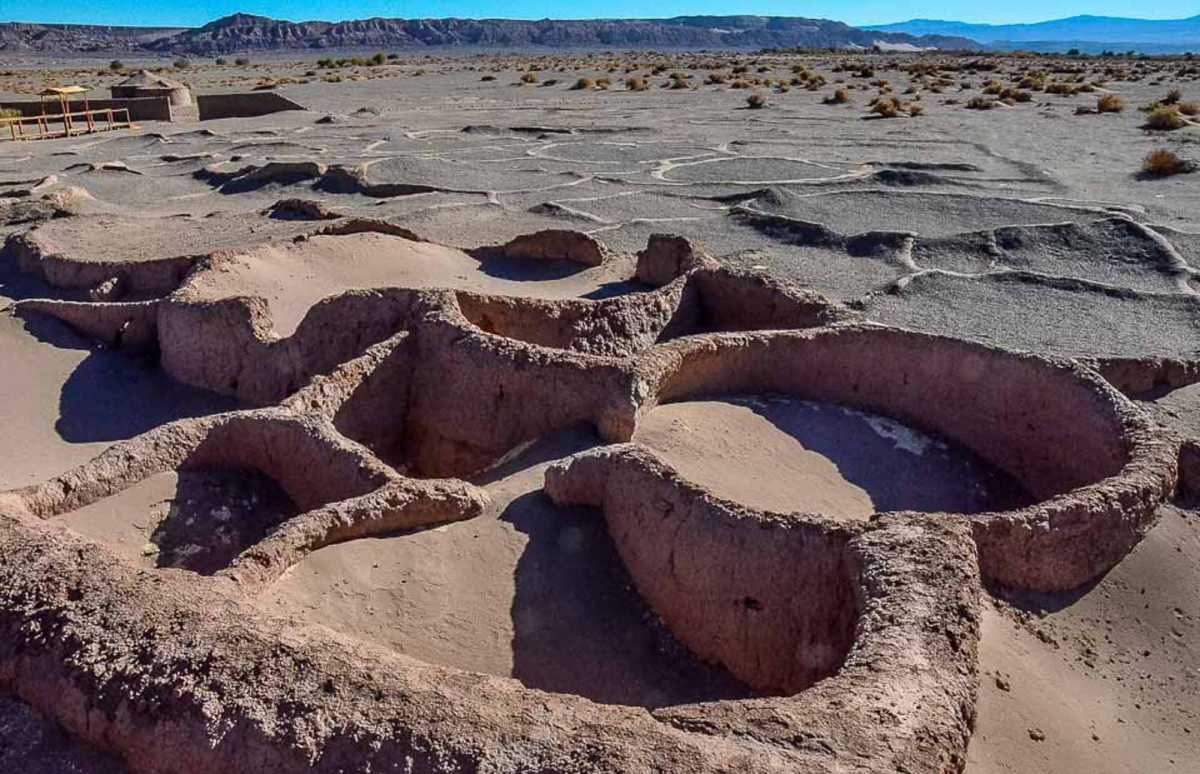 At the other end of the day, we arranged a trip to Valle de la Luna (Moon Valley) to watch the sunset. The light changes quickly and the colorful rocks glazed with salt and minerals create a spectacle befitting the lunar name.
Elsewhere in the Atacama, flamingos gather in stagnant waters of the great salt flat. Active travelers may go for some sandboarding along pristine dunes or find a group for rock climbing. It wouldn't be crazy to spend a week in the area to see all there is to see.
Our experience provided plenty of adventure, scrambling up ruins and rocks, exploring salt caves, and feeling the effects of extreme altitude and temperatures. As challenging–and satisfying–as any physical activity, though, was the ability to look deep into the earth's geysers and buried past and out into the night skies to imagine the future.
Note: As part of their #WEVentureOut campaign, World Expeditions is compensating us for this article. Although we weren't aware of World Expeditions when we traveled in Chile back in 2011, we recommend you check out their itineraries to Chile.
Travel Planning Resources
Looking to book your next trip? Use these resources that are tried and tested by us. Flights: Start finding the very best flight deals by subscribing to
Thrifty Traveler
. Book your Hotel: Find the best prices on hotels with
Booking.com
. Find Apartment Rentals: Find the cheapest prices on apartment rentals with
VRBO
. Travel Insurance: Don't leave home without it. We recommend
Allianz Travel Insurance
. Need more help planning your trip? Make sure to check out our
Resources Page
where we highlight all the great travel companies and products that we trust. See all of the gear and books we like in one place on our
Amazon shop
.