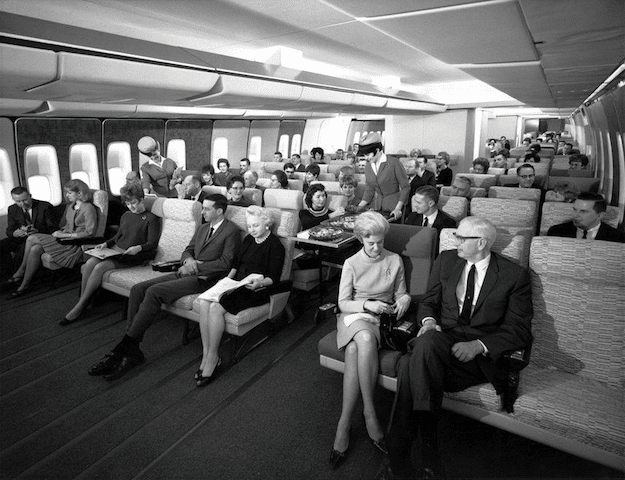 Travel Past 50 asked career flight attendant, Ann O'Brien Berle, for her perspective on flying, passengers, and changes in the business of air travel. Here are her remarks, barely edited.
"I have been a flight attendant for 35 years, managing to survive four mergers. I began with Southern Airlines, then Republic, then Hughes Airwest came into the fray, then Northwest, and now Delta. When I began, all of my gal pals wanted me to go for Eastern or Pan Am, and I guess I'm pretty lucky I didn't go with either of them.
I wanted to leave Minneapolis and I thought the airlines [offered] the best way to do this. I was going through a divorce and hated my teaching job. Traveling and moving were high priorities for me. So I managed to get based in Atlanta, Georgia, with Southern, and flew into many military bases: 14 take-offs a day but no all-nighters. Most of the passengers were clean cut, buffed, and relieved soldiers straight out of boot camp. I was happy. We only served Coca-Cola or 7-UP and coffee/tea. No food. The toilets were called "honey buckets." We passed out current magazines, hung coats, and comforted mostly new flyers.
Then things changed. We split the cabin into two classes and served hot meals on almost all segments–with choices! Our crews raced up and down the aisles in three-inch heels dishing out Cheese Blintzes or Quiche Lorraine (which thoroughly confused the Southern passengers, so we simplified the choices to 'pancakes or egg pie'). We served one hundred people in under thirty minutes. Today, you won't even get water for flights under thirty minutes!
We came to work in full uniform compliance (complete with underwear verification) and followed all of the "conduct" rules, such as: never lick ice cream in public. We also maintained hair, make-up, and weight standards. (Most of those rules have been loosened as of late.) Keeping the job was sacred, as only one in 300 ever even qualified for an interview. Today, the same is true, but the new hires are sassy and care little if they get fired, as the pay is low. This year Delta received over 20,000 applications for 800 available flight attendant positions–and they were only seeking bi-lingual candidates.
[Back in the day,] travelers looked forward to flying. They dressed up and conducted themselves with pride. On today's flights, people dress in pajamas, load up on fast food, and cruise on-board ready to hunker down, unperturbed. With headsets on every ear, the message is clear: don't bother me. Relatively few people greet the crew or respond to any interaction with the flight attendants. The training I received as a newbie on how to make polite conversation is now replaced with yearly training in how to identify gun/bomb parts and those involved in human trafficking.
Over the years I have collected many funny stories, but most are too racy to retell. (I had a gal try to breastfeed her dog once, and [another] gal slip a poodle under her skirt…sans undies.) But most of my laughs come from other coworkers. We are a resourceful and clever bunch. In fact, most flight attendants have extremely interesting side passions, and are highly degreed. The time away from the airlines gives many the opportunity to excel in other areas. We have access, time, and enough money to pursue hobbies and personal strengths.
Most flight attendants truly love interacting with people. We like to help as much as possible, but are pleased with the self-sufficient rider. Those passengers with unrealistic expectations are really a challenge. Some expect the airlines to provide formula, diapers, changes of clothes, and on-board daycare for their small children. Others have specific diets, prayer rituals, or goofy allergic conditions, and we are expected to comply. It's a wonder any of these people can venture into public with their many needs! Going to a movie house is just as unsafe for those with smell, peanut, cosmetic, fabric, or closeness allergies. Please! It's a flippin' airplane, not a hospital.
Being a good flight attendant is our job. If a worker falls short of this, he/she should be reported. Also, if the flight attendant performs well, he/she should be reported. And we really love the latter. We are both rewarded and scolded; there are consequences in either circumstance. But passengers must remember, flight attendants are people too. We have families that we leave, suffer great illnesses, and have a physically intense work load. So next time we hear, "Smile!" remember that one of us is likely coping with a real problem, as most flight attendants are sole supporters for their loved ones. And work is mandatory. Many would love to retire, but can't, as we are not provided with health care options upon retirement. At United, flight attendants have lost their pension. Same at AA.
Flight attendants work hard to keep planes safe. And we are all fully prepared with yearly compliance training to ensure safe travels. We inspect, practice, report, and act as vigilant officers to maintain Federal Air Regulations. Behind the scenes, we have your back. Should something go awry, we are prepared. And should anyone fall ill, we have the knowledge and the equipment to get you to emergency health care facilities at mach speed. Personally, I have assisted in many life threatening illnesses with only one fatality, but that passenger was 89 and ready to go.
As a Catholic-educated school girl, the word CITIZENSHIP was written on every blackboard in every class. And when flight attendants and passengers alike participate in this mantra, everyone is happy. (OK, presents given to a FA are always appreciated, especially cookies or candies, but not home baked.)
Safe travels to all."
Thanks so much, Annie. We only want to share more of those risque stories! I can't promise to dress up for my next flight, but will do my best not to demand a diaper change.
Get all our travel tips delivered to your inbox
Subscribe to our email newsletter