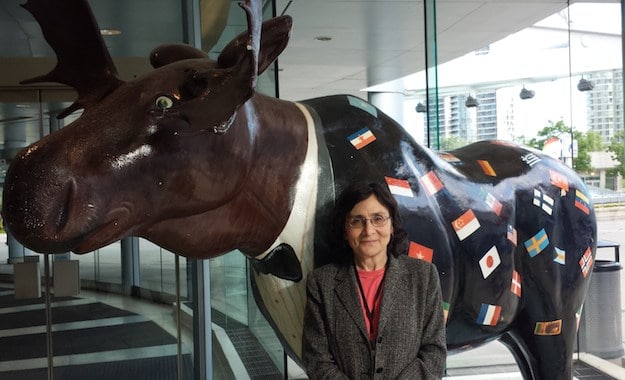 As we edit this interview for public consumption, Suzanne Fluhr is traveling with her husband, whom she refers to ironically as "Mr. Excitement," in Thailand. We've met her husband, and other than the fact that we can't really describe his work (something to do with medicine and scientific research), we're pretty sure if he's playing with elephants near Chiang Mai, he can't be that boring.
Suzanne, retired from "the crash and burn lane of full-time lawyering," has found new purpose blogging about her travels from the perspective of the baby boomer generation. "Boomeresque" includes relevant news and health reports for boomers as well travel notes.  Suzanne is also an active participant in the Facebook group pages for Boomer Travel Bloggers and Travel Bloggers. She inherited her serious case of wanderlust from her father, and fell into the 'trailing spouse' role by marriage. Fluhr has visited 32 countries and 42 U.S. states, with New Mexico the latest addition.
She resides with Mr. Excitement and their little dog in the heart of Philadelphia, after boomeranging back from the suburbs to urban center.
TP50: When you aren't flying, what's your favorite way of getting around?
Suzanne: Walking. One of my fantasies is to live somewhere I can walk to everything. With our downsizing, empty-nester move to Center City Philadelphia, I'm getting close.
TP50: What do you do with your time on those long flights?
Suzanne: As long as I can still feel my legs (i.e. I haven't completely cut off my circulation by sitting in an economy airplane seat for over 5 hours), I don't mind having airplane time to myself. I read, do the crossword puzzles in the airline magazine (assuming no one beat me to it), listen to the entire Messiah on my Ipod (even when it's not Christmas or Easter time), write, and eat snacks. I admit I have resorted to on-board WiFi at times, but I'm not proud about it.
TP50: We are thinking of you as the Princess in "The Princess and the Pea."  Are you picky about amenities in hotels?
Suzanne: En suite bathroom is all I insist on. And I'm really, really happy if there's free high speed WiFi. I prefer quiet, but we travel with white noise capability. I prefer no bugs (the kind with legs, antennae, and stingers/jaws), reptiles, or rodents.
TP50: OK. We take it back. You're a woman of simple needs. Do you have some fancy favorite piece of luggage, though?
Suzanne: I haven't found it yet. We travel with wheeled 22-inch suitcases we bought at Sharper Image (to give you an idea of how old they are) that weigh 12 pounds before you even pack one thing.
TP50: Any packing tips?
Suzanne: Take: shower cap, chargers. Leave: Half of everything you thought you needed. I never leave home without a Tablet or Smart Phone for reading books.
TP50: Speaking of tech stuff, what do you use for taking photos?
Suzanne: Android Galaxy S4 smart phone and a little point and shoot. We do usually ask a stranger to take a photo of us at some point during our travels.
TP50: And what about your trip planning? What apps do you use?
Suzanne: We use Kayak and TripAdvisor (which now runs requests through several search engines).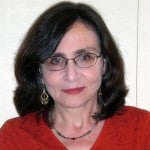 TP50: Enough of the logistics.  Tell us a story, please, about something from your world travels that has stuck with you.
Suzanne: This happened 40 years ago when my father took our family to live in San Miguel de Allende, Mexico, for a year while he was on sabbatical. The house my parents' rented came with a live-in maid and gardener. My parents were definitely not accustomed to live-in servants and we became quite friendly with this couple, notwithstanding admonitions from other Americans that we were "spoiling" them. They invited us to a family wedding celebration out in the countryside where the homes literally were one room, dirt floor adobe huts with no electricity or running water. As we were leaving, the mother of the bride asked us to wait a minute. She returned with two still warm eggs that she pressed into my mother's hands.
TP50: Have you had any particularly horrible or messed up experiences?
Suzanne: At the time, we were pretty upset when our airline, Braniff, went bankrupt during our 1982 pre-nuptial honeymoon in Peru. In addition to leaving us with useless plane tickets to return to the U.S., we had also bought our tickets for internal travel through Braniff and no one would honor them. We needed to get home in time for our real wedding! At the same time, they stopped accepting American Express credit cards in Peru. This was before ATMs. My fiancé had American Express which we expected to be the most usable plastic in 1982. Fortunately, I had taken a Mastercard because I figured I better have something in case he and his American Express card fell off a mountain or something. We were able to use the Mastercard to buy AeroPeru tickets even in Iquitos in the Peruvian Amazon. The guy rummaged around under the counter to find a mechanical Mastercard swiper machine which actually looked dusty. I received the bill for that transaction about nine months later.
TP50: When you travel, are you forgoing other expenditures or opportunities to make it happen?
Suzanne: Some people think we're frugal (cheap) in our real lives, but we don't feel like we're sacrificing. It's more like prioritizing.
TP50: Looking back over decades of travels, what sorts of cultural surprises or observations stand out?
Suzanne: At a certain point, I was surprised by the large number of people (especially younger ones) who spoke quite good-to-excellent English, but I'm accustomed to that now and understand how global media has influenced that. I was surprised at how few people still speak English in Japan. Actually, I think I was surprised at how insular the Japanese still are.
TP50: Are you a hoarder? With all that travel, what have you gathered and saved?
Suzanne: Nowadays that I'm a travel blogger, I bring home more maps, guides, ticket stubs, etc. than before as an aid to my aging memory. We used to try to bring home an object d'art from everywhere we traveled, but since we are now in the downsizing stage of our lives, we are trying to limit souvenirs to refrigerator magnets.
TP50: What's your favorite national drink?
Suzanne: Skim milk, pumpkin spiced latte at my local Starbucks — but only between October and December.
TP50: Really? Skim? We'll try to talk you out of that. What's your favorite comfort food, that you can rely on anywhere?
Suzanne: Soup. Pho, if I can find it.
TP50: What do you miss most when you are on the road?
Suzanne: Our dog. You can read about our pooch here.
TP50: Thanks, Suzanne! We invite our readers to follow you on Facebook and Twitter, too. Happy travels.
Get all our travel tips delivered to your inbox
Subscribe to our email newsletter