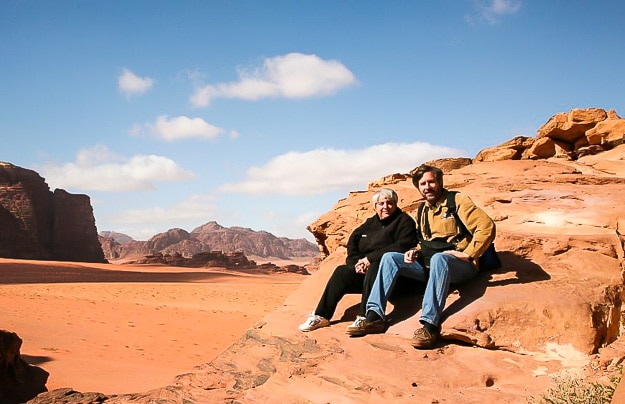 Corinne Vail was, for a couple years, a virtual friend. She became a regular commenter on Travel Past 50. We, in turn, discovered her travel blog and found it filled with humor and a twist: her American family of four currently lives in Germany. She and husband Jim have chosen to see the world from the inside out by taking teaching jobs around the world. From Asia to Europe, the Vail family has set off on uncountable small and large journeys.
Finally, we met in October 2014 in Athens, Greece, attending the Travel Bloggers Exchange (TBEX) conference. It was such a pleasure to start conversing as if we were old friends from way back. In a way, we are. Now we're happy to share the back story of Corinne and Jim's travels in this interview with Corinne.
For more plain speak about travel and umpteen destinations, read her blog at Reflections En Route, or follow Jim and Corinne on social media:
Twitter @CorinneVail
Instagram Reflections en Route
Facebook Reflections en Route
TP50: What inspired you to be a traveler? What place do you associate with learning to appreciate travel?
Corinne: We've both always had the travel bug, and when we met we began with camping all over Europe in our twenties. I think we really learned how to travel better, cheaper, and deeper while we were living in Asia. We raised our two daughters traveling, and now both of them are just as addicted to travel as we are. Our oldest lives in Japan, and our youngest is chomping at the bit to get hired overseas as well now that all of her studies are finished.
TP50: How do you manage to fit so much travel into your lives?
Corinne: Jim and I are teachers. We've [taken teaching jobs] in five countries: Netherlands, Japan, South Korea, Turkey, and now Germany. That is how we travel around the world.
TP50: To how many countries have you traveled?
Corinne: We've been to over 70, but counting countries is just too hard. For example, do we get to count Yugoslavia, East Germany, or Czechoslovakia since they are no longer countries? And how do we count Taiwan, Tibet, Hong Kong, etc.? It just gets exhausting to try and figure it all out. We also count, or at least note, World Heritage Sites, modes of transportation, different foods, and we have one couple that we've been to 25 countries with…we count that!
TP50: When you're not flying, what is your favorite way to get around?
Corinne: By car. We live in Europe, and we drive everywhere. If we are flying first, we usually still rent a car. We just really like the freedom a car gives us. This is largely due to being able to stop and take pictures wherever we want, and also lets us be really spontaneous. We like that. The only exception is if we are going to stay in the city the entire time we're there.
TP50: What's your favorite national beverage? And what's your fallback comfort food meal that you can rely on no matter where you are?
Corinne: We love a good beer, so luckily we live in the land of beer and we're always ready to try whatever is local. Jim loves a good chai tea, especially masala tea. I do too, but I'll take coffee over tea anyday. I'm not so sure it's really the drink we like, as much as just sitting and conversing with whoever is around, the hostess, the customer at the next table, whoever.
TP50: So you are saying your comfort food is a good conversation. I like that. Well, getting down to logistics, how far ahead do you plan your domestic/international travels?
Corinne: We're not big planners. We usually will buy our air tickets about one month out, then we will reserve the first night we're staying unless it is just for a weekend. Other than that we book as we go.
TP50: Which search engines do you use to find and book flights and hotels?
Corinne: We use all kinds: Skyscanner, Kayak, LastMinute for air, unless we deal directly with the airline. For hotels we use Hotwire, Hotels, Booking–and TripAdvisor for reviews.
TP50: Are you picky about hotels? What amenities are essential to you?
Corinne: We are not into hostelling. We like private rooms with bathrooms and a good shower. We like small hotels. We don't usually book a large hotel unless there is just nothing else.
TP50: Your favorite pack or piece of luggage?
Corinne: We both lug our Eddie Bauer Travex Expedition drop-bottom bags around, if we are going to be gone more than a week. For a week, we just take carry-on.
TP50: How do you work your packing magic? I imagine you can pack in a flash.
Corinne: You probably don't want to ask us what to pack. We do it last minute, with virtually no thought to it, so invariably we forget things…most recently our passports. Just a minor setback!
TP50: OK, besides the passports, what are the essentials you pack?
Corinne: The one and only thing that I find essential is my camera. That's it. We do try to travel light. I use a Canon 7D, but we always use our smartphones as well.
TP50: What apps do you use on your smartphone?
Corinne: Booking.com, and we always try to download an off-line city map with transit info on it, like Berlin has BVG or Paris has RATP. Other than taking photos, though, we really don't pull out the phone that much. We do like PocketEarth and if we're in France, Michelin. We also use Yelp and TripAdvisor for their reviews.
TP50: Do you collect anything along the way? Souvenirs, shot glasses, baby spoons?
Corinne: We're not big collectors, but of course we have our photos. Also, if we happen to be in a country with Starbucks, I'll buy a mug. They're good for conversation pieces over that mug of tea or coffee.
TP50: What's unique or unusual about your traveling style or habits?
Corinne: I don't know if we are unique, but we do try to take advantage of any opportunity we can to be with locals. We've done a number of [home] exchanges and find that is such a great way to learn about the place we're in. I would say, that even though we go to many cities, we enjoy the countryside, the villages, more and try to get out of the cities as often as possible. Again, this is probably because we really like road tripping. Give us a lonely, one-lane and we'll be happy.
TP50: Sounds wonderful, and romantic. We're curious where you are drawn to return again and again? And, are there places you never want to visit again?
Corrine: There are three main places we keep returning to over and over: France, especially Alsace, Turkey, and Japan. However, there are so many other places I would like to go back to, but just don't have the time! I can't say we wouldn't go somewhere again. There are a few places that we didn't enjoy as much as others, but I know giving it another chance might completely change our minds. I think we would go anywhere, anytime!
TP50: What have you sacrificed to afford being on the road as much as you are?
Corinne: Absolutely nothing!
TP50: Good answer. Thanks for the inspiration.

Get all our travel tips delivered to your inbox
Subscribe to our email newsletter