And the winner is:
Shane from The Working Traveller.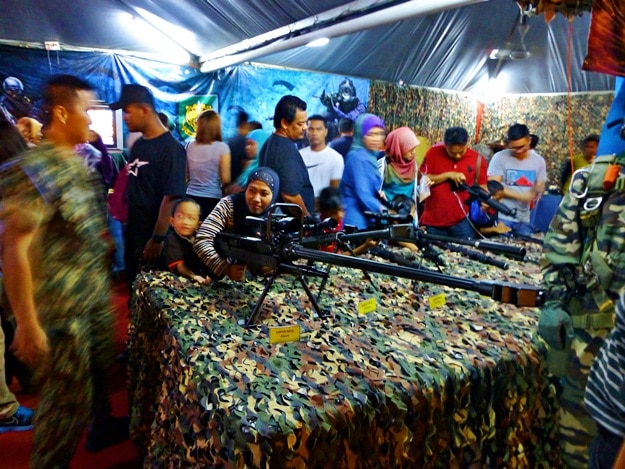 There were several good photos entered in the competition, but what struck us about this was our own memories of gun shows we've been to in the United States, and the fascination that people have with guns of all sorts. Maybe we Americans aren't so unique in our worship of weapons? Shane, we're looking forward to what you pick for the next category.
The Contest
Every two or three weeks, travel bloggers from all over the world participate in what is called
Travel Photo Roulette
. It's an ongoing contest that allows travel bloggers to feature their best photos in a wide range of categories. I've entered the contest a number of times, and I'm excited to say that last week we won! Winning the contest means you get to host the next round. That's why you're seeing this post on our site. Even if you aren't going to enter, you can certainly stop back here now and then to see the entries.
Last week, Dan Monfre of This World Rocks hosted the 73rd round of the competition with the theme "Crowds". Below is my winning photograph of tourists photographing the Mona Lisa at the Louvre in Paris.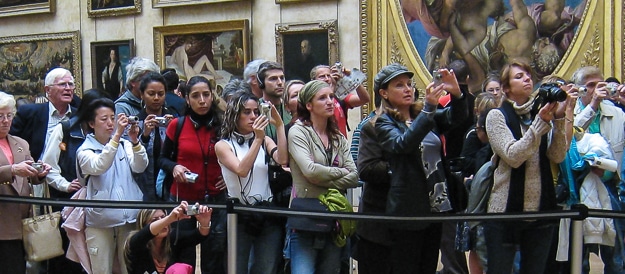 So now it's time for round #74!
Round #74: Competition or Conflict
This round I have chosen a theme that has interested me since I began shooting photos too long ago to remember: street football games, sumo matches, a snake eating a frog, a man against a bull, political unrest. This round is about photos that depict competition, rivalry, natural selection, or any other manifestation of conflict or rivalry. The theme is completely open to interpretation. So, no matter how tenuous, if you have a photo with a connection to the theme, please submit it.
Here are a couple of examples from my portfolio.
About Travel Photo Roulette:
Travel Photo Roulette is a competition started by Jeremy at Living the Dream way back in November 2010 as away for travel bloggers to connect and share their photos.
The Contest
The contest is pretty straightforward. The winner of the previous round chooses a new theme and hosts the competition on their blog, inviting others to share their photos over the course of a week or two. As the end of the contest period, the host selects a winner and the process repeats itself.
The Rules
1. One submission per blog please.
2. You will need a personal blog or website to participate (so you can host if you win!)
3. Post processing, cropping, correcting for red eyes and other flaws is fine.
4. Abstract submissions are welcome. But if you want to win, it's probably best that the judge understands your interpretation
5. Hosts should keep themes general so all bloggers can participate. Avoid specifics like 'Eiffel Tower'; instead choose a more open theme, like 'monuments' or 'monuments at night'
6. Abstract themes can be fun, as long as everyone can understand. 'Overlooking creation' is good, 'Kafkaesque' is not
7. No obscene photos or themes allowed. Suggestive themes and photography might be accepted, but be careful. Remember, the host is all-powerful
8. Themes may be reused after a period of time; however new photos must be submitted. Keep it fresh!
9. You do not have to take the photo within the week of the contest period to submit it.
10. Most important: ALL PHOTOS MUST BE YOUR OWN.
11. Please spread the word about Travel Photo Roulette via Facebook, Twitter, Google+ and any other means you can think of and use the hashtag #PhotoRoulette
12. It's a game, so have fun with it.
How to Enter
To enter, simply leave a comment below with a link to your photo and it will be added to the post. (Or, you send us an email using the "Contact" tab above.) A brief description of the picture is always welcome to provide some background and context. Also, please don't forget to include your name, a link to your blog, and any pertinent social media information so everyone can come see what you're all about (and so we can contact the winner!).
The contest will run until February 8, 2014, after which time we will select the winner. We'll share the results right in this post.
Spread the Word
Tweet about this contest using the hashtag #PhotoRoulette and feel free to share this page with your friends on social media – the more the merrier! We love seeing your comments so please don't be bashful about sharing your opinions.
Previous Winners
Finally, here are the past winners of the contest – as you can see, it's been running for a while! Click on the link to take you to some great travel blogs and wonderful themed photos.
1. Nov, 2010 – Living the Dream – "Animals"
2. Nov, 2010 – Skinny Backpacker – "Road Signs"
3. Nov, 2010 – Dream a Little Dream – "Street Art"
4. Nov, 2010 – Flashpacker HQ – "Festival"
5. Dec, 2010 – Over Yonderlust – "Landmarks"
6. Jan, 2011 – Don't Ever Look Back – "Beaches"
7. Jan, 2011 – ThePlanetD – "Portraits"
8. Jan, 2011 – Travel with a Mate – "Motion"
9. Feb, 2011 – Johnny Vagabond – "Water"
10. Feb, 2011 – Ken Kaminesky – "Urban"
11. Feb, 2011 – Travels of Adam – "Friday Night"
12. Mar, 2011 – Itchy Feet Chronicles – "The Journey"
13. Mar – Brendan's Adventures – "Changing Seasons"
14. Apr, 2011 – Shutterfeet – "Storytelling"
15. Apr, 2011 – 10 Times One – "Piousness"
16. Apr, 2011 – Beached Eskimo – "Learning"
17. May, 2011 – Travel Junkies – "Architecture"
18. Jun, 2011 – Destination World – "Transportation"
19. Jun, 2011 – Living the Dream – "Paradise"
20. Jun, 2011 – Vagabond Quest – "Clothes"
21. Jul, 2011 – The Unframed World – "Symmetry"
22. Jul, 2011 – Beached Eskimo – "Home"
23. Jul, 2011 – BackPackerBanter – "Inspiration"
24. Aug, 2011 – WanderingTrader – "Darkness"
25. Aug, 2011 – Finding the Universe – "Tranquillity"
26. Sep, 2011 – Fearful Adventurer – "Food"
27. Sep, 2011 – Adventures of a GoodMan – "City"
28. Oct, 2011 – Globe-Trekking.com – "Reflections"
29. Oct, 2011 – Scene With A Hart – "Framing"
30. Nov, 2011 – Vagabond Quest – "Silhouettes"
31. Nov, 2011 – Hecktic Travels – "Music"
32. Dec, 2011 – Globetrotter Girls – "Love"
33. Jan, 2012– Man on the lam – "Humor"
34. Jan, 2012 – My Walkabout – "Winter"
35. Jan, 2012 – The Art of Slow Travel – "Blue"
36. Feb, 2012 – Ten Times One – "Depth of Field"
37. Feb – Runaway Juno – "My Digital Nomad Moment"
38. Mar, 2012 – Nomadbiba – "Sunshine"
39. Mar, 2012 – Travel With Kat – "Local Character"
40. Apr, 2012 – The Travel Bunny – "Street Scene"
41. Apr – Adventure Crow – "Spirit of the Country"
42. May, 2012 – Food Travel Bliss – "Evening"
43. May, 2012 – Matt Gibson – "Adventure"
44. June, 2012– Flashpacker HQ – "Once In A Lifetime"
45. July, 2012– Skinny Backpacker – "Surreal"
46. August, 2012 – 2away – "Smile"
47. Aug – Bridges & Balloons-"Splendour of the Universe"
48. Sept, 2012 – The GypsyNester – "What the ?!"
49. Oct, 2012 – Runaway Juno – "Sweet"
50. Nov, 2012 – GQ Trippin – "Play"
51. Dec, 2012 – Breakaway Backpacker – "Face"
52. Jan, 2013 – Fly, Icarus, Fly – "Serendipity
53. Feb – Travel Transmissions – "Lost in Thought"
54. Feb, 2013 – Wanderlusters – "The Natural World"
55. Mar, 2013 – Travel Junkies – "Patterns"
56. April, 2013 – Living the Dream – "Your First Time"
57. May – Getting Stamped – "As The Sun Goes Down"
58. Jun, 2013 – The GypsyNester -"Cheesy Tourist Diversions"
60. June, 2013 – Boomeresque – "Revolution"
61. July,2013 –Breakaway Backpacker – "Colorful"
62. Aug, 2013 – Around This World– "Mountains"
63. Aug – Passports & Pamplemousse – "Hands at Work"
64. Sept, 2013: TurtlesTravel – "Dance"
65. Sept, 2013: Keep calm and travel – "The sea"
66. Sept, – Travel Photo Discovery – "The Market"
67. Oct, – Am I Nearly There Yet? – "Travel Fails"
68. Oct, – The GypsyNester – "Weird Regional Foods"
69. Nov, – Sophie's World – "Trees"
70. Nov 2013, – SHOuTography – "Party"
71. Dec 2013, – Adventures of a Goodman – "Ruin"
72. Dec 2013, – Have Blog Will Travel – "Light"
73. Jan, 2014, – This World Rocks – "Crowds"
74. Jan, 2014, – Travel Past 50 – "Competition"
Enter the contest by adding a comment below or by emailing me using the "Contact" tab above. Again, be sure to include a link to the image, a link to your blog, and any other information that will allow us to contact you.
The Entries:
From Bianca Bauza at Nomad Biba (who has impressed me with lots of her photos) submitted this one of two women wrestling in Bolivia. As she says, "When I visited La Paz in Bolivia a few months ago, some of my friends invited me to check out the cholitas wrestling show. When I first hear about it I was intrigued and couldn't really picture in my mind how these women who normally walk on the streets with pride and poise could wrestle. So curiosity got the best of me and I decided to attend. In the end, it was just that… cholitas doing the standard theatrics that are popular in the wrestling world."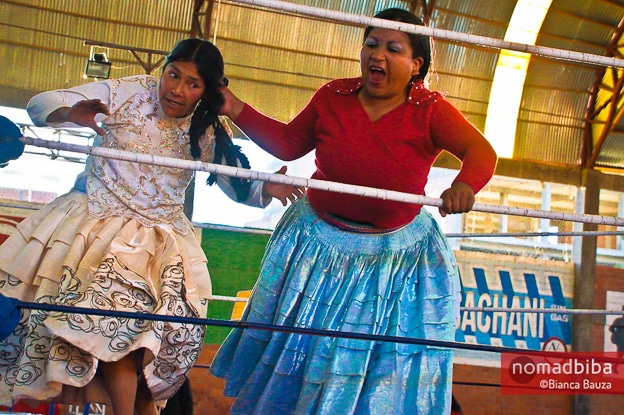 Here is a great shot from Ram Gurung at Mystic Land Adventure, which is man in competition with the mountain.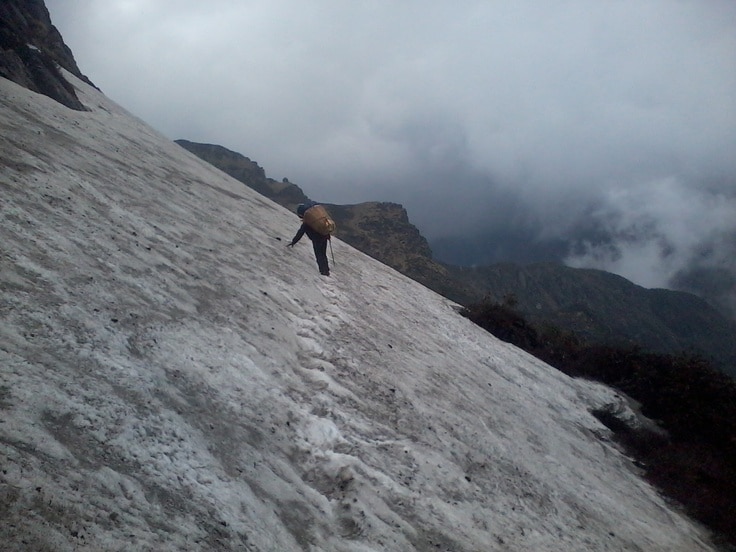 I really like this one from Tony at 20 Years Hence. as Tony says, "I took this shot in Bangkok, it was my first (and only, thus far) Muay Thai fight. My wife's parents were in town and doing a whirlwind tour of the city, so I decided to tag along and see what all the fuss was about. All in all the fight was entertaining, but I'm not sure it's my passion. We were fortunate to have front row seats though, so I was able to get some great action shots."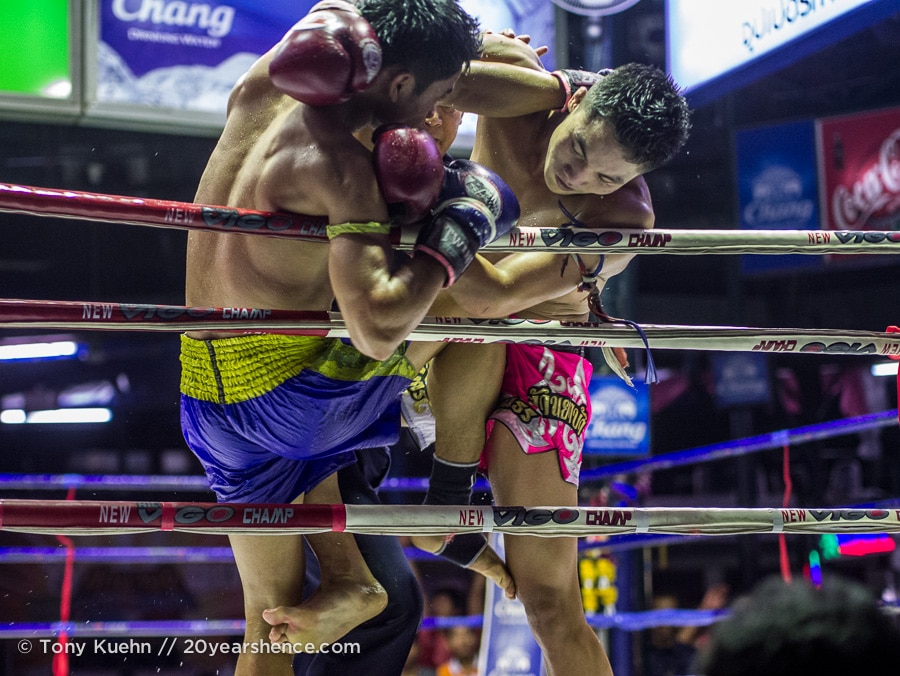 From Micki at The Barefoot Nomad, "We snapped this photo during a demonstration in Porto, Portugal, which was part of a country-wide protest in more than 20 cities around the country. More than one million protesters were marching against government austerity measures throughout the country. The demonstrations were organized by a group of activists known as Que Se Lixe a Troika, or Screw the Troika."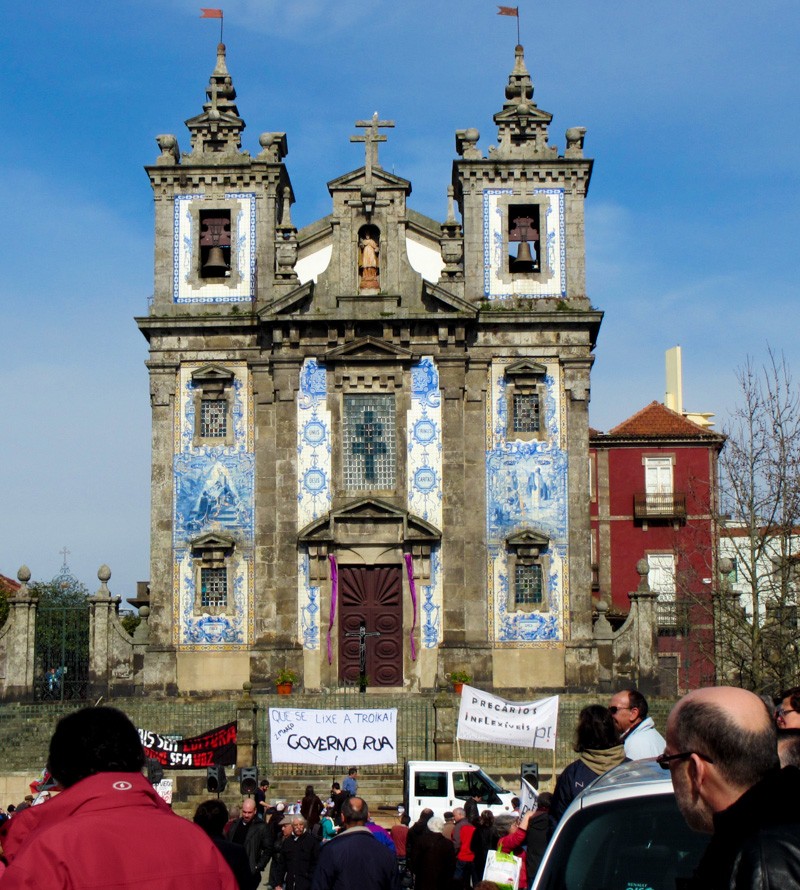 From Deb, at Round the World with Deb, "I had no business being in Tripoli, Lebanon in September 2012, and definitely should not have been taking photos on "Syria Street", which has become the dividing line between Sunni supporters of Syrian rebels and Alawite supporters of Syrian President President Bashar al- Assad. Luckily there was no shootings that day, as apparently it's become quite a spot for sniper attacks. I could have killed my taxi driver "tour guide" for thinking it was cool to drive this way, but did manage to get a few telling shots off!"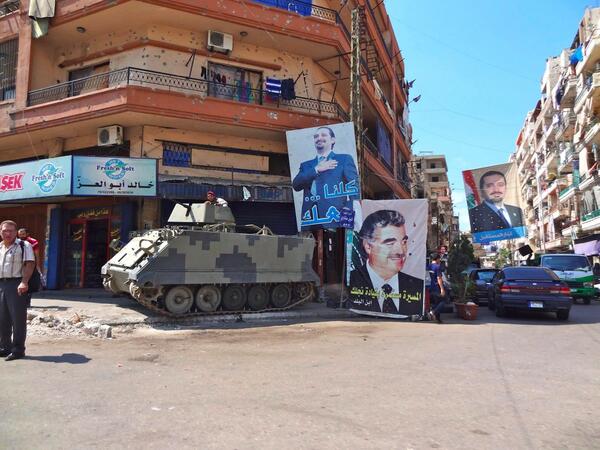 From Travis of Have Blog Will Travel, "Our photo is from the night we spent at the "Eternal Derby" between Red Star Belgrade and Partizan Belgrade. With a history that dates back to the days of Yugoslavia, this rivalry is one of the most fiercely competitive sporting matches in the world – and one that goes way beyond soccer/football. Over 40,000 people were at the match we attended – and the game feature bonfires in the stand, flares, fireworks, water cannons into the crowds, two game stoppages, and more fires in the stands. Our hearts were nearly beating through our chests – it was unlike anything we've ever experienced!"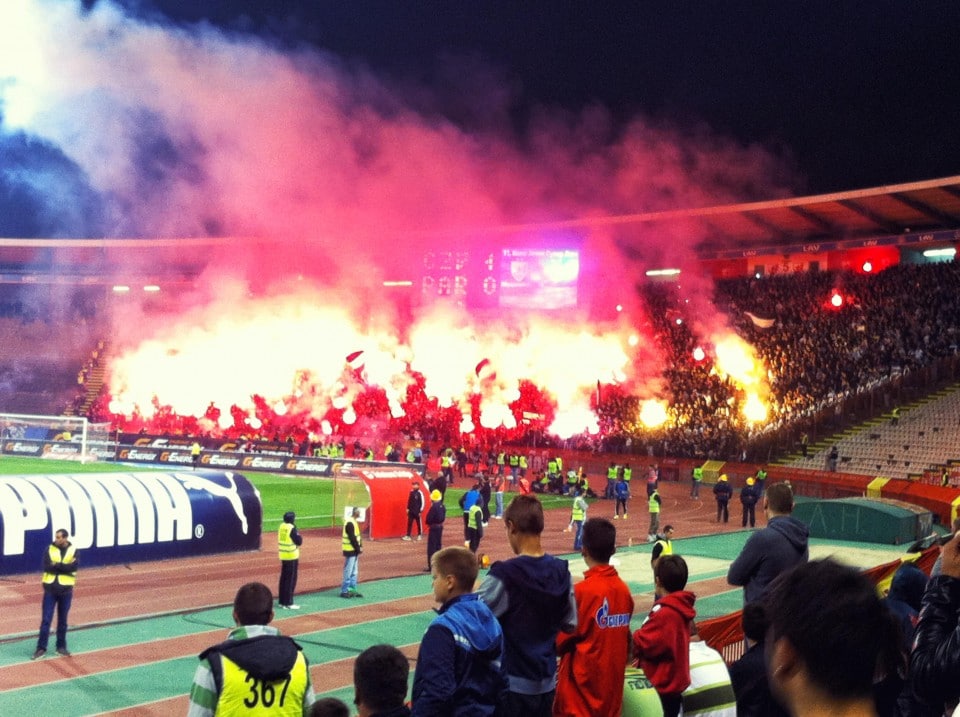 From Kathryn of RTW Travel Guide, the gun that shot Abraham Lincoln, the last shot of the United States' bloodiest conflict.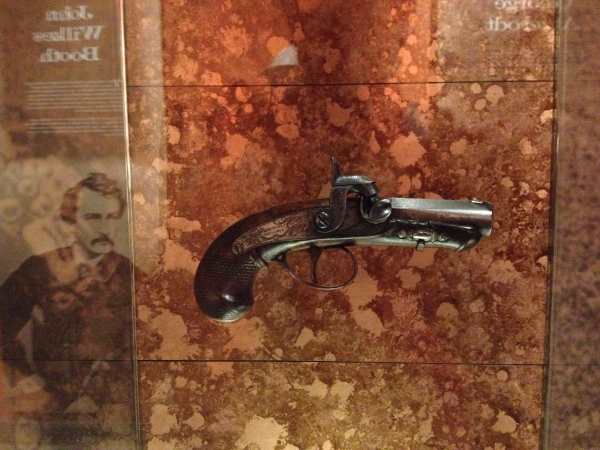 And, just under the wire, Shane from The Working Traveler, checks in with this display of military hardware in Malaysia: "We had been a little curious why we were woken up to figher jets flying over our hostel but put it to the back our minds, only putting two and two together later in the evening when we stumbled across the Malaysian military putting on a show in KL's Medeka Square."