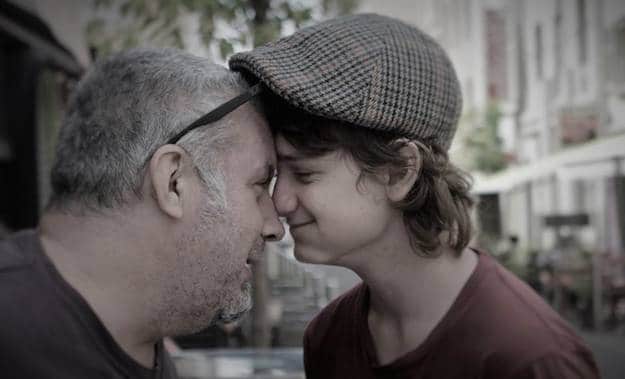 Most travel bloggers will have heard of Talon Windwalker long before this. Apart from traveling and blogging, he's father to his almost-13-year-old traveling companion, Tigger, and an all 'round über active guy. Just having followed him on Facebook, Twitter, Pinterest, Google+ and Instagram (all linked below), I know that he is an ultra runner, snowshoer, endurance cyclist, certified endurance running coach, scuba instructor, writer, and photographer. Somewhere along the line, he attained Zen monk status and worked as a hospice chaplain before adopting the nomadic lifestyle.
Here's someone who loves what he does, and loves encountering the various languages and cultures along the way. He and Tigger have been traveling the world since May 2011. (Talon has four years to go before turning 50, but we thought we'd catch him while we can.)
Travel Past 50: Where did it all start?
Talon: When I was a teenager, we did a road trip from the U.S. throughout Mexico, and spent a month in a tiny village there. It definitely firmly rooted my love for travel.
TP50: And you've been pulling up roots ever since! (Couldn't resist.) How do you describe your style of traveling?
Talon: I don't know that anything is particularly unique other than I'm a single dad traveling with my son, indefinitely. We've been on the road for just over three years so far. We tend to travel more slowly most of the time, sometimes spending months in an area as opposed to a week or two.
TP50: Especially traveling with a kid, you must have to plan carefully.
Talon: I despise planning, so generally we have pretty much nothing planned. If we have a house sit scheduled, that's usually as much planning as we'll have done. I much prefer having full flexibility and spontaneity while traveling.
TP50: How involved is Tigger in the travel planning?
Talon: I do the majority of research, but when it comes to deciding where we go next, he is involved completely. We do it as a team. Sometimes he isn't interested in a place and I am, or vice versa, and we discuss it and come to a decision together. If it's something super important to the other person, then we let the other one know that, and the resistant party will usually compromise.
This journey has been great for such a different type of education. We discuss financial issues, our budget, pros and cons, we compromise, and so on. Often now when I suggest a trip or something, he'll be the one who asks about the cost.
TP50: Do you use formal methods of education, too, for stuff like math and science, or just take it as it comes?
Talon: We don't follow a prescribed curriculum. Tigger focuses on the areas he's interested in learning. He does some math work online and watches a lot of videos for science.
TP50: Where've you been, and where are you going?
Talon: Since we began in 2011, we've been to 28 countries on six different continents. Some of those countries we've visited multiple times, like Mexico, the UK, Malaysia, and others. I'm a scuba instructor, and my son is certified to dive, so we also like to explore underwater while we travel.
TP50: Your favorite countries?
Talon: Mexico, many parts of Europe, especially Romania, Prague, Edinburgh, and Paris.
TP50: Tell us about your flight purchasing. Have you amassed points like crazy?
Talon: Not really. I'm always chasing the best deal, which means I'm using a lot of places and companies that aren't involved in a points system. Or, I may use them once or twice, and that will be it for years. To look for flights, I primarily use Adioso.com and Skyscanner.
TP50: When you aren't house sitting, how to you search for hotels? What amenities do you really insist on?
Talon: My methods vary when I'm hunting for a hotel. I usually look at Trivago, Booking.com, and Agoda, and sometimes others as well. The main things I insist on are two beds in a room (I hate sharing a bed with anyone) and free, good WiFi. And hot water for a bath or shower.
TP50: We bet if you hate planning you hate packing, too. What do you recommend?
I started out with an Osprey pack: really great quality. Right now I'm using a bag from Eagle Creek. My daypack is from Lowepro and is a combination laptop/camera bag. You really don't need as much as you might expect. I carry four shirts and a couple of shorts with a pair of jeans. I'm a HUGE fan of packing cubes and highly recommend them.
TP50: What sort of gear do you carry, electronics or otherwise?
Talon: A digital SLR and a Kindle, plus my smart phone. Almost a year ago I added a small French press to my gear as well. Instant coffee gets REALLY old fast.
TP50: What apps do you use to get the most out of your smart phone?
Talon: Google Maps, Google Translate, XE Currency, Worldmate, Skype, MapsWithMe, Foursquare.
TP50: As opposed to the rewards of travel, what are some to the sacrifices you've made to lead this life?
Talon: Not having a consistent local community is the biggest sacrifice. We can keep in touch with friends online, but it isn't the same as having those local relationships. Another big sacrifice has been pets. We really miss having a pet!
TP50: What do you turn to when you want a good ol' home-cooked comfort meal?
Talon: I can't really say I have these cravings, but for my son it would be macaroni & cheese. I always make it homemade, and since all you need is pasta, cream, cheese and some seasonings, we've been able to make it everywhere in the world.
TP50: Do you have a favorite destination?
Talon: Romania. You hear so little about it, and when you do they tend to focus on the plight of the Roma (gypsies) and the poverty. However, the country is absolutely beautiful, the people are great, the food is wonderful, and it's so easy to get around. It has so much natural beauty as well. We absolutely fell in love with Romania.
TP50: Speaking of getting around, what's your choice of transport?
Talon: Trains and my own two feet.
TP50: Want to tell us about any travel disasters, and how you survived?
Talon: Other than a bus trip from hell, we've really had no big travel disasters, thankfully.
TP50: What's a special indulgence for you when you are on the road?
A hot bath. Tubs are so hard to find when you're traveling, especially if you're outside the U.S. or western Europe. Any time we find a tub we're both really excited.
TP50: Do you collect any souvenirs?
Talon: Just memories and photos. Since we're traveling indefinitely and have no home to go back to, we don't pick up souvenirs.
TP50: What's on the horizon?
I regularly check in with [Tigger] to see where he's at with our traveling. He has voiced a desire to have a base and do shorter trips instead of doing long, nomadic ones. So we are heading back to Mexico (which was his choice) to look at areas where that could work as a long-term base so that we can still travel but also have a home base to return to, where he can make local friends, etc.
Welcome Talon and Tigger, wherever you are. 1Dad+1Kid=1home.
Read more on their site or by following:
Blog: 1 Dad 1 Kid
Facebook
Twitter
Pinterest
Instagram
Google+
Get all our travel tips delivered to your inbox
Subscribe to our email newsletter