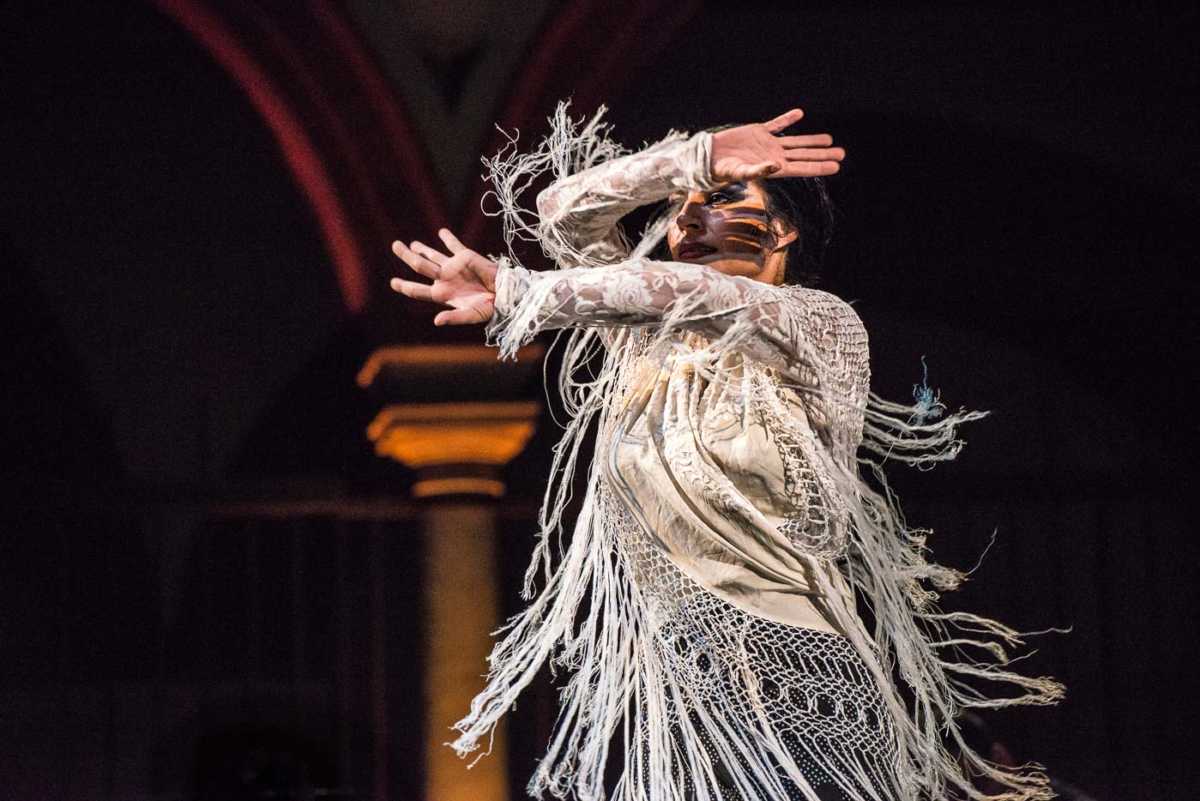 Note as of January 30: HURRY. Bookings have closed, but we may be able to accommodate one person in single accommodations. Make deposit below and contact Tom@TravelPast50.com directly if interested.
Travel Past 50 Custom Tour: Madrid and Andalucía
We're happy to announce our second custom tour to Spain, this time featuring the fascinating region of Andalucía.
Since our very first visit to Spain in the 1970s, through our years living in Madrid and Barcelona, and even as we've traveled to over 70 countries around the world, Spain remains one of our favorite places in the world. Join us on this exclusive small-group tour to find out why.
Our 2023 tour will focus on the famous cuisine, culture, and history of Spain. After an introduction to Spain with a three-day stay in Madrid (including a day in the one-time capital and UNESCO World Heritage city, Toledo), we'll move on to the historically multi-cultural region of Andalucía to taste the regional specialties of Jeréz (sherry) and jamón (Iberian ham) against the backdrop of Spain's Moorish, Christian, and Jewish monuments of Granada, Sevilla, Córdoba, and Málaga.
Here's what makes our Travel Past 50 Tours unique:
Small group tours (maximum 12 guests)
Accompanied by Kris and Tom, with benefit of their life-long travel experience
Custom-created itineraries combining cultural experiences with local cuisine and active tour options
Sufficient unscheduled time
Additional local expert guides as appropriate
Local secrets not usually on tourist itineraries
Comfortable travel, luxury touches, and affordable rates
Kris and Tom's helpful travel tips, shared with the group via personal communications in advance of the trip: getting ready to travel, what to pack, recommended reading, and how to enjoy to the max
We're looking forward to sharing our enthusiasm for the country, its food and people, with you. With the help of local guides and our personal contacts, we want this to be your best Spain experience, whether its your first trip or your fifth.
Dates: April 12-22, 2023
Our tour will commence the second week of April when the weather in Spain is very congenial. You can look forward to daytime temperatures in the 70s Fahrenheit and evenings in the 50s. The April dates will also allow us to avoid the larger tourist crowds typical of Spain in midsummer.
Itinerary details
We've built this itinerary based on our personal experience, and it reflects our own travel style. We've included just the right amount of free time to give everyone a chance to explore on their own – or ply us for more individual suggestions.
Day 1, Madrid (Arrival Day)
Upon arrival at the Madrid International Airport, you'll be picked up by our private driver and taken to our hotel in the very center of bustling Madrid. Once everyone has arrived, we'll have an evening orientation and welcome dinner.
Included meals: Dinner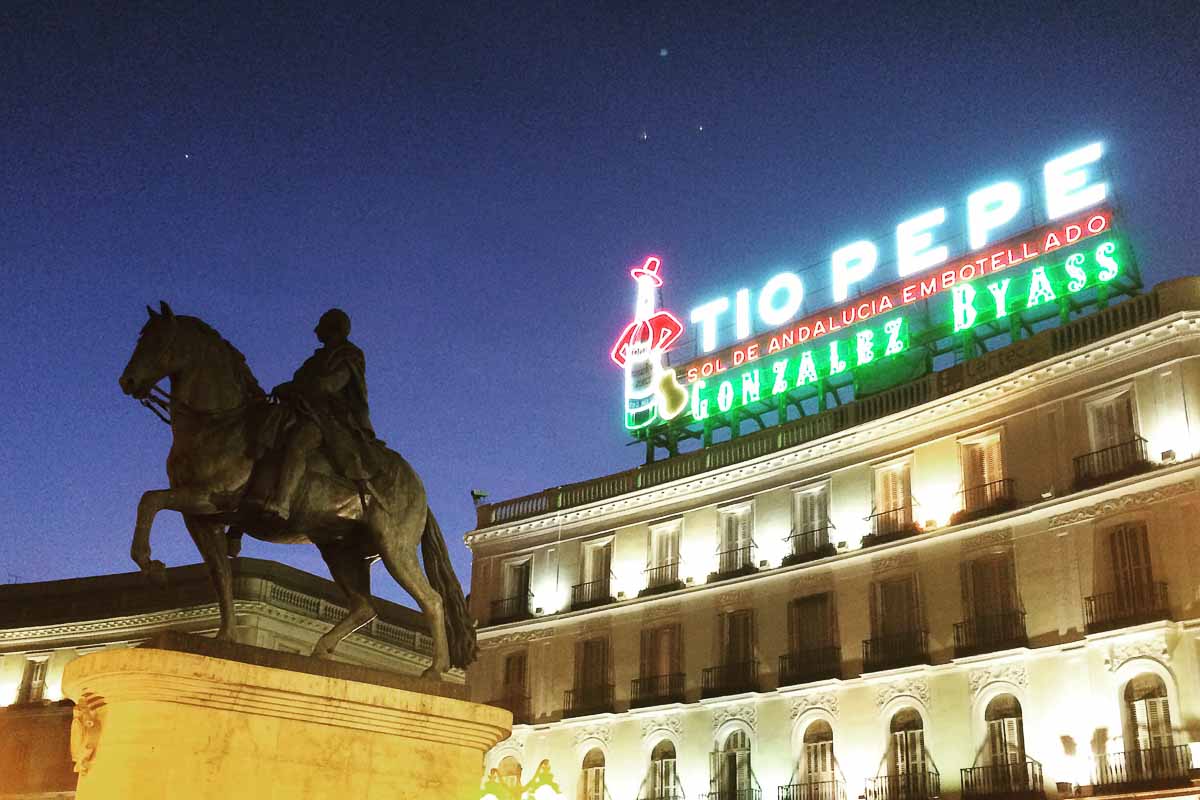 Day 2, Madrid
After breakfast at the hotel, we'll embark on a half-day guided walking tour of the old center of Madrid, and end up at the Palacio Real, where we'll have a guided tour of some of the 3400 rooms in the world's largest royal palace.
After some time on your own, we'll meet later for an evening tapas tour of the fashionable Malasaña neighborhood near our hotel, where trendy cafés sit next to century-old bars, and beautiful tiled and iron balconies overlook cobblestone streets. Bring your appetite for the real taste of Madrid.
Following the tapas tour, and depending on the group's interest, Tom and Kris will lead an expedition to one of old Madrid's famous, but often overlooked bars, La Venencia, where Ernest Hemingway was a frequent occupant of the well worn tables.
Included meals: Breakfast, Dinner
Day 3, Madrid
After breakfast, we'll meet late morning at Madrid's famous Prado Museum, where we'll again get a guided tour from our hosts from the American Friends of the Prado Museum. And we'll see again why Tom says The Prado is the best museum in Europe.
The rest of the day is on your own to explore Madrid as you like, including maybe stopping at the nearby Reina Sofia museum to see Picasso's Guernica, before heading off in search of more tapas. Kris and Tom will be happy to give you some suggestions for anything you might want to do, or lead any willing souls to a couple more tapas stops.
Included meals: Breakfast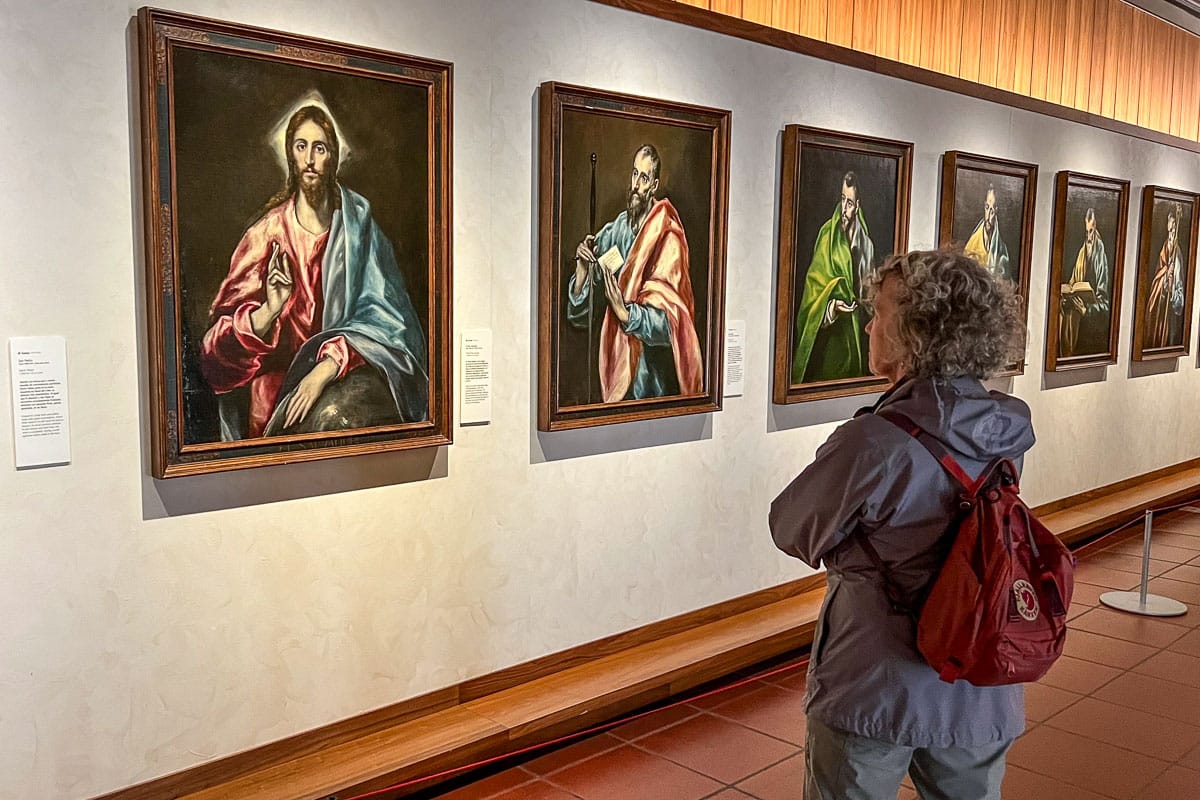 Day 4, Madrid-Toledo-Madrid
After breakfast in the hotel, we'll take a private van for a day trip to the old imperial capital of Toledo, just about 45 minutes south of Madrid. The tour will include the spectacular Cathedral of Toledo, which is the seat of the Catholic Church in Spain, as well as two extraordinary ancient synagogues. Prepare to do some walking on narrow cobblestone streets, which is a large part of the charm of Toledo. Visit the home of El Greco, now a museum of the artist's work. By the way, Toledo is also famous for its Damasquino, decorative arts featuring inlaid gold and silver.
Included meals: Breakfast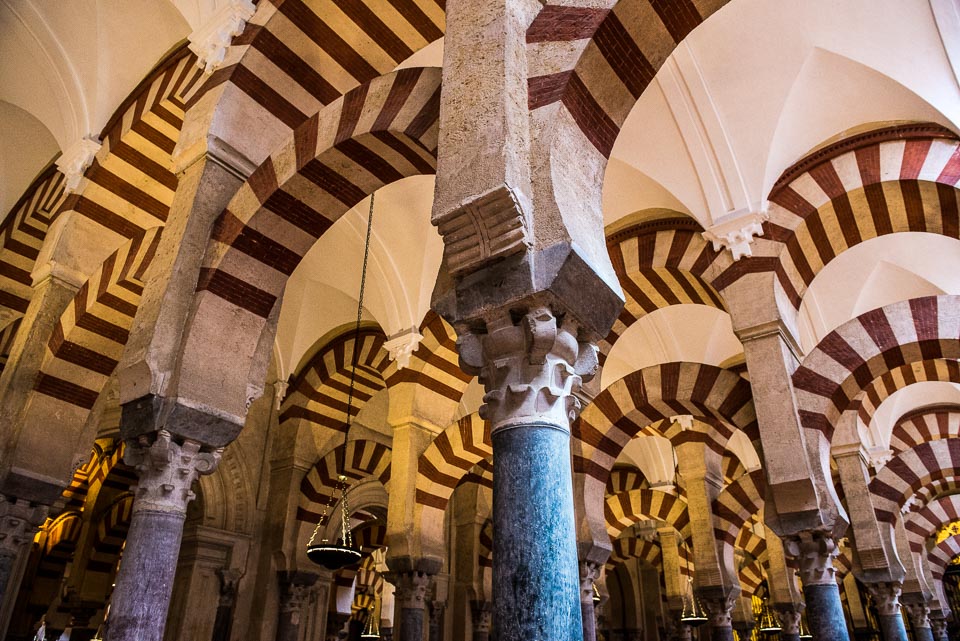 Day 5, Madrid to Córdoba
This morning, we'll take a morning AVE high speed train to Córdoba, our first stop in Andalucía, and the site of La Mezquita, the stunning mosque that was built between the 8th-10th Centuries and was converted to a Christian cathedral after the Reconquest of Córdoba in the late 13th Century.
We'll finish the day with a typical dinner in Córdoba.
Included meals: Breakfast, Dinner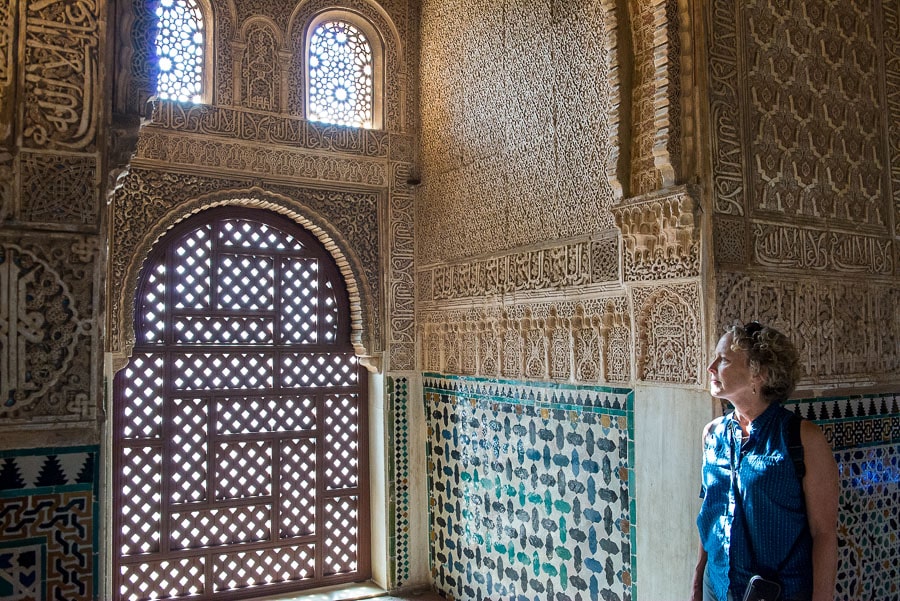 Day 6, Córdoba to Granada
After breakfast, we'll take a morning train to Granada.
After settling in, we'll be taking a private walking tour of the Albaicín, the neighborhood noted for retaining its medieval street plan dating back to the Nasrid period (13th to 15th centuries, before the Reconquest). The tour will also include the Cathedral and Royal Chapel, the burial site of King Ferdinand and Queen Isabel.
Included meals: Breakfast
Day 7, Granada
After breakfast, we'll have a private half-day tour of the spectacular Alhambra Palace and its gardens – the Generalife.
The afternoon is free for more wandering, and important for Granada, the shopping. Be sure to check out the shops featuring inlaid wood furniture and other items. Many of the families who make these items have been in the business for generations, and the design elements go all the way back to the Moorish artisans of 8th Century.
We'll close the evening with a flamenco dance performance. Granada, along with Córdoba and Sevilla, is the traditional home of the Flamenco art form.
Included meals: Breakfast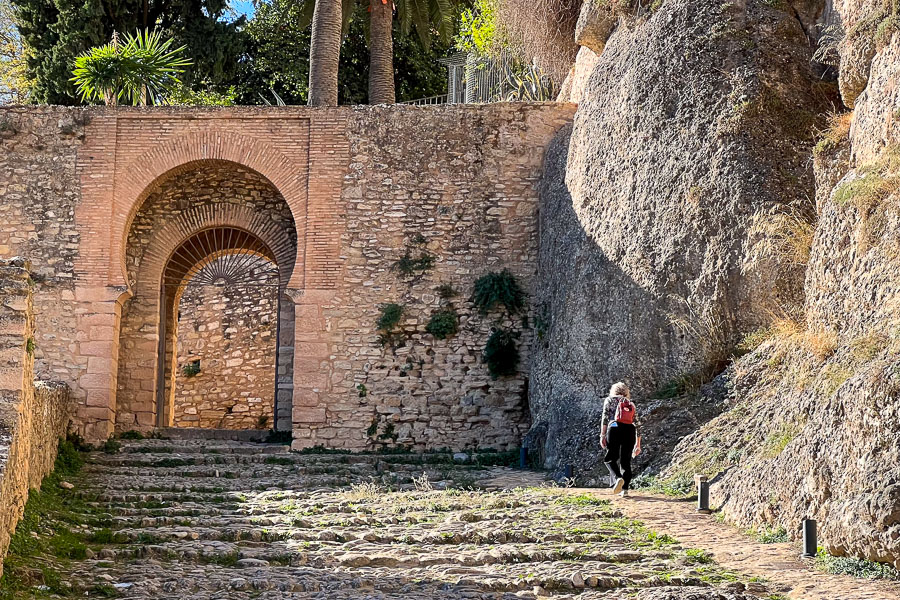 Day 8, Granada to Sevilla (via Ronda)
After breakfast, we'll take a private coach to Sevilla, with a stop in the ancient city of Ronda.
In Ronda, we will visit an award-winning olive oil producer for a tasting.
Following the olive oil tasting, we'll get a private guided tour of the ancient city, including the iconic Maestranza bullring (now a museum.)
Arrive in Sevilla, the capital and largest city of Andalucía.
Included meals: Breakfast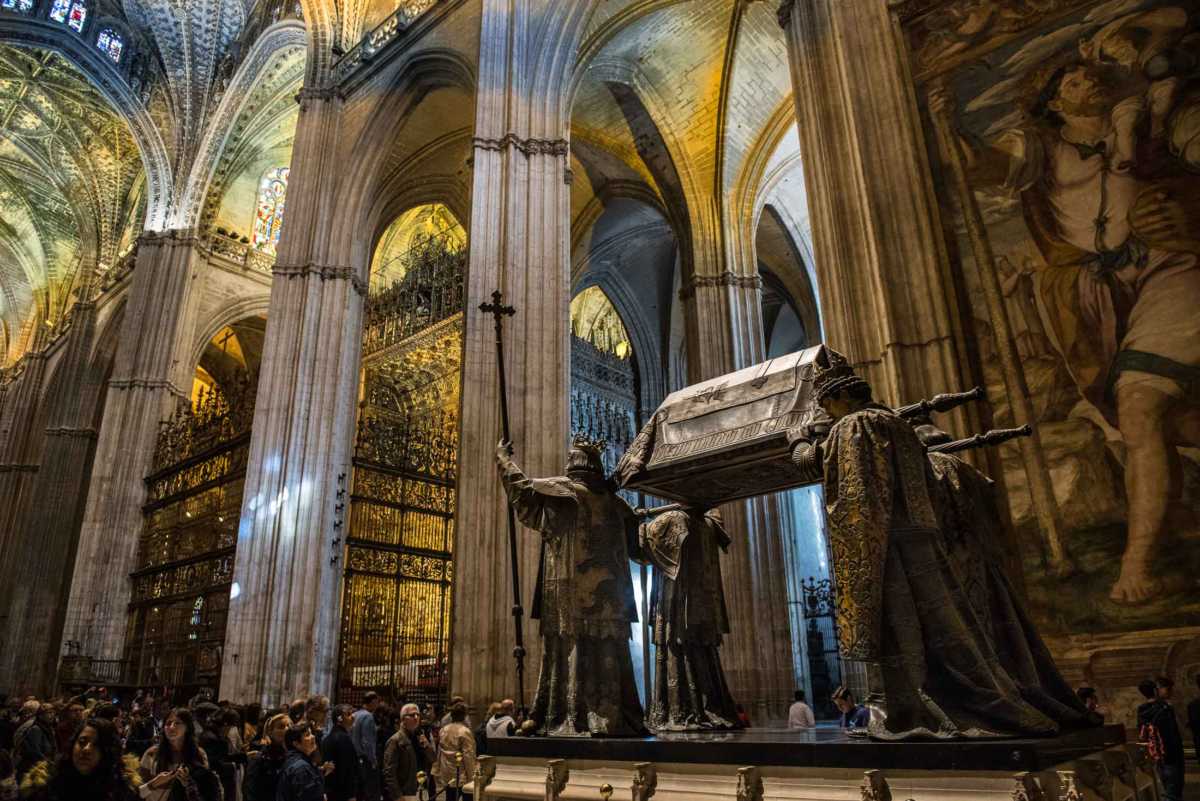 Day 9, Sevilla
In the morning, we'll have a half-day walking tour of the Barrio Santa Cruz, which was originally the Jewish neighborhood of Sevilla. Included in the walk will be the Sevilla Cathedral, by volume the largest cathedral in the world. The Sevilla Cathedral, among other works of art, contains the tomb of Christopher Columbus.
You will have some free time to further explore Sevilla, including perhaps the Alcazar (castle) or the Archives of the Indies, both near the Cathedral. Or you might wander across the river to the Triana neighborhood, and visit the church of the original Macarena. (It's not just a song.)
Our evening will feature a guided tasting of Andalucian-style tapas and sherry (not your grandmother's sickeningly sweet cream sherry, to be sure).
Included meals: Breakfast, Dinner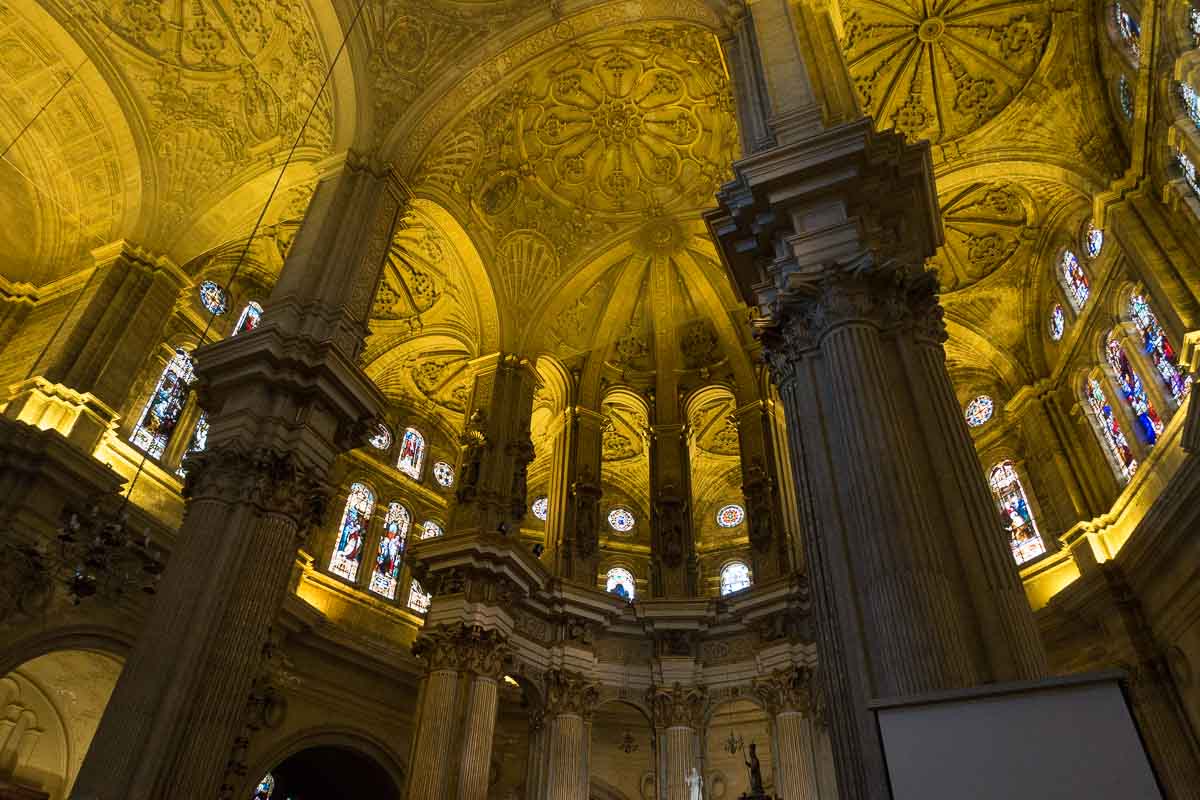 Day 10, Sevilla to Málaga
After breakfast, we'll take a two-hour bus right through scenic olive groves to the sea-side city of Málaga, the home town of Pablo Picasso. In Málaga and throughout Spain and the world, 2023 will see celebrations of Picasso, on this 50th anniversary of his death.
In Málaga, we'll start with a walking tour of the old city and the Picasso Museum. Málago boasts the most pedestrian streets of any city in Spain.
After some free time to continue your explorations of Málaga, we meet up in the evening for our farewell dinner.
Included meals: Breakfast, Dinner
Day 11, Málaga (Departure Day)
Airport/train transfers depending on flight/train times
Included meals: Breakfast
NOTE: This itinerary is subject to change. Once our group is booked, you'll receive a more detailed, day-by-day itinerary. Then the fun begins!
Included in the tour
Private tour experience throughout
Maximum group size of twelve
All accommodations (10 nights – 4-star hotels)
Transportation in Spain (trains and private vans where needed)
All included activities and entrance fees mentioned
English speaking local guides
Meals as listed above (beverages may or may not be included depending on the venue)
All airport transfers
Not included
Flights to/from Spain
Meals and activities not mentioned
Travel insurance (mandatory)
Gratuities for guides, drivers, hotel staff, etc.
Tour cost
Note: Hurry, ONE SPOT FOR A SINGLE remaining. Book by January 24.
$6195 per person (double room) SOLD OUT
$7795 per person (single room) ONE SPOT REMAINS
Tour size: 12 participants maximum
Payment terms
A $1500 deposit per person due now.
The balance payment is due 65 days before the tour start date (February 3, 2023.)
Cancellations within 30 – 60 days prior to the tour start date will receive a 50 percent refund of the balance amount; cancellations within 29 days of the tour start date will be non-refundable.
Reserve your spot
To reserve your spot, please click this button to pay your deposit. Be sure to select 2 deposits if you're booking a couple. (Note: your deposit is fully refundable for 10 days, if your plans change for any reason.)
Important travel notes
The specifics of the tour itinerary are subject to change. It's unlikely, though, that there will be any substantive changes. More like daily schedules might be earlier or later.
Activity level for this tour is light to moderate. We'll be doing a good amount of walking in the cities we'll be visiting, and in some cases there will be two to three hours of slow walking and standing in the attractions. To be comfortable on this tour, you should be able to walk for a mile or more – or at least half an hour – without problem. Also, be aware that, especially in Granada and Toledo, the walking will be up and down hills. Cobblestone streets and stairs are not uncommon. Don't worry though. We'll make frequent stops for refreshments.
Most North American flights to Spain depart late afternoon or evening. So plan to depart April 11, 2023, for an April 12 arrival in Madrid. Of course, you can arrive earlier and we'll be happy to help you make accommodation arrangements.
Look for multi-city flight options to book from your city to Madrid, returning from Málaga. If that itinerary isn't convenient for you, it's easy to take a train back to Madrid to catch a flight there.
Important: do not make any travel reservations that cannot be cancelled or changed until we confirm that we have met the minimum number of travelers and that the trip is a "go."
If you'd like to extend your time in Madrid or Málaga, let us know and we'd be happy to recommend hotels and attractions or day trips from either city.
We use Allianz Travel's annual policy, but you can find their single trip travel insurance plans here. Note, you must have travel insurance for this tour. It doesn't have to be Allianz.*
What our guests say about Travel Past 50 Tours
"The combination of a small group and professional guides in each city made it an outstanding experience!"
-Karen M
"Very enjoyable tour of Northern Spain with Tom and Kris. The group was a perfect size. I can recommend traveling with them and would consider a second tour in the future."
-Christiane M
"Travel Past 50 provides a balance of people, food, wine and sights with enough time to explore a bit on one's own time."
-Bill T
"Kris and Tom's extensive first hand knowledge of Spain and the language made for a wonderfully interesting trip. I'd recommend any tour of Spain they put together."
-Janice D

"Tom and Kris were great at showing their love of Spain."
-Linda M

"We truly enjoyed the itinerary and thought the choice of activities was great. You blended the guide-enhanced experiences with self-directed exploration and discovery. Kudos."
-Roger and Deb B
Ask Us
Once the tour is confirmed, we'll be sending out more itinerary details soon along with some helpful hints for packing and enjoying the tour to the max. In the meantime, ask us any questions and let us know about any individual concerns. We're here to keep it fun and easy.

Just email contact@travelpast50.com with the subject line SPAIN TOUR QUESTION and your query will be handled by Tom and Kris personally.
Travel Past 50 Tours Terms and Conditions
Here's all the fine print. Please note these terms and conditions may vary depending on the specific tour destinations and timing.
For more general information about Travel Past 50 Tours, including up-to-date COVID policies, visit our introductory Tour Page.
Reserve your spot
To reserve your spot, please click this button to pay your deposit. Be sure to select 2 deposits if you're booking a couple. (Note: your deposit is fully refundable for 10 days, if your plans change for any reason.)
Recommended Reading from Travel Past 50

Note: Continuing coverage of this Travel Past 50 Spain Tour is supported in part by Allianz Travel Insurance. Our content is independent of their sponsorship. We are delighted, however, that they recognize the importance of getting back to travel safely, and the particular health and travel nuances important to our readers.