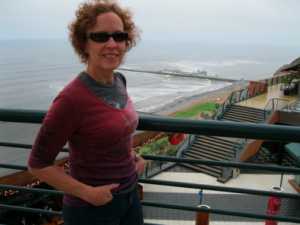 We've been in Peru for five days now. Two in Lima and three in Cusco. The first impressions are that Peru is more prosperous than Ecuador, and that this is due to a few things: the people just seem to be more entrepreneurial, especially when it comes to tourism; and the government seems more interested in actually doing things to promote the economy instead of promoting itself.
We see some of that in Cusco, where we are now, but it was really apparent in Lima, where we spent two days before heading up to the mountains.
The first thing we noticed when driving from the Lima airport to our hotel in the Miraflores district was the extensive beachfront restoration and development. Now you may or may not agree that changing the the sea face of Lima is a good idea, but at least it's being done. The beach is being restored and protected by a sea wall, and the land above the beach is being filled in and developed with shopping, hotels and other visitor-oriented businesses.
The entire Miraflores area is filled with hotels and American-style shopping. Again, you may or may not agree with this strategy, but at least it seems to be working. The streets are crowded with shoppers. There are a lot of visitors. The off shore is full of surfers, and–my favorite–there are professionally run casinos where you can get a drink and small servings of food while you play. Think of the Miraflores area of Lima as Las Vegas of twenty years ago and you won't be far off.
(In Ecuador, on the other hand, the government adopts a more overbearing mama attitude: no alcohol in the casinos. Also, the Macao Casino in Quito's Mariscal just started dealing blackjack with eight decks. Sorry, Macao, you just lost me as a customer. Think of Ecuador like Minnesota, where nothing is permitted, and you also won't be far off.)
Oh, and by the way, the restaurants we discovered in Lima were excellent, too. There's a big shopping center above the beach, Larcomar Mall, where unfortunately many Americans are attracted to TGI Friday's, Chili's or Tony Roma's, but if you are open to considering something you might not find in a Minneapolis suburb, there are also locally owned excellent Peruvian traditional and international choices.
We ate at Café Café, and had a seafood paella that rivaled any we ever had in Barcelona. And at Makoto, Kris and I had, without a doubt, the best sushi of our lives. Also highly recommended: the Peruvian "national" drink, the Pisco Sour. A little like a margarita, perhaps, but more intricate.
For those of you who don't know, the Humboldt current runs right up the coast of South America from Antarctica and makes the Peruvian coast allegedly the best place to fish in the world. No argument from us.
You can help yourself get ready for your own travels by reading our Get Started Planning Your Trip Now page.
We love traveling–with the right gear. We've gathered a lot of the stuff we use to make travel more pleasant and efficient all on one page. Shop our Travel Past 50 Amazon page to find our favorite gear. If you purchase something from the store, Travel Past 50, as an Amazon affiliate, may receive a small commission at no extra charge to you. Thanks.
We never leave home without our travel insurance. Nor should you. Search for the travel insurance from Allianz that best meets your needs, whether it be an annual plan or a single trip.
Note: This post and other posts on TravelPast50.com may contain paid or affiliate advertising links.
Get all our travel tips delivered to your inbox
Subscribe to our email newsletter