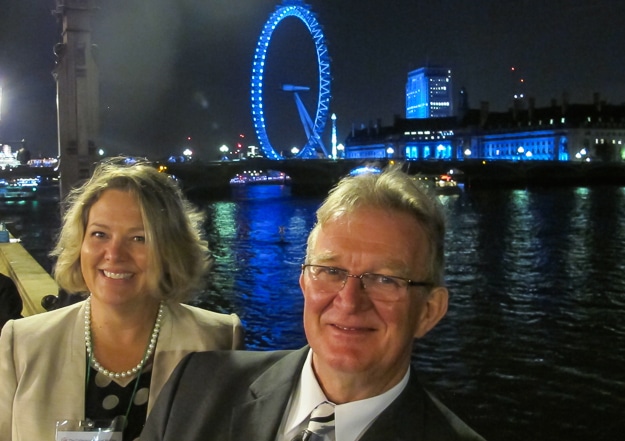 We were introduced to Peter and Tracy McDermott through a mutual acquaintance, and suddenly the four of us were meeting for dinner in Copenhagen. That was in April 2014, when Tracy and Peter were just embarking on their extended travels, and we were making our first forays into Scandinavia. Now, with more than a year of travel under their belts, their insights are tried and true, fresh and useful, and extraordinarily close to Tom's and my experiences and sentiments. Their story speaks to many of the FAQs we get at Travel Past 50. And, we've picked up more than a couple helpful hints here that we're adopting immediately. UPGRD?
On top of that, the McDermotts have done a lot of housesitting and were recently interviewed by House Sitting World as Legendary Housesitters. (They don't seem old enough to be legends, but…they've got stories! ) Read on for snippets of our conversation with Peter and Tracy McDermott, a.k.a. Mr. and Mrs. McNomad.
MCNOMAD BACKSTORY
TP50: How did you get started? What inspired you to start traveling full time?
TRACY: We are a recently retired couple who dreamt of long term travel but didn't think it was possible on Social Security and a pension check. One day, while watching The Travel Channel, we wondered aloud if we could actually go somewhere for the same money it cost to stay home wishing we were somewhere else. We reviewed our past household budgets and decided it might be doable if we sold both cars, put our stuff in storage, cancelled all non-essential services like cable and the cell phones, and rented out the condo.
So we decided to do just that and thus was born our credo: Why Stay Home If You Can Roam.
Our first trip around the world started on April 7, 2014 and we just returned to California on May 1, 2015. Our next journey begins this fall…stay tuned.
TP50: Were you travelers from birth, or this an acquired taste?
TRACY: Peter is Australian and the urge to walkabout is inborn. He started hitchhiking at age 18 and traveled in Asia, the Middle East, and Europe in the 70s. Since then, he's emigrated to the U.S. and has lived as the outsider, continuing to travel and explore here and abroad.
I was raised in the Midwest and didn't see the ocean until I was old enough to drive there myself. My first trip out of the country didn't happen until my mid-30s when I was sent to London to work a conference and out on cruise ships in the Caribbean to do market research. When I got to my 40s, I took a fateful trip to San Miguel de Allende to attend a Spanish immersion course. That's where my life changed forever because Peter sat next to me in class. We fell in love over Spanish verbs. I've been traveling ever since.
TP50: And what was your line of work before you hit the road?    
TRACY: Peter had just retired as a patient case manager at John Muir Medical Center. I had taken down my shingle after a long career in marketing and ethnographic research so I'd have time to play with him.
TP50: What are your techniques for staying within budget while traveling?
TRACY: We live pretty simply when we travel and we absolutely love to stay in AirBnB homes. Not only can we cook nutritious meals for ourselves but we arrive with a built-in friend waiting to show us the local life. But that's not to say we miss anything. We've stayed within our pensioners' budget using a combination of simple and luxury choices.
MCNOMAD STYLE AND LOGISTICS
TP50: How far ahead do you plan your domestic/international travels?
TRACY: We usually start planning two to three months in advance. I know this is remarkably short notice to some travelers, but our style is what my son calls 'Travel Roulette.' We start with a general idea of a continent or country where we'd like to go and just start seeing what serendipity throws our way. We don't even go with a checklist of things to see and do. We just see and do whatever is happening at the time we are there. This flexibility allows magic to happen.
We've been guests at a party at Westminster and been invited to the Burghley Horse Trials in Northern England, we've traveled to the Spanish coast at the invite of fellow diners at an outdoor cafe in France, and we've taken an impromptu trip to Tasmania because the opportunity arose to do it very economically. It is the most fun to just see what life hands out and we are never disappointed.
TP50: We are totally stealing 'Travel Roulette' to describe our planning style! Which search engines or travel agencies do you use to find and book flights and hotels?
TRACY: We rely heavily on Kayak, WhichAirline, Hotels.com, AirBnB, VRBO, TripAdvisor, Seat64, and TheTrainLine.com. [Our] secret weapon is a service offered by UpGrd.com which books flights with air miles. We've literally traveled around the world for just a few hundred dollars a leg using the expert help of our favorite travel agent, Matthew Klint.
TP50: What hotel or lodging amenities are important to you?
TRACY: Oy. I have been transformed from a princess with an expense account to a pauper with her own roll of toilet paper. Our list of hotel essentials gets shorter and shorter the further afield we go. After spending a couple of months in Thailand the list got whittled down to these four things: clean, safe, comfortable bed, and private bath.
TP50: Do you participate in airline/hotel frequent user programs?  
TRACY: We participate in all frequent flier programs that we use and it is an essential core to our affordable travel strategy. We also belong to a few hotel programs but these don't usually yield us any benefits because we don't stay in hotels often enough.
TP50: What's your favorite pack or piece of luggage? How many bags do you carry?
TRACY: I adore my Tommy Bahama luggage. It is still beautiful and usable 10 years on. I hope it lasts the rest of my life so I might be buried with it, it's that fantastic. We traveled for fifteen months with a RollAboard and a backpack each. For four of those months we left one suitcase behind and cut back to one for the two of us. And even with that little luggage, there were still things I didn't use once in an entire year. We started shedding stuff like fur within the first three months.
TP50: So you'll share some of your packing tips?
TRACY: My advice is to create a color palette for yourself and stick strictly to that. Bring things that don't wrinkle and can dress up or down. Black pants and a black skirt are a perfect baseline for ladies and we can go almost everywhere looking sharp with those two things. Three types of shoes kept me going all year: walking, sandal, dressy.
Thrift stores are everywhere in the developed world now. I went to Royal Ascot dressed in a hat I picked up at the Salvos. Cut off the tag and their tongues won't wag.
My other trick is to take things that have just a few wearings left in them, then toss and replace as we travel across climates. Cheap clothes are available everywhere, because, sadly, malls are everywhere now.
TP50: Beyond the essentials, what's that thing you're always glad to have packed?
TRACY: It may sound silly, but we repeatedly patted ourselves on the back for having a shopping bag on us at all times. That saved our bacon, so to speak. Another thing I loved having was my Japanese washcloth; it's a rough loose fabric washcloth that dries quickly and does a nice job exfoliating in the shower. Every shower is a luxury with one of those.
Peter says an extension bar with international plug capability is his #1 choice. It allows plugging in multiple electronics and charging which is essential in our gadget-driven world.
[Editors' note: Same for us! Our shopping bag doubles as a computer bag if we're walking to the local coffee shop for Wi-Fi, my washcloth is from Turkey, and Tom's power strip is key to happy charging of everything.]
TP50: What type of camera do you use?
TRACY: Peter is a camera buff. This year he splurged on an Olympus M5 SLR, which he loves. I use a tiny camera carried in my purse when he is caught without his big guns.
TP50: Can you recommend any good travel related phone apps?
TRACY: We can't rely on phone apps because we can't rely on our phone. Phone and data were the hardest problems to solve because of the varying costs from country to country and also the difficulty in remote places in understanding what we were buying with a limited vocabulary.  Staying connected internationally is the biggest challenge we have not yet found the perfect solution to. We're hopeful, as options in this area are so quickly changing, that our next trip will be smoother and more connected than the last. [Ed: You've reminded us to add our T-Mobile plan details to our list of resources!]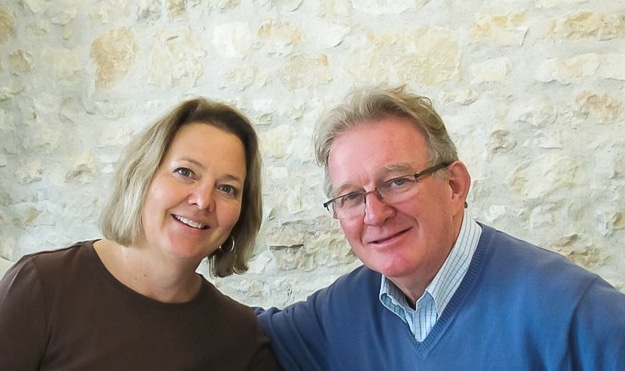 MCNOMAD EXPERIENCES
TP50: What have you sacrificed to afford being on the road?
TRACY: Family and friends are the biggest sacrifice. We miss so many special events and gatherings because we aren't home. Some friends move on. Some have died. Last year my dad had a medical emergency and it took my sisters two days to find me and get me caught up on the situation. I felt bad for not being there with him and with them during the crisis. Thankfully, it all worked out well for Dad this time and he is back to healthy normal.
TP50: What's the biggest travel disaster you've encountered? Or averted?
TRACY: I don't know if you call this a disaster or a tragedy. Peter's mother died unexpectedly last year just 13 days before our scheduled arrival in Australia. We were committed to a housesit in rural France the day she died and it was just impossible to get home in a reasonable amount of time to attend her funeral. We told the family to proceed and arranged a Skype feed for us to watch from France until we could arrive to be with the family.
Disasters other than that one would have to be getting sick in Scandinavia. Peter and I got the flu and were bedridden for two weeks in Copenhagen and Sweden. That was the pits. On the bright side, hospital outpatient treatment in Malmö was an affordable $249 and we were fully recovered within three weeks.
THE CORNY QUESTIONS
TP50: What's your favorite national beverage?
TRACY? PETER? BOTH?: Smithwick's. Without a doubt our answer is Smithwick's. Sorry Guinness, but Smithwick's is the best beer in Ireland, possibly the world. We were told by a barman in Dublin that Smithwick's is the choice beverage of the elderly. That surprised us but, hey, old people have been around a long time. They know things. And they know good beer. Dammit, why did you have to ask that question? Now I am thirsty. I feel compelled to catch a plane to Dublin to get myself a glass of this nectar.
TP50: What's your fallback comfort food, no matter where you are?
TRACY: Pasta is a universal comfort food that has been readily available everywhere we go. It is particularly delightful to see pasta on the menu when the local specialty is roasted beetle, which has happened.
TP50: Do you collect anything along the way?
TRACY: We collect memories, stories, and friends. Nothing more. My rule is: If I have to carry it, it's out. That includes friends. If they must be carried, they are left behind for someone else.
TP50: What country surprised you the most, and why?
TRACY: China charmed us. We were surprised by how outgoing, friendly, and helpful the people there were because it was counter to everything we'd heard or read about them.
TP50: Countries you'll visit again, or not?
TRACY: We'll go back to England, France, Ireland, Sweden, and San Miguel de Allende. All of those are such beautiful, historic, and richly endowed places they could never be explored fully in 20 lifetimes. We probably won't return to Penang or Malaysia. While both are lovely places, we felt it was an experience we were finished with by the time we'd left.
TP50: What, if anything, do you miss when you're away from home?
TRACY: I miss my fluffy bathrobe. It requires a suitcase of its own so it has had to stay behind on our travels. We have a tender reunion upon my return home. In fact, we are together now at the kitchen table. I'd probably wear nothing else when we are in America if Peter wouldn't object.
Peter misses his kitchen and his Henckels® knives. Cooking on the road is always a challenge with dented pots and knives so blunt you can't slice butter.  It's wonderful to have the good stuff available to use when we get home.
TP50: What do you consider an indulgence when you are traveling?
TRACY: Exceptionally fine dining is a luxury that we try to indulge in at least once in every place we visit. I'm talking about those meals that are so memorable you can still taste them from memory months later. Raffles Hotel in Singapore is a recent example of such a place; expensive but worth every sou. We challenge ourselves to travel only on our retirement income, not savings. It's sort of a hobby to see how far we can go and what we can achieve given this framework.
HOUSESITTING
TP50: Other inspirations? What keeps you going?
TRACY: You [Kris and Tom] have changed our lives for the better. YOU DID!* During that fateful dinner in Copenhagen you and Tom told us about housesitting. The week after, while Peter and I were lying in our sweat-soaked sickbeds, we signed up with TrustedHousesitters.com. Since then we've stayed in a ramshackle hovel without a bathroom sink, been spied upon in London in a home peppered with secret cameras, been guests at a London party in Parliament, attended the Burghley Horse Trials with the landed gentry, and lived in Cognac distillers estate in France where we made dozens of friends and have a standing invitation to return. YOU made all that possible by sharing what you know about long term travel. Thank you!
TP50: Aw shucks. Hey, do you know a good place to stay and eat in Walnut Creek, California? Be there soon.
*[Editors' Note: Apparently the ailment Peter and Tracy suffered starting in Copenhagen, shortly after we met and broke bread, resulted in exaggerated memory of our time together.]
Enjoy McNomads' blog, and follow them on Facebook at McNomads.
Get all our travel tips delivered to your inbox
Subscribe to our email newsletter