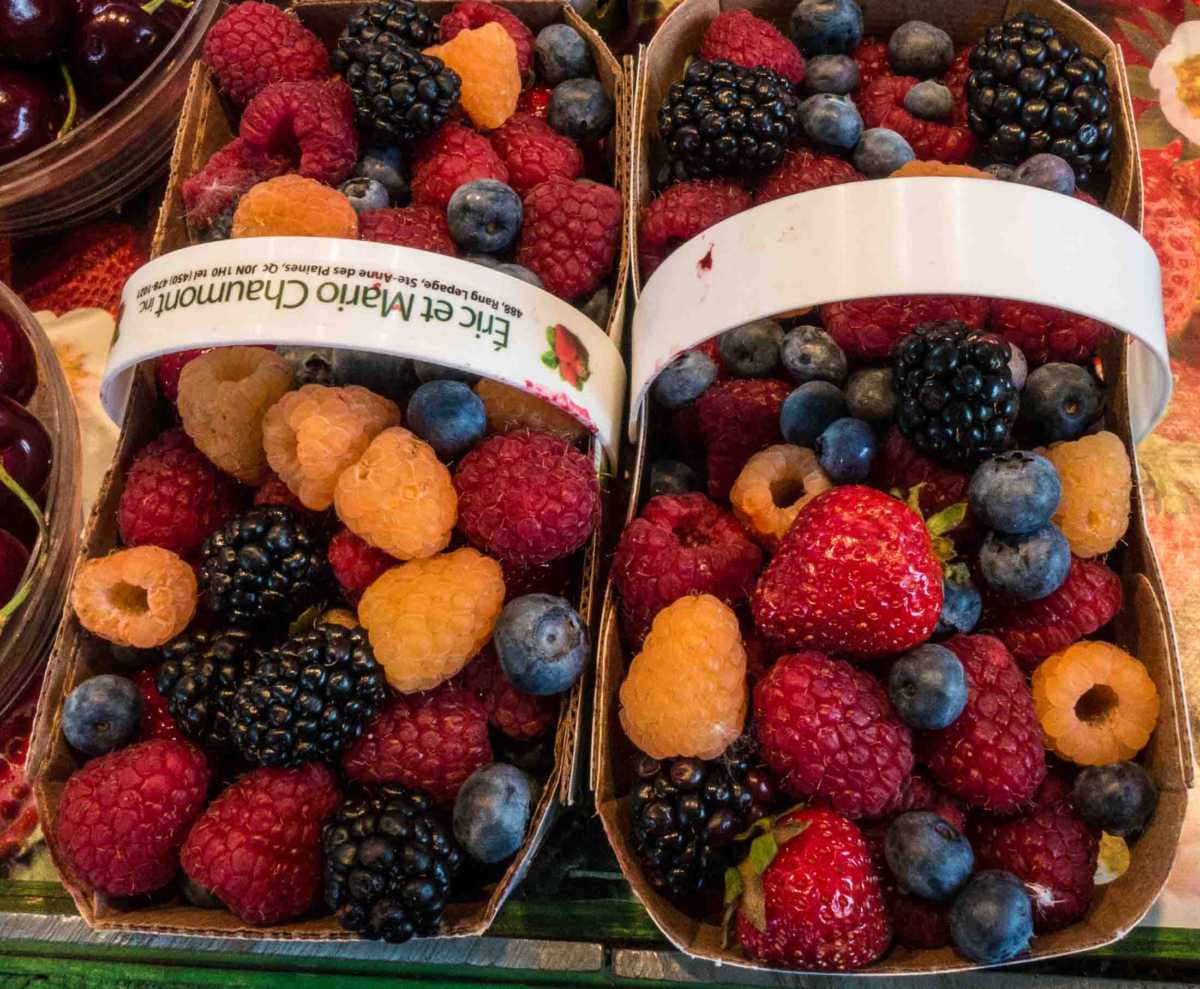 I was prepared and determined. Knowing that I'd sample plenty while touring Marché Jean Talon, the vast farmers' market of Montreal, I had just a little coffee and small bite for breakfast. As we headed out, I picked up the grocery bag I take with me on all our travels, then decidedly dropped it back in my suitcase. I knew I didn't want to carry any extra goods. If I didn't take a shopping bag, I figured, I wouldn't add any weight to my luggage.
Right.
A twenty-five minute cab ride from downtown Montreal took us to the market in Montreal's Little Italy neighborhood. (A metro ride would get you there, too, but we were running late.) Here we met our Context Travel guide, Mayssam Samaha. Our tour was called "Made in Quebec, A Savory Stroll of the Marché Jean Talon," and we would spend a half day eating up the colors and fragrance of a June morning at the market.
The Marché Jean Talon was created in 1929, on grounds converted from a lacrosse field, which in turn had been carved out of the countryside. Besides bringing farmers' produce closer to the city, the intent was to provide jobs. Today it's the largest open air market in North America, open all year round. Fifteen or twenty years ago, the Jean Talon market was expanded. Now there's public parking underground, a central area that can be shielded from the coldest winter air, huge tents that house an ever-changing supply of produce and seasonal goods, and a whole community of neighboring businesses that expand on the enticing food scene in the market itself.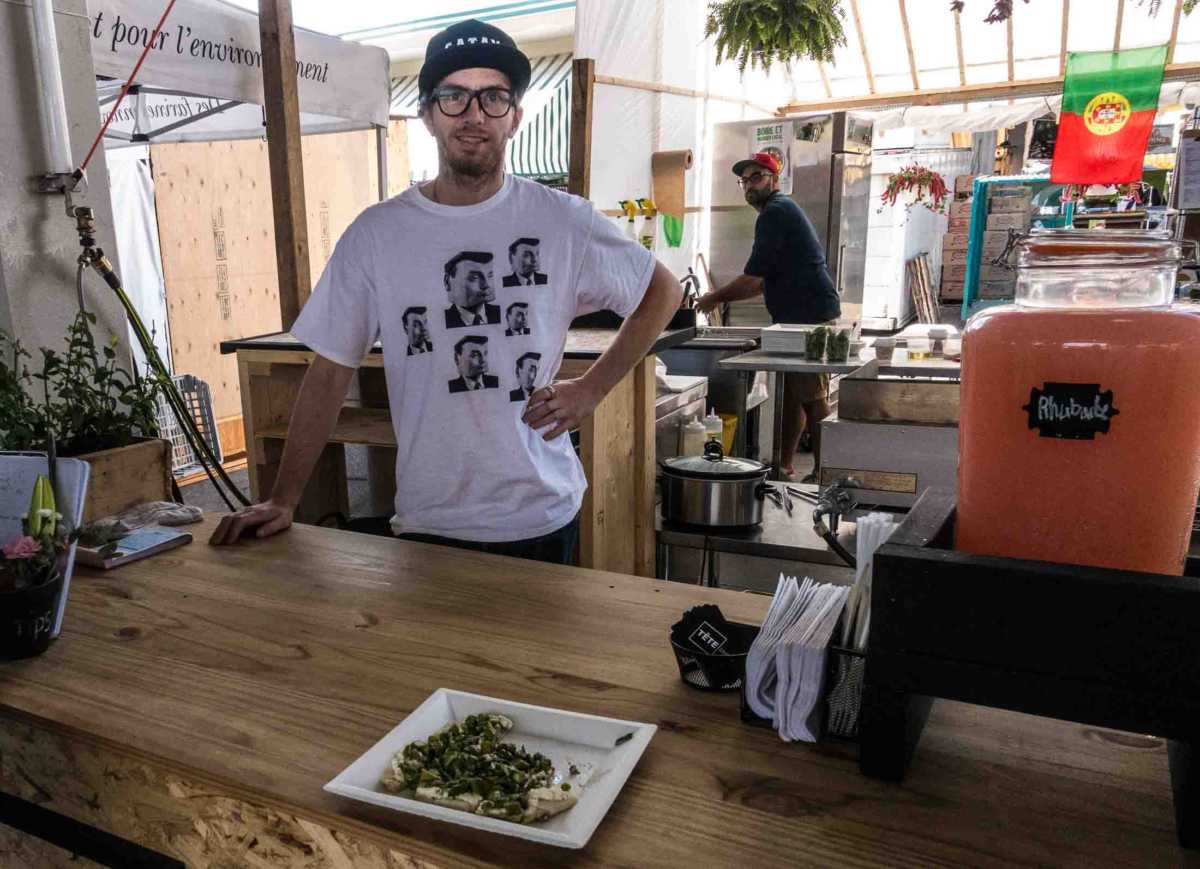 Of course this isn't a scratch and sniff post. I can't offer smells. I can't replicate the anticipation of sampling. But I can provide some photos and links to places we especially enjoyed.
We were in good hands. Mayssam Samaha, who has lived in Montreal for some twenty years, relocated a couple years ago to this very neighborhood. So this entire market is her 'corner store,' and she is friendly with many of the vendors. She's also a food writer; we had lots to talk about. We were pretty good at going off on tangents; she was even better at keeping us moving so that we could enjoy her top-tier vendors, sampling the best and freshest the region has to offer.
First stop was at a vendor called Les Têtes Carrées. That's a little French lesson for you: the derogatory term for Anglos in this French-speaking part of the world is, literally, "Square Head." We sipped some wonderful lemonade–with and without rhubarb–and sampled their flatbread with ricotta, grilled asparagus, and garlic scapes. The daily menu touted savory dishes like tomatoes with basil and roti pasta; chicken grilled in butter with coriander yogurt; calamari with grilled herb and ancho chips. Salivating now.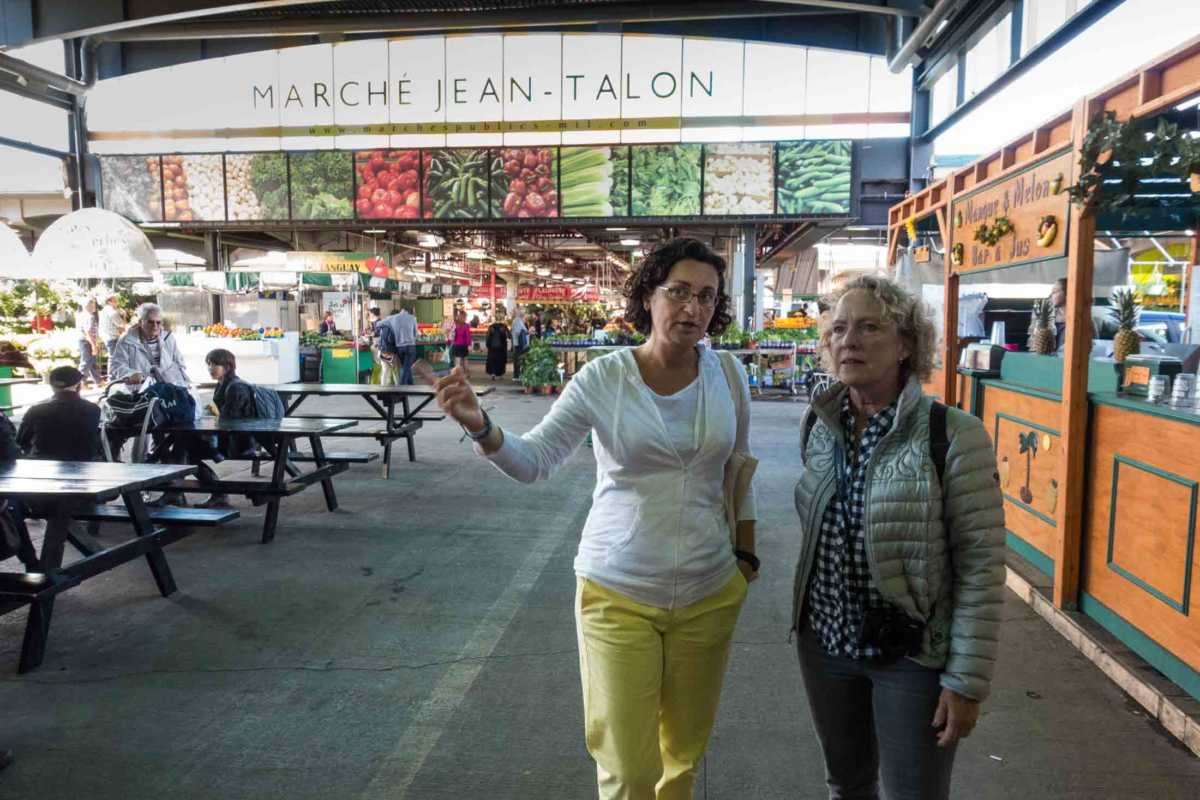 Next stop, homemade Gruo. It's granola with a twist, sweetened with banana puree. The young owner told us she uses a collective kitchen facility for now, as she starts up her business. We love seeing entrepreneurs thriving in markets. This was our first purchase of the day.
At the other end of the spectrum, the Birri Brothers, longtime market vendors, are spread over an impressive area. While they maintain the produce growing inside and out, and deal with sun and shade, they manage to greet us, take phone orders (the restaurant segment is their strongest), and maintain some of the finest looking salad greens and herbs in the market.
Like many world famous markets–Florence, Italy, comes to mind–the surrounding shops and restaurants include some institutions in their own right. Across the street from Jean Talon Market is Montreal's famous Fromagerie Hamel, for example. This is surely one of the best cheese shops in the world.
We also walked through Boucherie Capitol, a classic Italian butcher and deli. Their wall of tinned vegetables is a colorful and pleasing contrast to the dramatic butcher's counter, a perfect presentation of cheeses and meats. Faithful to its Italian neighborhood, the staff is friendly and eager to show the day's special preparations.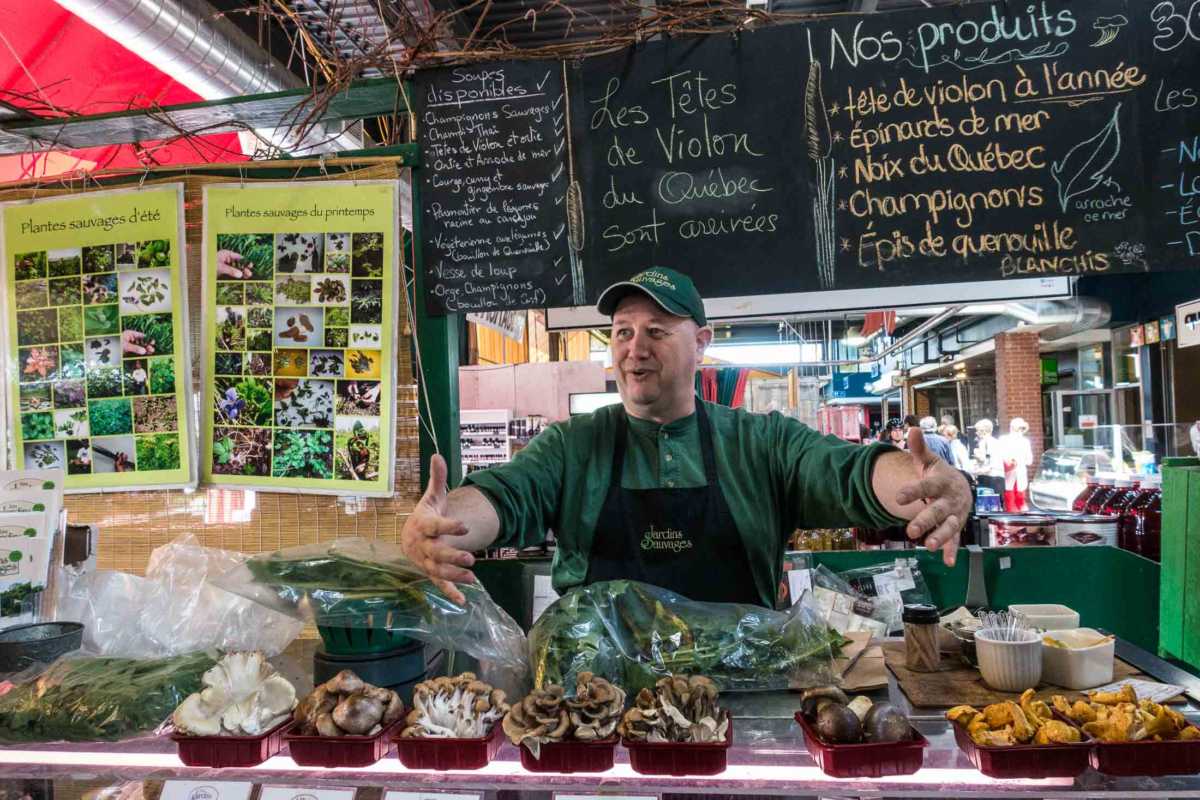 Montreal is known for its smoked fish and smoked meats, and you'll find an especially exotic assortment here at Atkins et Frères Délices de la Mer. They're from the Gaspésie peninsula in northern Québec.
Elsewhere in the market we sampled ice cream (Havre aux Glaces) and cherry tomatoes, nearly as sweet. We ogled hard at exotic mushrooms and produce at Les Jardins Sauvages, eavesdropping as the 'Wild Gardens' foragers chatted about what was expected to arrive next week.
And then, just when our defenses were dropping, we made a stop at Le Marche des Saveurs du Quebec, a specialty grocer stocked entirely with products from the province. So we couldn't resist picking up some gifts. (Some were even for other people!)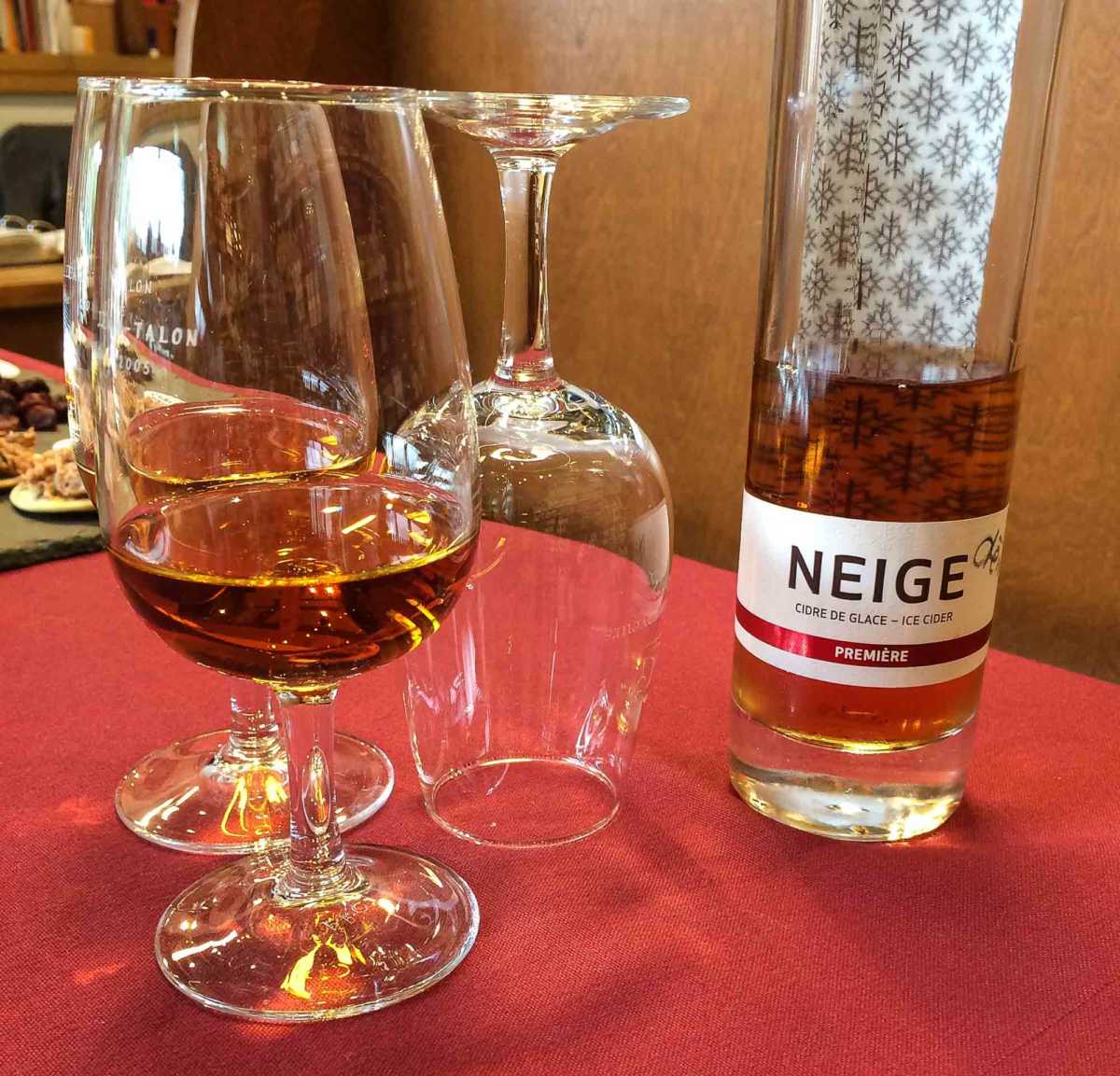 Yes, we bought Neige Ice Cider, a splendid crisp cider, sweet enough to be served as an aperitif with cheeses and desserts, or wonderful with fois gras. We also purchased pure maple syrup, maple butter, and blueberry jam. How could we not, after savoring maple flavors on almost everything we ate in Quebec, and after biking the "Blueberry Bike Route" further north in Saguenay, Quebec.
Finally sated, we finished off our tour with Mayssam at the Librairie Gourmande bookstore, where we browsed the gorgeous selection of cookbook and food-focused titles. Market Chronicles by Susan Semenak is a perfect souvenir of the Jean Talon market. Alas, we just couldn't carry any more. Online orders anyone?
Foodie footnote: Montreal has a thing about bagels, and two places in the Mile End neighborhood (not far from the market and Little Italy) dual for the 'Best Bagel' bragging rights. They are Fairmount Bagel and St-Viateur Bagel, just a couple blocks from each other. These two can still use their original wood-burning ovens, otherwise now banned in the city. Mayssam has a favorite, but wouldn't reveal it until we'd tried them ourselves. That will have to be next time in Montreal.
Check out all of Context Travel's Montreal tours here.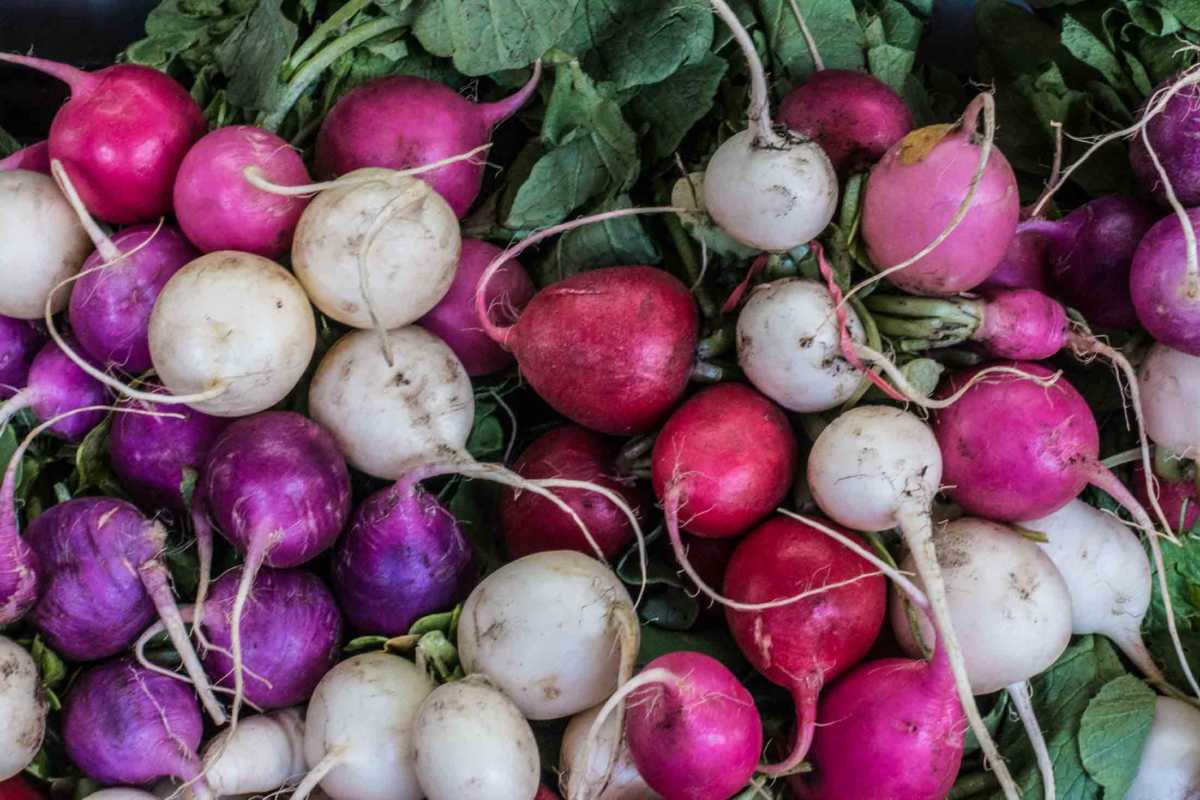 Read more about Montreal in our companion post, "Finding Montreal's Identity in Old Neighborhoods."
We have done more than a dozen Context Travel tours on four continents and have always found them excellent, informative, and enjoyable. You can see our other stories on our Context Travel tours in Buenos Aires, Paris, Berlin, Shanghai, Beijing, Hong Kong, Montreal twice, Budapest twice, Rome twice, Arles, Florence, and Venice by clicking on the links.
If you are thinking a Context Travel tour is for you, click here, and see if they have a guided tour available in the city you are visiting.
Editor's note: Can't travel to Montreal right now? As a result of the 2020 pandemic, Context Travel has introduced an excellent series of virtual seminars. These live, scholar-led courses even allow time for discussion and questions. Browse the Context Conversations calendar and book your seminar today. When you register, use the discount code tp50 for a 15 percent discount on your first booking. Just pull up a chair and soak up the knowledge, even if you can't travel.
Get all our travel tips delivered to your inbox
Subscribe to our email newsletter