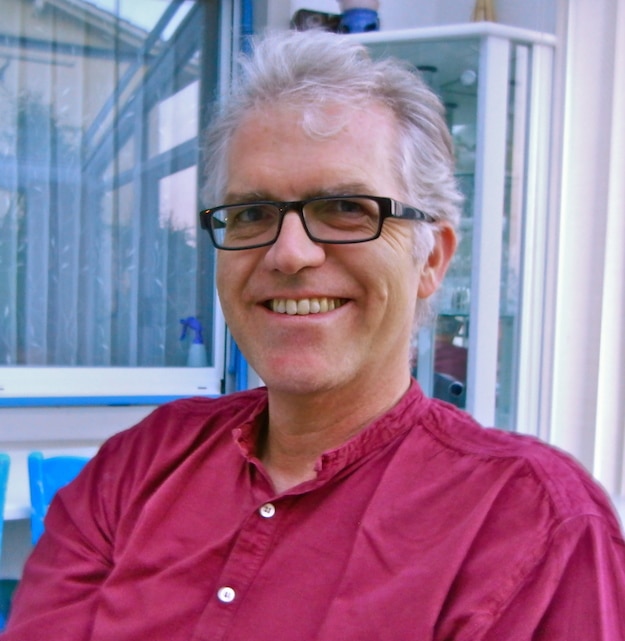 Dave Ritsema, unlike some of the non-stop travelers we've interviewed, has created for himself and his wife, Linda, an excellent launching pad for travel. He says he got the travel bug when he was in high school and performed in Holland one summer with a singing group, in coffee houses and parking lot tents. But as an adult, his busy work and family life in Minnesota precluded much travel. Frequent job changes and limited vacation time took their toll. After a period selling advertising, Dave taught music for six years, but, as he points out, "budget cuts always target the arts."
So he moved to where the jobs were, first in Doha, Qatar, for a year of teaching, and then to Bern, Switzerland, where Dave now lives and teaches music to grades 5 through 10 at the International School of Bern.
That meant leaving the family in Minneapolis, and commuting back and forth for holidays and summers. But it also meant better access to travel in Europe. "Travel became easier being on the east side of the Atlantic." With Dave's interest in music, art, and photography, he has some good and sometimes quirky advice for the rest of us.
TP50: Tell us about how you caught the travel bug.
Dave: Aside from my first overseas adventure in the Netherlands, I think it was my introduction to international film that fueled my desire to see more of the rest of the world. My wife and I went back to Holland years later, with a train pass and a backpack.
TP50: All these years later, what countries are favorites?
Dave: Because our ancestry is Dutch, and because it was my first overseas experience, the Netherlands will always beckon. I wouldn't need to see Qatar again, unless they can do something about the heat.
TP50: Given your music background and profession, we'd love to hear what you listen to when you're traveling.
Dave: If I feel like going with the flow, I'll take a chance and play through albums in alphabetical order, like "All Things Must Pass" (George Harrison), "Angel Band" (Emmy Lou Harris), "Aqualung" (Jethro Tull), etc. When you've got the time, it's a good way to reconnect with a favorite or forgotten gem. Or I'll pull up a recently purchased classic and get in adventure mode, as with Van Morrison's "Astral Weeks."
When I'm exhausted after a long flight and begin the hour-long train ride from Zurich to Bern, I relax to one of those long-form prog-rock albums I grew up with, the ones with songs that don't stop and start every 4 minutes. "Tales From Topographic Oceans" by Yes works wonders. When traveling alone, my iPod keeps me company.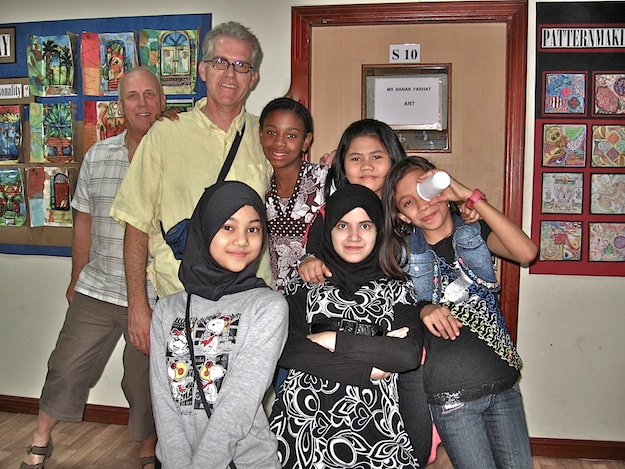 TP50: Your travel has included many special circumstances. What's unique about your traveling style?
Dave: For one, I like to ferret around and notice the small things that don't appear on postcards or travel guides. Most of my 'souvenirs' are my own photos of what gives a city or village its character – a brightly painted window, an intriguing backstreet, an unusual sign or political graffiti, a couple of people caught in a moment of conversation. I also make it a habit of visiting an English bookstore where I can find them, and buy a book that sheds insight on the country.
TP50: How do you get started planning and booking your holidays?
Dave: Linda and I get initial plans going about six months ahead, just to start dreaming. We use several of the typical travel websites and books to start putting together a general picture of the 'must-sees,' as well as the quirky attractions that suit our curiosity, like Bruges' Béguinage or the Christmas markets in Germany's Rothenburg ob der Tauber. Our itinerary evolves from the get-go as we become realistic (you can only spend so much time in museums). Where possible I look for notable gardens and cemeteries. But by the time we're finally on the street we're open to what catches our fancy. You can't do these things by the book. You need time to explore. Of course, weather affects plans as well, as it did with our hopes to hike the Cinque Terre trail.
TP50: So from concept to booking: how does that go?
Dave: I may start with Booking.com or Tripadvisor.com for the hotel reviews and room photos. But they often have cancellation fees, so I prefer to book direct either through the hotel's website or calling on Skype. We also rely a lot on the recommendations of Rick Steves' travel books. Sometimes you're able to get a discount for mentioning this.
TP50: And on the topic of hotels, what do really insist on?
Dave: It's not so much an amenity, but location is important. We've learned to avoid hotels that are 'conveniently' near the train station. You can be surrounded by sex shops and a lot of dodgy dealings, as we were in Munich. I like hotels that offer to assist you in making reservations for museum visits or other attractions, as they did for us in Salzburg. And air-conditioning in summer is always good. Those two nights in Vienna, early July, with the windows open, letting in nothing but the all-night sounds of drunk college students trying to find their way home were not worth what we saved [choosing] budget.
TP50: We're sitting on the edge of our luggage for your response to this one: Any packing tips or recommended luggage/gear?
Dave: Rick Steves' line is pretty good, actually. They hold up well. I also carry a Freitag shoulder bag–made in Zurich, from colorful recycled truck tarpaulins (so they're waterproof). The shoulder straps are recycled seat belts.
As to what to take and what to leave behind:  We finally figured out it was best to leave the travel book at home. Just photocopy the pages you need for the cities you'll be seeing. Maps are available for free at most Tourist Information offices right in the train station, so leave those at home. However, make sure you know what power adaptors you'll need and get them in advance of arriving. You can waste valuable time shopping for these on a vacation. I go very light on wardrobe, knowing I can dress up a variety of t-shirts with one light sweater. A good rain-repellent jacket is a good idea, as is an umbrella (but umbrella's can often be picked up at the train station for cheap if you really want to pack light). While traveling in Switzerland, pack a refillable water bottle. You can fill it in most public fountains and save on bottled soft drinks.
I also like to pack a small notebook for keeping a detailed daily diary. It also comes in handy at art museums to take note of an artist or painting that is new to me. I have a small notebook with a cover made from a recycled vinyl LP. For me, it's much more efficient in a pinch than to enter a note in my phone app.
TP50: And we imagine that looks a lot cooler, too!  You post some pretty amazing photos on Facebook. What camera are you using?
Dave: I have a little Nikon COOLPIX S8100, 12.1 megapixels. It's just a little bulkier than my iPhone, and I prefer to conserve the use of the phone. My iPhone is reserved for messaging and helpful apps.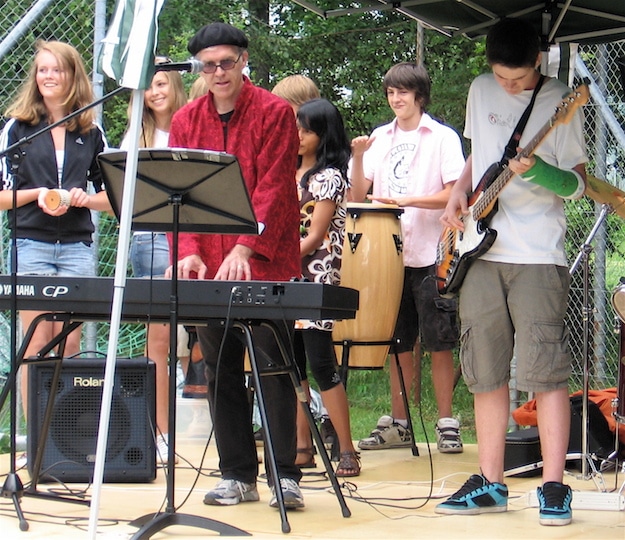 TP50: What phone apps do you use on the iPhone?
Dave: 'Weather' and 'Maps' are essential. As I live in Switzerland, I have an 'SBB Mobile' app (for train station departure times and platforms). For staying in touch with friends and family back home I use 'WhatsApp' (I also have 'Line' and 'KakaoTalk', but I stick with 'WhatsApp'). And I like to stay in touch with personal finances, so I use 'Stocks,' but also apps from 'Wells Fargo,' and 'Ameriprise.'  'Shazam' is good if you're taking in the atmosphere at a coffee shop or bistro and hear some new music you like and want song details. And 'Translate' can be a lifesaver–especially the audio function.
TP50: So you usually get around by train?
Dave: Living in Switzerland allows for convenient travel by rail to Italy, Germany and France. The trains here are comfortable, and on the double-deckers the views are wonderful. I've not yet rented a car for travel, nor have I ever experienced a need for it. Part of the fun of train travel is the social adventure of it. You never know whom you may sit across from, and sometimes you find yourself chatting it up with other foreigners, young American students here for a study-abroad semester, or locals who are happy to practice their English.
TP50: But you do your fair share of air travel, too. How do you make yourself comfortable for the long flights?
Dave: For the flight, I pack a small novel or a music magazine. On an 8-hour flight you can only kill so much time with movies.
TP50: What destination has taken you by surprise?
Dave: Bahrain was a bit of a surprise. Arriving there from Doha, I expected more of the same. But it was greener, and a bit more colorful all the way around.
TP50: We always like to hear about travel mishaps. What comes to mind, and how did you manage it?
Dave: It wasn't exactly a disaster, but we spent my spring break once seeing parts of France, including Arles – a market village in Provence. Our travel book suggested you could waltz up to the nearest Tourist Information desk and ask them to book you a room. It would have been a reasonable suggestion if we hadn't unknowingly arrived on a festival day–their annual 'running of the bulls.' After giving us a look that said, "you must be joking," the kind worker took it as a challenge and managed to find us a room across town.
TP50: It's great when someone steps forward to help!
Dave: [Indeed, we imagine Dave saying.] Another time, we had been out late in Zurich at a film festival and figured we were on a tight schedule to catch our train home. I asked a young man on the tram which tram stop was closest to the train station. After answering my question, and asking a few of his own he pulled out his phone, quickly found the train schedule online, and told us what time our train would leave and from what platform. That's when I knew I needed to get a better phone.
TP50: As to food and drink, any favorites?
Dave: I don't really have a favorite, but the beer in Brussels brewed by monks was heavenly.    Pasta with seafood does the trick for me.
TP50: Do you pick up souvenirs along the way?
Dave: I like to pick up coasters from art museums, featuring some favorite pieces.
TP50: When you're traveling, what do you consider an indulgence, or is it the traveling itself?
Dave: Living on the east side of the Atlantic has made travel more accessible, so the cost hasn't proven to be such an issue. The indulgence is taking advantage of opportunities you'd have a hard time replicating anywhere else – like the mineral baths in Budapest.
TP50: OK. And any parting advice for the rest of us, based on your experiences?
Dave: Yes, actually. Take maps for what they're worth. A street may be officially named on a map, but these names don't always call out to you when on the street. They may not even be spelled the same, or are abbreviated. Also, it's often the case that a street or boulevard may change names every few intersections. In short, plan to get lost. That's when a trip becomes an adventure. The other thing you won't learn from a street map is the geography. Before going to Leysin, Switzerland, where we'd be staying at a friend's villa, I'd studied the map and made notes. It's a small village, and one would think it would be easy getting around. But alas, streets were poorly identified, if at all. And as the village sits on the side of a mountain, a seemingly simple task of going in an easterly direction involved quite an uphill climb.
TP50: Many thanks to Dave. Our readers can find David Ritsema on Facebook, or on LinkedIn. Don't we wish we'd had a music teacher as cool as he?!