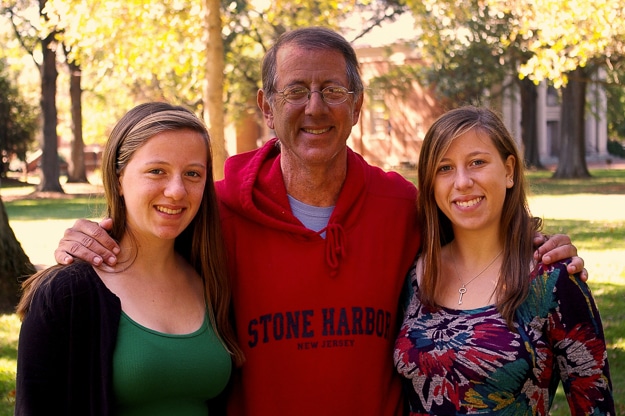 Robert Strauss' travel advice? When faced with go-or-no-go, then go.
Strauss is a long time journalist living in Haddonfield, New Jersey. Once a staffer for the Philadelphia Daily News and Sports Illustrated, he is the rare bird who's made his way as a freelance writer, contributing regularly to The New York Times, several alumni journals, and a host of other publications. His traveling outside the U.S. (where he's visited all 50 states) didn't get started until he was 29. But he's already planning to make Ukraine the 100th country he'll visit, saving the honor for the country from which his father came. Strauss is the author of <Daddy's Little Goalie: A Father, His Daughters, and Sports,

a funny/sentimental memoir about being the dad of girl athletes. He calls it a love story written to his kids.
Most of Strauss' travel is for pleasure.
TP50: How many countries have your traveled to?
RS: 97
TP50: What languages do you speak, other than English?
RS: Philadelphia and New Jersey
TP50: What hotel amenities are essential to you?
RS: It didn't used to be any, but now I like a bed and bathroom of my own.
TP50: Do you carry-on or check luggage?
RS: Carry on as much as possible.
TP50: What's your favorite piece of luggage?
RS: The backpack I just lost – a small one with lots of zippers and pockets. I've now confiscated my older daughter's old soccer backpack which, with the exception that it has her initials and is red and black, will do.
TP50: Any packing tips?
RS: Lots of T-shirts. No one sees socks and underwear and no one cares about pants, but wear the same T-shirt too much and eyes avert.
TP50: What is the one thing you can't travel without?
RS: Reading material. It makes all waits go faster.
TP50: Beach or mountains? Cities or wilderness?
RS: Beach and cities, but I am not averse to mountains or wilderness.
TP50: In which foreign place do you feel most at home?
RS: My house at the beach
TP50: What country surprised you the most, and why?
RS: Malta. I only went there for the country count – it was the last Western European country I hadn't been to. But it turned out to be, at least off beach season, full of history of all types and filled with friendly folks.
TP50: What's your favorite trip ever?
RS: My 'round-the-world backpacking trip at age 33. I was fired from a job and someone induced me to buy a round-the-world ticket on Pan Am. After that, I couldn't back out. I spent four months on the road in places I had only dreamed of going. For the last 30 years or so, I haven't looked back. Second best trip was backpacking with my daughter through southern Africa on a big truck-bus affair with mostly drunken Aussies and Brits.
TP50: What's your favorite national beverage?
RS: Diet Dr Pepper Cherry or rose champagne. Sort of the same taste.
TP50: What geeky gear or tool do you love the most?
RS: A good nail-clipper.
TP50: What's the biggest travel disaster you've encountered? Or averted?
RS: I was once caught in a card-playing scam in Bangkok and only understood what was going on at the last moment. I dashed out of the house and, though I didn't know where I was, eventually made it back to the hostel where I was staying. The miracle is that none of the guys in it really tried to rob me or assault me, so I was pretty lucky.
TP50: What's your favorite festival?
RS: Not big on big festivals – too chaotic. I've been to celebrations I didn't know were coming, but that was mostly happenstance – mardi gras in Valetta, the capital of Malta, for instance.
TP50: Any other travel tips or stories you want to share?
RS: When faced with go-or-no-go, then go.
Get all our travel tips delivered to your inbox
Subscribe to our email newsletter