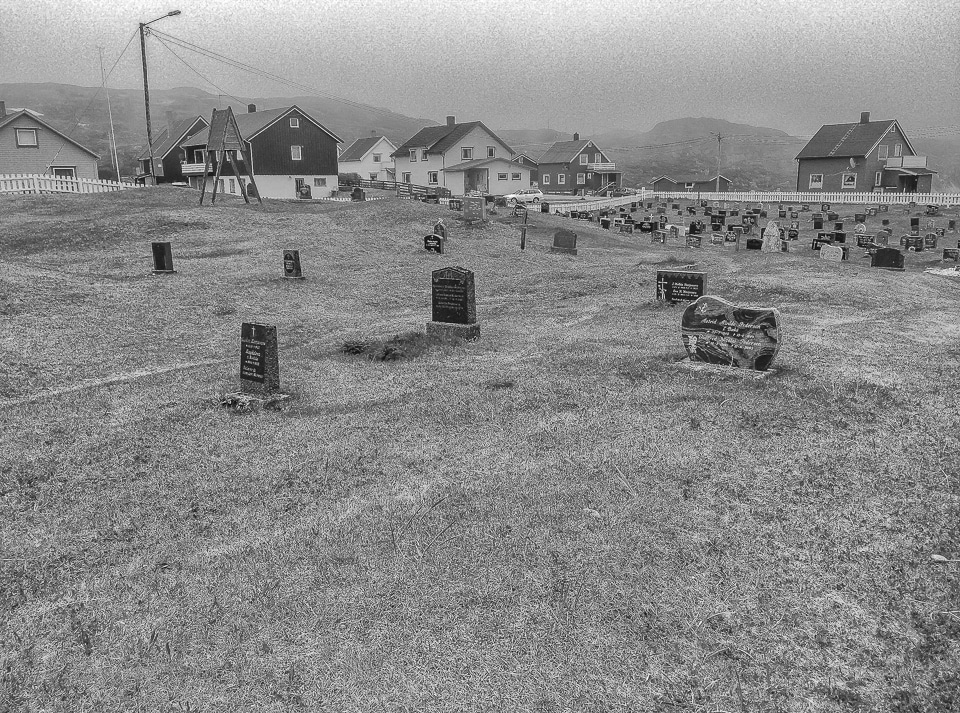 While we were staying in Inari, Finland, we drove 200 kilometers north to get a glimpse of some fjords and the Arctic Ocean. We drove out to the end of one of those fjords and came to the foggy fishing town of Bugøynes. We drove all over the town, which only took a few minutes because only 360 people live there. We only saw one person, who was digging weeds out from around the graveyard fence. When we stopped to take this photo, he looked up at us for a couple of seconds and went right back to his digging. No hello. No curiosity. No warmth. Sort of like our impression of the town. Worth noting perhaps is that the graveyard is the only open area and is right in the center of town. It seems to almost be beckoning those who won't survive the hard life of an Arctic Ocean fisheman.
This was taken with my iPhone, and then imported into Silver Efex Pro via Lightroom. Just increased the contrast slightly so you could see the fog on the hills behind the houses. Other than that, nothing. It was a grey day anyway, so why not black and white?
For more info about the equipment and software I use, see this page.
You can buy prints of my photos on my Smugmug page.
Get all our travel tips delivered to your inbox
Subscribe to our email newsletter