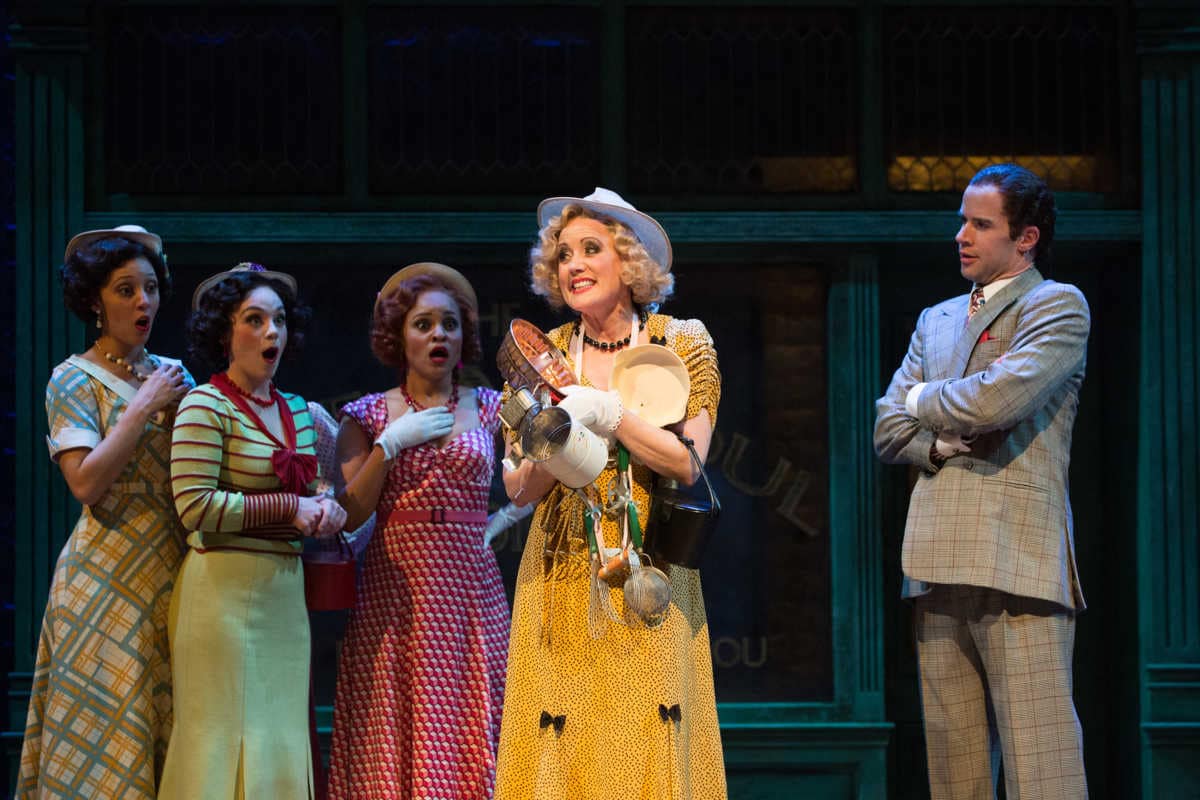 The place is Ashland, Oregon, home of the Oregon Shakespeare Festival. The setting is a comfortable renovated home in the historic railroad housing district, available to friends. The time is August 2015, in the final months of the Festival's eleven-play season. The cast of characters–that's the story–are old friends from the San Francisco Bay area who gather for theater, camaraderie, and vacation relaxation.
Emily and Robert Warden of Berkeley visited Ashland for the Oregon Shakespeare Festival (OSF) a couple times on their own, back before retirement. But the trip quickly became a habit, and when a friend made her home available to them, the Wardens were able to invite other friends to join them. One week at the Festival became two, and now the Ashland odyssey is an annual affair. This seems at once a brilliant travel idea and the inevitable outcome of the OSF's theatrical programming.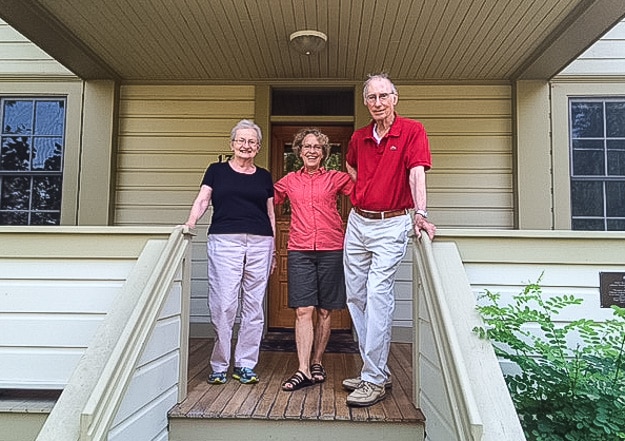 Little did we know that the Oregon Shakespeare Festival is more than Shakespeare and more than a summer festival. It's a balanced regional theater presenting Shakespeare, musicals, classic International drama, and new American plays over nine months on three stages.
The Festival began in 1935 with a production of "Twelfth Night." But its roots, fittingly, go back to the late 19th Century Chautauqua movement when Ashland, Oregon, hosted events over the 4th of July, and eventually over a 10-day period, drawing hundreds from surrounding counties. This year, the 80th anniversary season marks another start of the theater's plan to present the complete cycle of Shakespeare's work over the next ten years, the Festival's fourth presentation of the complete canon of 37 plays.
Like the Wardens and their friends, many OSF attendees are regulars, returning every season. 80% of the audience visits every year, and 79% have been attending for more than five years. 40% are from California (more than half of those from the Bay Area). Another 40% comes from Oregon (mostly from Portland) and 15% from Seattle and Washington. Audience members see an average of three shows each season.
The Warden's group relishes the plays and the chance to discuss them. But the reunion of friends is central to the holiday. These are familiar surroundings, and the players take on their ritual roles with the ease of longtime friends. Bill and Andrea Foley and the Wardens met through mutual friends when both Andrea and Emily were expecting children. (Emily is my first cousin, and I call her Missy, dating back to childhood in Minnesota.) The Foleys and Wardens have been neighbors and parents together in Berkeley, and still share theater tickets there. Midge Kraetzer and Missy are in the same book group–a group that has occasionally commuted from Berkeley to Orcas Island and Portland, Oregon, to follow Midge's moves. Bob and Linda Klett, representing San Francisco rather than Berkeley, are longtime friends through Robert's work. The connections are deep and enduring: work, volunteering, music, children, boards of directors, and local community involvement.
Since this gang started gathering in 2000, it has numbered as many as eleven at once in the house. Familiarity blends the individuals into a well-choreographed production all their own. Robert has prepared the berries for breakfast, Bill has walked to the store to buy both The New York Times and the San Francisco Chronicle. They chat about the news over coffee. Conversation swings from the wildfires to tar sands, from grandchildren to book groups, from the OSF theater performances to movies and television, from the Ashley Madison hacking to the advantages of streaming.
Good-hearted chiding reflects the group's camaraderie. "Really?! You are going to rearrange all the dishes I just loaded into the dishwasher?" "Fine, if you want to choose the restaurant AND the wine, I'll go along." "Who has the grocery list?" "Have you turned in your receipts so that we can calculate who owes whom what?" "Whose idea was it to visit the farm implement museum?"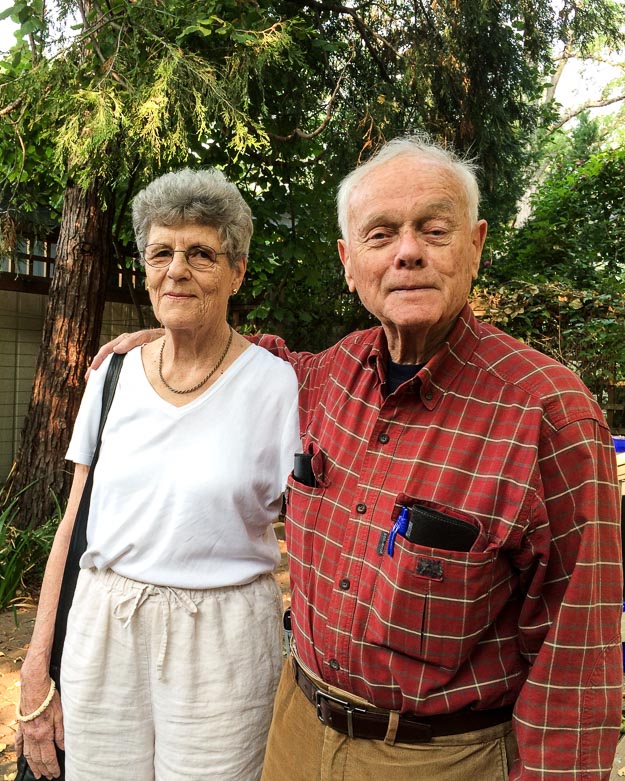 Not everyone has the same level of interest in theater, though everyone is readily engaged by the arts. Probably none exhibit the year-round intensity of the Wardens, who are season ticket holders to opera, ballet, various symphonies and multiple theater companies. And yes, most performances are accompanied by dinner with friends.
For visitors–and for the staff of 600 plus local residents and volunteers–OSF and Ashland offer plenty of extras. The Festival provides behind-the-scenes tours, free outdoor performance art, panel discussions, and informal interviews with artists.
Ashland (population 21,000) is a picturesque town in the hills off the Rogue River Valley. (It was significantly less picturesque during our visit due to nearby wildfires.) Main Street is lined with nice shops, galleries, and restaurants. The nearby Lithia Park is easy to access and features miles of trails plus sports courts and playgrounds. Day trips from Ashland might include a wine tour, rafting or fishing adventures, or a visit to Crater Lake National Park.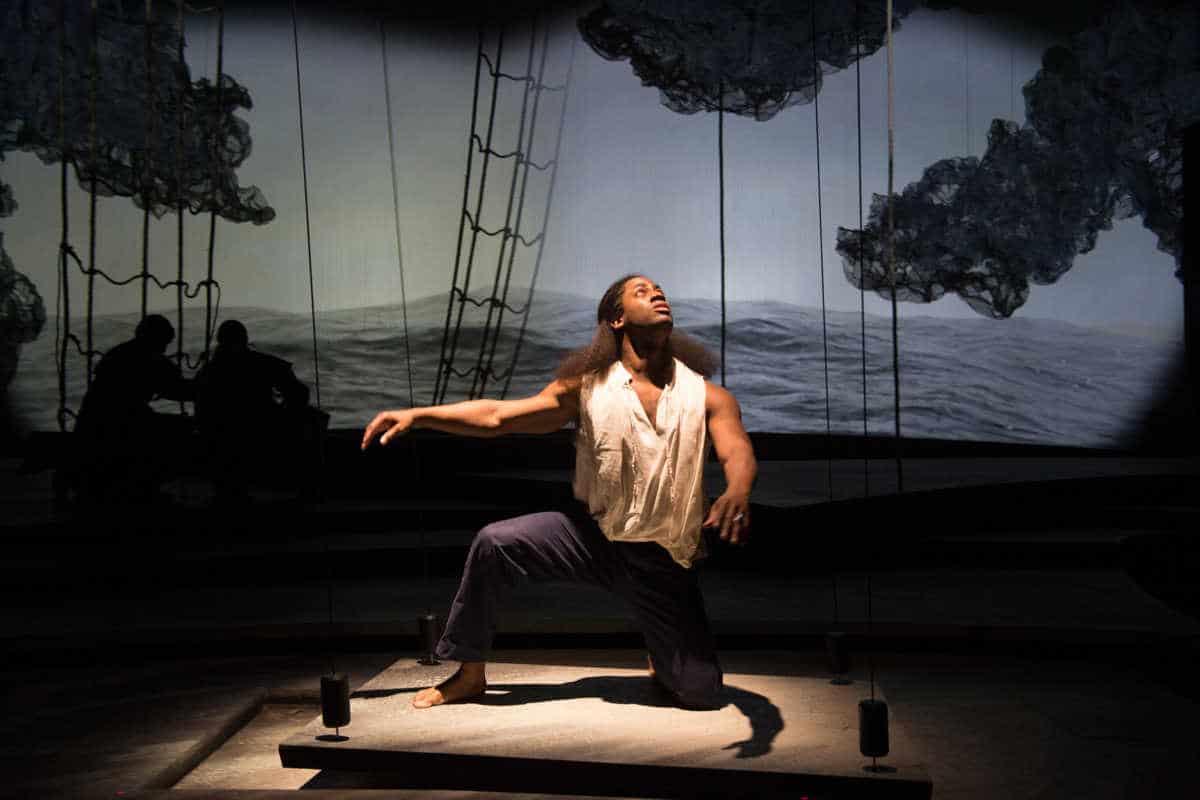 This enlightened idea of a friendly vacation with a theatrical destination is realized, of course, by virtue of the Festival's quality productions.  Audiences can count on excellent acting and exciting production qualities. During our four-night stay, we saw four plays: "Pericles," "Secret Love in Peach Blossom Land," "Guys and Dolls," and "Much Ado About Nothing."
We loved both "Pericles" and "Guys and Dolls." "Pericles" was an unexpected treat, a cohesive production of a play we didn't know: the story of Pericles being tested, tossed and lost at sea, of his losing family and faith, and recovering it all again.  The remarkable production, directed by Guthrie Theater's new Artistic Director, Joe Haj, will be moving to the Guthrie (after D.C.) January-February 2016.*
"Guys and Dolls" was a treat, performed with all the skill and exuberance we'd hoped for. "Secret Love in Peach Blossom Land" inspired a lot of conversation between us, as we tried to figure out why and how the two plays within a play complemented or detracted from each other. And "Much Ado," a longtime favorite, provided a fantastic new look at the age old comedy of love's expectations and surprises, the hard-earned benefits of honesty, and the long road to recovering trust and joy in a relationship.
The pilgrimage to Ashland is as much about sharing the theater experience with friends as it is in ticking off another production or season. Lucky us to score a room in the house, and to witness this gathering of friends, on and off stage.
*John Tufts, 12-year veteran of OSF, participated in a fun, hour-long interview while we were in Ashland. We'll look forward to his reprising his role as Chico in "The Cocoanuts" at the Guthrie in November-December 2015.
Get all our travel tips delivered to your inbox
Subscribe to our email newsletter