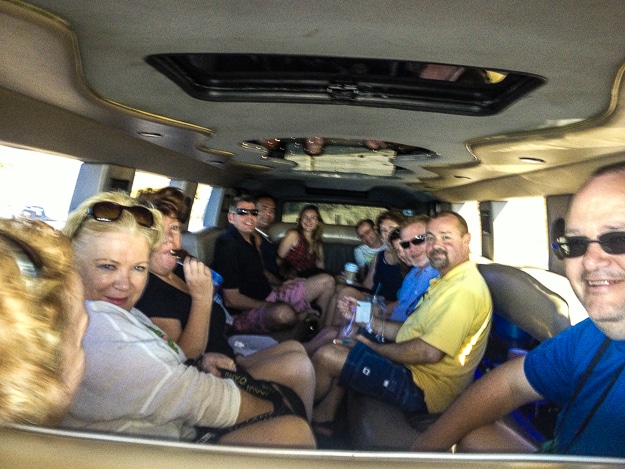 Sometimes it just happens. You are just innocently sitting at home wondering where to go next and you get an email from your Australian friend: "We're having a party in Honolulu for Phil's 60th Birthday. You should come. Lots of our friends are coming. It will be fun."
I once had a motto I used to live by when I was living with some Aussies: "Never pass up the chance to party with Aussies." I wasn't sure I could still live by that at my age, but I resolved to try.
Everything was fairly calm for the first few days in Honolulu. We went to some nice restaurants, swam at the beach, had some fun happy hours.
But then, on our last day, The Aussie Hummer Party Limo (AHPL) happened. Perhaps I'm being unfair by calling it the Aussie HPL, because there were a few Americans and at least one Brit in the bunch other than us. But they were all residents or former residents of Australia, and that is good enough for me.
We only found out there was going to be an AHPL the night before, when we were warned to be at the hotel reception area for pickup at 8 a.m. sharp. The itinerary was loose we were told. We were just going to all pile into a Hummer limo and let the spirit and $900 including tip take us where it would.
I'm not going to try to describe the experience in any sort of coherent narrative. Instead, just some vignettes, quotes, and observations. Again, the names are changed to protect the innocent.
We boarded the Hummer more or less on schedule. It was a bit cramped, but there were seats for everyone, and plenty of room on the floor for provisions. And by provisions, I mean booze.
M started things off as we pulled away from the hotel: "Who wants a bourbon and Coke?"
S answers, "No thanks, I only drink vodka before 10 am."
And we're off.
A: "Have you even had your breakfast yet?"
S: "Are you implying that vodka isn't breakfast?"
P, while pouring himself a glass of Chardonnay: "If I drink whiskey, I start to shout."
S: pouring himself a Chardonnay also, "If I drink gin, I start to fart."
P: "If I drink Riesling, I get randy."
Later, while S is reaching for more wine, he trips and falls on his face.
J: "S, are you all right?"
S: "I didn't spill a drop."
Within two hours, the original provisions were exhausted so we stopped at a convenience store for more. After driving off from the store, we had to turn around because M had left his second bottle of Jack Daniels on the counter. Luckily it was still there.
As M made progress on the second bottle of Jack, he exclaims: "Where are my dog tags? I have to have them on at all times so people will be able to identify the body."
We stopped at various beaches during the day, but the highlight was the beach where the famous scene from From Here to Eternity was filmed. The one where Burt Lancaster and Deborah Kerr roll around in the surf. P illustrated it for us by climbing down the cliff to the beach and rolling around in the surf by himself.
As we drive away, P tells the story of his "mate" who is living with a young "bird."
"He's 60 and she's about 20 and he's living on a diet of cocaine and Viagra. I told him he looked great. He answered, 'No, I look like shit, but at least I'm having sex with a 20-year-old until I die."
As we passed by a green mountain valley, S says, "That's where they filmed that scene in Jurassic Park where the dinosaurs almost trample the kids."
T: "They used stunt dinosaurs."
Me, pointing out the opposite window at the sea: "That's where they filmed The Little Mermaid."
A Shirley Bassey song comes on the sound system.
S: "Who is that?"
Me: "That's Shirley Bassey."
S: "No, that's not Shirley Bassey."
M: "That is absolutely Shirley Bassey. S, are you sure you're gay?"
S: "My mom knew I was gay before I did. I came down to breakfast one day when I was 8 years old and said to her, 'Mom, I'm so over these drapes.'"
Near the end of the day, the limo was getting a little messy. On the floor are cigarettes, wet clothes, empty bottles, macadamia nut popcorn, and about 3 pounds of beach sand.
M: "God, it looks like Keith Richards's dressing room in here."
S: "If you find any extra large condoms, they're mine."
As we were headed back to Waikiki, T took over the iPod and replaced the jazz, R&B, and blues we had been listening to with the album rock you can hear right now on 1000 shitty American (and apparently Aussie) radio stations. Immediately, several tone deaf Aussie drunken women started singing along. Never mind the booze or the sun or the car sickness, that's when most of us started getting headaches.
That went on for an hour.
As we finally pulled up to the hotel, S poured out the last of the wine into a glass and offered it to L, who was the 28-year-old daughter of one of the organizers and who had been shanghaied onto the Hummer.
S: "You know, it takes a village to raise a child. If you don't have a professional bartender."
From door to door, it was nine hours. As we got out of the limo, and tipped the driver an extra hundred for putting up with us, J asked me, "Do you think this went on too long?"
"Probably," I said, "But I only noticed it when the Van Morrison singalong started."
Get all our travel tips delivered to your inbox
Subscribe to our email newsletter