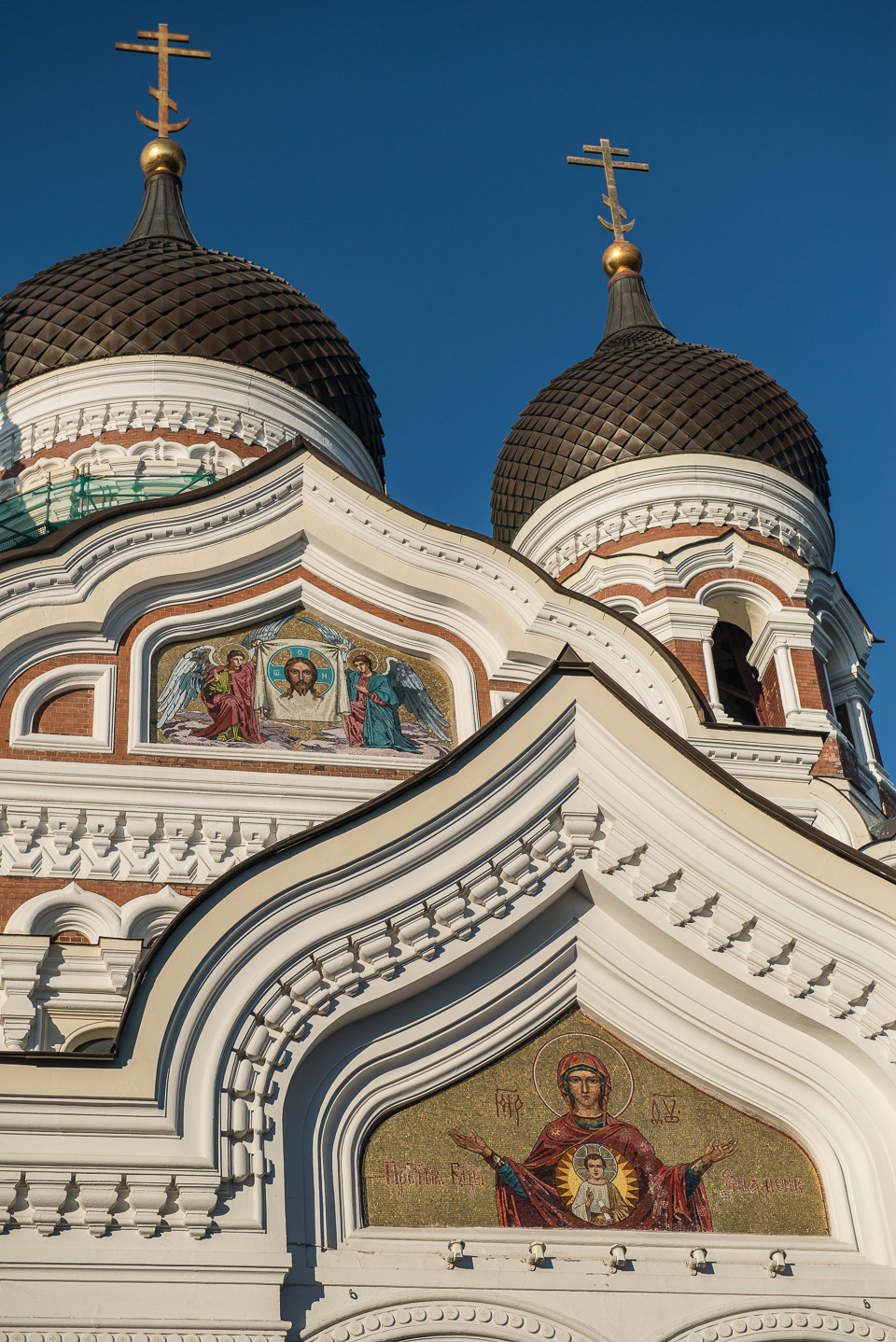 We visited the Alexander Nevsky Cathedral twice in our two days in Tallinn, Estonia. Once, for a tour of the inside, and another where we spent half an hour just walking around the outside. Unfortunately, like in so many beautiful churches these days, they didn't allow photos inside. I still don't understand why, but, hey, it's their church, and they have a right, I guess, to have it treated like a church instead of a tourist attraction. Of course, if I were running it, I'd do like they did in a few German churches we visited and charge you €2 for a "photo license," and use the money to help support the place. But, that's just me. The inside was lovely, particularly the columns that were painted in an Italianate "grotesque" style of winding vines and flowers. There was also a large altar piece featuring a lot of golden paint, or inlay. I couldn't be sure because they kept you back a good distance. Since this is a Russian church, there was a small army of middle aged Russian looking women in scarves who were engaged alternately in dusting and sweeping and glaring disapprovingly at any tourist with a camera.
The outside, however, presented no obstacles, other than the screens and scaffolding which enveloped two of the four cupolas. I managed, mostly, to keep them out of this shot by moving inch by inch around the exterior until I was able to capture a frame which revealed the two uncovered domes, the facade's mosaics, and yet omitted most of the scaffolding. If I ever come across a beautiful European church that isn't mostly covered in scaffolding, I'm going to be surprised.
The Nevsky Cathedral is part of the "Old Town" of Tallinn, which is designated a Unesco World Heritage site. The Old Town is absolutely lovely, and Kris and I agree that it's one of our favorite places we've visited.
This shot was taken during the "golden hour" around 8 p.m. when the sun was low in the sky and hitting the front of the church with a warm, yet strong, light. No manipulation in Lightroom other than to pull the highlights down very slightly to preserve a little detail. I love the strong white of the trim around the mosaics and didn't want to gray it out any. Taken with the Nikon D800E, ISO 400, f/5.6, 1/3200 second. I wanted to get some depth of field so both mosaics were in focus, and I used a high shutter speed so there was no obvious camera shake. The D800E is so sharp, that the smallest shake is obvious. But this shot is so clean, you can see every tiny detail in the mosaics–which are incredible.
For more info about the equipment and software I use, see this page.
You can buy prints of my photos on my Smugmug page.
Get all our travel tips delivered to your inbox
Subscribe to our email newsletter