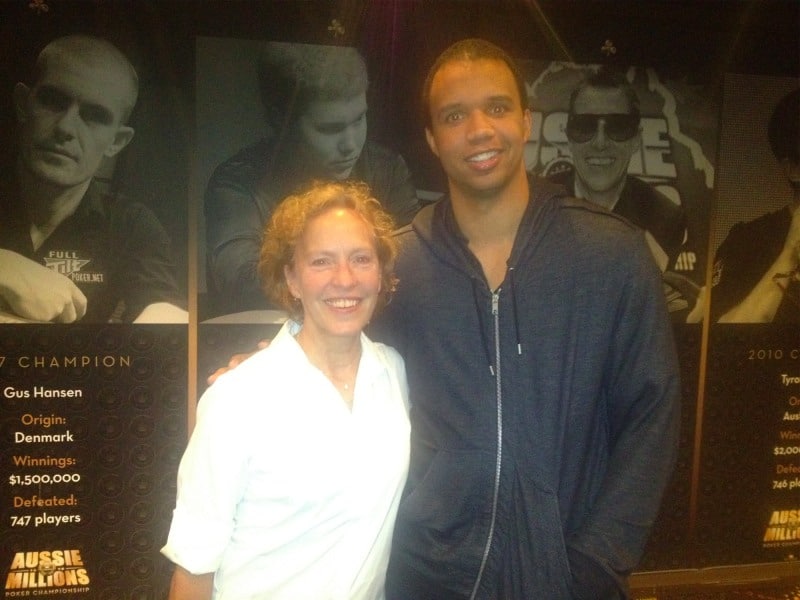 We stumbled upon Melbourne, as is usual for our travels, during what must be it's most exciting week of the year. There was the Australian Open tennis tournament, the Aussie Millions poker tournament, and a big Chinese Festival along the River Walk. Of course, being me, I gravitated towards the poker.
We arrived on Day 3 of the "Main Event." The field by that time was down from the original 659 to about 26 and we got to watch a table with poker legend Phil Ivey for a couple of hours. Now, you may think watching other people play poker is about as exciting as watching the proverbial drying paint, and you'd be right. At the final tables of a tournament of this level (the winner got AU$1.5 million), everyone is so "tight" in poker terms that there's not a lot of action.
On top of that, many players wear hoodies, sunglasses, and hats and make a point of moving as little as possible so as not to give anything away about what they might be holding. Ivey, for example, when the hand is being played, never moves his head. Only his eyes move as he looks around the table to size up his opponents. As for the players who wear sunglasses, you can't even see that much.
But to me, that's exciting. When a hand is played, even though unlike TV you can't see the players cards, watching how they do it is fascinating.
Well, Phil ended up busting out of the Main Event in twelfth place for $100,000, which ain't a bad return on a $10,000 entry fee, and a profit many of us would be glad to make for four days work. Not enough for Phil though. After busting, he was said to have "sprinted" to the next tournament, which was a special "High Rollers" event where the entry fee was $250,000. He won that one a few hours later to take down a cool $2 million.
I didn't do as well as Phil, but I did play at the $2-5 tables for two nights. As is my habit, I lost a little on the first night, but came back on the second night to finish up by about $700 for the weekend. Hey, it paid for the hotel and a few meals, which ain't bad for me.
Get all our travel tips delivered to your inbox
Subscribe to our email newsletter