Round Earth Media, the company she co-founded. Round Earth, established at a time when major U.S. media organizations were cutting back on their foreign offices, is dedicated to training the next generation of global correspondents, while producing stories from neglected regions for top tier media in the U.S. and around the world.

Mary continues her independent work as a journalist and foreign correspondent. Her broad media experience as a contributor includes shows on National Public Radio (NPR), Public Radio International (PRI) and America Public Media (e.g., Marketplace, The World, All Things Considered), CBS Radio, FRONTLINE/World, NBC-TV and ABC-TV affiliates, Telemundo, and Univision.

In 2012, Mary launched a ground-breaking program in Morocco, working one-on-one with college students who aspire to be the next generation of foreign correspondents. This first-of-its-kind program devoted to global journalism is in collaboration with SIT Study Abroad.

Mary's reports on Chinese and Hmong immigrants were part of the documentary series "Crossing East," which won a 2006 Peabody Award, broadcasting's highest honor. Her reporting awards also include the New York Festival's Gold World Medal.

We got together with Mary in Minneapolis, where she visits family and was, prior to founding Round Earth, a reporter/anchor for the NBC-TV affiliate.

TP50: What are you up to these days, and how do you determine where you are traveling?
Mary: I'm leading a journalism study abroad program in Morocco, so I come and go from Rabat (the capital where I have an apartment) every semester. Otherwise, since I'm a working journalist, my travels are more or less last minute.

TP50: Which search engines do you use to select flights and hotels?
Mary: I use them all, but often book directly through Delta because I want the miles.

TP50: Your favorite pack or piece of luggage?
Mary: I love my Rick Steves backpack. [The one pictured here] is a bit different (the style has changed) but looks similar.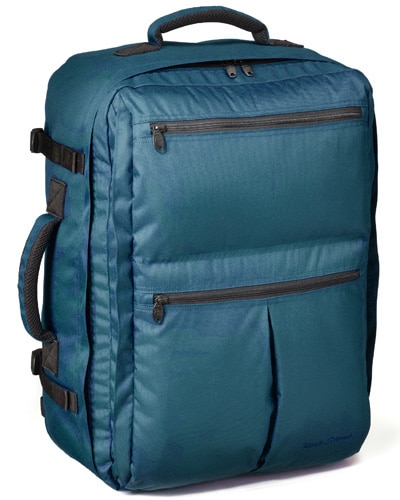 I love this mini-messenger bag from Reign Vermont for my day bag/working bag. And I use these shoulder straps from Pacsafe.

TP50: Please give us your packing secrets.
Mary: Only what is absolutely necessary. Be ruthless.

TP50: Beyond the essential electronics and passport, what do you always take along with you?
Mary: My rechargeable battery pack.

TP50: And what about camera gear?
Mary: I use my iPhone and an SLR, though I'm often working with a professional photographer.

TP50: What phone apps do you rely on when traveling?
Mary: Oanda currency converter; any good translation app; World Clock Gold (for time zone conversion); the iPhone clock (alarm and world clock); Podcast apps, especially BBC World Service Global News every morning; plus apps for my favorite news sources and magazines. Oh, and my Kobo e-book reader. And Skype, of course!

TP50: How do you like to get around when you are traveling, besides flying.
Mary: Walking is wonderful, but I'll take what I can get.

TP50: And how do you pass the time when you are traveling?
Mary: Often I'm working.

TP50: What's the most precarious situation you've encountered?
Mary: I hitched a ride on an open bed truck high in the Andes Mountains in Peru. The truck was wider than the mountain road.

TP50: What's the most memorable act of kindness you've witnessed?
Mary: Over and over again, the willingness of people to share their lives, thoughts and opinions with me.

TP50: What's your favorite national beverage (and in what country)?
Mary: Right now I'm in Morocco, enjoying a glass of mint tea.

TP50: What's your fallback comfort food meal that you can rely on no matter where you are?
Mary: Bob's Red Mill 10 grain cereal. I carry it with me and mix with water. Countless times it's been dinner!

TP50: How do you keep track of where you've been and whom you've met? Do you collect anything along the way, like souvenirs, ticket stubs, funny hats?
Mary: For many years I've used this Mead notebook with pockets (for biz cards, info, flyers). A dear friend in India had a leather cover made just for this 7×5″ notebook. Evernote and iPhone Notes are great, too.

TP50: What, if anything, do you miss when you're away from home?
Mary: My family and friends.

TP50: What do you consider an indulgence when you are traveling?
Mary: Long Skype conversations with family and friends.

TP50: What's unique or unusual about your traveling style or habits?
As a journalist, I have unique entrée into the culture, the people, and the politics of a country–and for this I am very grateful despite the challenges.

TP50: Keep an eye on Mary and the great work Round Earth Media is doing at www.RoundEarthMedia.org or on Twitter @roundearthmedia. Thanks, Mary!

Perhaps more than anyone we know, Mary Stucky travels with purpose. Stucky works as lead journalist and president of